Peppermint jam? Bacon jam? Anything goes at Moscow's Varenye Festival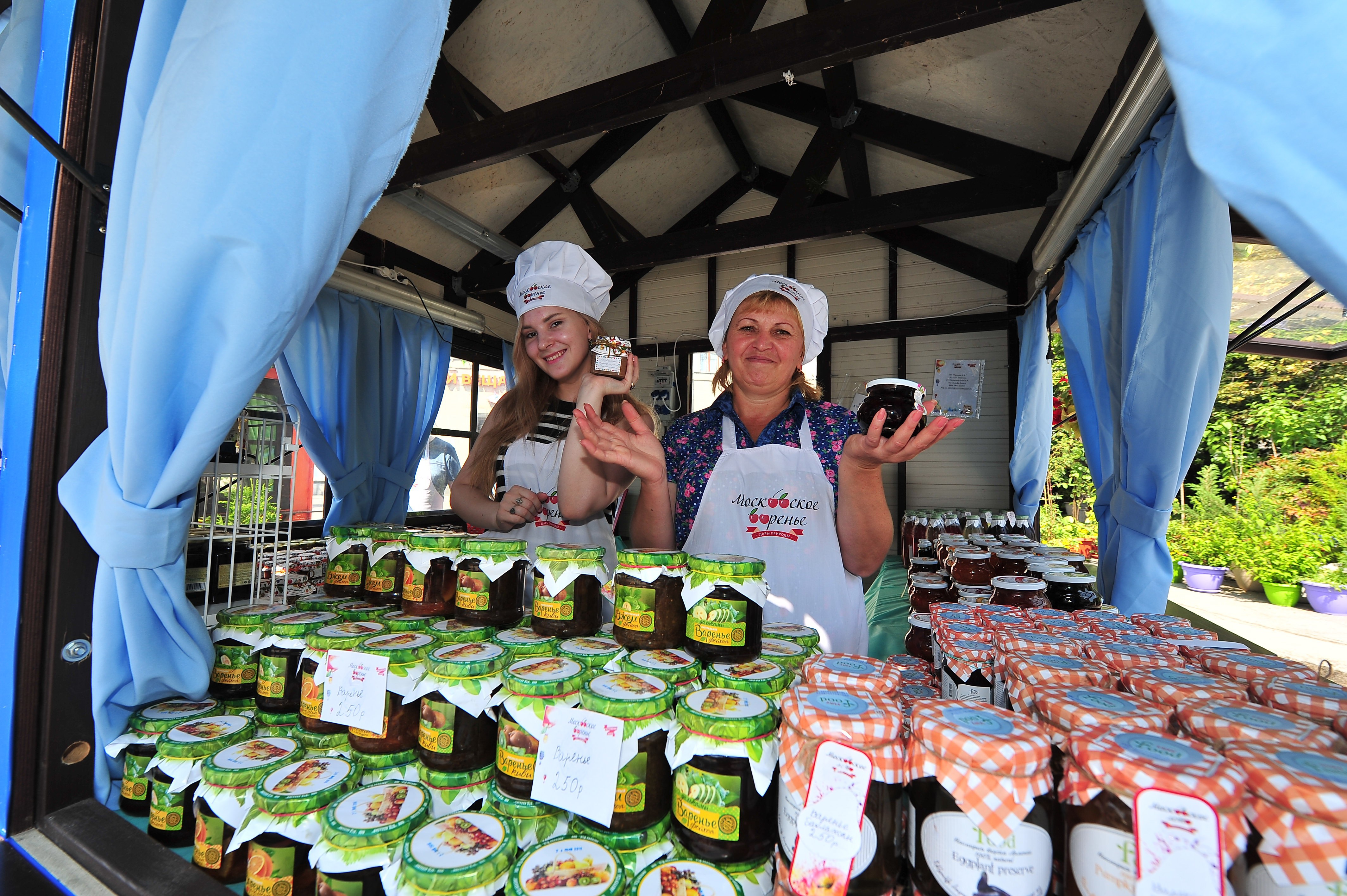 Varenye is a quintessential part of Russian home cooking.
Sergei Kiselev / Moskva agency
If as a kid you ever played chef, and used to make jam out of grass to go with your mud pies, then take a trip to Moscow this July. The rows of jars filled with jam made from meadow plants and white acacia flowers will convince you that as a kid you were doing it right after all.
"Mooom, go on, buy some more of those tasty pine buds," a chubby five-year old girl whines in the middle of Moscow. At the Varenye Festival, taking place between July 15 and Aug. 7, 2016, similarly exotic foods are there for everyone to try.
Varenye is an ancient Russian delicacy that is similar to jam. The main difference is in its consistency. Varenye is not gelatinous; it is a thick liquid containing whole berries or fruits. Popular kinds of varenye include strawberry, raspberry and plum. But the same process (boiling in syrup) can be used to make more unusual varieties – things like eggplant and nut varenye, for instance. Or bacon and pepper varenye. Any flavor you like, really.
Source: Sergei Kiselev / Moskva agency
In its opening days, the festival received more than a million visitors. Gourmands and curious passers-by continue to crowd around the jars filled with jam made from carrots, mushrooms and roses.
Varenye around the world
Copious quantities of colorful decorations currently adorn the nation's capital – there are 25,000 flowers, 550 bushes and even a copy of Big Ben. The latter is here for a reason: The theme of the festival this year (Moscow Varenye has been going on since 2014) is a "round-the-world tour."
Source: Sergei Kiselev / Moskva agency
Amateur actors read Shakespeare, entertainment staff dressed as shepherds jump around somewhat half-heartedly to the sound of yodeling and in the "Mexican" district children are shown how sombreros can be made using 3D-printers.
The only thing disturbing the peaceful trade in sugary delights in Moscow's streets are the wasps buzzing around each stall, of which there are almost 350 dotted around the city. Alongside jam, you can find Dutch waffles, pretzels and ice-cream made from rice. And, of course, 200 varieties of varenye. Prices per jar range from 200 to 500 rubles ($3-7).
Source: Sergei Kiselev / Moskva agency
Varenye is a quintessential part of Russian home cooking. The Russian search engine Yandex returns 22 million results for the search "varenye recipes." But some culinary artists are taking a more innovative approach to the time-honored business of varenye-making.
Source: Sergei Kiselev / Moskva agency
"Have you heard of molecular cookery? That's what I am currently interested in," says Maria, one of the 300 varenie-makers who have brought their wares to the festival. "We are taking recipes from overseas and adapting them to the ways of traditional Russian cookery," she explains inside the Unusual Varenye Workshop, yet another of the small companies represented at the festival.
What should I try?
Even if the ingredients are listed on the jars of varenye, it's often hard to know what it will taste like. It turns out that varenye made from dandelion or tarragon is relatively sweet with a light scent of herbs, whilst walnut varenye is viscous and gloopy.
Source: Oleg Skripnik
So, the types of varenye to try at the festival are:
- Pinecone or pine-needle varenye. It has a tart taste with a strong fragrance of pinewood, while the softened edible pinecones lend it a certain bitterness.
- Varenye made from pine nuts. A famous Siberian delicacy, cooked in syrup.
- Peppermint flavor. This is more than likely to make your mouth feel cold, but none the worse for this.
And there are plenty of other varieties that you can't go wrong with: orange and whiskey, apricot and wine or apple and cinnamon. Varenye made from rose petals is also pretty tasty.
Subscribe to get the hand picked best stories every week
All rights reserved by Rossiyskaya Gazeta.