Gems from the Hermitage director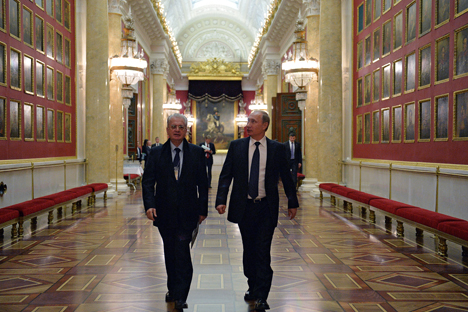 Russian President Vladimir Putin (right) and Director of the State Hermitage Museum Mikhail Piotrovsky during the president's visit to the museum. Source: Alexei Druzhinin / RIA Novosti
An interview with the legendary Director of St Petersburg's famed Hermitage Museum comprises most of a recently-released book called "Mikhail Piotrovsky." We reproduce 10 pearls of wisdom on aspects of world culture from Piotrovsky, a renowned authority on West Asia and an Arabic scholar.
Saving the monuments in Palmyra
I think that Palmyra could have been saved from destruction. It had taken the ISIS militants a long time to get there. It was clear that they were going there precisely so that they wouldn't be bombed. They crossed the desert where they could have been obliterated. The European countries decided not to do so because that would have helped [Syrian President Bashar al-] Assad. But for the sake of culture it is possible to do things that in other cases it's not reasonable to do.
The Koran and Syria
The Koran is a book that I keep on my desk. But I never respond to the question of which is my favourite Sura, just like I don't respond to the question of which is my favourite painting in the Hermitage. My Koran was a wonderful gift that I received from the Mufti of Syria. It contains a little stick, a qalam, which, when put on a certain letter, reads the letter out loud. When you press another button it analyzes the grammar. Another button analyzes the pronunciation, the next – comments on it. Everything makes a sound. You want a translation in five languages – here! And this was made in Syria. The country is living normally, or so it wants to.
Pyramids at the Hermitage?
There will be no architectural interference in the external or internal aspect of the Hermitage whatsoever. First and foremost this is a house, an imperial palace in which people once lived. When they were designing the pyramids in the Louvre and I was asked to comment, I said that for Paris it doesn't make a difference – it already has the Eiffel Tower.
The role of money in culture
It must always be remembered that there are many things that cannot be done for the sake of money. These things vary, depending on the museum. For example, the Hermitage cannot be rented for a reception, while at the Metropolitan [Museum of Art, New York] this will not upset anyone. But we won't allow this. You cannot create an exhibition for money. We can assiduously look for funds to exhibit an artist that we are interested in, but we will never allow anyone to exhibit at our museum for money!
On museums as cities
The city can learn how to live from a museum. Today museums are often city-forming "enterprises." They are surrounded by trade, educational centres and universities. As a sort of social institution the museum sticks its nose everywhere, trying to teach people how to inhabit a city and how to preserve its monuments. People say that they can't understand what they can do and what they can't in a historical city. I tell them to start doing what the museum does.
On the place of museums in society
The museum teaches and gives joy and is therefore somewhere, as is often said, between Disneyland and a temple. The general vulgarization of society and the diffusion of the right for everyone to judge art and culture have helped museums throughout the world careen towards entertainment. Experience has shown that museums must (and they are doing it) strengthen their role as temple and holy place. In our world we need certain intellectual and aesthetic refuges, sacred grounds, which have their own rules and where culture implements its own rights.
On the Scythian gold seized in the Netherlands
Concerning the "Scythian gold," I say once again, and this is important, that this is not gold but the most diverse archeological monuments from Crimean museums found in Crimea. The preservation of these museums' high status is an important factor in the juridical discussion raging around the return of the collection. And the moral position has been clear for a long time: Things must return to where they were. That is, to the Crimean museums.
On the dialogue between cultures
The "dialogue between cultures" is a funny phrase, despite being constantly used. A dialogue is a discussion between two people around a mug of beer. Especially since in certain spheres dialogue is impossible. For example, dialogue between religions is impossible, even though many thought light-heartedly that if representatives of the Abrahamic religions sat down at a negotiating table and agree to what is needed, everything would be fine. But the self-confidence of the organizers of these dialogues ran into three, four, five points of disagreement. And disagreeing on these points, there is really no sense in talking about anything else.
On detective novels
My hobby is reading detective and thriller novels. Through them I learn about the world and its languages. But the main reason for reading this literature is that you find out a lot of wonderful details that leave you with the impression that you have learned so much about the country that it's not necessary to go there. For a long time I was reading the Scottish writer Ian Rankin. All the plots of his novels are set in Edinburgh. And when I visited the city for work, I realized that I knew everything there. It was great.
On the British Museum
You ask me about the people without whom I would not be me. Write this down: the British Museum. The British Museum for me is a person.
All rights reserved by Rossiyskaya Gazeta.