Igor Butman's band thrills Indian audiences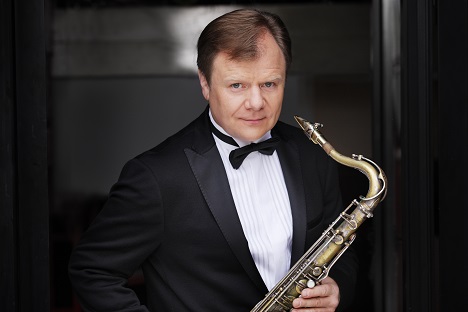 Igor Butman's jazz band and the talented pianist Oleg Akkuratov concluded their three-city, four concert tour of India, thrilling audiences wherever they performed over several days in Goa, Mumbai and New Delhi.
Buoyed with the success of the tour, organizers of the Igor Butman Band's shows in India have said they are now planning to bring Indian musicians to next summer's Jazz Festival in Sochi.
"Our goal is not only to acquaint Indian audiences with Russian jazz performers, but also to introduce Russian music lovers to musicians from India. Next year, Sochi will host an international jazz festival, and we will do our best to have our well-known jazz performers perform play there as well," said Apurva Agarwal, organizer of the tour.
The Igor Butman jazz band completed its tour of India, thrilling audiences in the four concerts they performed in the space of several days in Goa, Mumbai and New Delhi.
"This year we came with a somewhat condensed format, a quartet, but we made up for that with the presence of the talented Russian pianist Oleg Akkuratov. We started our tour in Goa, where we performed at a music festival. We have the most pleasant memories of this place, because this was our first time in Goa," Butman told RIR. "After that, we traveled to Mumbai, where we had a splendid meeting with Indian blind musicians. We played for them – and with them, our dialogues were warm and rich. We ended our tour in New Delhi."
For this Russian musician, it was his fourth tour of India. This year, Igor Butman and his quartet were accompanied by the exceptionally talented, visually impaired pianist Oleg Akkuratov. Blind from birth, this handicap has not hindered his great talent on the piano and singing songs in English.
"This is my first time in India, I really liked it here. If the opportunity should arise, I would be happy to come back here and give solo performances," Akkuratov said. He added that he loves Indian music from old Indian movies, particularly those of the famous Indian actor Raj Kapoor.
Akkuratov's performance during a concert in the Indian capital so impressed the audience that some of them, not familiar with his work, aired their views on social networks.
"Oleg Akkuratov – a miracle and a genius! After attending his concert with Igor Butman, I am at loss. I have never heard such mastery on this instrument. And his voice! And this is a blind 25-year-old young man. Thank God, and what a blessing it is for us, that in his path in life there were talented and sensitive teachers, who helped him develop his abilities," one impressed spectator wrote.
After India, Igor Butman traveled to South Korea where, along with the Moscow Jazz Orchestra, he performed at the Jarasum Jazz Festival.
All rights reserved by Rossiyskaya Gazeta.