Contemporary Indian dancers enthrall Moscow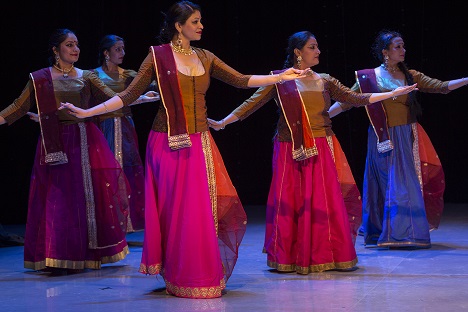 "Natya Stem Dance Kampni" dance troupe.
Press Photo
A contemporary Indian dance troupe, 'Natya Stem Dance Kampni', thrilled audiences in Moscow during the Indian Cultural Festival 'NAMASTE RUSSIA!'
An Indian dance troupe from Bangalore (Bengaluru), the Natya Stem Dance Kampni, performed a contemporary dance recital at a concert in Moscow's Golden Ring National Theatre of Folk Music and Song. Muscovites were treated to modern Indian dance based on traditional choreographic aesthetics on October 12. The performance was part of the ongoing Indian Cultural Festival, 'Namaste India.'
The Natya Stem Dance Kampni perform not only traditional Kathak dances, but are also masters of Indian martial arts and folk dances, as well as contemporary and mime styles. The signature style of this team; its bright and dynamic shows; is enhanced by original music, interactive design, as well as unique interaction between dancers, musicians, artists and writers.
Source: Press Photo
Madhu Nataraj, who founded the Natya Stem Dance Kampni in 1995, learned the Kathak dance form from her mother, Dr. Maya Rao and Shrimat Chitra Venugopal. In 1995, at the Natya Institute of Kathak and Choreography, Madhu Nataraj formed her own dance group to explore new means of expression through Indian dances.
Today Natya Stem Dance Kampni is one of the leading contemporary dance groups in India. (STEM signifies Space.Time.Energy.Movement).
Source: Press Photo
The Kampni believes in engaging recognizably 'Indian' movement aesthetic sensibilities to create a contemporary dance vocabulary. They strive to create a dance vocabulary, which explores the limitless possibilities of the human form. Motifs from classical Indian dance forms, original music, experiments with rhythm, interactive design all come together to form their signature style.
The ongoing Indian Cultural Festival NAMASTE RUSSIA! has been organized by the Russian Ministry of Culture and the Indian Council for Cultural Relations (ICCR). It is being run by the Russian State Concert Company SODRUZHESTVO (Commonwealth) and the Jawaharlal Nehru Cultural Center of the Indian Embassy in Russia. The festival was inaugurated by India's President Pranab Mukherjee and Russia's Minister of Culture Vladimir Medinsky on May 10, 2015.
Source: Press Photo
The Indian Cultural Festival in Russia, an international event symbolizing cultural dialogue between the two countries, is already making its own history. This year, the ancient and modern culture of India will be brought to residents of Moscow, St. Petersburg, Kaliningrad, Svetlogorsk, Novocherkassk, Kislovodsk, Pyatigorsk, and Astrakhan.
All rights reserved by Rossiyskaya Gazeta.