Russia celebrates many jubilees in Mumbai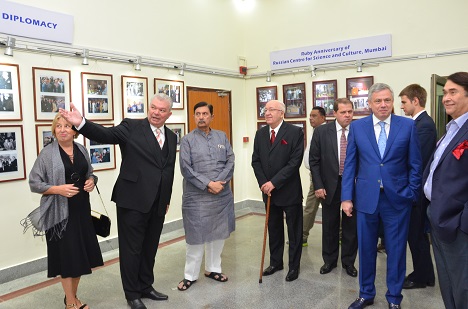 Russia's Ambassador to India Alexander Kadakin (C) at the RCSC in Mumbai.
RCSC
The Russian Ambassador to India Alexander Kadakin arrived in Mumbai to celebrate several anniversaries; 115 years of Russia's diplomatic mission in Mumbai, 90 years of Public Diplomacy (Rossotrudnichestvo) and 40 years of the Russian Centre of Science and Culture in the city.
Vladimir Dementiev, head of the Russian Centre of Science and Culture (RCSC) in Mumbai, and his colleagues were ecstatic that Russia's Ambassador to India Alexander Kadakin was in Mumbai to celebrate the Centre's 40th anniversary and delivered the keynote address.
"This happened for the first time in the 40-year history of this centre," Dementiev said.
"It was more than forty years ago that I first came to India, in 1971, and RCSC in Mumbai was opened in 1975, but very often as a junior diplomat I came here for many functions. Many historical milestones are connected with this very house," said Ambassador Kadakin, who is the senior-most serving Ambassador in the Russian Foreign Service, who has the rare distinction of having served twice as Ambassador to India.
The RCSC's 40th birthday coincided with 115th of the Russian diplomatic mission in Mumbai and 90th anniversary of Rossotrudnichestvo (Public Diplomacy or Federal Agency for the Commonwealth of Independent States, Compatriots Living Abroad, and International Humanitarian Cooperation). Five RCSCs, in New Delhi, Mumbai, Kolkata, Chennai and Trivandrum are representative offices of Rossotrudnichestvo in India.
The Public Diplomacy mission got its current name, Rossotrudnichestvo, in September 2008. While the name and format of the organization has changed several times over the past 90 years, the main aim and activities remain the same: uniting and supporting compatriots living outside Russia, and promoting Russian culture and language abroad, among other.
Ambassador Kadakin spoke of the heights Russia-India friendship had reached, noting that "even the sky is not the limit;" referring to cooperation between them in the sphere of space exploration. "Time-tested cooperation between our countries has been replenished with new significance reaching the special and privileged strategic partnership. We are rightly proud of the unprecedented degree of trust and mutual understanding between our people and governments," he added, speaking at the RCSC anniversary on November 19.
"Please name the country that will give to another country, however friendly they are, a nuclear submarine for rent, or share the technology of the best cruise missile like BrahMos, or will so readily share its knowledge in nuclear peaceful technology and build the state of the art nuclear power station. Our [Kudankulam] Unit 2 is ready for production of electricity," Ambassador Kadakin said.
Kadakin said the exhibitions, programmes and performances organized at RCSC in Mumbai helped people of Indian learn the rich history of Russia and country's ancient traditions. "The jubilee of RCSC is a good occasion to remember the many loyal Indian friends who have helped to strengthen relations with our country. Among them, Bombayites like Khwaja Ahmad Abbas and Raj Kapoor, whose films forever won the hearts of millions of Russians. There are also the modest professionals who have worked selflessly and those who continue to work in the field of strengthening Russian-Indian ties."
Raj Kapoor's son, Randhir Kapoor, was invited and present as a special guest for the evening, and thanked the RCSC on behalf of his entire family.
Another important date, the 115th anniversary of the opening of Consulate General of Russia in Bombay, the first diplomatic mission of Russia on the Indian soil, was also commemorated.
"It was headed by a remarkable Russian diplomat Baron Vasily Oskarovich Von Klemm who made a solid foundation for the development of Russia-Indian relations for many years ahead," the Ambassador said.
Earlier this year, RCSC Mumbai hosted an exhibition dedicated to the 115th anniversary of the Russian diplomatic mission in India's business capital. According to Dementiev, the exhibition showcased unique documents from the past and present of the Consulate General of Russia. The evening also saw a farewell ceremony for Alexey Novikov, Russia's Consul General in Mumbai who is returning on promotion to Moscow.
"The Consulate General in Mumbai makes a fundamentally important contribution to the further promotion of bilateral cooperation in a wide range of areas including trade and commerce, military and technical, scientific and humanitarian cooperation. Special credit must go the Consulate General for enhancing inter-regional cooperation between Russian regions and Indian states," Kadakin said.
Novikov thanked the Ambassador for his support and guidance and Dementiev for his "professionalism, open mind and love for both Russia and India which had created a warm and friendly atmosphere in Russian centre."
Ambassador Kadakin also said Indian Prime Minister Narendra Modi would visit Russia in December for his first full-format official bilateral visit. "We expect important decisions to be taken to further advance cooperation in the field on nuclear energy, oil and gas sector and other fields," he said.
All rights reserved by Rossiyskaya Gazeta.