"Stylyagi" Band marks traditional Christmas, New Year holidays at RCSC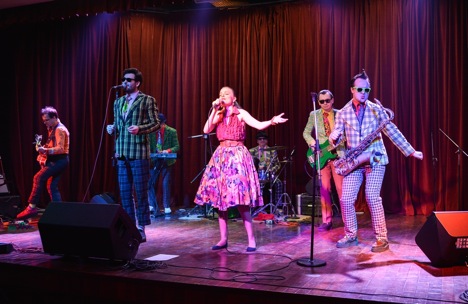 Performances by the Russian Jazz Band, "Stylyagi," and Show-Ballet "Stylish Shake" from Moscow, captivated the Delhi audience on January 13, 2016, marking the traditional New Year's holidays.
Stylish jazz music from the 'Stylyagi band' and dance, coupled with the colourful costumes of the 'Stylish Shake' show-ballet performers, transformed the ambience of the Russian Centre of Science and Culture's Red Hall into a traditional festive evening on Wednesday January 13. The event coincided with the tradition of celebrating Christmas, as directed by the Russian Orthodox Church, in accordance with the old Julian calendar.
Organised at the RCSC to also celebrate the Russian New Year, the function was attended by a cross-section of people in the Indian capital, comprising representatives of foreign diplomatic missions, heads of foreign cultural centres, former Indian envoys to Russia, the Indian cultural and political elite, faculty and students of leading Indian universities, activists of partner NGOs, Indian graduates of soviet/Russian universities, Russian compatriots, music-lovers, critics and media persons.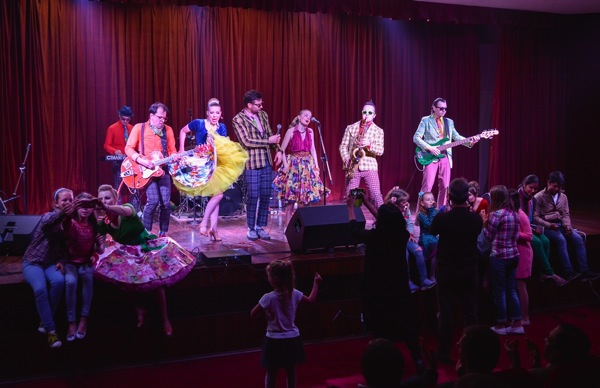 Source: RCSC
The 'Stylyagi' Band played retro Russian hits from the 1960s, and even played old Bollywood Hindi numbers, with a Russian twist. They also performed popular Rock-n-Roll music and Russian folk songs to the delight and enthusiasm of the audience, which encouraged the artists with profuse applause and a standing ovation.
The band also performed on Monday at the Russian Embassy's New Year and Christmas Masquerade Party, hosted by Ambassador Alexander Kadakin (dressed as an Indian Maharaja).
Ramadhikari Kumar, President of INDAPRYAL, Denis Alipov, Minister-Counsellor, Russian Embassy, Sergey Karmalito, Senior Counsellor, Russian Embassy in India andFedor Rozovskiy, Director, RCSC were among those present at the RCSC function.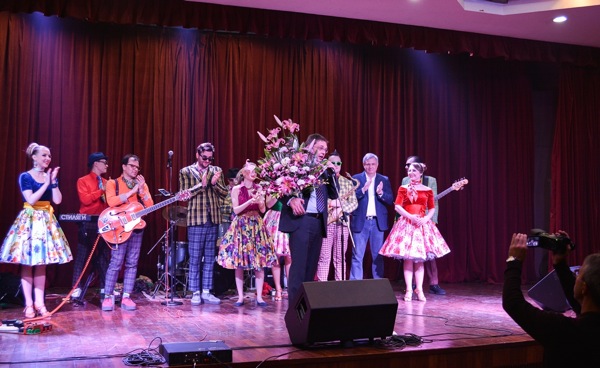 Source: RCSC
After the performance, Alipov and Rozovskiy felicitated the artists, presenting them with flowers. The Russian deputy chief of mission described the occasion as memorable also because it coincided with India's traditional Lohri (harvest) celebration, marking winter.
All rights reserved by Rossiyskaya Gazeta.