Festival of ballet and modern dance thrills Delhi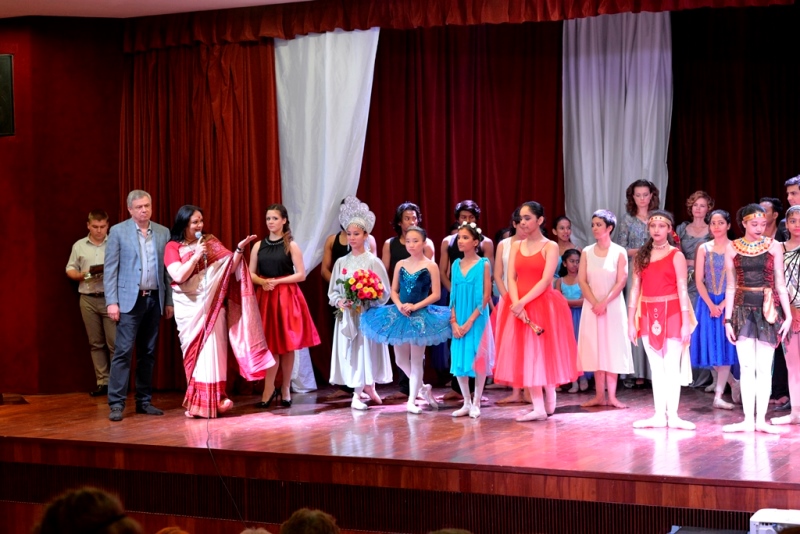 Dance festival was held on April 1.
RCSC
An evening of some masterpieces from classical ballet and modern dance was held at New Delhi's Russian Centre of Science and Culture, to commemorate the 240th anniversary of Moscow's famed Bolshoi Theatre.
To celebrate the 240th anniversary of Moscow's Bolshoi Theatre, Delhi's Russian Centre of Science and Culture (RCSC) hosted an enchanting dance festival on April 1. Glorious performances by dancers from the Imperial Fernando Ballet Company, Central Contemporary Ballet and the School of Russian Classical Ballet, RCSC, thrilled the audience.
Pratibha Prahlad, dancer and choreographer, founder and festival director of the Delhi International Art Festival was Chief Guest. Major Dalbir Singh, Secretary, All-Indian Congress Committee, and Sergey Karmalito, Senior Counsellor, Russian Embassy and Fedor Rozovskiy, Director, RCSC, attended the function.
Source: RCSC
Among the evening's uplifting performances were variations from some classical ballets "Swan Lake", "Nutcracker", "Don Quixote", "Spartacus", "Le Corsaire", "La Bayadere" and "Coppelia", and some modern dance compositions, accompanied on the piano by Olga Titaeva and on viola by Catherine Ivanenko. Titaeva has won numerous national and international competitions, while Ivanenko is an Artist of the Bolshoi Theatre.
The dance festival presented over 70 young ballet dancers from Russia, India, Argentina and Japan. The audience enthusiastically applauded the performers, teachers dancing with their disciples, exquisite costumes, the varieties of choreography and the captivating music. The Chief Guest and the Director, RCSC lauded and felicitated the performers after the show.
The audience comprised representatives of the business, cultural, diplomatic, political and scientific elite of New Delhi, and representatives of diaspora from CIS countries, activists of Indian NGOs, Russian compatriots and media persons.
Source: RCSC
The Imperial Fernando Ballet Company is a famous Indian classical ballet dance academy, winner of national and international awards. The Central Contemporary Ballet is the only Indian company to provide competitive training of international standards in Western dance and contemporary dance forms. The School of Russian Classical Ballet, RCSC, opened in 1982, provides an opportunity to be part of the beautiful and graceful world of Russian Classical Ballet. Students between 5 and 15 are trained by Yulia Perevedentzeva, Russian ballerina and professional choreographer.
The Bolshoi Theatre started on March 28, 1776, when Empress Catherine II granted the prosecutor, Prince Pyotr Urusov, the privilege of maintaining theatre performances of all kinds, including masquerades, balls and other forms of entertainment, for a period of 10 years. The Bolshoi building, which for many years now has been regarded as one of Moscow's main sights, was opened on October 20, 1856 on Tsar Alexander II's coronation day. The Bolshoi Theatre is a symbol of Russia for all times.
All rights reserved by Rossiyskaya Gazeta.