Charming Indo-Russian fusion concert at RCSC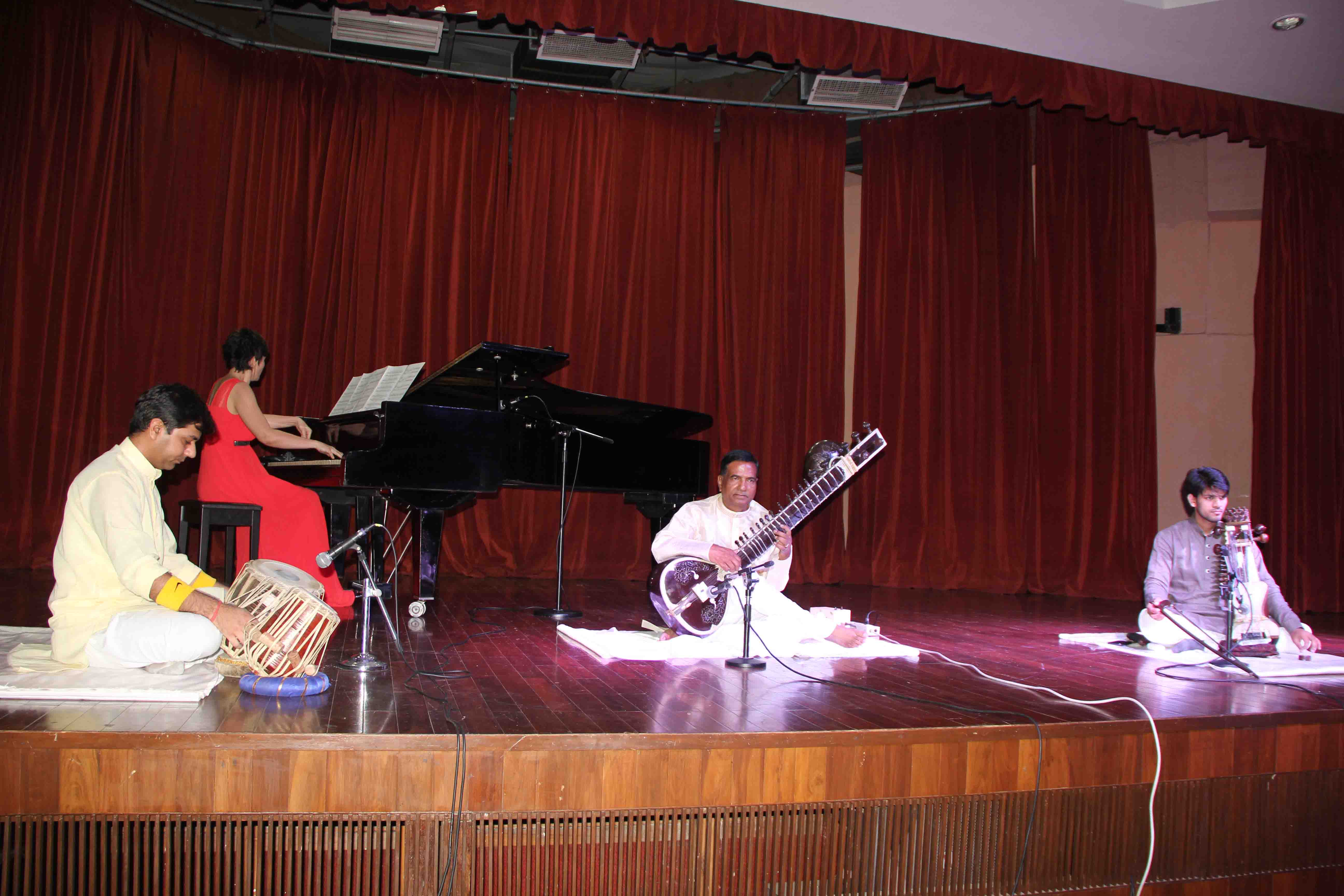 The beautiful blending of notes charmed the Delhi audience.
RCSC
An evening of piano and sitar music merged in tribute to the legendary Russian composer Sergei Rachmaninoff at the Russian Centre of Science and Culture on April 16.
A concert of Indo-Russian fusion music, to commemorate the famed Russian composer Sergei Rachmaninoff, was held at the Russian Centre of Science and Culture (RCSC) in New Delhi on April 16, 2016.
Among those who participated in the concert were Natallia Kapylova, a professional pianist, Sudhir Mathur, a veteran sitar player, Aditya Shanker, a table player, and Ejaz Khan, a guestmusician who played the 'sarangi'. The beautiful blending of notes charmed the Delhi audience. The event, literally a confluence of Russian and Indian music, turned out to be a fitting tribute to Rachmaninoff's genius.
Kapylova's presentation on the piano rightly synchronised with Mathur's sitar recital, along accompanied by Shanker on the tabla and Khan on sarangi, with equal felicity and facility, both on Russian compositions and Indian pieces, particularly Carnatic (southern Indian classical) ragas. E. Lecuona's 'Malaguena', Mussorgsky's 'Old Castle' and Rachmaninoff's three 'Musical Moments' excelled with all their nuances, while the rendition of Carnatic ragas like Shankarabharanam, Yaman Kalyan and Hamsadhwani was perfect and precise. The Rajasthani folk song as well as the Ghazal, 'Aaj Jane Ki Zid Na Karo' and the African folk song completed a fine fusion of musical forms.
Source: RCSC
Chief Guest R. K. Sharma, Deputy Inspector General of Police, Central Reserve Police Force (CRPF), and Purnima Anand, President, International Federation of Indo-Russian Youth Clubs, jointly felicitated the artists. Malati Mathur anchored the programme.
Aditya Shanker and Malati Mathur also announced that they would establish a music group called "Fusion 10," and donate 10 per cent of their income from artistic performances to the Jawaharlal Nehru Cancer Hospital and Research Institute in Madhya Pradesh.
Sudhir Mathur learnt sitar from his father Pt. Ramlal Mathur, and is one of the earliest disciples of Ustad Ali Akbar Khan of the Maihar Senia Gharana. A composer, Mathur has received numerous national awards and performed at international and national platforms.
Source: RCSC
Kapylova began learning piano at age seven in Belarus, and has degrees in classical piano and as a chamber ensemble artiste and a concert master's diploma. She worked as a concert master in the Belarus Academy of Music and taught at the Belarus College of Art before moving to India. She teaches and performs both as a soloist and with other musicians.
Shankar, whose debut performance this was, learnt 'tabla' from Pt. Sarit Das. An engineering graduate from BITS Pilani, he is passionate about music. Hussain is the grandson of tabla maestro Ustad Bundu Khan, and learnt sarangi from the legendary Ustad Sabri Khan.
All rights reserved by Rossiyskaya Gazeta.