Indian Summer Bazaar: celebration for Muscovites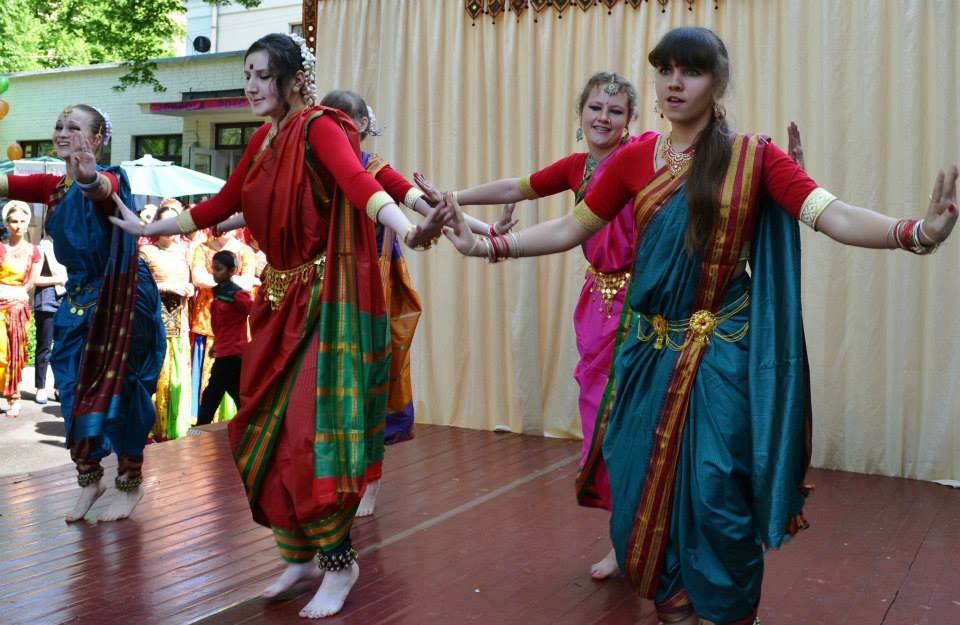 Admirers of Indian culture at the bazaar are young people and the elderly.
Indian Diplomacy
The annual Indian summer bazaar hosted by the Indian Embassy is organized by the Association of Indian women to focus on charitable activities.
The Indian Embassy in Moscow hosted its annual Indian Summer Bazaar on May 21. The bazaar was organized by the Association of Indian Women, established by the spouses of embassy staff members, and focused on charitable activities.
In recent years, this event has become increasingly popular among Muscovites. By visiting this small celebration at the embassy, people not only had a chance to immerse themselves in Indian culture, but also to buy some interesting items. Among products on offer were ethnic jewellery, unique handicrafts, colourful Indian clothes, and natural cosmetics.
Visitors had the opportunity to taste Indian cuisine. The cultural programmes at the day-long event included dancing and musical performances, palmistry, drawing 'Mehndi' (henna), yoga, games, an auction, and a raffle.
The festive bazaar entertainment programme also included activities designed for children. Game tents were specially organized for them.
"The first time that my husband and I came to this bazaar was three years ago," said Natalya. "I stumbled upon an advertisement for this event on the internet and decided – why not go and see? We did not bring our children along, and once we were here, we deeply regretted it. So many interesting games and competitions were being carried out here! And there were many kids of their age here, both Russian and Indian. The following year, we brought both our daughters. Today the whole family is here once again. An annual visit to this bazaar is something of a tradition for us now!"
Often, simple visitors to the "bazaar", become its direct participants in the future. A wide assortment of goods attracts people of all ages and professions, who are fond of Indian culture. "Last year, I came for first time to the "bazaar" as a simple visitor, and I loved it here," said the 25-year-old Muscovite Alexandra, a seller of jewellery.
"In my student days, I was fascinated by Indian culture, and practiced yoga. Later on, I worked at an Indian company for two years. After I visited this bazaar in 2014, a desire was born to learn how things were arranged inside. At the moment, I am helping to sell products for my friend from India."
"I have been participating in this fair for three years now," said Alena, promoter for the cosmetics company Ayurveda. "I have always liked Indian cosmetics, because they are natural, with natural oils and herbs, and at the same time, very affordable, and this is especially appreciated these days, when everything around us made from chemicals.
"In addition, I like working with the Indians – they are wonderful people: simple and honest. Thanks to this "bazaar", the number of our regular customers has increased markedly over the past three years. This also means that more and more people are looking for quality and affordable products, and so they are increasingly starting to turn their attention to Indian companies," said Alena.
Among the main features of this fair is the interest it generates in people of all ages. Admirers of Indian culture at the bazaar are young people and the elderly. Many of them come dressed in the national costumes if India.
"I cannot say that earlier I had any particular interest in India, but my friend is interested in its history," says the student Ekaterina. "I am here for the first time, and frankly – I love it! In general, it seems to me that during the last decade, the interest in Indian culture is gaining momentum among the Russians. Even among my friends, with many having taken up yoga, while my generation grew up on Bollywood films. I just made a 'Mehndi' (designs in henna), and I also had my palm read and future predicted. We shall see – will it come true or not!"
All rights reserved by Rossiyskaya Gazeta.