Pushkin anniversary as Language Day at RCSC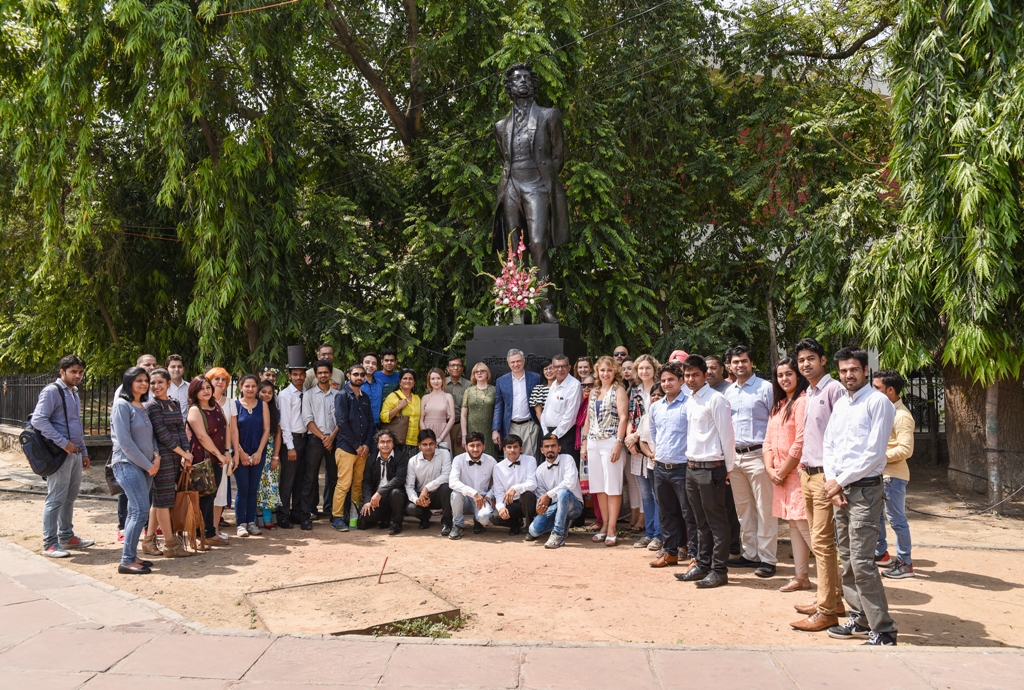 Floral tributes at the monument to Pushkin.
RCSC
Russian Language Day is celebrated to honour the birth anniversary of Alexander Pushkin, probably Russia's greatest poet and originator of modern literary Russian language. In India, the day was marked at the Russian Centre of Science and Culture in New Delhi.
The Day of Russian Language, dedicated to the birthday of the famed Russian poet Alexander Pushkin, was marked with splendour at a function in New Delhi jointly organised by the Russian Centre of Science and Culture (RCSC), Institute of Russian Language (IRL), Russian Language Teachers' Training Centre (RLTTC) and Indian Association of Russian Compatriots, on June 6.
Beginning with floral tributes at the monument to Pushkin, among those who participated in the celebrations were Ramadhikari Kumar, President, Indian Association of Teachers of Russian Language and Literature (INDAPRYAL), Neelakshi Suryanarayan, Delhi University, Fedor Rozovskiy, Director, RCSC, Tatyana Perova, Head, RLTTC, Tatyana Shipilova, Director, IRL, and Elena Barman, President, Indian Association of Russian Compatriots. Many Russian language students from universities, schools, and Institute of Russian Language also took part.
Source: RCSC
The floral tribute was followed by the Literary Carnival "Here Everything Breathes Pushkin". The programme comprised a poetry recitation competition, a quiz on Pushkin, a literary carnival and parade of Pushkin's characters.
Perova spoke of the significance of the Day of Russian Language, coinciding with Pushkin's birthday. Shipilova dwelt on Pushkin's literary career and how he was a poet of the world. Participants included students from Jawaharlal Nehru University, Delhi University and the IRL, RCSC, who recited Pushkin's poetry brilliantly in the Russian language.
Source: RCSC
The poetic and musical performance based on Pushkin's writings by Indian students of Russian language and presentation of characters from Pushkin's works in their original costumes was impressive. The students recited Pushkin's poetry not only in Russian, but also in Hindi and English.
The winners of Russian language competitions and the literary quiz were felicitated with certificates, trophies and Russian souvenirs by Kumar, Suryanarayan and Rozovskiy.
Source: RCSC
The Russian President signed a Decree in 2011 establishing Pushkin's birthday on June 6 as the Day of Russian Language, which is how it is now celebrated in Russia and abroad. Russian is one of the major languages of the world and the most wide-spread of all the Slavic languages. It is also the most common European language from the geographical point of view. According to the latest data, over 150 million people in the world are Russian speaking, while more than 100 million speak Russian as a second language
All rights reserved by Rossiyskaya Gazeta.