Pyatniytsky Choir regales audience at Roerich memorial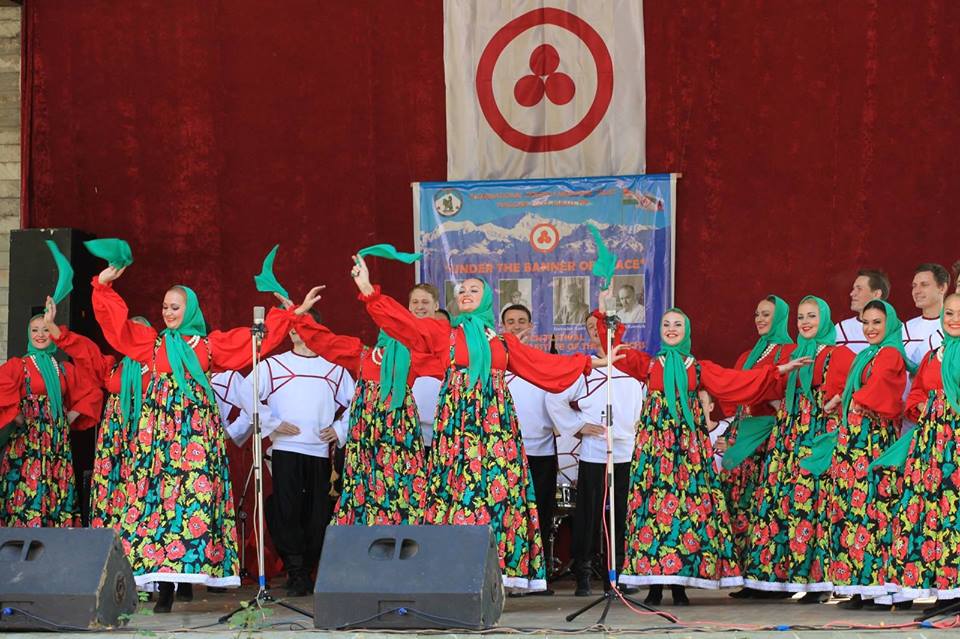 The event commemorated the 142nd birth anniversary of Nicholas Roerich.
RCSC
The famed Russian State Academic Folk Choir regaled audiences at a traditional festival organised on October 9 in Himachal Pradesh, at the International Roerich Memorial Trust located in their estate.
The internationally renowned Russian State Academic Folk Choir, named after M.E. Pyatnitsky, enthralled the audience at the traditional festival organised by the International Roerich Memorial Trust (IRMT) at their estate in Naggar (Himachal Pradesh) on October 9. The event commemorated the 142nd birth anniversary of Nicholas Roerich, the famous Russian artist, philosopher, scientist and traveller. The IRMT was founded by his younger son Svetoslav Roerich 24 years ago.
Organised by the Russian Embassy in India and the Russian Centre of Science and Culture (RCSC) in New Delhi jointly with the assistance of the local administration, the event was the first in the series of performances the famous Choir will give within the framework of the Festival of Russian Culture in India. The artists will also perform at the Kullu International Folk Dance Festival and then in the cities of Chandigarh, Mumbai and New Delhi.
Source: RCSC
The atmosphere in the packed open-air summer theatre of the Roerich estate reverberated with warm applause and profuse shouts of "Bravo" in deep appreciation of the splendid performance. An unrestrained and vibrant dance accompanied by rich and lively music was a key feature of the concert.
The celebration began with a traditional "Shantipooja" ceremony – a prayer for peace and prosperity - held near the memorial stone, at the site of the final resting place of Nicholas Roerich, whom the people of India called "Maharishi" or 'great saint'.
IRMT opened a personal exhibition of the Russian artist Lola Lonely "From Ancient Legends to the New World" and an exhibition of works by embroiderers from Chamba Valley in the estate's exhibition halls.
Source: RCSC
The study of Yuri (George) Roerich, famous Russian scientist, Orientalist and Buddhist scholar, and Nicholas Roerich's elder son, situated in the building of the Institute of Himalayan Studies "Urusvati", was recreated by the curators of IRMT and on display to visitors.
In addition to the main cultural programme, there was also a magnificent performance by students of the Children's Academy of Arts, named after Helena Roerich. Children from surrounding settlements receive training in different art forms such as painting, dance, musical instruments and handicrafts in the academy.
The programme concluded with a friendly folk dance, "Nati".
All rights reserved by Rossiyskaya Gazeta.