1. Ivan the Terrible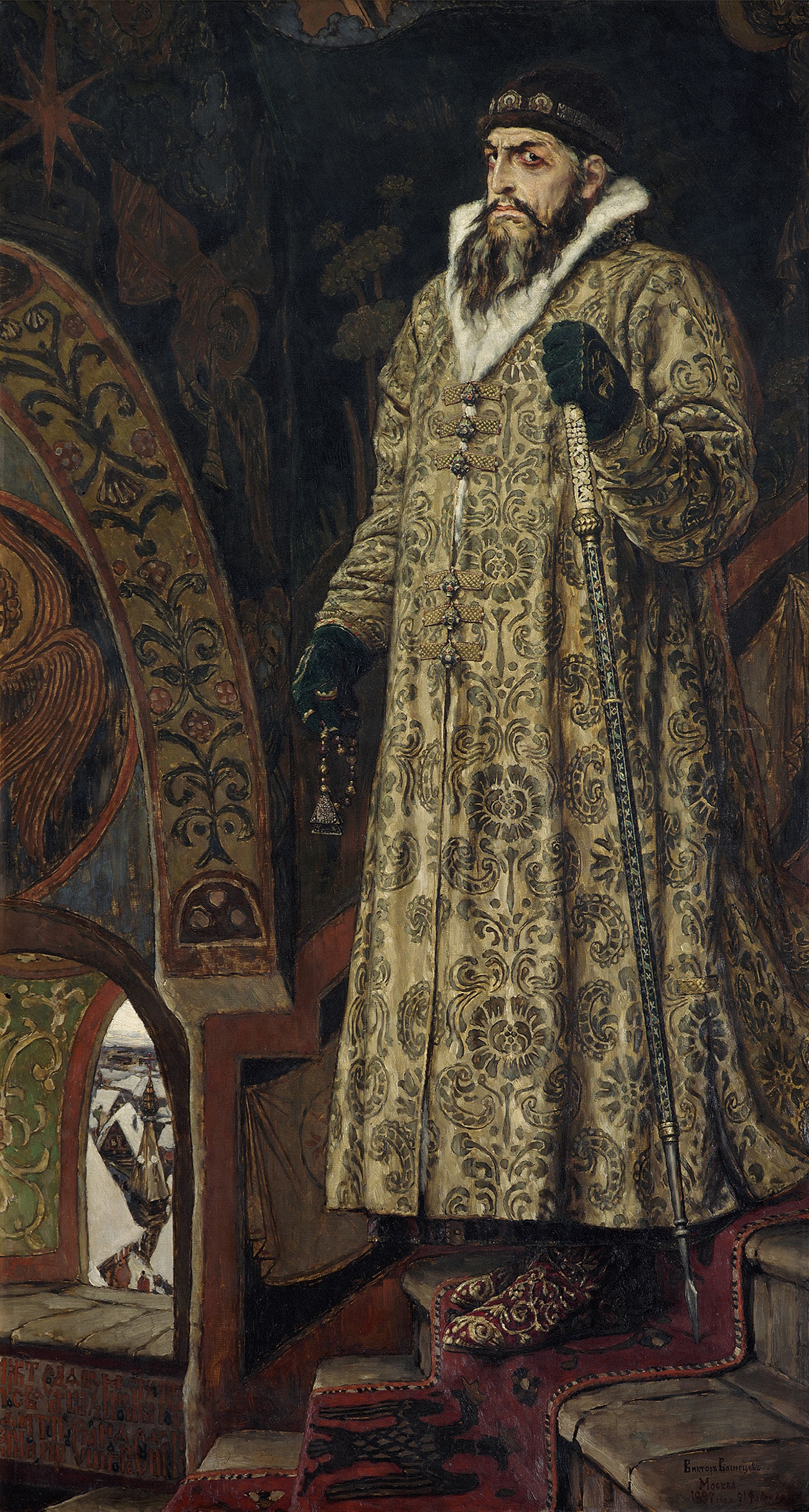 Tsar Ivan Vasilievich the Terrible, 1897 by Victor Vasnetsov. Source: State Tretyakov Gallery
Ivan the Terrible (1530-1584) is remembered in Russian history not only as a harsh ruler who fought against feudal fragmentation and unified the nation, but also as a ruler with a record number of wives. Historians are not certain as to the exact number – three, or possibly four, of his marriages were recognized by the Orthodox Church. In addition, Ivan had three more de facto wives with whom he did not have a church wedding, not to mention numerous mistresses.
There are numerous reports of Ivan's lust for young women, and Prince Kurbsky, who fled Russia to Lithuania, accused the czar of what he described as "Aphrodite's sins." Ivan did not deny it, instead admitting in his letters back to Kurbsky that he was "unable to control his flesh," and "we are all human."
Ivan the Terrible and Vasilisa Lelentyeva, by Grigory Sedov. Source: State Russian Museum
Brides for Ivan the Terrible were selected from all over the country and each time he wanted a new bride up to 1,500 noble ladies were brought to Moscow for the tsar to choose. Most of his wives, however, did not live with Ivan for long. The two exceptions were his first two wives – Anastasia Zakharyina-Yuryeva, and Maria Temryukovna.
Ivan loved Anastasia more than all his other wives, and they spent 13 years together. His marriage to Maria lasted eight years. Ivan believed that both women were poisoned by rebellious boyars. In general, most of Ivan's wives met unfortunate endings. They either died young - Anastasia was not more than 30 when she took her last breath, while Maria ended her days at about 25 - or they ended their days in an Orthodox convent.
Finally, it's worth mentioning that Ivan once sought the hand of England's Queen Elizabeth, the Virgin Queen. However, historians believe it had more to do with his plans to form a military alliance with England than any genuine amorous feelings.
2. Peter the Great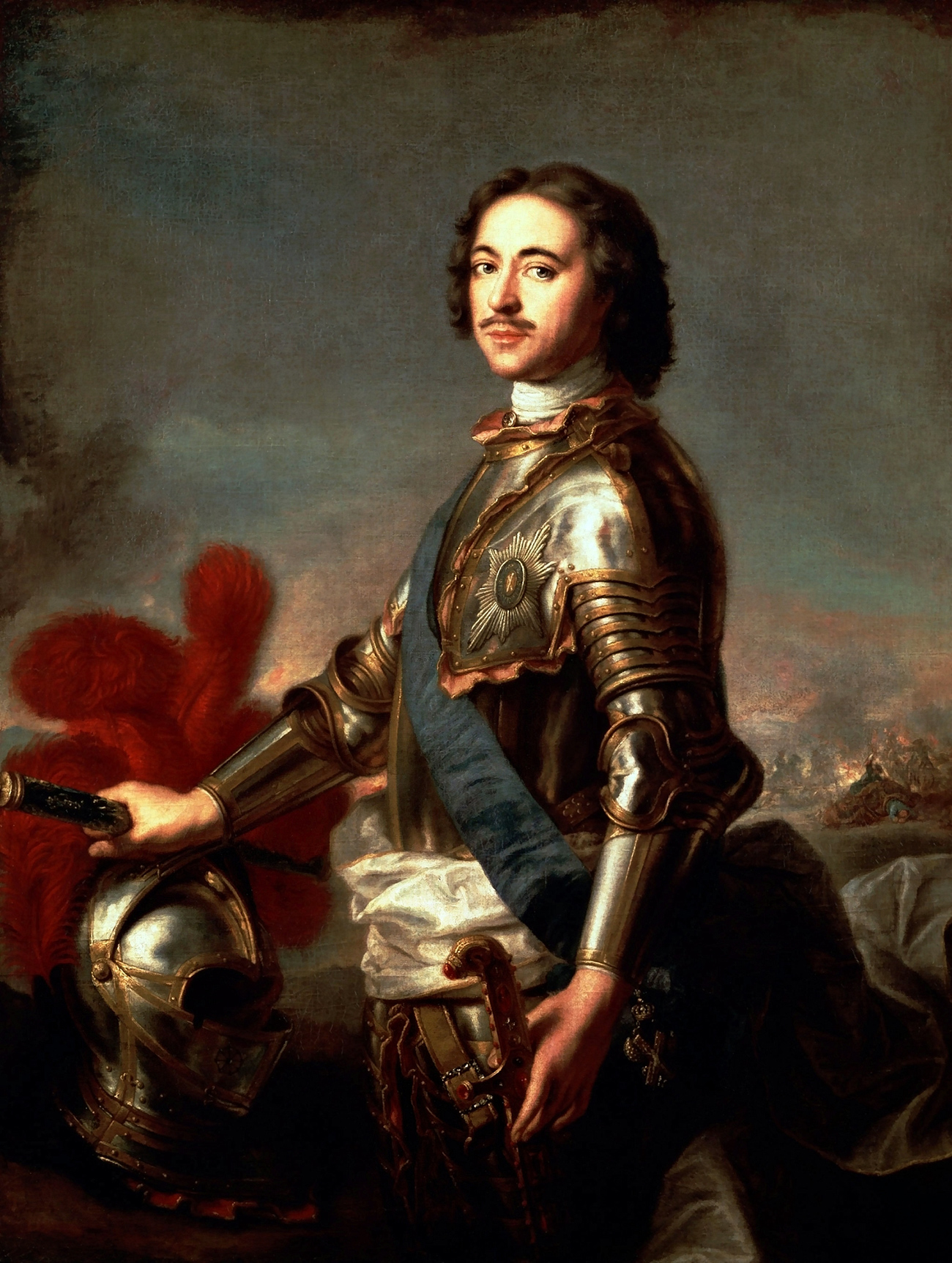 Peter the Great, 1717, by Jean-Marc Nattier. Source: The Munich Residenz
The most extraordinary Romanov tsar, Peter the Great (1672-1725), also had a busy love life, with a few wives and numerous affairs. His contemporaries recalled, "His Majesty was fond of the fair sex," and the tsar's love for his two wives was great. That said, his love for his first wife, Eudoxia Lopukhina, whom Peter married when he was 17, did not last long. "Their love was considerable but it lasted only a year," people close to Peter wrote.
Peter's feelings for his second wife, Marta Skowrońska (1684-1727), were far stronger. Marta grew up an orphan in the household of a local Lutheran pastor in a Baltic town that's now in modern-day Latvia. During the war with Sweden, Peter's army was victorious and as part of the spoils of war Marta became mistress to a junior Russian officer. She then worked her way up the ranks to become mistress to Field Marshal Sheremetev, and then entered the household of a close associate of the czar, Alexander Menshikov, through whom she was introduced to Peter the Great. In 1711, the charming and beautiful Marta became Peter's wife, and is known to history as Empress Catherine I.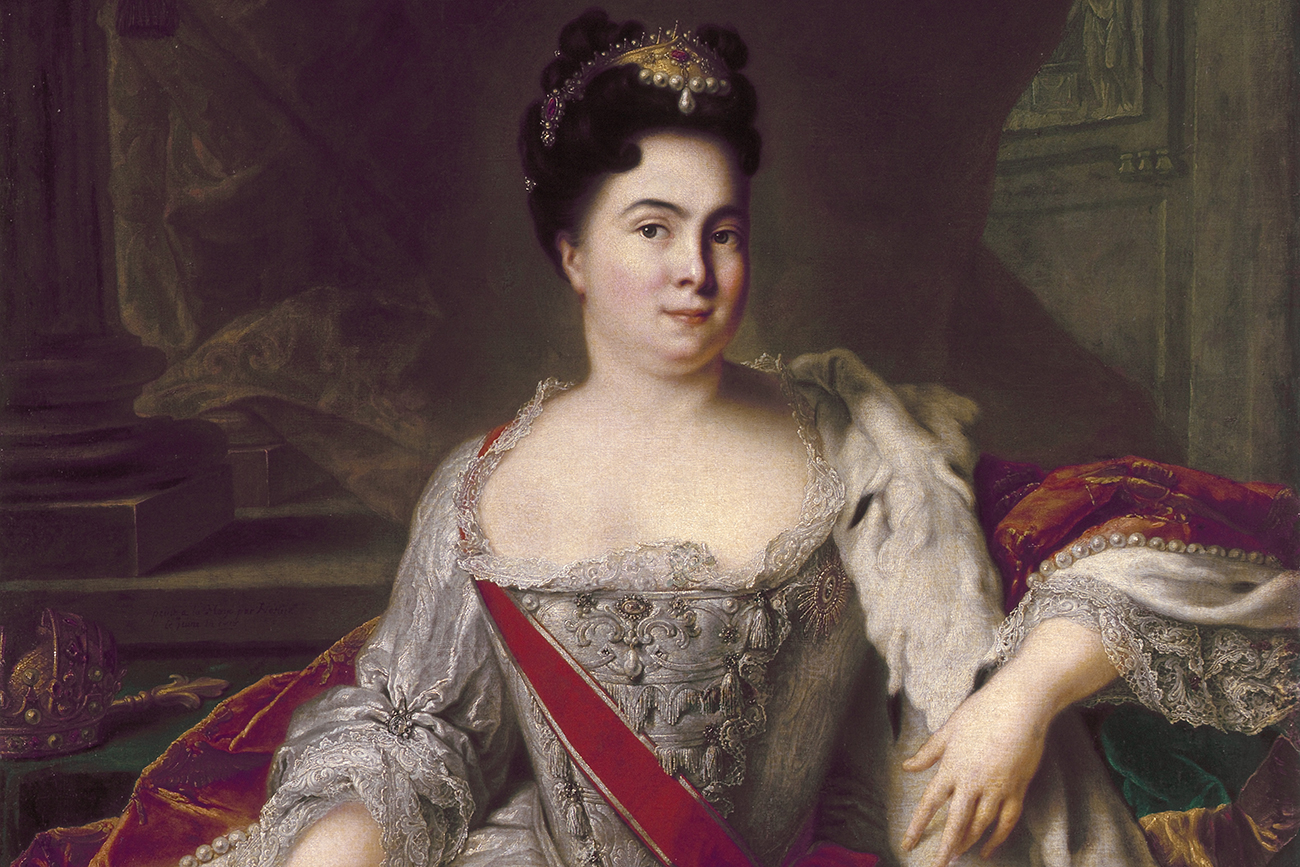 Portrait of Catherine I, wife of Peter the Great. By Jean-Marc Nattier. Source: State Hermitage Museum
There are over 150 letters from Peter to his empress that survive to the present present day. "Katerinushka, my dear friend; good day to you! I hear you miss me. Well, I miss you too! However, we can reason that affairs of the state come first," the czar wrote in one letter.
At the same time, Peter's love for Catherine did not prevent him from having numerous affairs. The empress knew of them, but was understanding. In the final years of his life Peter was ready to break up with Catherine and marry the daughter of a Moldovan prince, Maria Kantemir. Yet, it's believed that the Czarina's friends in Peter's inner circle managed to thwart those plans.
3. Catherine the Great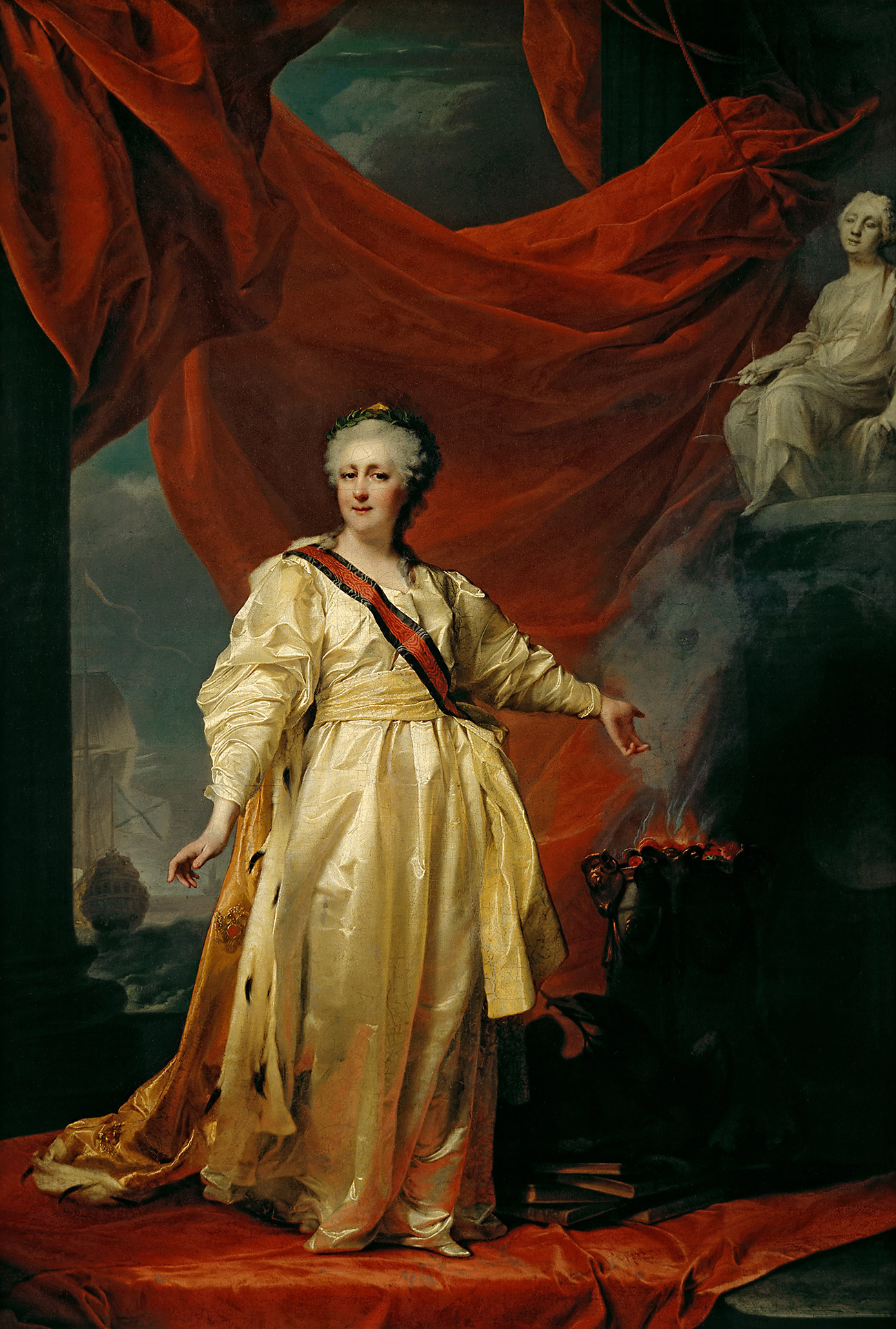 Portrait of Catherine the Great as a Lawgiver in the Temple of the Goddess of Justice, early 1780s, by Dmitry Levitsky. Source: State Tretyakov Gallery
The palm of victory on the love front among Russian rulers goes to Catherine the Great (1729-96). Court rumors attributed numerous amorous adventures to her, and the number of her lovers is believed to be well over 20 during her 34-year rule.
Some of these relationships lasted years, while others were short-lived. Her longest love affair was with Grigory Orlov, a dashing and courageous officer. He was her favorite for over 10 years, and there was even speculation that Catherine wanted to marry him but was dissuaded.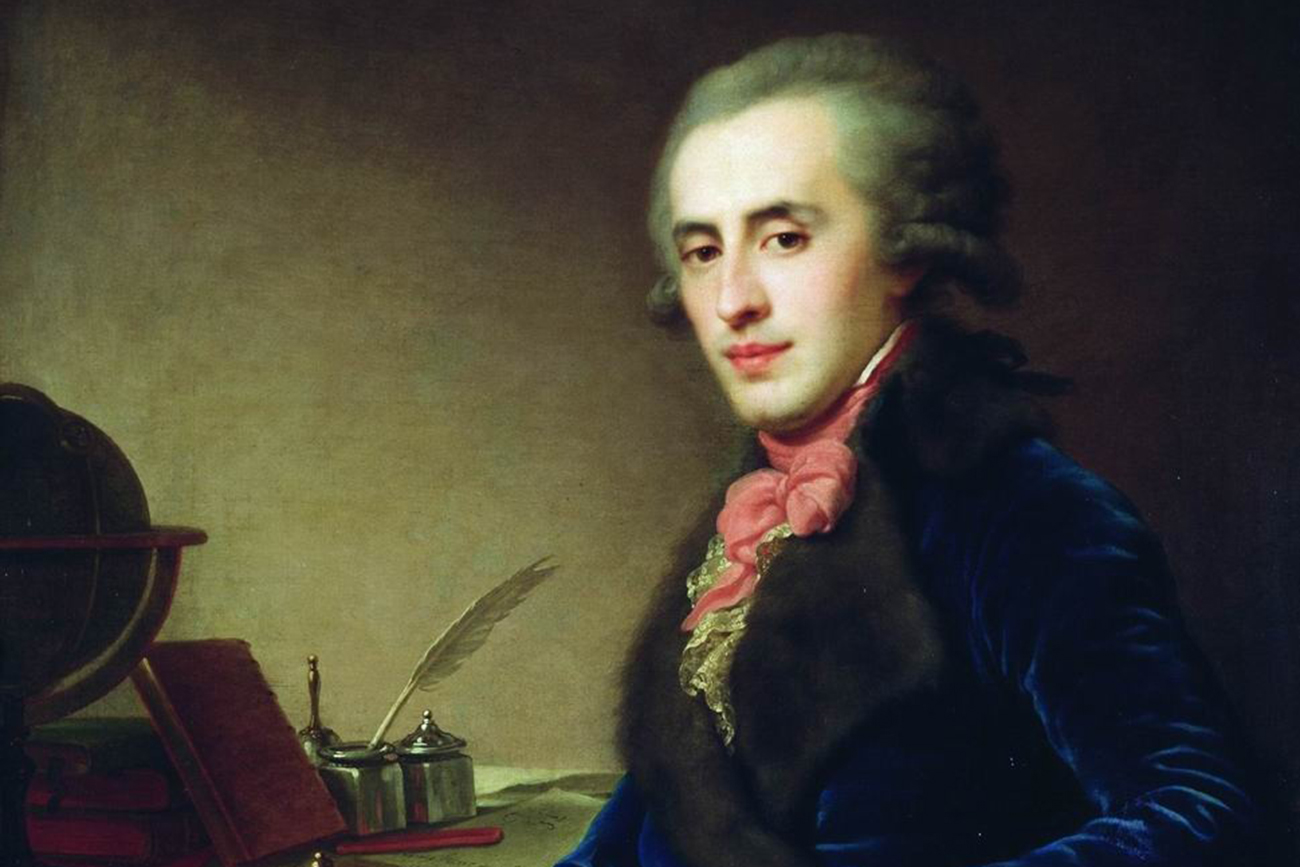 Portrait of Duke Zubov, by Johann Baptist Lampi the Elder. Source: State Tretyakov Gallery
Another of Catherine's bosom buddies was Prince Grigory Potemkin, one of the most prominent statesmen of the time, who is credited with adding Crimea to the Russian Empire. Potemkin continued to have influence on the Empress even after he stopped sharing her bedroom. Historians believe that he even selected his 'successors.'
The ageing Catherine's last favorite, Platon Zubov, was not a Potemkin protégé, however. On the contrary, he was instrumental in ending the all-powerful prince's influence. Catherine spent the last seven years of her life with Zubov, and was seriously in love with the man even though she was more than 35 years his senior.
As Alexandre Dumas wrote, Catherine the Great was not only mistress to her favorites, but also their sovereign.
Read more: When sparks fly - 5 legendary Russian couples of the past 100 years
If using any of Russia Beyond's content, partly or in full, always provide an active hyperlink to the original material.