Renowned American professor discussed Russian architecture at U.S. Embassy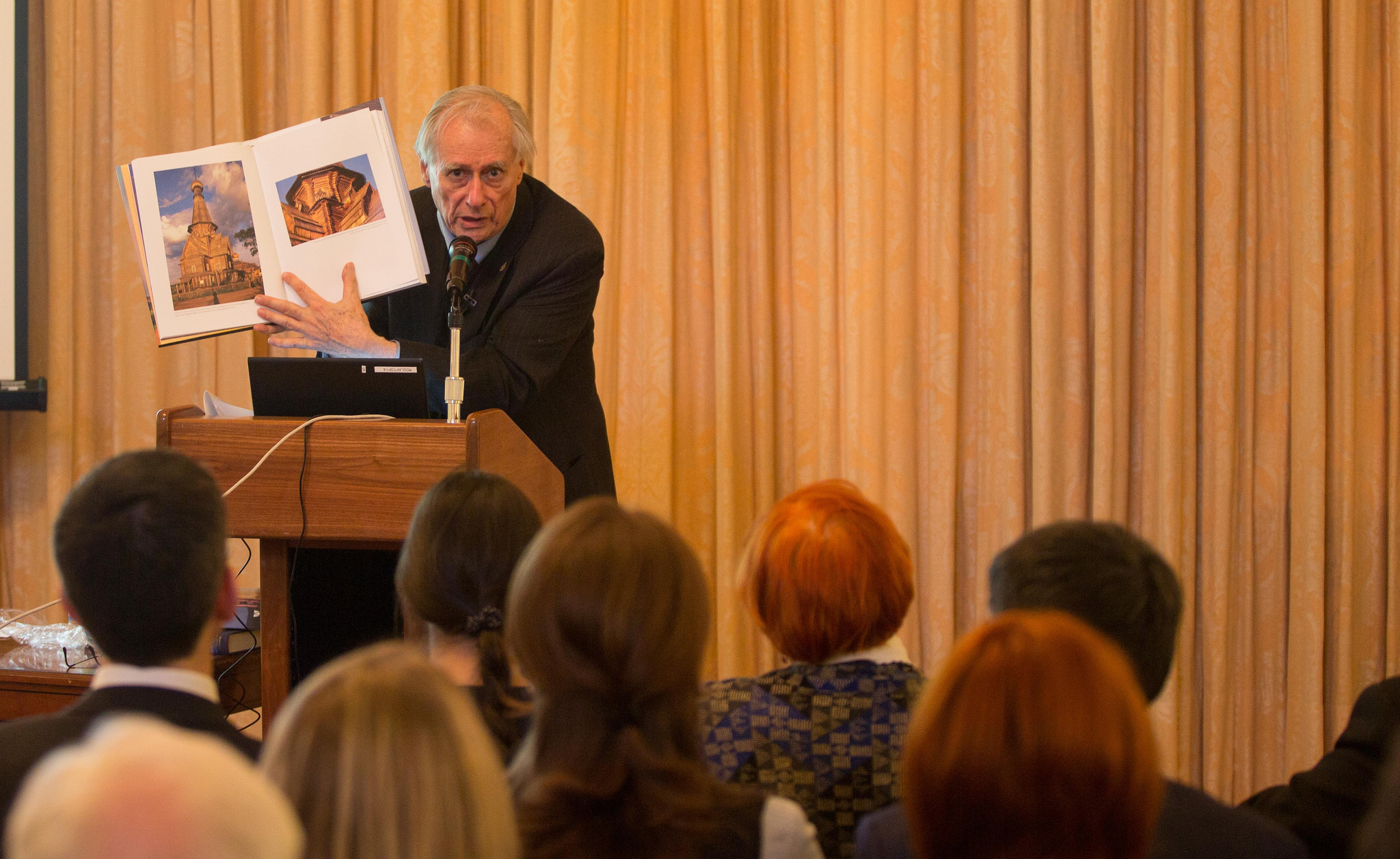 William Brumfield: "It's very important to preserve the cultural legacy."
Flickr.com/usembassyru
William Brumfield opened up about his favorite places throughout Russia.
American Slavicist and historian William Craft Brumfield gave a lecture on March 27 at the U.S. ambassador's residence in Moscow, Spaso House. The lecture was called "Architectural Historian, Photographer, and Preservationist of Russia: A Half Century of Discovery" and was a part of the Spaso House Speakers Series.
Since 1970, Professor Brumfield has been traveling across Russia, from the Kola Peninsula to Vladivostok, documenting unique buildings, houses, and temples – some of which have collapsed. "It's very important to preserve the cultural legacy," Brumfield noted. "In preserving the legacy, the past becomes a resource for understanding the present with all of its complexities and conflicts. Growing up in the American South during the 1950s made me aware of these moral complexities and the ways in which memory shapes us. This led to my early interest in Russian literature."
During the lecture Brumfield spoke of his father's service in the U.S. Marines on the Western Front in 1918. During that period he encountered interned Russian soldiers who had served as a Russian Expeditionary Force in the French Army. Brumfield told the audience how his parents' perception of Russia influenced him.
He also showed a selection of his photographs of Russia's architectural legacy and discussed his experience in discovering the country. The north, which Brumfield first visited in 1988, makes up one of the main chapters in this long historical exploration of Russian architecture and culture. When asked about some of his favorite cities he's visited, Brumfield mentioned unusual locations such as Minusinsk on the Yenisei River, industrial Cherepovets, and Chelyabinsk, which recently made the headlines after a meteorite landed there.
Brumfield also presented his latest book, Architecture at the End of the Earth to U.S. Ambassador John Tefft. With some 200 color photographs of structures with great cultural importance, the book documents the richness of Northern Russian architecture, from log houses to grand cathedrals.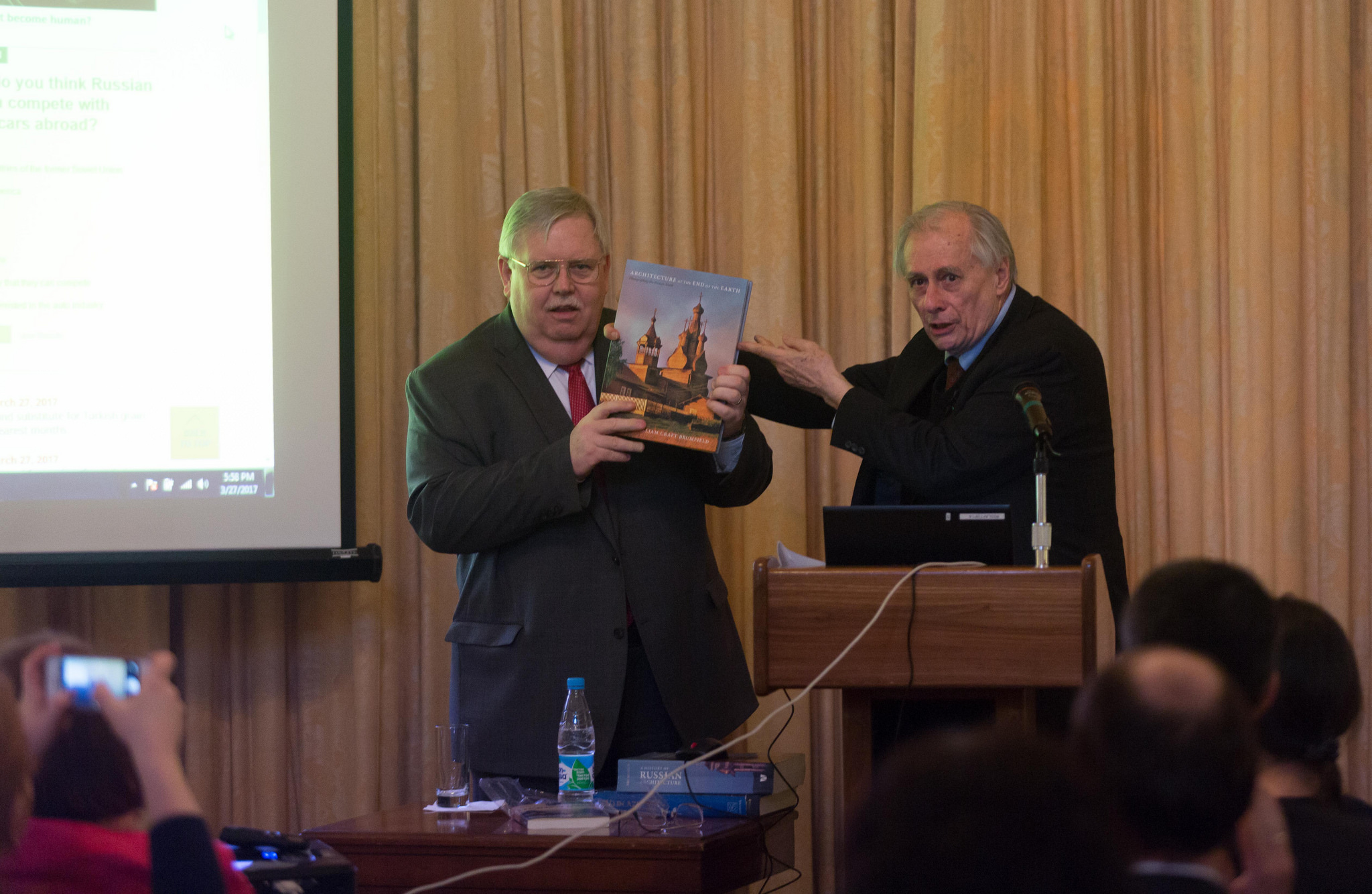 Photo: Flickr.com/usembassyru
William Brumfield is a historian specializing in Russian architecture, a photographer, a tireless defender of monuments, and the author of 35 books and dozens of articles on the problems of preserving the architecture of Russia, primarily in the country's north. For the past seven years, Brumfield's special section on RBTH – Discovering Russia – has shown readers the most beautiful and remote corners of old Russia. His new series of publications include works of Russian photographer Sergei Prokudin-Gorsky, who invented a complex process for color photography in the early 20th century. In these articles, readers can compare Prokudin-Gorsky's views of architectural monuments with images taken by Brumfield decades later.
If using any of Russia Beyond's content, partly or in full, always provide an active hyperlink to the original material.