Urinals on the tables, steaks on gallows, dining handcuffed – when it comes to out-there restaurants, the Russian capital has some of the craziest concept eateries in the country, if not in the world.
Lunch on the toilet
Crazy Toilet Café is a new establishment located on one of the most famous artistic streets in Moscow, Old Arbat. Everything here, from the ceiling to the floor, is dedicated to the theme of the lavatory.
Crazy Toilet Café: Arbat Street 4, +7 (495) 966-15-36
Instead of chairs there are toilets, instead of plates – mini toilets. The cups and glasses resemble packages for urine samples, the bill is brought out in a chamber pot and toilet paper has replaced napkins, while the walls are covered with reworked images of Disney characters (for example, Winnie-the-Pooh using a shovel to dig into a pot that certainly does not contain honey).
Only the menu does not offer anything fecal-related: Diners will find Greek and Caesar salad, herring under a fur coat, borsch, beef stroganoff and other classics. However, the profiterole and the chocolate ice scream squiggle look particularly appealing on the mini toilet.
Food from a jar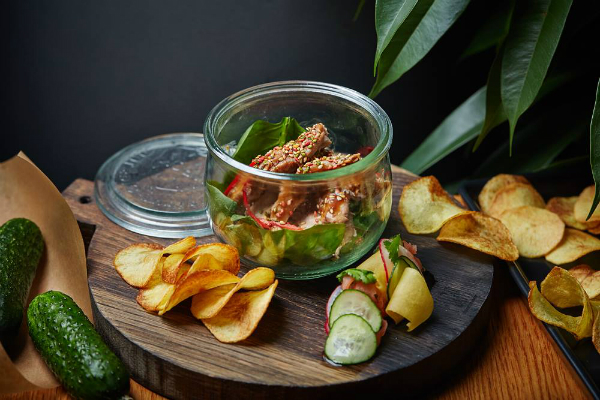 Banka Café. Source: Press photo
The main attraction at Banka Café is the jar (in Russian banka means jar). Almost all the dishes are served in them. No, not in those liter-sized jars from your grandmother's preserves, but in those resembling civilized crockery.
Banka: 17 Nastavnichesky Pereulok, building 1, +7 (495) 287-0828
This is a modest establishment with only 35 seats, but it does not need any more, considering its remoteness from the crowds and its take-away option.
The menu is quite interesting: mini pasties with potato and lamb fillings, risotto with pumpkin, duck leg and cranberries, baked halibut with spinach and melon with pink pepper, linguine with truffle sauce. Obviously, all these dainties would look better if they were not stuffed into a glass jar (even if it is conceptual). Also, using a fork to eat dishes out of a low round jar, especially those like couscous, is not very convenient.
Meat on the gallows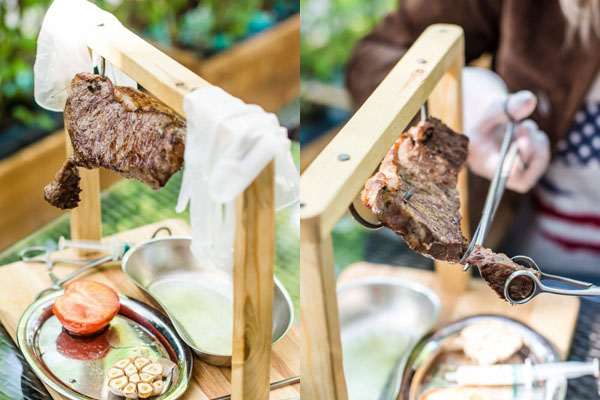 Kusochki restaurant. Source: Press photo
Imagine this: you come to a restaurant, order a beefsteak and it is brought out on a small elegant gibbet; then you are told to remove it with surgical scissors.
Kusochki: 63 Shabolovka Street, + 7 (495) 114-5525
This is how it is done at the Kusochki restaurant (kusochki means pieces). Upon entering the establishment you are given a doctor's robe and are served a liqueur from a dropper.
The restaurant is divided into several thematic zones: a train compartment, a stadium, the Kremlin, an Italian courtyard, a hospital and a jail. In the jail, for example, you can dine while handcuffed to the bars of a cell. If this doesn't thrill you, call the hookah attendant, who is dressed as Superman.
Here even the menu does not follow a single concept: salmon tartar on an avocado swab, Caucasus cheeses on the gallows, a purebred Black Angus burger, pea soup-puree, farmer's salad with fern, fish soup with saffron and vodka, and lamb with potato pancakes. You can definitely have a ball here.
Plasticine madness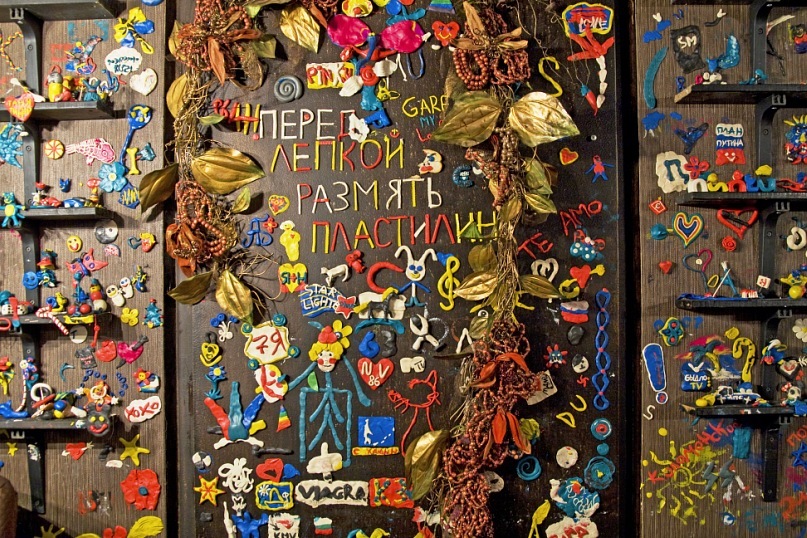 Café Didu. Source: Press photo
Café Didu is possibly the most plasticine-themed establishment on earth. As soon as you enter you are given a sticky mass and are asked to sculpt something out of it, then stick the mess on the wall and furniture.
Didu: 24 Myastnitskaya Street, +7 (495) 624-1320
The café's founder thought that if you walked around and look at the plasticine figures, you would be able to understand what the diners were thinking about. But the only thing you realize after viewing the exhibits is that not everyone is born an artist or a sculptor. In any case, the walls are covered with Russian profanities more than with plasticine busts or still lifes.
Inside, the café resembles a plasticine cemetery – it is rather stuffy and has a peculiar smell. The menu contains the typical Moscow dishes: burgers, pasta, risotto, vegetarian meals. It is also a relief that the waiters do not expect you to sculpt anything out of the puree and porridge.
Beer in the metro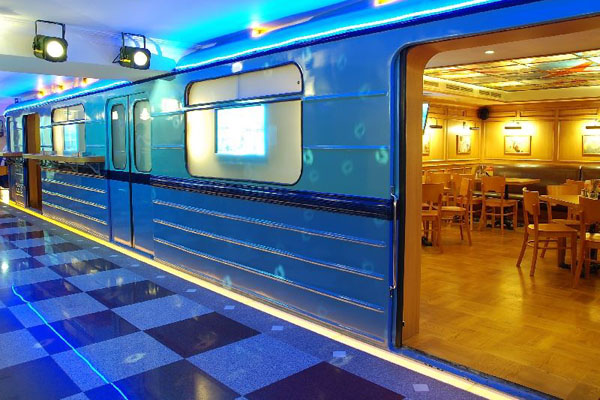 Metro Diner. Source: Press photo
The entrance to the beer hall in the Metro Diner is carefully indicated by the sign "Transfer to beer" and its interior simultaneously resembles a dining car and a metro car. Instead of the "Reserved" note you have the "No boarding" sign.
Metro Diner: 10/13 Sadovaya-Triumfalnaya Street, +7 (495) 966-1556
The menu is designed as a metro map and the dishes are named after stops: herring under a fur coat – "Nakhimovsky Prospekt," Olivier salad – "Park Kultury," green salad – "Botanichesky Sad" (Botanical Gardens), vegetable salad – "Polyanka." You can order a metroburger, a duck leg called "Kitai-gorod" or veal called "Dynamo." The drinks list includes "Sex in the metro."
This place will fascinate foreigners and all those who cannot reconcile themselves to the ban on drinking beer in the metro.
First published in Russian in Interview Magazine.
All rights reserved by Rossiyskaya Gazeta.