You can't leave the capital but want to go to the beach? RBTH presents five of the best spots to relax within Moscow city limits, each of which is easy to reach by subway.
Filyovsky Park (Filyovsky Park subway station)
It's only 15 minutes from the subway to the beach, 10 of which is spent walking through forest. On the banks of the Moskva River you will find huge wooden decks that are comfortable to lie on, even for big groups. Beach volleyball and soccer areas are located right behind the decks. Best of all, it's mostly free.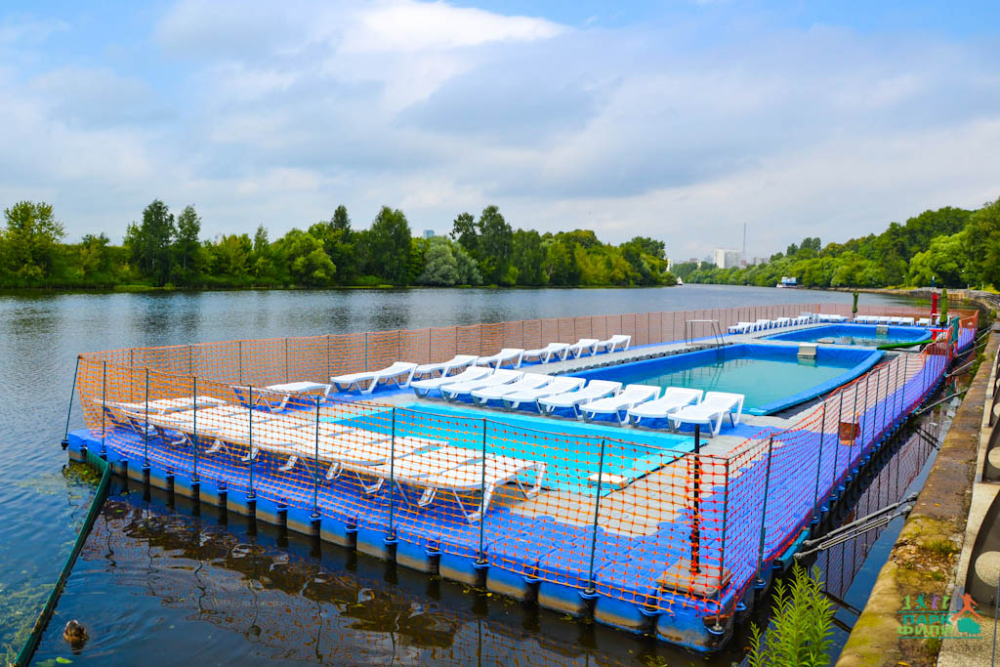 Source: Press photo
For those who want to swim in the pools, two of which are for adults and one for kids and are located at river level, there is a small hourly fee of $3 on weekdays and $5 on the weekend. In addition, a full-day pass can be purchased for $12.50 and $16 respectively. The beach is equipped with changing rooms, trash bins, restrooms, refreshment kiosks, and cafes.
"We love it," gushes Zinaida, a grandmother who has come with her three grandchildren. "We live nearby and come as often as possible; We either bring games with us or the boys play soccer. On weekends a lot of people come here. Nearly everyone swims in the river."
Beach №3 at Serebryany Bor (Polezhayevskaya subway station)
Getting here is a bit more complicated: From the subway station you have to take a 30-minute ride on shuttle bus #190. If you have a car, the beach boasts its own small parking lot.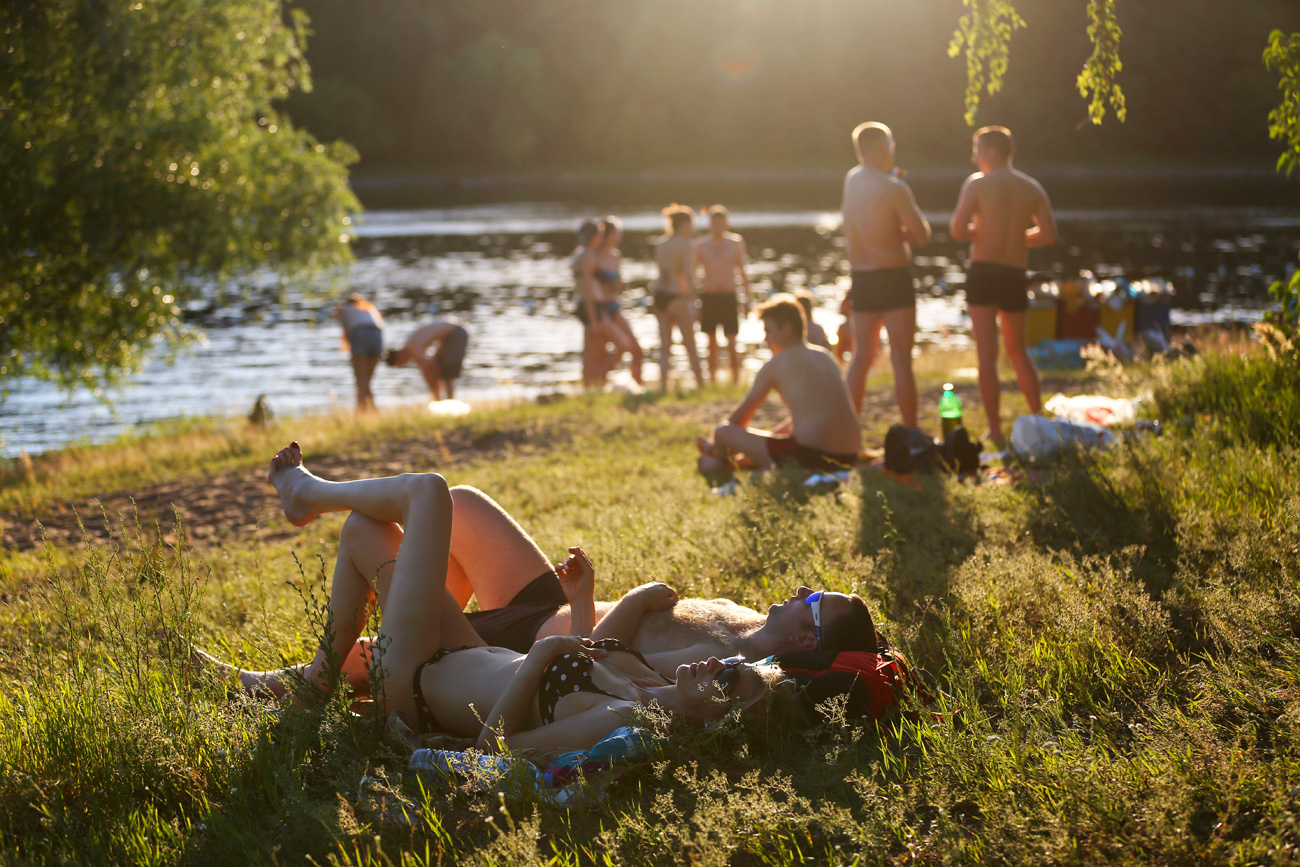 Source: Mikhail Pochuyev/TASS
The beach is free and almost "wild": while some parts of the beach are equipped with sunbeds, the majority is covered with prickly grass and occasionally sandy spaces. While visitors generally prefer lying on their own towels on the ground, it's possible to rent a sunbed for $9.50 per day.
You can easily find the showers, restrooms and cafe (which doubles as a bar on weekdays), ping-pong tables and a volleyball court. In addition, you can take a ride on a boat.
"It's great on weekdays – the beach is empty!" one of the visitors told RBTH. "But on weekends it's tough to be here – there are just too many people. The water here is clean enough: You can even see water lilies."
Superbeach club (Strogino subway station)
The beach is located on the shores of the Bolshoi Stroginsky backwater. You can reach it by bus #687 or #277. There is also a small parking lot. While in the evenings there are loud parties (tickets are up to $16), during the daytime you can relax on a sunbed and bathe in the lake.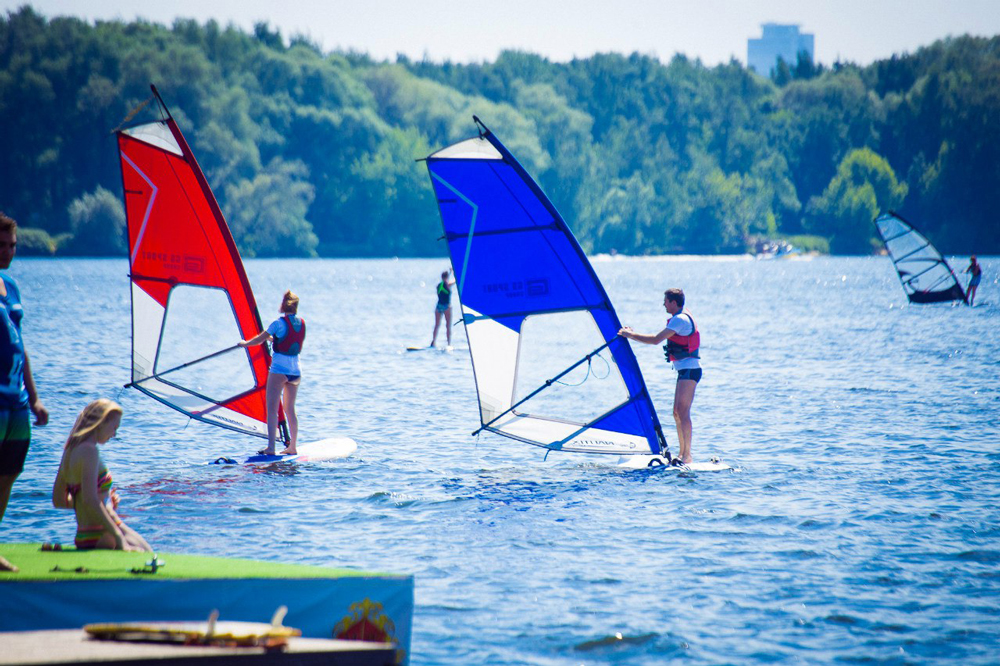 Source: Press photo
Everything is clean and tidy and facilities – including changing rooms, restrooms, and a restaurant – are available. On weekdays the price is $5; on weekends it will cost you $8. Watersports are available for those who just can't sit still, ranging from wakeboarding and aqua biking to boat rentals and even windsurfing. Soccer and volleyball courts are available, as is a huge trampoline.
One main advantage of the beach is that – whether because of the wind or the landscape design – you feel a bit closer to the sea.
The pool in Flakon (Dmitrovskaya subway station)
A nice (and free) place in the city center to stop by and plunge into the pool right after work. It's just five minutes from the subway. Paid parking is available for car owners on the premises of the Flakon art cluster.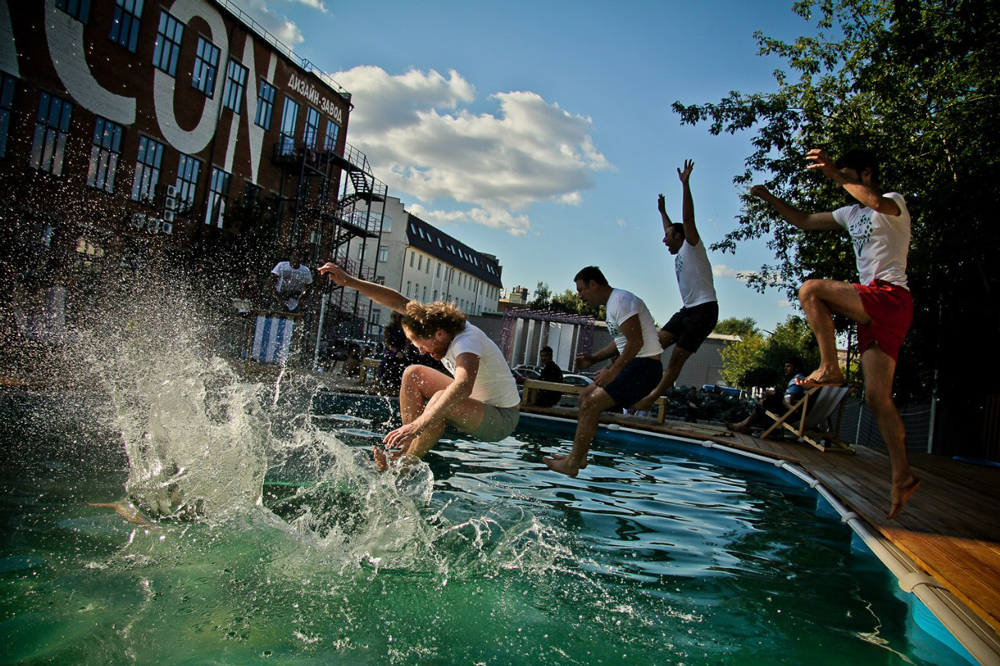 Source: Press photo
The beach area itself is relatively small, with only a couple dozen sunbeds. The pool itself is big and spotlessly clean. Some visitors sit in the attached café.
Don't expect to feel at one with nature here: The pool is surrounded by the walls of the former crystal glass factory, covered with graffiti. However, if you happen to be in Flakon, come to the "beach." According to sunbathers this place is "very Moscow."
The pool at Sokolniki Park (Sokolniki subway station)
After only a 10-minute walk from the subway, you can dive into The Bassein. Although the complex is not all that big, it is well equipped: two swimming pools (a big one for adults and a smaller one for children) with heating and a waterslide, multiple sunbeds, a playground, changing rooms, restrooms and storage lockers.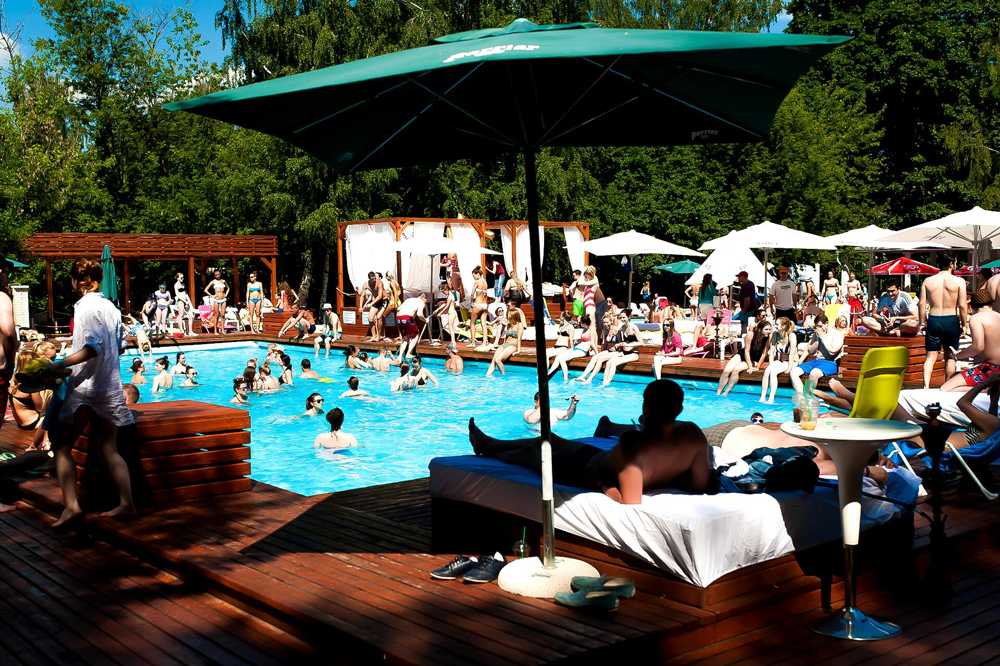 Source: Press photo
You can eat either in a pleasant café nearby or right on the sunbed. Gear for sports and games (ranging from ping-pong, volleyball, badminton or backgammon) is available to rent as well.
This place is great for young people: electronic music is blasted out throughout the day, while on the weekend there are popular parties.
A session (which lasts 2 hours and 45 minutes) costs $6 on weekdays and $9.50 on weekends; all-day sessions cost $9.50 and $22 respectively.
Subscribe to get the hand picked best stories every week
All rights reserved by Rossiyskaya Gazeta.