1) Lotta Volkova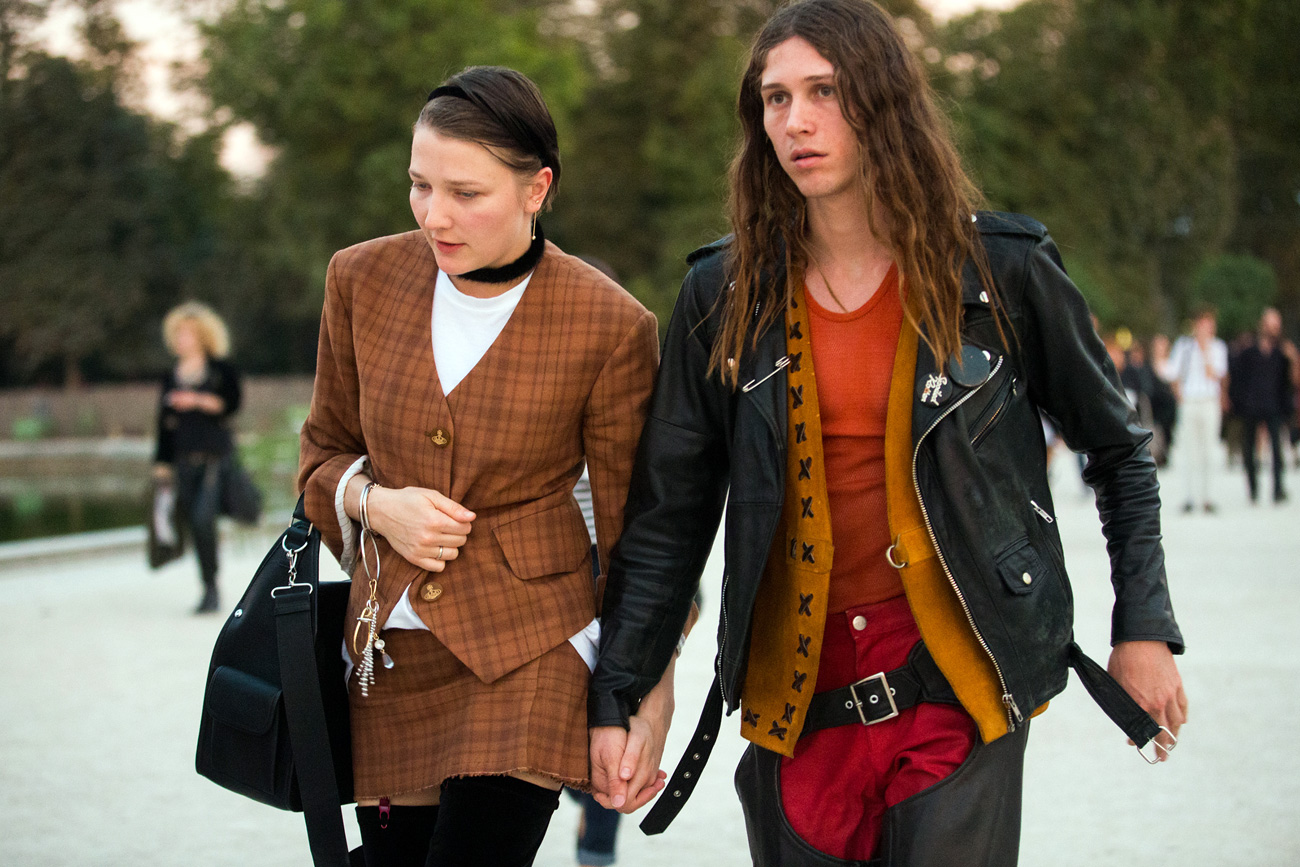 Every Lotta Volkova's (L) outfit is a sensation. Source: Getty Images
Family legend has it that Volkova, born in 1985, was named after the Led Zeppelin song "Whole Lotta Love," a favorite of her mother, who taught physics at a university in Vladivostok. Lotta says she owes her love of fashion to her father, a cargo ship captain, who brought her many gifts from his voyages. Although Lotta Volkova earned her degree at Central Saint Martins (CSM) in art and photography, she made a name for herself in the world of fashion. During her student days, Volkova impressed her classmates and professors with her extravagant way of dressing and the wild parties she organized in church crypts in London.
In 2003, Volkova launched her own clothing brand, Lotta Skeletrix. It featured punk-style street fashion for herself and her partying friends. "I wanted the name to sound as if we were a music band," she said in an interview.
Volkova's t-shirts and jeans were sold at London's Dover Street Market, where they caught the eye of Rei Kawakubo, the famous Japanese fashion designer. Or, rather, it was Volkova herself who caught the designer's eye. Kawakubo was so impressed that she invited Volkova to sell her designs at Kawakubo's store.
A few years later, Volkova moved from London to Paris, where she became a stylist with Vetements, a brand famous for revolutionizing street fashion.
Volkova first won international fame as a stylist, and leading celebrity fashion photographers were eager to work with her. This year, Volkova was included into the list of the world's 500 most influential fashion figures produced by the London-based publication Business of Fashion.
2) DavidKomakhidze(David Koma)
Born in St. Petersburg, David Komakhidze drew his first fashion designs at the age of eight, and at 13 began to take part in fashion competitions. Prior to attending Central Saint Martins, Komakhidze spent two years studying at St. Petersburg's Stieglitz State Academy of Art and Design, popularly known as "Mukha." He became a star almost immediately after arriving at CSM.
Komakhidze's undergraduate collection was the best in his year, and his graduate collection won two grants. One, from the famous London's department store Harrods, included a cash prize and an opportunity to sell his designs in the store. The second grant, from Fashion Scout, a British platform to support young designers, came with £25,000 and a deal with Brown's, the same store that bought John Galliano's first collections. He followed up on these successes with a limited collection for Topshop and many other deals. The brand David Koma was launched in 2009.
The young designer's style can be summed up as hyperfemininity. All his creations are targeted at strong, sexy and confident women. The brand became an instant hit with top models and actresses. Megan Fox, Lady Gaga and Cheryl Cole all have his designs, and Beyonce wore a David Koma dress to an MTV Awards ceremony.
In 2013, Komakhidze became the creative director of the Paris fashion house Mugler, with the task of reviving the brand. Komakhidze was a longtime admirer of the brand, and so far he has retained the its trademark features – geometric and clear lines – but ditched its outdated sex appeal.
3) Leonid Alexeev
Another St. Petersburg native, Leonid Alexeev, entered CSM the same year as David Komakhidze. During the summer vacation after his first year in London, Alexeev rented an office, bought equipment, hired people and started working. By the time he graduated, Alexeev already had his own design studio in St. Petersburg.
Alexeev has turned out to be more entrepreneurial than many of his colleagues: from the beginning, he did not focus on haute couture but ready-to-wear, targeting the mass market, and has released two collections each season: men's and women's.
Alexeev set up his own fashion school in St. Petersburg; collaborated with the Zenit football club to creating the first fashion collection for Zenit fans; and assisted the Erarta museum of contemporary art in setting up a fashion museum. He has also designed costumes for productions by two Moscow theaters — the Pushkin and the MKhaT.
In 2014, Alexeev disappeared from the fashion scene. Later he told Forbes magazine that he had been invited to establish a design bureau for the Russian Defense Ministry by Defense Minister Sergei Shoigu himself. The designer was given the ambitious task of making military service popular. His work with the Defense Ministry culminated in a collection that was presented at last year's Mercedes-Benz Fashion Week.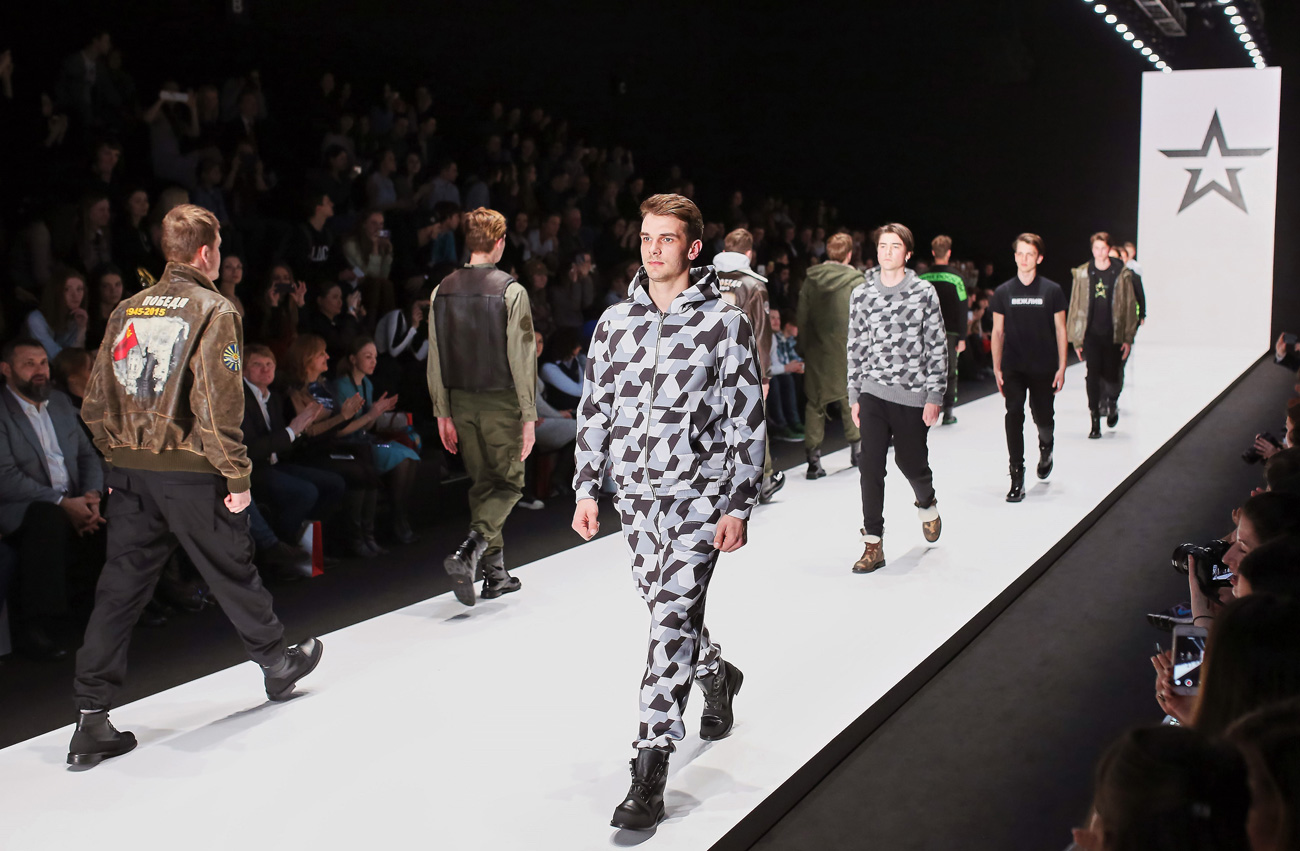 Mercedes-Benz Fashion Week Russia 2015. Source: Kommersant
The collection was devoted to the Russian operation in Crimea, which was carried out by operatives known as "polite people." It featured balaclavas, patent leather military boots, sweatshirts and sweaters with captions like "Polite" and "Politeness captures cities." The audience responded well to the designs, but the critics did not.
Alexeev now teaches at the St. Petersburg Fashion Business Academy and is back designing men's fashions.
4) Tigran Avetisyan
Yet another native of St. Petersburg, Tigran Avetisyan, had no intention of going into fashion: at first, he studied industrial design at Central Saint Martins since he wanted to learn how to make furniture. He soon felt that learning how to make tables and chairs was too utilitarian, and without telling his parents, who were paying his tuition, transferred to men's fashion design.
In interviews, Avetisyan has said that Central Saint Martins hardly taught him anything. Yet his name appeared in fashion magazines, including Vogue, as well as in The New York Times, The Telegraph and Dazed, thanks to his CSM graduation collection in 2012.
Critics loved his unconventional collection made of cheap fabrics with baggy jackets, trenches and tunics with depressing captions chalked on them, such as "Too much pressure," "No jobs," and "Nothing more to say."
Once back in Moscow, Avetisyan struggled. "I remember, I came to Moscow after studies at Saint Martins, made a collection and realized that nothing was happening. And unless I made myself noticed there and then, I would have to just shut down the brand before even launching it properly," Avetisyan told Afisha magazine in an interview. To 'make himself noticed,' Avetisyan and his team staged a stunt: they glued Avetisyan's promotional leaflets on top of advertising spreads by Dior, Ralph Lauren and Gucci in magazines on sale in Moscow and St. Petersburg, and filmed themselves doing it. The stunt was a great success, and Avetisyan became famous on the Moscow fashion scene.
Now he creates collections inspired by everyday Moscow life, breaking fashion taboos. In addition to his store at 20 Kuznetsky Most in Moscow, Avetisyan's collections are sold in more than 20 stores all over the world.
5) Yulia Kondranina
Before attending graduate school at CSM, Moscow-born Yulia Kondranina graduated from the Kosygin Moscow State Textile University with a degree in women's fashion design and worked for three years as a designer for the Savage brand.
At the time, Kondranina did not even think of having a brand of her own. She was interested in spending some time abroad and getting some experience working in a foreign firm.
While she was still at school, Kondranina was offered an internship at Yves Saint Laurent and an opportunity to work as a junior designer at Givenchy. However, after her graduation collection was rated one of the top 10 of her year and shown at London Fashion Week, she no longer considered those offers. Kondranina's collection was noticed by Lady Gaga and Rita Ora, and she decided to create her own brand. Fashion Scout helped her with her first independent collection, and then presented her with a Merit Award. The grant covered all the costs of shows at the London and Paris fashion weeks as well as £25,000 for creating her own brand.
The designer quickly became famous for her bold experiments with form, fabrics and minimalist patterns. After her first show in Paris, Kondranina won a commission from the leading Hong Kong fashion house, Joyce. She also collaborated with New York's Opening Ceremony and Dover Street Market; and had a display at Selfridges in Oxford Street.
6) Timur Kim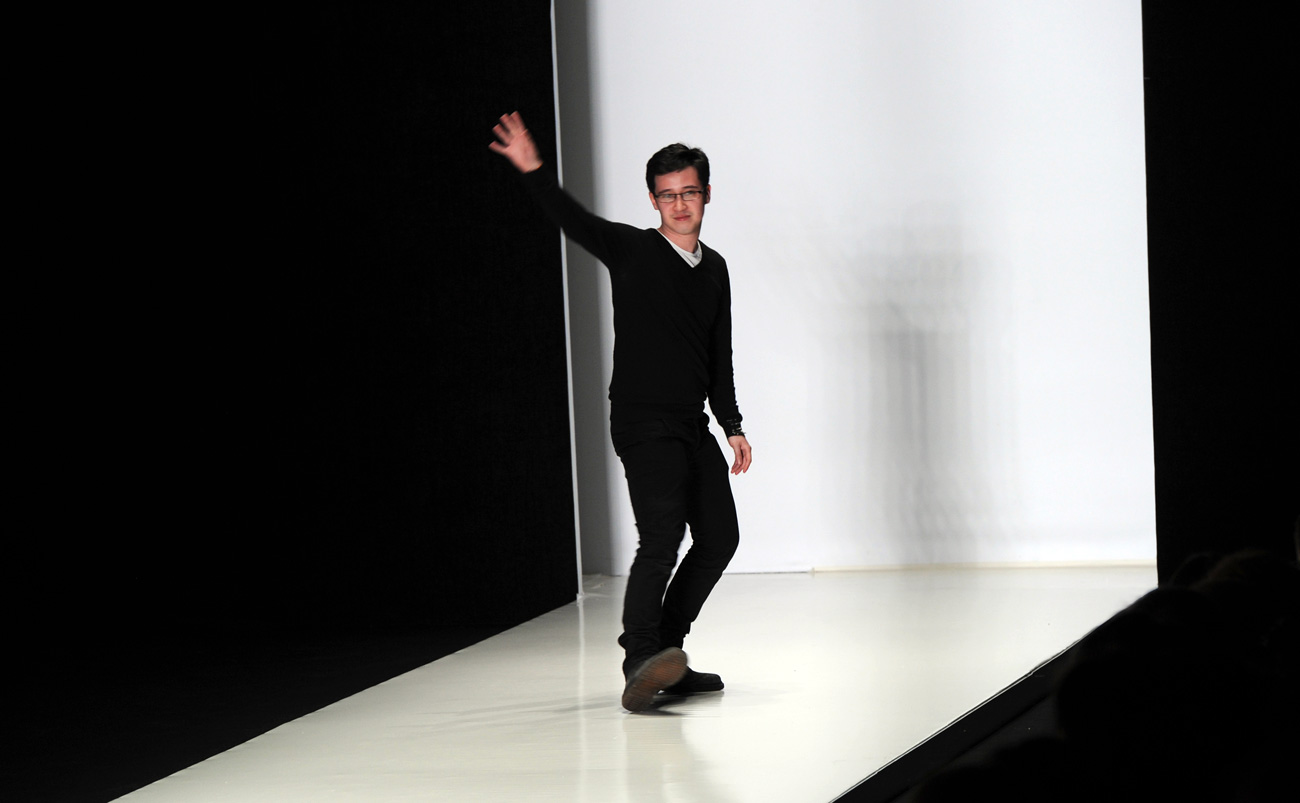 Fashion designer Timur Kim after the show of his collection during the Mercedes-Benz Fashion Week Russia at the Manezh Central Exhibition Hall. Source: Vladimir Vyatkin/RIA Novosti
Timur Kim only recently graduated from Central Saint Martins. He entered CSM straight from high school, in 2007, to study women's fashion design. By the age of 23, he had completed both his undergraduate and graduate degrees. While he was a student, Kim secured an internship at the Alexander McQueen fashion house, won some prestigious awards and, upon graduation, set up his own successful brand.
Kim works in a minimalist style, mainly with denim and corduroy, creating midi dresses, vests and jackets. He is also experimenting with knitted fabrics. Kim finds his inspiration in Russian culture, transferring to the catwalk Malevich's paintings, Russian laces, 'rug' prints and elements of the habits of Russian Orthodox monks.
Kim has shown his collections in Milan, London and Paris. He also showed them in Moscow, but unfortunately minimalism, which is all the rage in the West, failed to win over Russian fashionistas. This year, Kim is conquering the United States, where his capsule collection of t-shirts has already been met with success.
7) Alexandra Gordienko (Marfa Journal)
After working as a creative consultant to Kanye West, Alexandra Gordienko, a native of Yekaterinburg, went to study at CSM. Her bachelor's degree is not in fashion design, but in journalism, which has not prevented her from making it to the top 500 most influential fashion figures. That was due in part to Marfa Journal, an influential publication about art and fashion.
The 300-page journal, named after the small Texan town of Marfa, was Gordienko's graduation project at Saint Martins. She was its editor-in-chief, publisher and photographer. In effect, it is a fanzine, a deliberately amateur and informal publication full of photographs.
Gordienko's magazine created quite a stir in the fashion industry: for instance, pictures of French actress Chloe Sevigny with a lobster on her crotch competed in popularity with the viral photo of Kim Kardashian and champagne. The magazine became, effectively, a fashion manifesto, a trendbook and a source of inspiration for stylists, designers and fashion houses. Appearing on the cover of Marfa Journal is now as prestigious in some circles as appearing on the cover of Vogue.
Marfa Journal is now sold in bookstores and press stalls practically all over the world and is considered one of the most influential fashion publications in Europe.
First published in Russian by Kommersant-Dengi magazine.
Subscribe to get the hand picked best stories every week
If using any of Russia Beyond's content, partly or in full, always provide an active hyperlink to the original material.