How to celebrate St. Patrick's Day in St. Petersburg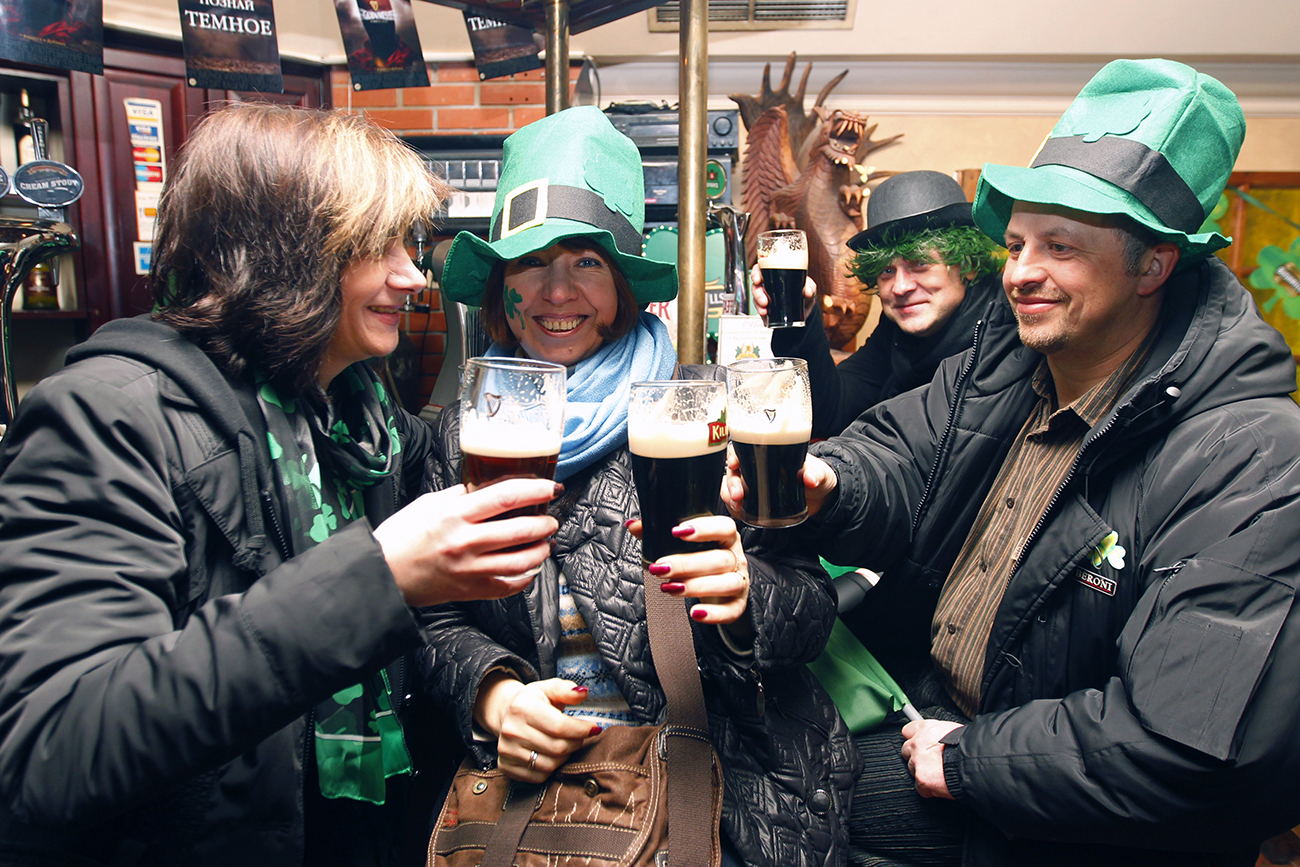 Quality Irish drinks is one of the reasons why many Russians love Irish pubs.
Ruslan Krivobok/RIA Novosti
This may come as a surprise, but St. Petersburg has one of the oldest traditions of celebrating St. Patrick's Day in Russia. This year's music and dance festival "St. Patrick's Day" is the 18th annual event. Irish pubs are also offering various events. Here is our guide to the best places with comments from locals and expats.
Music and dance festival 'St. Patrick's Day'
"Before 2000 St. Patrick's Day was only celebrated in Irish pubs by expats and within a closed community of folk-musicians," Alexey Belkin, "St. Patrick's Day" festival organizer and leader of "Otava Yo" music band, told local newspaper Fontanka.ru. "In 1999 a small club 'Moloko' catered for 400 people and it became obvious that it was time to start a bigger festival in a larger hall."
The program is pretty standard each year: Local bands and musicians from Moscow and Minsk will perform Celtic folk songs, play bagpipes and drums and dance groups will perform Irish dances. The event takes place on March 18 at the Aurora Concert Hall (website in Russian).
Approved by Vladimir Putin - Mollie's Pub
Those who aren't ready to pay 800 rubles for a concert can simply go to numerous pubs, especially as this year the holiday falls on a Friday. Expect crowds on Rubinsteina street, where Mollie's Pub is located.
The oldest Irish pub in St. Petersburg, it opened in 1994 partly thanks to the assistance of Vladimir Putin. "Putin, who is now president of Russia, but was then the head of the Committee for External Relations of St. Petersburg, granted permission to open the pub", Mollie's ex-PR manager Ivan Petrukhin told RBTH.
Today, Mollies group is represented by 13 different locations across the city and each place will have a special program during St. Patrick's weekend (molly.su).
Wild dances at O'Hooligans
Another popular chain of Irish pubs is O'Hooligans, with three venues. Billy Waters from Ashbourne in Ireland likes to visit his local O'Hooligans on Primorskiy pr., 137. "They have Irish beer and the food is like the food in an Irish pub (not great but edible)", Billy said. "Although the concept of paying at the end for all your drinks isn't an Irish concept."
This year the pub has announced wild dances, competition for a barrel of beer and recommends booking tables in advance (ohooligans.ru).
Wanna see lady in a coffin? Go to Shamrock
An indisputable destination for the holiday is the Shamrock pub across the street from the Mariinsky Theater. It opened in 1994 and has several authentic traditions. Besides live music, striptease and free refreshments for guests, the staff puts a young lady in a coffin and then brings her inside the pub. She symbolizes Molly Malone, a young fishmonger who plied her trade on the streets of Dublin, but who died young from a fever. Often musicians, opera singers and ballet dancers from the Mariinsky theater join the celebrations (shamrock.spb.ru).
Mike Deasy, a Canadian with Irish roots who has been living in Russia for 12 years, doesn't feel that the Irish pub scene in St. Petersburg is really authentic. "I celebrate it like in Canada, pub, not like in Ireland, family and dinner. I think I'll just go pubbing around Zhukovskogo and Rubensteina streets. O'Hooligans will be crazy, Shamrock quieter."
Fiddler's Green
Opened in 2013, Fiddler's Green tries to recreate the atmosphere of a sea tavern of the early 20th century. They have a wide range of drinks – beer, rum, whiskey, home-made punch, cider and even apple compote for teetotallers (hatgroup.ru/fiddlers-green).
"I like Fiddler's Green, it has an atmosphere, but it's too hipster. The play list is Irish pub music and Canadian folk," Mike says.
Worth going out for good drinks
Quality Irish drinks is one of the reasons why many Russians love Irish pubs. This is the case for creative director Yakov Ionychev, who toured Ireland by bicycle two years ago. "I go to Irish pubs, when I miss Guinness and Kilkenny, as they are not so easy to find elsewhere."
Yakov's favorite places are Radio Ireland (radioireland.ru - website in Russian) on Admiralteisky prospect and Mollie`s Pub. "The first like a real Irish pub, it's packed with foreigners, and the barmen speak perfect English (once they thought that I was Irish, as I have ginger hair)".
Yakov says that sometimes he goes to Finnegan`s (finnegans.ru - website in Russian) at metro station Sportivnaya (the chain has two more locations in the city, including one on Nevsky prospect), but when he wants a simple atmosphere typical of Irish pubs, he chooses local bars – "I Believe" Bar, Every Dog Bar and Bar 76.
If using any of Russia Beyond's content, partly or in full, always provide an active hyperlink to the original material.