Stalin-era Palekh propaganda desk set sold for $18,750 in New York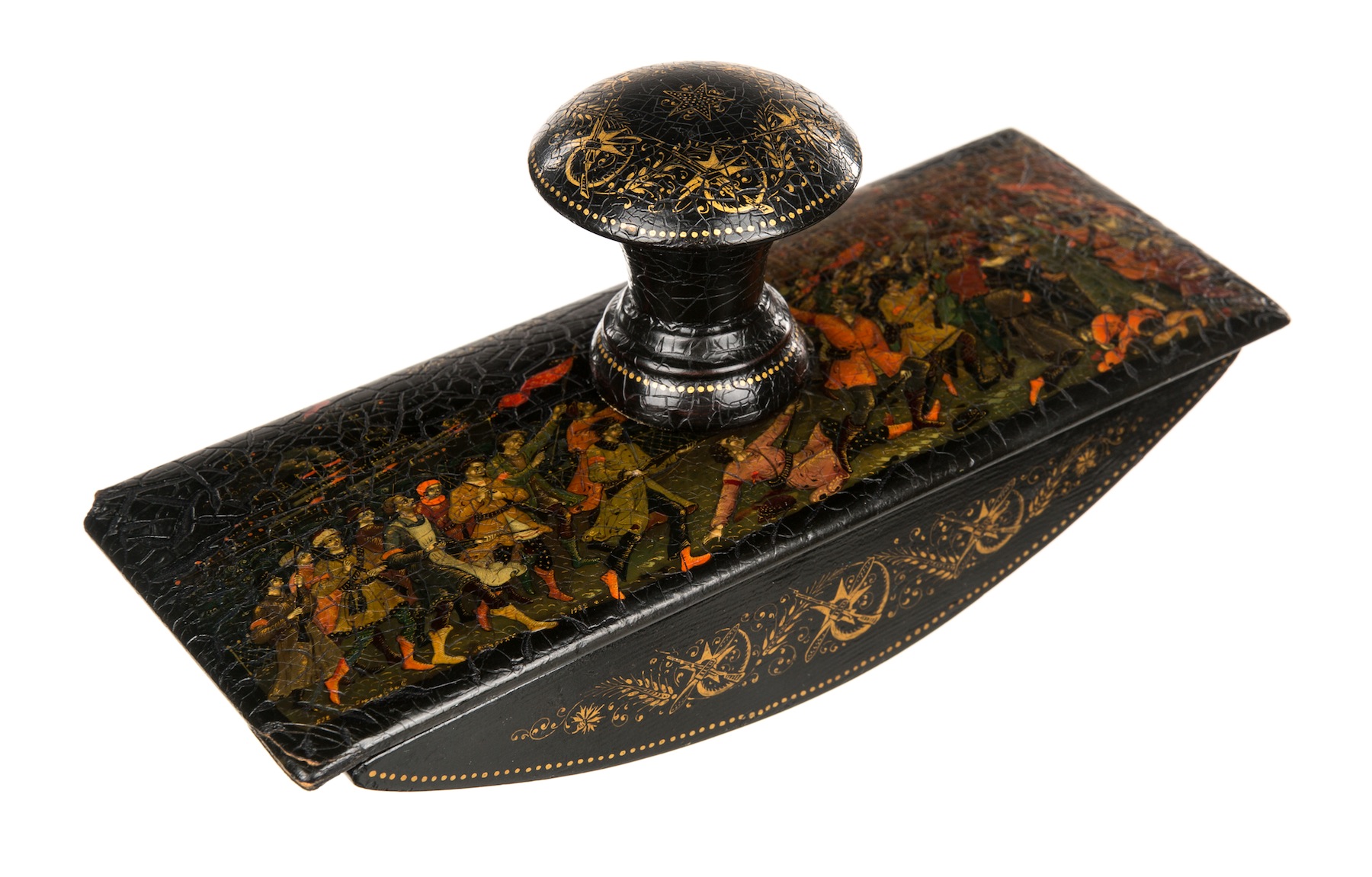 Known stylistically as 'agitlak', the set praises the young Soviet regime.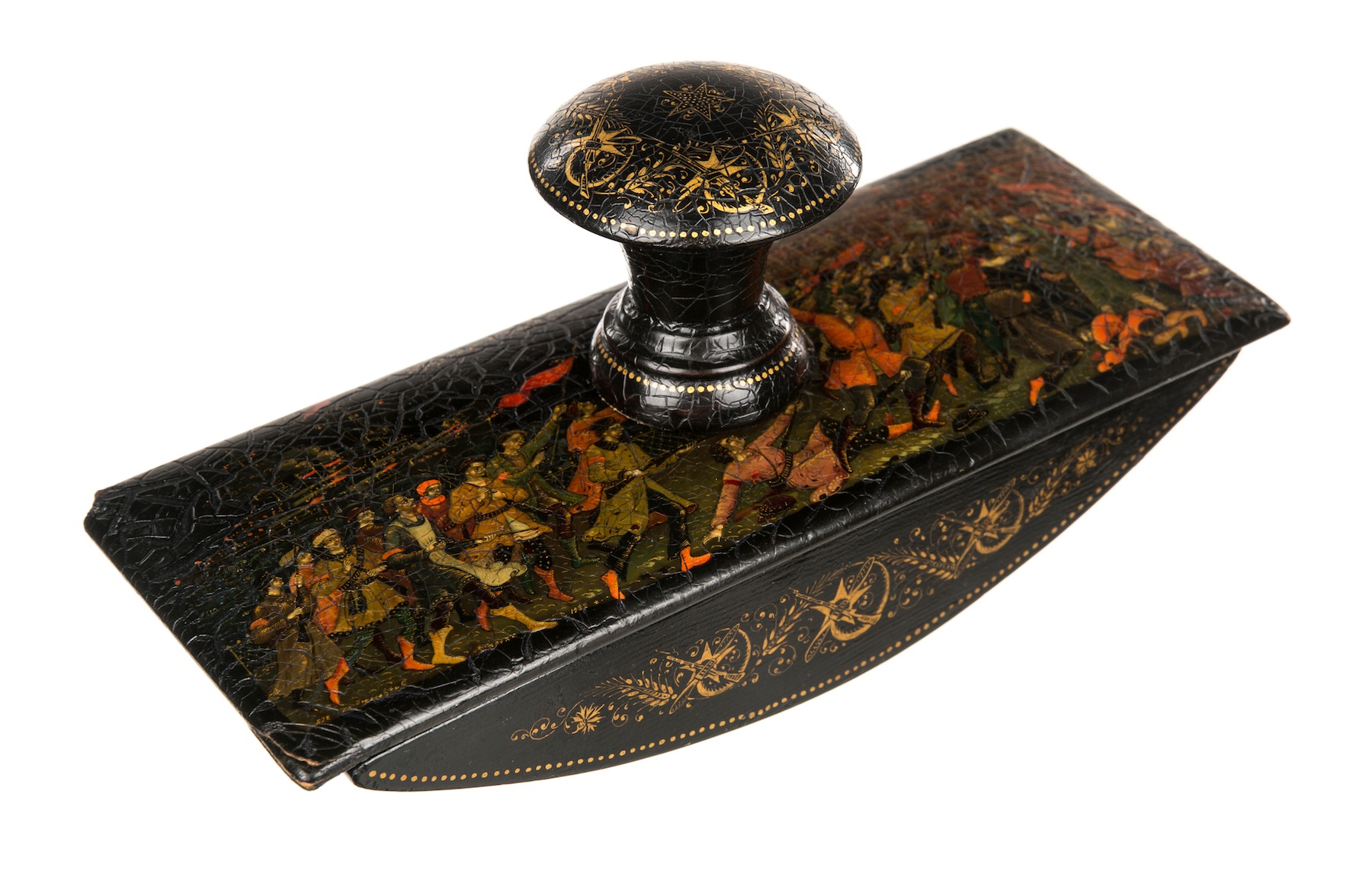 The paperweight. / Press photo
On March 18, Shapiro Auctions in New York City sold a very rare Stalin-era desk set, made by Palekh and decorated with communist themes, for $18,750 to an anonymous buyer.
The papier-mâché desk set, made in 1932, is stylistically known as agitlak, in reference to the fact that the pieces feature images with propaganda themes praising the Soviet government and they are made with laquer paint. The five items that comprise the set were painted by the master miniature lacquer artist, Nikolai Zinoviev.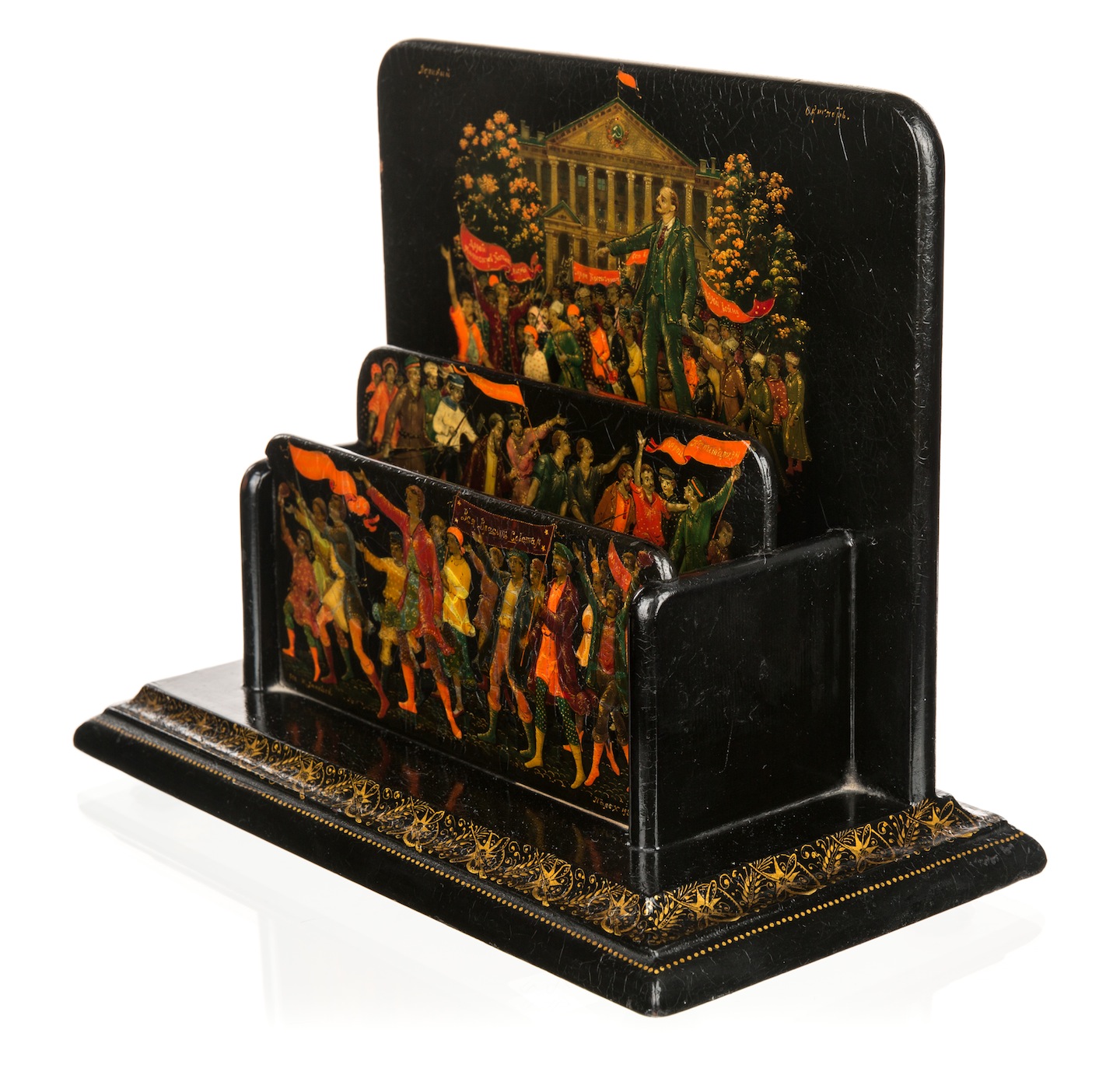 A rectangular desk board. / Press photo
One of the items, a rectangular desk board, is decorated with military themes that call the Soviet nation to defense against possible foreign invaders. A rocker style ink blotter features the storming of the Winter Palace by the Bolsheviks in 1917, and a letter holder shows Lenin speaking in front of workers and peasants with the Smolny Institute in the background.
Agitlak is very rare, but pursued by wealthy Russians with an interest in Soviet-era art. In October 2014, Shapiro Auctions set a world record for a Zinoviev-Palekh agitlak, when a set made in 1931 sold for $305,000 on a presale estimate of $30,000-$40,000.
"The renewed interest in Soviet-themed art reflects a new nationalism, a new pride in seeing Russia as a strong unified nation," said Gene Shapiro, president of Shapiro Auctions.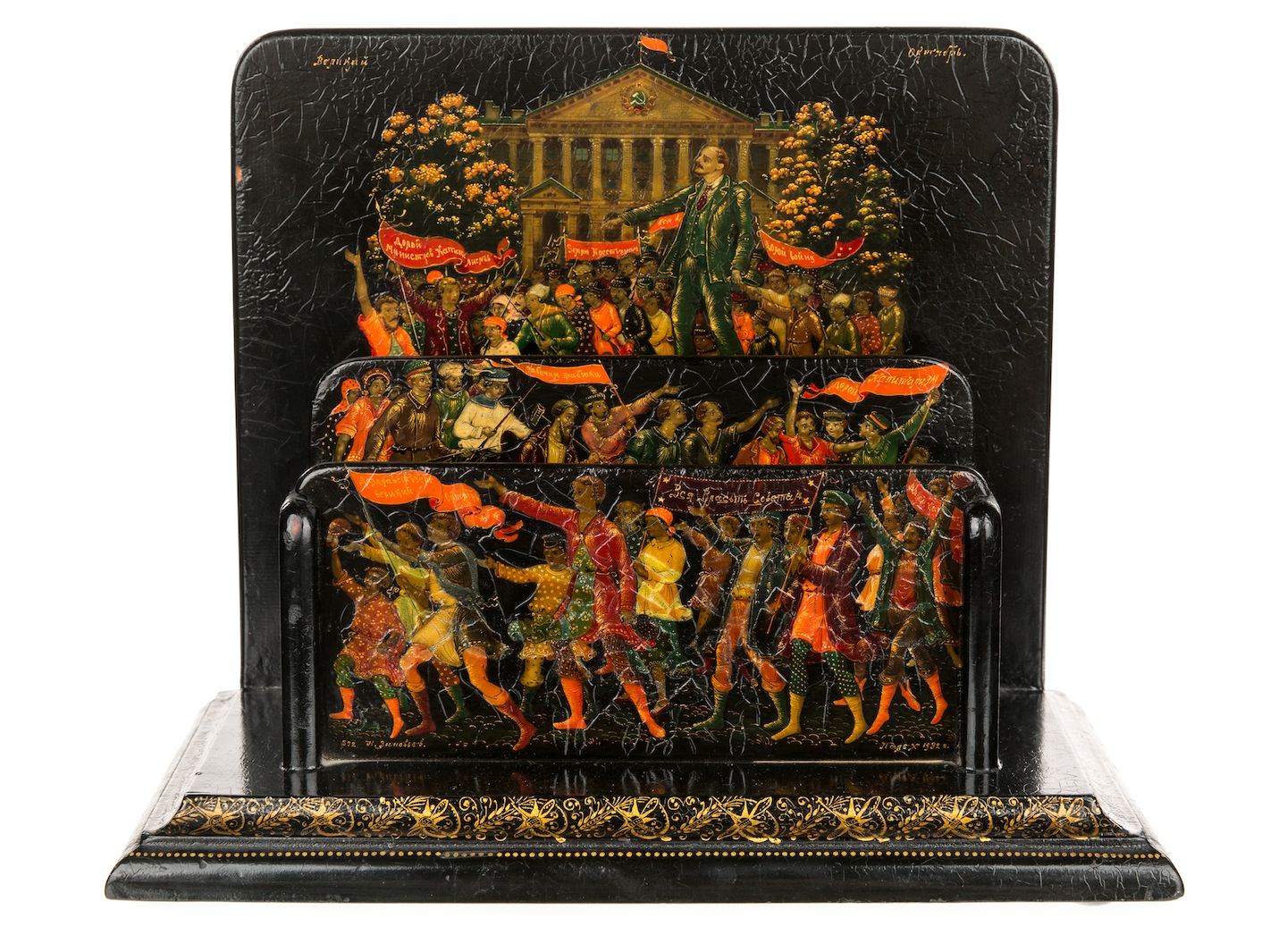 A rectangular desk board. / Press photo
Palekh, a town located about 200 miles northeast of Moscow in the Ivanovo Region, has given its name to the world famous Russian folk laquer art. Historically, Palekh was a leading center of Russian Orthodox icon painting, and in the early 20th century the skilled artists of Palekh began making folk art, adorning various household items, especially jewelry boxes and powder cases, with landscapes and historical figures that reflected the period.
"After the Russian Revolution, once religious institutions were dismantled and icon painting prohibited, villages such as Palekh and Mstera, known for their generations of revered icon painters, were forced to quickly adapt these age-old practices to a new art," said Alexandra Dubodel, vice president of Shapiro Auctions.
"Primarily in the 1920s and 1930s, the artists employed these ancient, delicate techniques on small papier-mâché items to espouse the new regime," added Dubodel. "They began creating and hand-painting one of a kind objects such as the desk set in our auction, praising the Revolution and propagating the new mythology."
The agitlak pieces were part of Shapiro's spring auction, where more than 300 lots were sold. Other items on sale included Russian paintings, decorative art, rare books, Soviet posters, and inscribed photographs of famous Russian cultural figures.
If using any of Russia Beyond's content, partly or in full, always provide an active hyperlink to the original material.