1. Serebryany Bor-2
This is one of most picturesque places for sunbathing. Situated on the bank of the Moskva River, this location has all the conveniences of a beach resort and overlooks both green spaces and urban areas. The beach is secluded enough from the city to be nice and calm.
Address: Tamanskaya St., Beach No. 2. To get here take Bus 390 from the metro station Polezhaevskaya and exit at the Prichal stop.
2. Serebryany Bor-3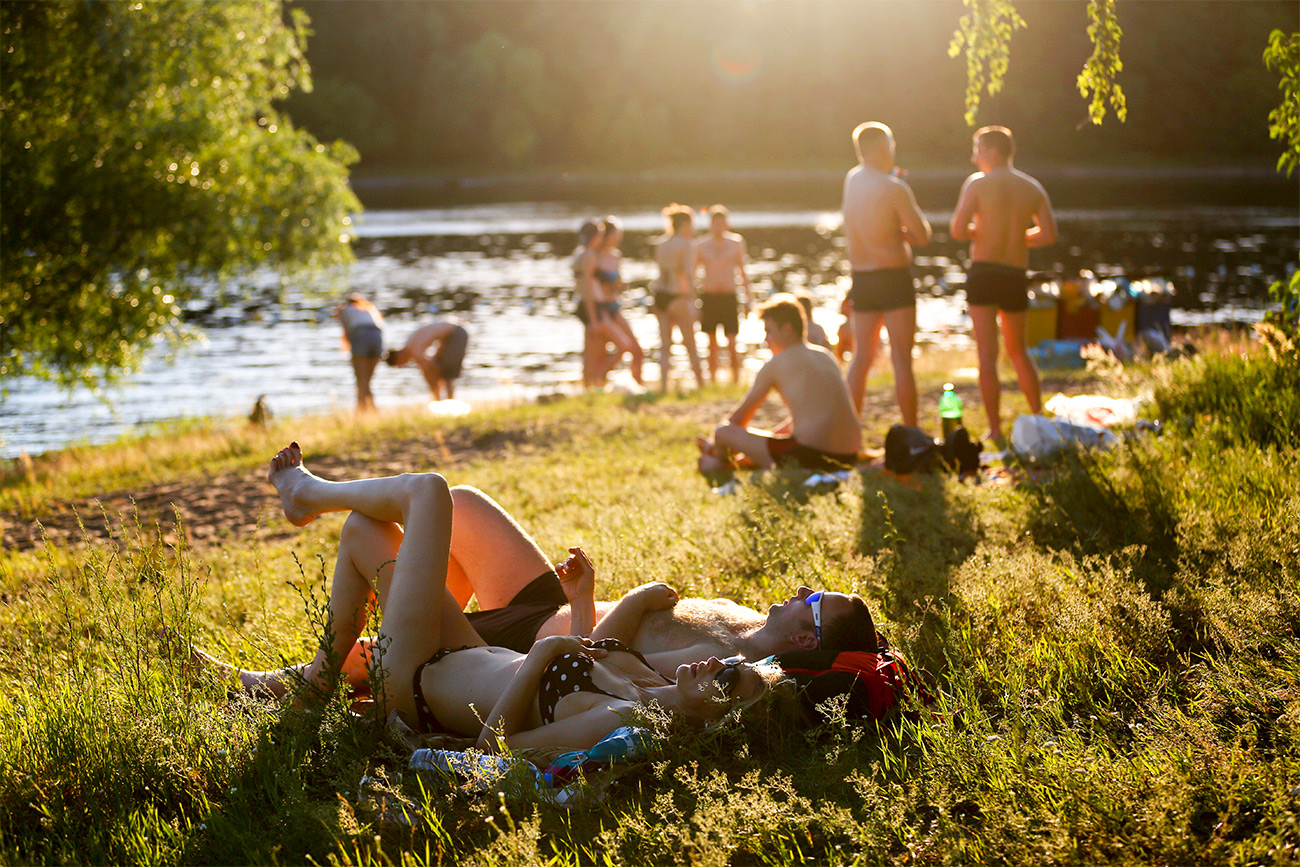 People sunbathing on a beach in Moscow's Serebryany Bor. Source: Mikhail Pochuyev/TASS
This beach is more remote than Serebryany Bor-2, and is quite a long walk away from the other beach, so we recommend that you chose just one of these destinations before you go. This place is further out in the countryside and is surrounded by greenery. However, there are still all the amenities and activities you'd expect, both in water and on land, including beach sports and opportunities for relaxation. You can rent a tent here, but we recommend that you do so in advance.
Address: Fourth line of Serebryany Bor, Beach No. 3. To get here, take Bus 390 to the stop Beach No. 3. From there the beach is only a three-minute walk away. Trolleybuses also go here, but they don't stop as close to the beach, so you'll need to walk further. On the way, you will pass the beautiful Zhivopisny (Picturesque) Bridge.
3. Mescherskoye Recreation Area
While Serebryanny Bor is situated on the Moskva River, Mescherskoye is a small lake not far from the Moscow Ring Road. This place is located in a village so you are likely to encounter locals cooking shashlik. Next to the beach is a large forest and a park where you can rent a bike or boat. However, there are no beach chairs for rent here.
Address: 5 Voskresensky St. To get here, take an elektrichka from the Kievskaya railway station to Vostryakovo or catch Bus 66 from the Yugo-Zapadnaya metro station. The lake will be at the final stop.
4. Beloye Lake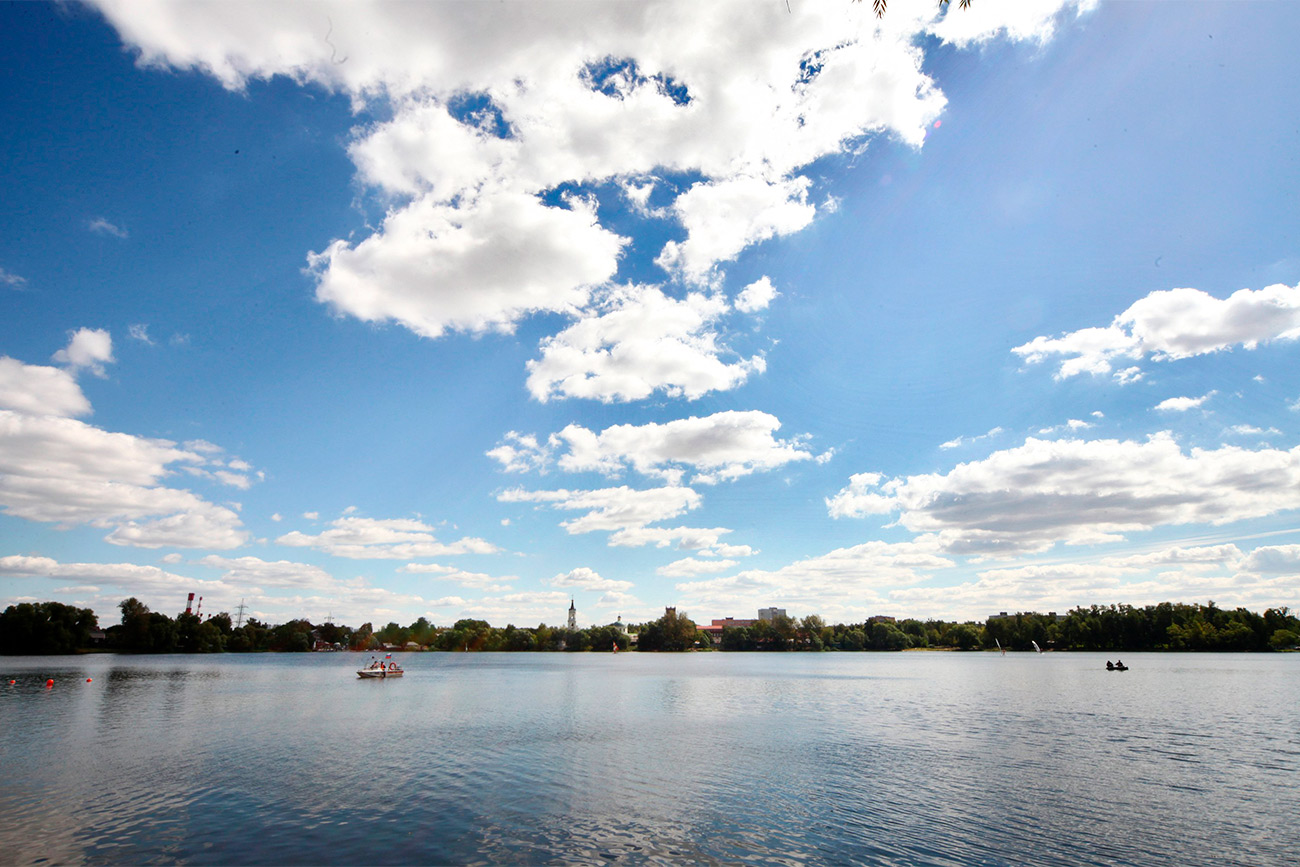 Beloye Lake in Kosino district. Source: Moskva Agency
There are three lakes in the Kosino district of Moscow: Beloye (White), Chernoye (Black) and Svyatoye (Saint). Local residents swim in all of them and they are in close proximity to each other. Officially, however, swimming is only allowed in Beloye Lake, the water is said to be cleaner and there are fish. One of the local landmarks is located right on the bank of the lake, the Church of the Assumption of the Blessed Virgin Mary. There is also a nearby hotel for cats, called "Red Cat," which might inspire you to make the trip.
Address: 2/6 Zaozernaya St. To get here take a bus (602, 613, 772, 747, 722 or 79) from metro station Vykhino to the Poliklinika stop. Or take Bus 1064, 792, or 723 from the Novokosino metro station to the Vetluzhskaya Ulitsa stop. This will get you to within a five-minute walk of the lake. The Kosinskaya Fabrika bus stop, on either route, will also get you to the lake.
5. Beach Club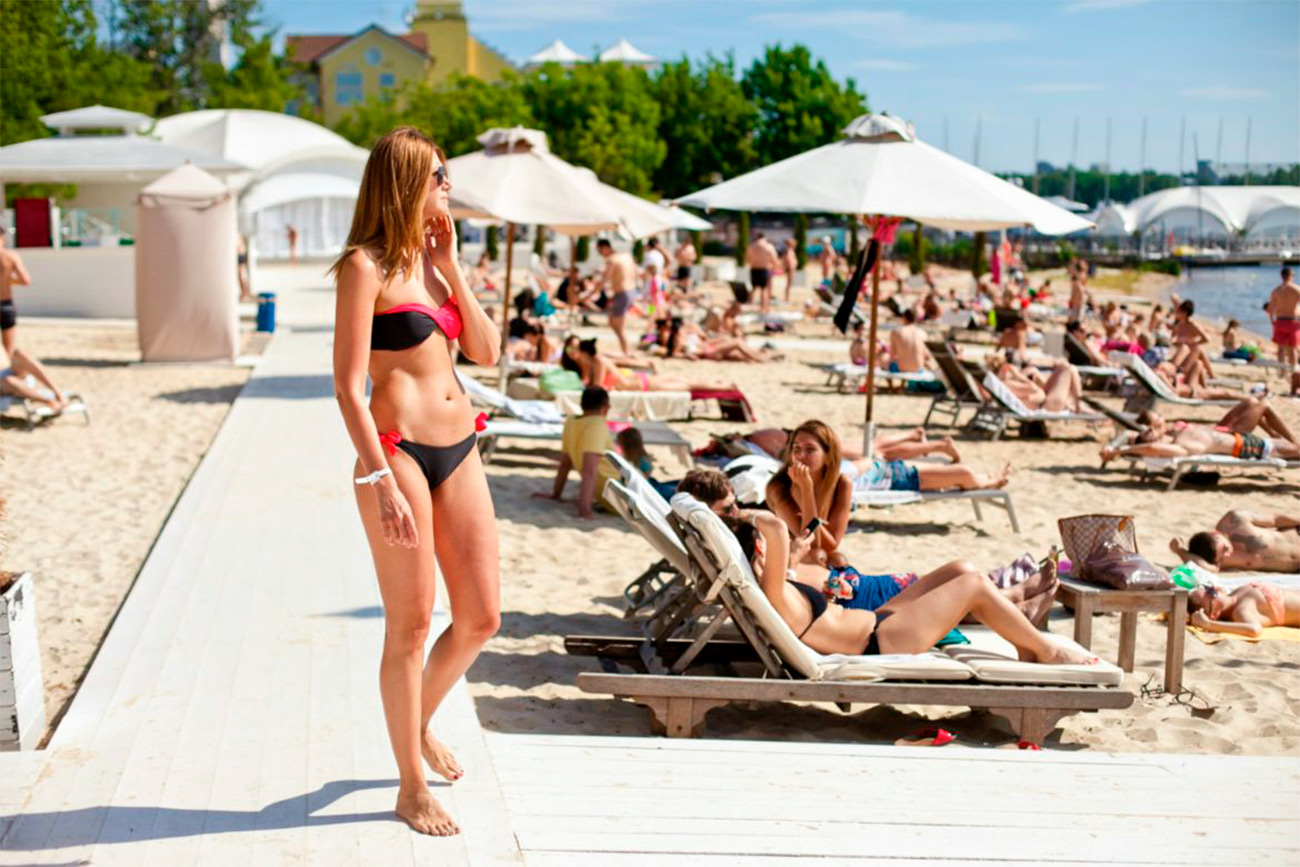 Beach club Royal bar. Source: Press photo
This is one of the most luxurious beaches and there are lots of bars and restaurants. The rental price for beach chairs and other services is quite high, but the views are nice. In fact, this is one of the most popular places for wedding photoshoots. At the beach, you can find the Royal Yacht Club where water sports are available. The most spectacular thing about this beach is that the sand was brought in from the Maldives. Why not?
Address: 39 Leningranskoye Highway, about a 10-minute walk from the Vodny Stadion metro station.
6. Levoberezhny Beach
There are no beach chairs here, but you will find free parking, a number of cafes, volleyball courts and soccer pitches. The beach here is grassy and doesn't have sand. It can also get crowded because the Moscow Ring Road and Leningradsky Highway are nearby. At this beach, it's a great idea to take a riverboat tour and you can purchase tickets for these from the station.
Address: 5 Pribrezhny Lane. To get here take Bus 138, 270, or 338 from the metro station Rechnoy Vokzal to the Pribrezhny Proyezd stop.
7. Big City Pond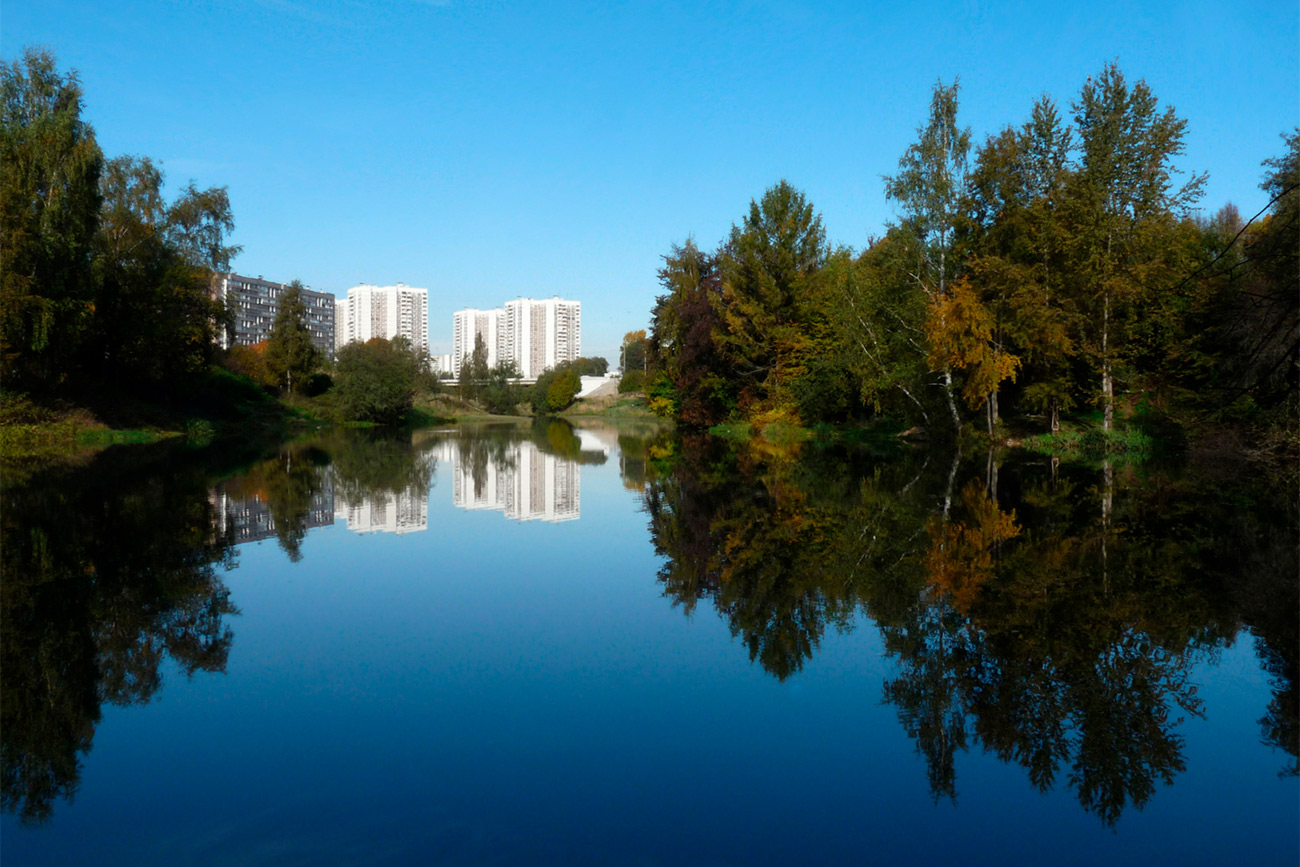 Big City Pond in Zelenograd. Source: Legion Media
This is a cozy pond right on the edge of a park. There are also several cafes and sports fields. The only disadvantage of this beach is that it is located really far away from the city center, in the town of Zelenograd, the northwestern district of Moscow.
Address: Zelenograd, Park Pobedy, 4922 Lane. To get here take Bus 476M from the Rechnoy Vokzal metro station to the Dvorets Kultury stop. Be aware that this route can take over an hour. Make sure to pay attention so you don't miss the stop.
8. Chernoye Lake
This lake is also situated in Zelenograd and the name translates to Black Lake. However, don't confuse this with the other Black Lake mentioned in listing four. This lake got its name because it was once filled with peat and there is still some peat on the bottom of the lake. This is not dangerous but it does is make the water appear dark. This lake is situated in a nice, natural area and is a bit primitive with a lack of infrastructure. This lake is only a 20-minute walk from the Big City Pond in case you happen to find yourself craving more company or amenities.
Address: Zelinograd, Microdistrict 6. To get here take Bus 400 from the Rechnoy Vokzal metro station to the Mosckovskoye Shosse stop.
9. Shkolnoye Lake
This pond has an interesting history. In the 19th century, when the railroad between Moscow and St. Petersburg was being built, this pond was constructed as a reservoir for trains. This nice, small pond is located in an urban area and you can swim or rent a boat here. There are cafes and stores nearby.
Address: Zelinograd, Microdistrict 10. To get here, take Bus 431M from the Rechnoy Vokzal metro station to the Oktyabrskaya stop. Be aware that this route can take over an hour.
10. Troparyovo Recreation Area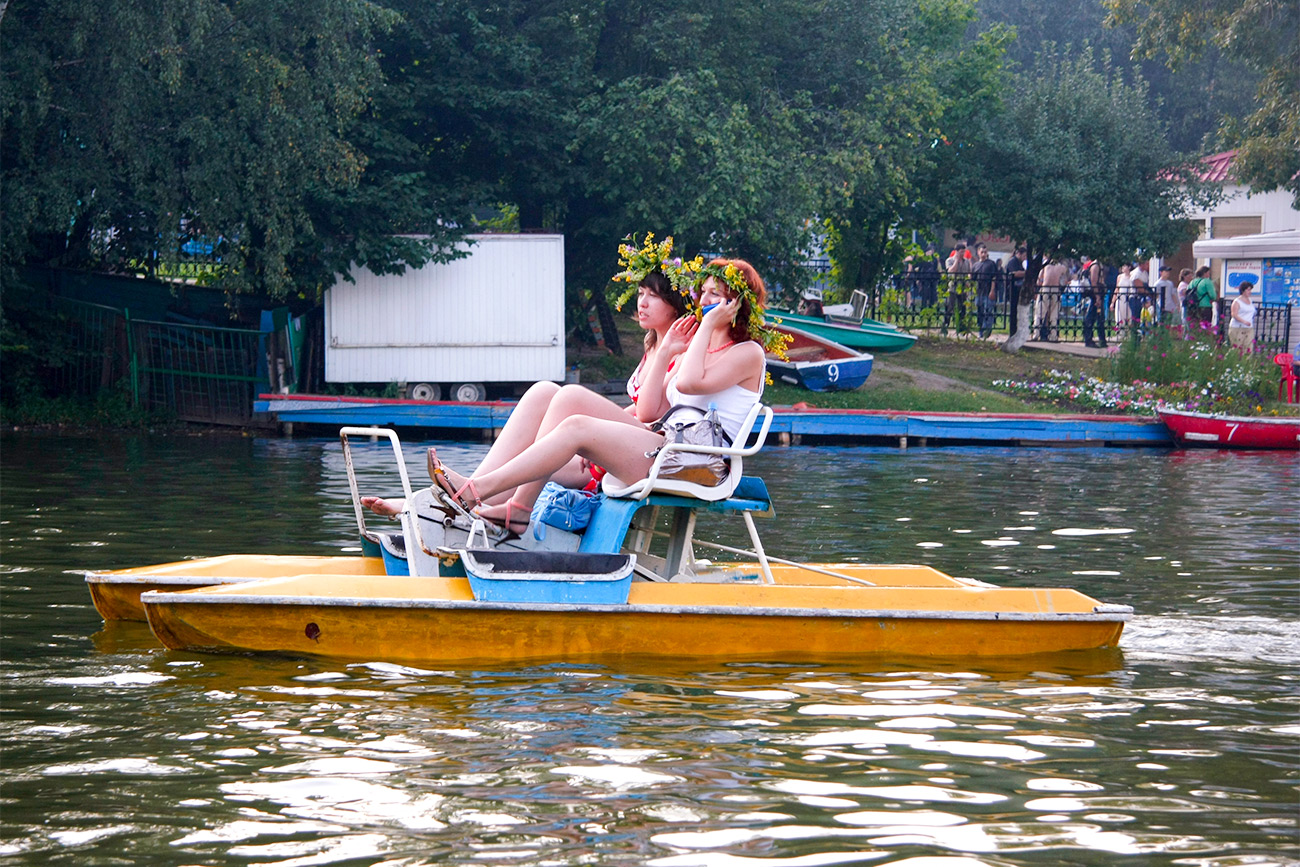 A pond at Troparyovo park. Source: Roman Galkin/RIA Novosti
With boats and catamarans, this place has plenty of entertainment for both children and adults. The water here isn't especially clean, and at the end of the summer, it can actually get quite dirty. Still, this is a beach where swimming is officially allowed.
Address: 12 Akademika Vinogradova St. To get here take Bus 144 from the Teply Stan metro station or Bus 227 from the Troparyovo metro station to the Akademika Vinogradova stop.
If using any of Russia Beyond's content, partly or in full, always provide an active hyperlink to the original material.