How to explore Moscow in 1 day on 2 wheels: 5 cycling routes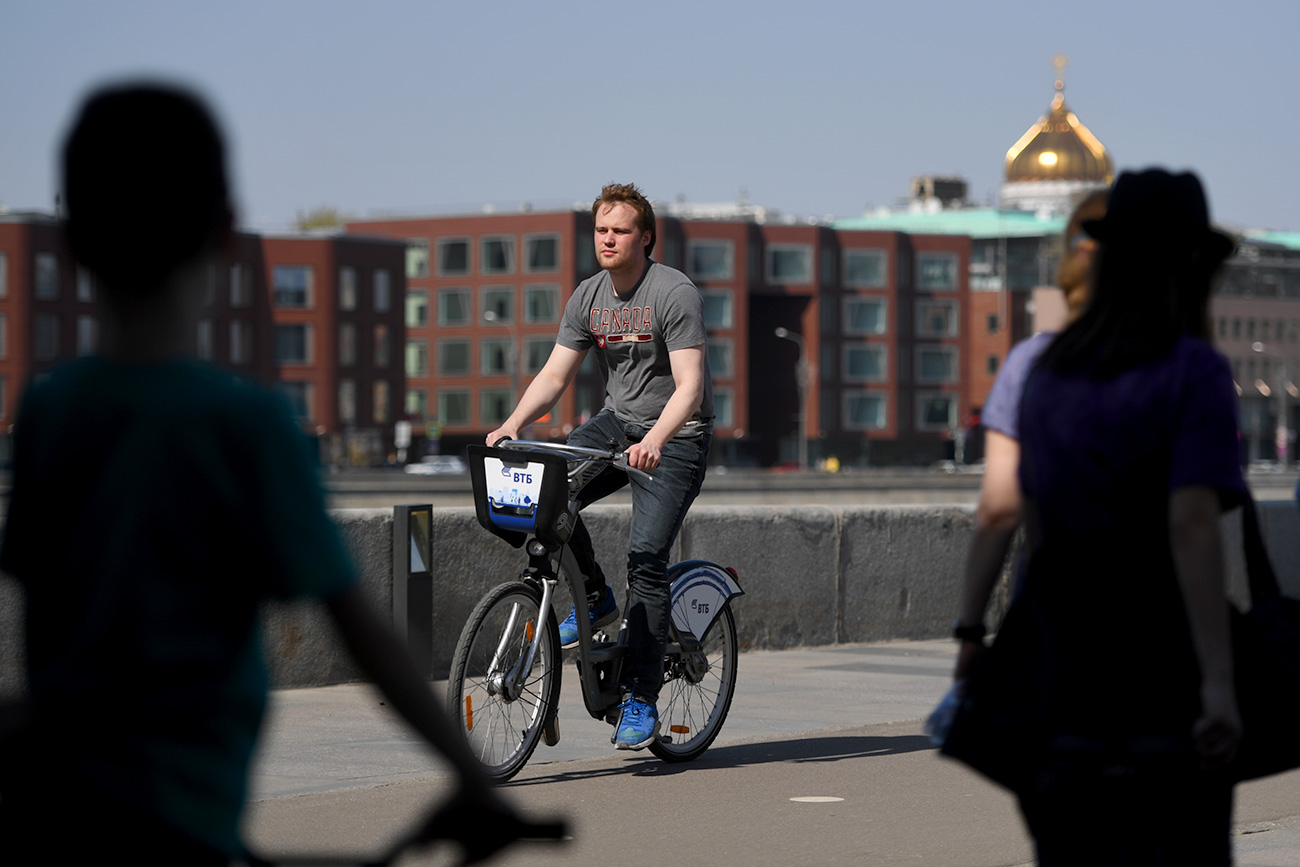 Riding a bike from a city public bike rental station along the embankment of Muzeon Arts Park.
Evgeny Biyatov/RIA Novosti
Unlike Amsterdam or Copenhagen, Moscow isn't famous for its cycle paths - but it is possible to explore the Russian capital using pedal power, you just need to know which routes to take. Luckily, Russia Beyond brings you five of the best.
Moscow cycling routes. / Stepan Zharky
Along the Moskva River - 29km
Nagatinskaya Embankment – Red Square – Taynitsky Garden - Kremlin Embankment - Cathedral of Christ the Savior – Luzhniki – The Alley of Fame - Krasnaya Presnya Park - Moscow International Business Center ( Moscow City )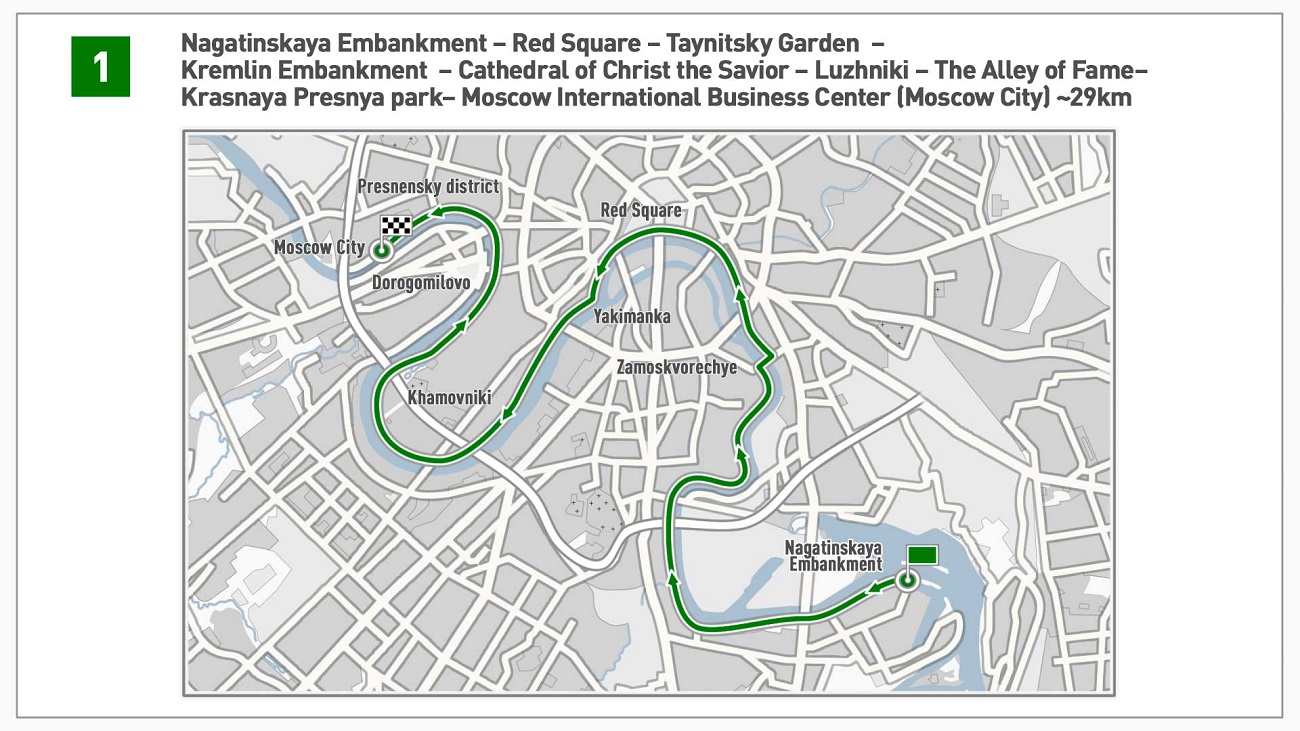 Stepan Zharky
This scenic route along the embankment of the Moskva River will take you away from the city's infamous traffic. Start at Nagatinskaya Embankment, one of the most beautiful in the capital due to the fascinating architecture dotted along it.
Cycle onto Novospassky Bridge and cross onto the other side of the embankment before riding over to Ustinsky Bridge. Jump off your bike and take the stairs down.
Once on level ground, pedal past two of Moscow's most iconic landmarks - Red Square and the Cathedral of Christ the Savior - then on to Luzhniki.
Follow signs to the Novodevichya and Savvinskaya Embankments.
Ride in the direction of Smolenskaya and Krasnopresnenskaya Metro stations and you'll eventually reach the Moscow International Business Center (Moscow City) and its stunning array of skyscrapers.
Soviet grandeur - 13km
VDNKh - Moscow Botanical Garden of Academy of Sciences - Rock Garden - Ostankino Park - Ostankino Palace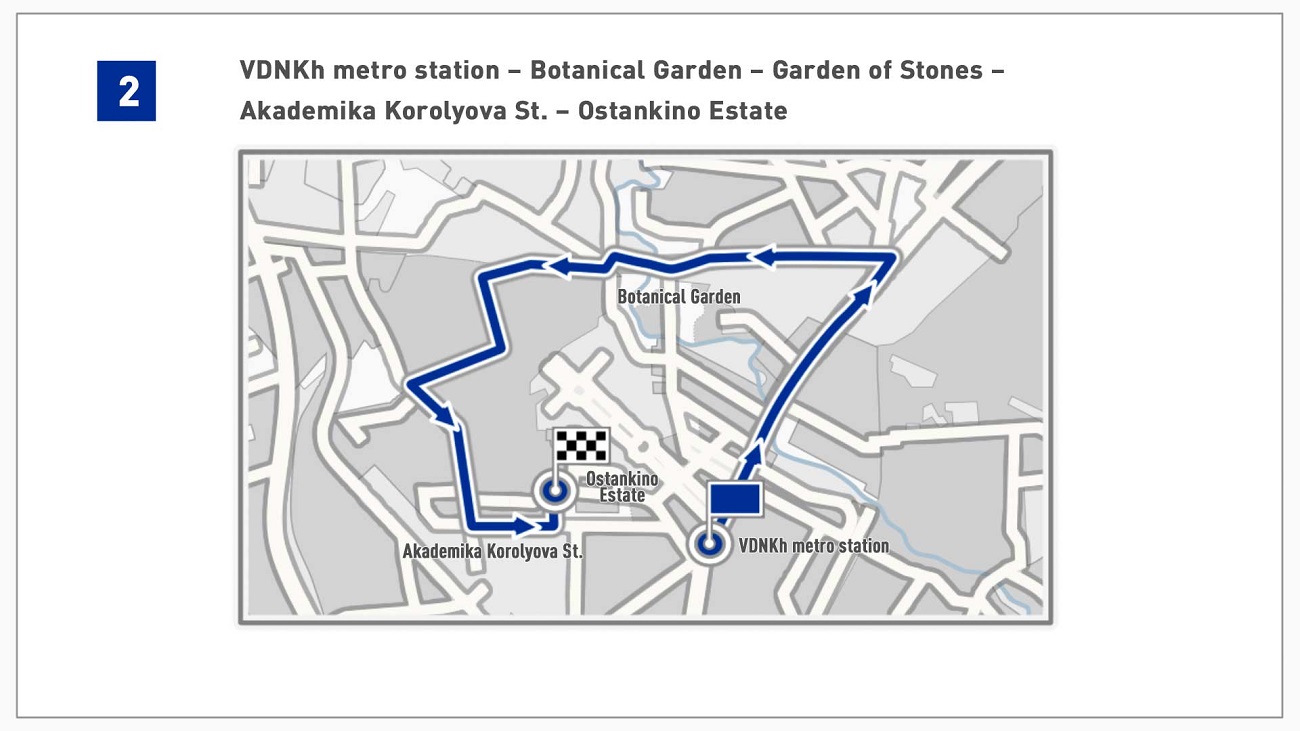 Stepan Zharky
If the sights and sounds of the city center are wearing you down, head to VDNKh. It's a unique park, rich in history and architecture. The complex includes more than 500 permanent structures and 49 of them are objects of cultural heritage. Cycle through the park before arriving at the Moscow Botanical Garden of Academy of Sciences, right next to VDNKh. Then follow signs to the Rock Garden, also referred as the Moscow's "stone jungle."
Ostankino Park is the next stop and it's known for its wide avenues, ponds, and lush greenery. Cycle a little further and you'll come to some beautiful examples of 17th and 18th century architecture. Ostankino Palace is a unique Russian monument made entirely of wood and amazingly it's retained its original interiors.
Bright lights, big city - 12km
Moscow International Business Center (Moscow City) - Radisson Royal Hotel (Hotel Ukraine) - Square of Europe – Observation deck - Ministry of Foreign Affairs - Arbat Street – Red Square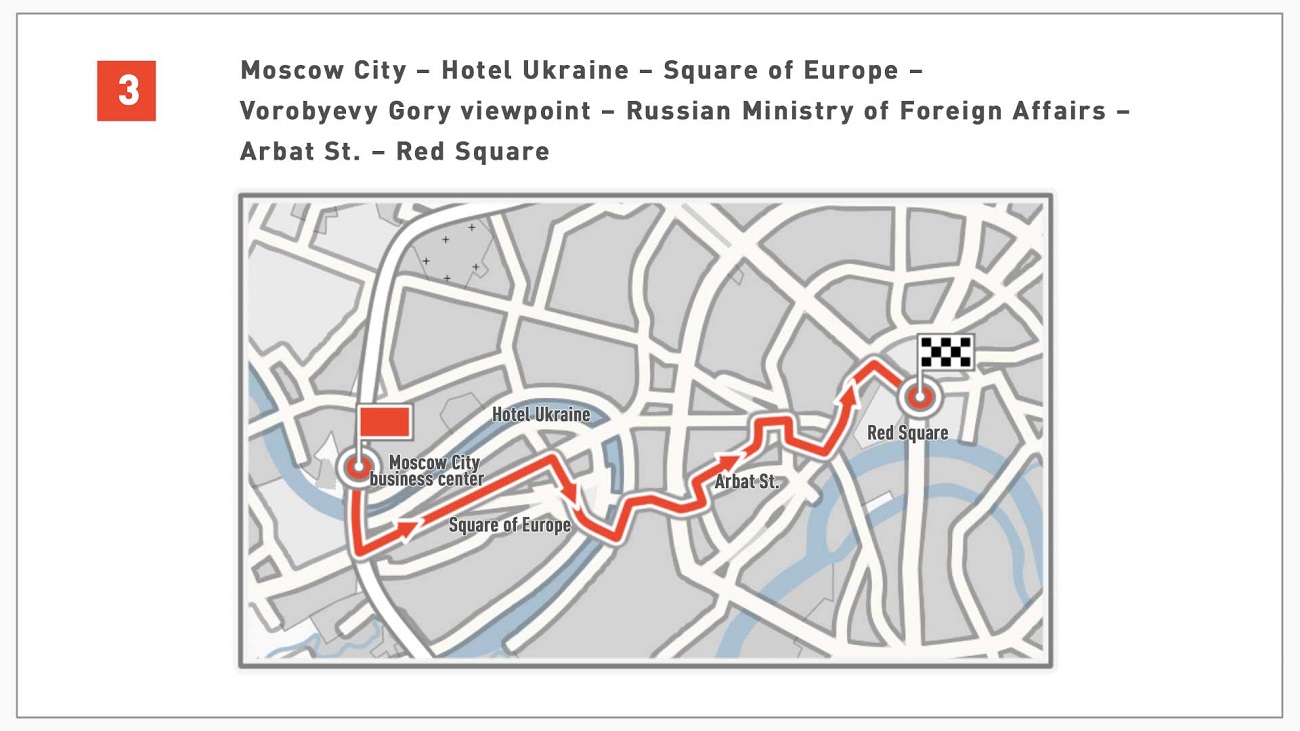 Stepan Zharky
Try this route at night and you'll be blown away. The Russian capital is a city of contrasts: Set off from the Taras Shevchenko Embankment and soak up the striking modernity of Moscow City before cruising past the classical, Stalinist magnificence of the Hotel Ukraine.
Pass by both the Berezhkovskaya and Vorobyevskaya Embankments and take a break on the observation deck at Sparrow Hills. From here you can see all of the Seven Sisters skyscrapers. Next, ride on down to the Ministry of Foreign Affairs and then to Arbat Street, which will lead you to an unforgettable view of the Kremlin and Red Square.
Right in the capital's heart - 9km
Rozhdestvensky Boulevard - Tsvetnoy Boulevard - Strastnoy Boulevard - Novopushkinskiy square - Tverskaya Street - New Arbat Avenue - Patriarch Ponds - Garden Ring - Moscow Hermitage Garden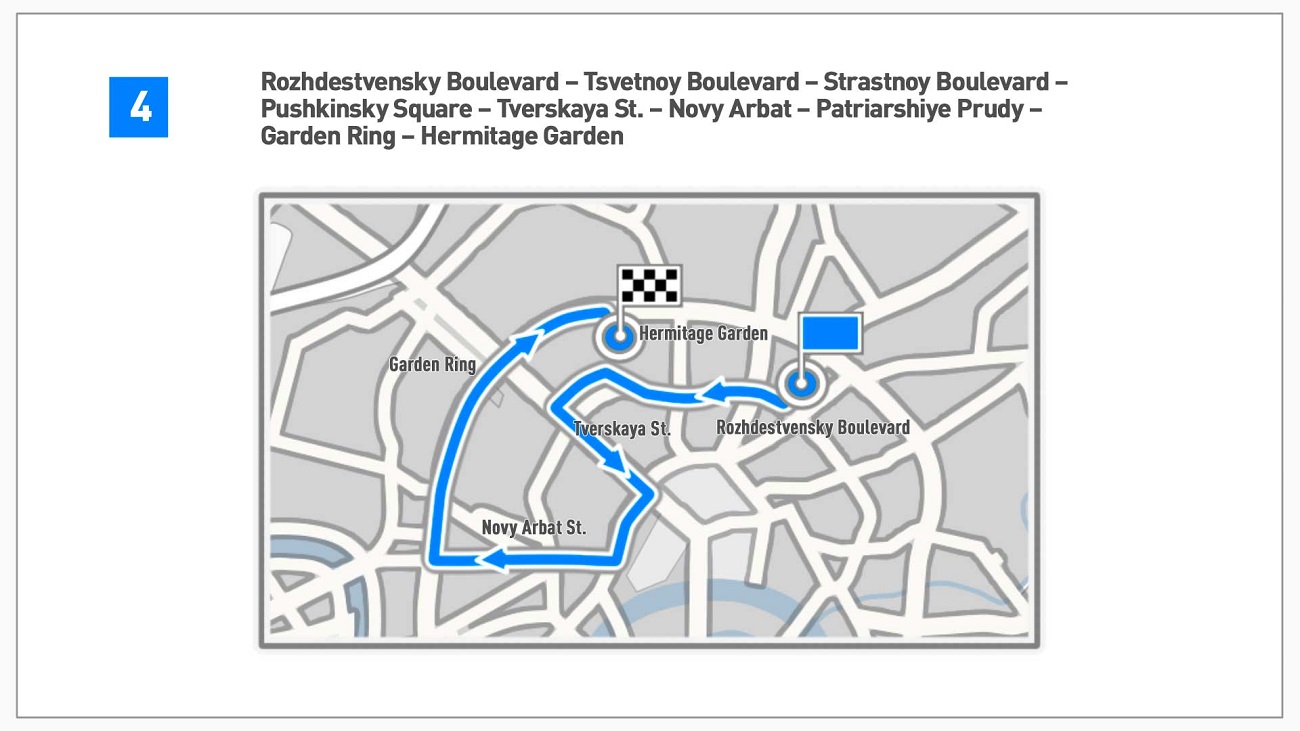 Stepan Zharky
This route takes you right through the heart of the city center. Glide past some of Moscow's most iconic sights. Start at Pushkin Square and bike over to the Government of Moscow building. Then head to New Arbat Avenue and take a rest at Patriarch Ponds. Visit the Bulgakov Museum and take a look at the Moscow Satire Theater and Mossovet Theater. Continue biking towards Sadovo-Trimfalnyy Square and follow the signs to Moscow's Hermitage Garden. Here you can enjoy a cool beer in the shade.
Chistyye Prudy to Sokolniki Park - 7km
Ustyinsky Square - Chistyye Prudy - Sretensky Boulevard - Sovremennik Theater - Komsomolskaya Square - Sokolniki Park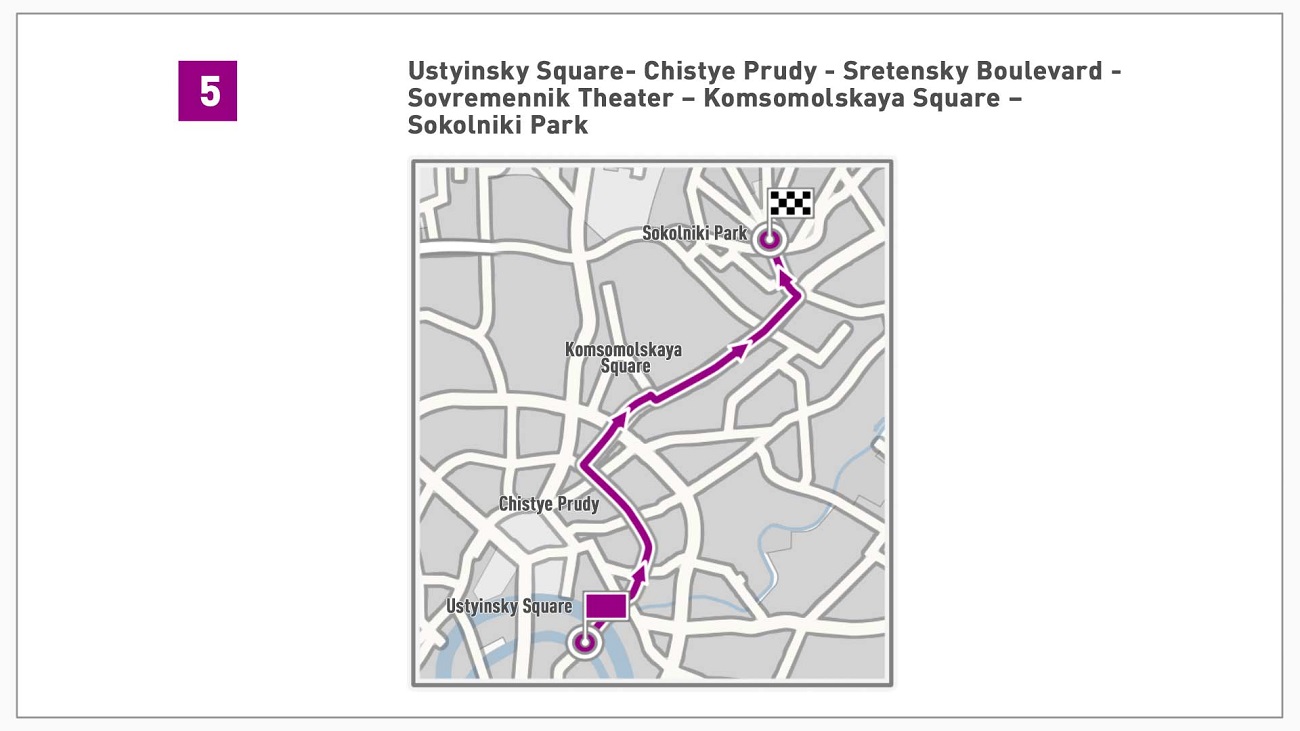 Stepan Zharky
This route starts off at the Ustinsky Bridge that stretches over Moskva River. After enjoying the beautiful views bike northeast to Yauzsky Boulevard, continue onto Pokrovsky Boulevard, and then cycle to Chistoprudny Boulevard. Your first stop will be Chistyye Prudy – a park in the city center surrounding a charming pond and pavilion. There are a number of sculptures and monuments here that have been glorified countless times in both literary and musical works.
Once you've had your fill of Moscow's "green island," pedal in the direction of Turgenevskaya Metro - you'll end up at Academician Sakharov Avenue. Then continue to Komsomolskaya Metro followed by Rusakovskaya Street. Turn left and follow signs to one of the city's most bike-friendly parks: Sokolniki.
If using any of Russia Beyond's content, partly or in full, always provide an active hyperlink to the original material.