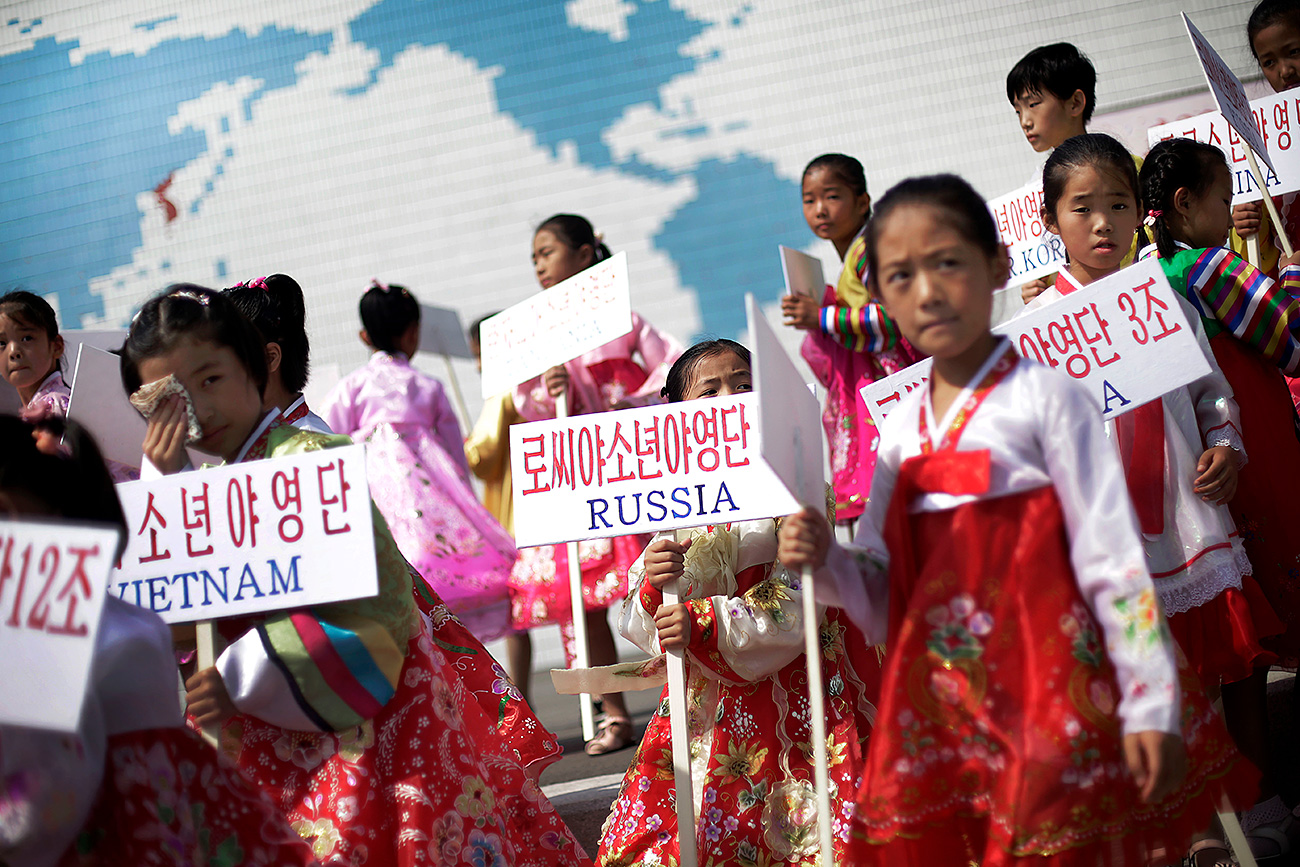 Young North Korean girls during an opening ceremony at the Songdowon International Children's Camp. / AP
Marketing manager Alexander Golovko from Khabarovsk (5,000 miles east of Moscow) decided to visit North Korea and see how things really are there. He returned absolutely delighted: "It's like being on a different planet, where there's no mobile phone service, and where people are always happy," Meduza's correspondent Darya Mikolaichuk quoted Golovko as saying.
He certainly understands that it's only one side of the coin, but next vacation he plans to spend at North Korea's Masikryong ski resort, which opened in 2014. North Korea claims it's a resort that can compete with others in the world, with 10 ski slopes and 60 sporting venues. One day costs around $100, but there are not many tourists.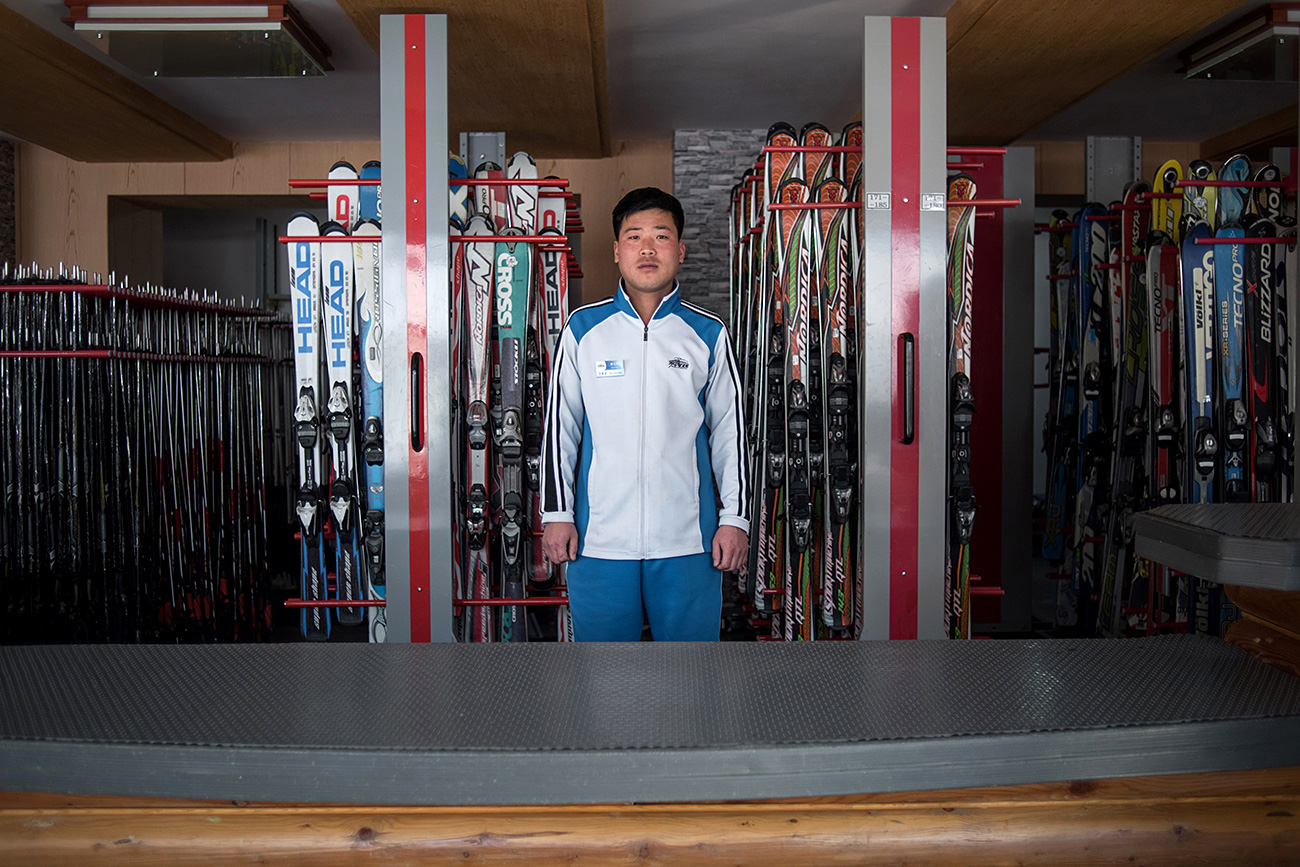 Kim Chol-Nam, 30, poses for a portrait at the ski hire desk where he works at the Masikryong, or Masik Pass, ski resort near Wonsan. / AFP
Tours to totalitarianism
Elena, the manager of a company that sells tours to North Korea, said that as many as five people a month buy a tour to Masikryong. In addition to skiing, the company offers golf tours, mountain climbing, wedding ceremonies and hunting in North Korea. But people still think it's dangerous to travel there. Journalist Nadezhda Arsenieva recalls how a border guard pointed a rifle at her colleague because he peered out of the train's window with a camera.
The guides follow tourists everywhere, forbid them from taking pictures of something that shouldn't be seen and prevent them from making contact with locals. But still, North Korea is trying to become a center of tourism for Far Eastern countries. South Korean sources say their Northern partner wants to increase the number of tourists to 1 million in 2017, and 2 million in 2020. In fact, however, in 2012 only about 4,000 people visited North Korea, which was three times less than in 2014. As geographical neighbors, Russians are entitled to cheaper prices than other foreigners.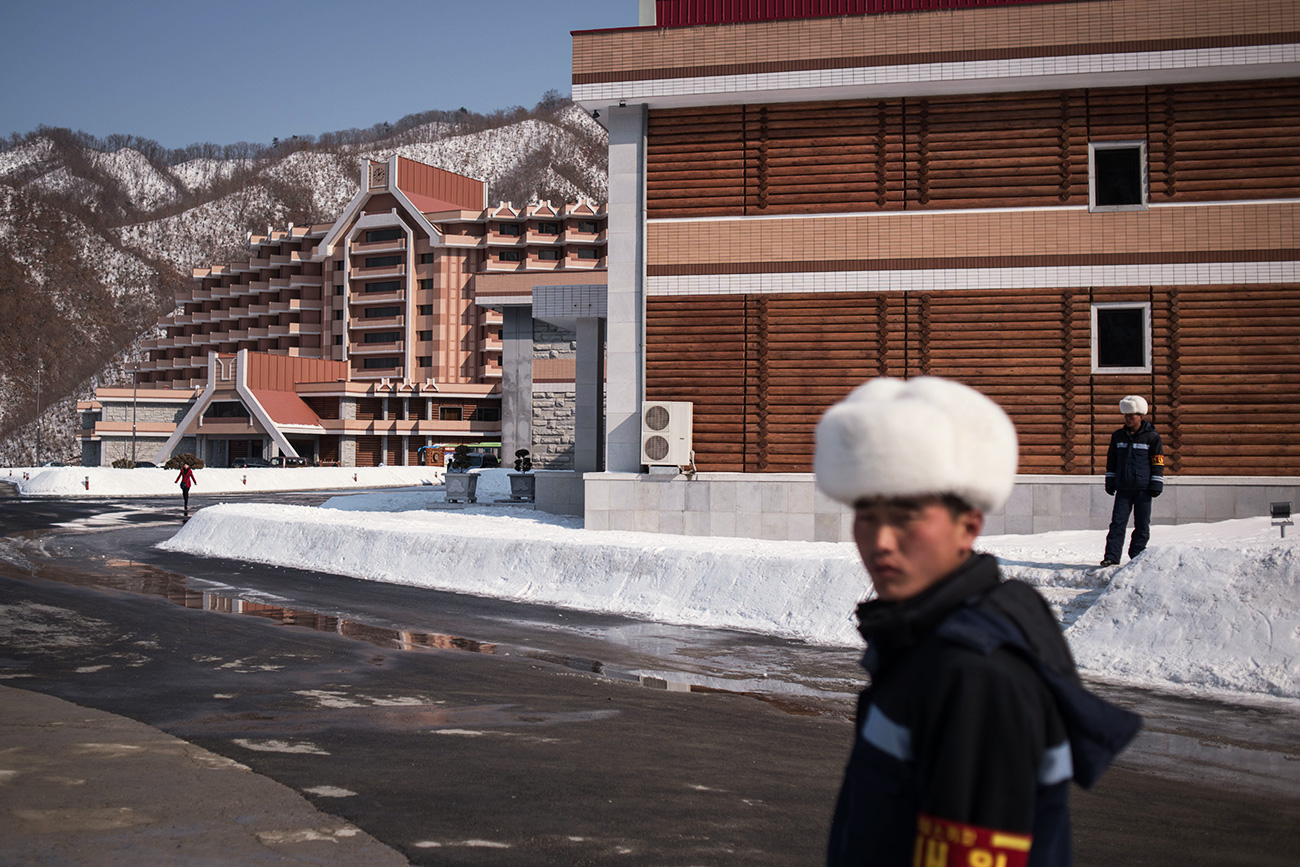 Masikryong ski resort / AFP
Red heaven
According to Natalia Kochugova, the official representative of the Primorsky Region, holidays in North Korea are popular among members of Russia's Communist Party. There are even special hotels for communists, and North Korea is a country where you can see the true power of ideology. "People there sincerely believe in their leader."
Kochugova is sure there are no problems with safety in North Korea unless you "behave like an asshole and don't follow the rules." She is also sure the recently deceased American student Otto Warmbier was told in advance what's allowed and what's not.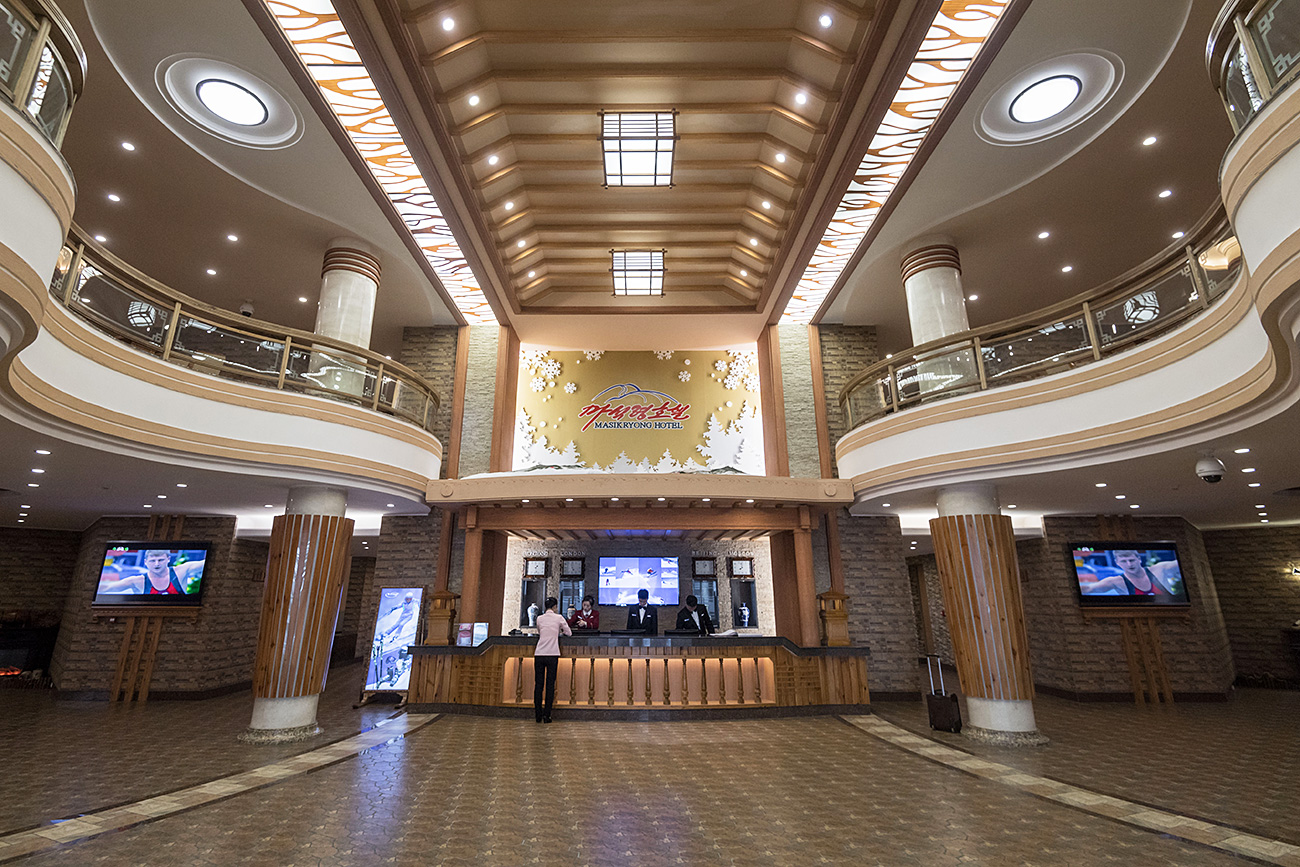 Hotel lobby of the Masikryong ski resort / AFP
Not only adults visit North Korea, but every year groups of Russian children go to Songdowon International children's camp. Two-week tours cost around 40,000 rubles ($658).
A girl, Eva, went on such a tour and said that Russian children are kept separate from North Koreans, but in the evenings they were allowed to dance together. They also exchanged written notes through a translator. Many North Koreans were studying in boarding schools without holidays, and Eva liked the way they were brought up.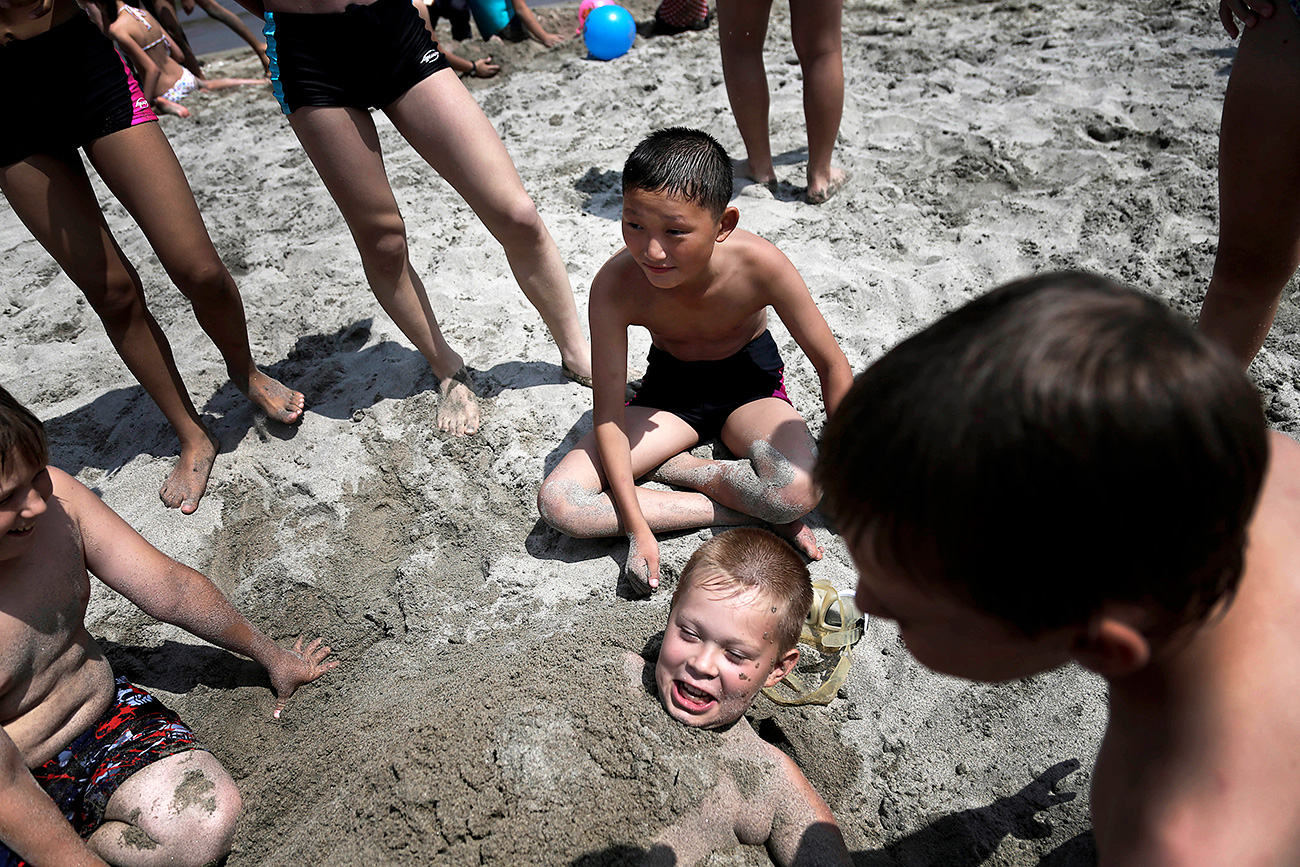 Children bury a Russian boy in the sand at the Songdowon International Children's Camp / AP
Luxury beach resort
Another way to reach North Korea is by the ferry, Man Gyong Bong 92, which takes passengers from Vladivostok to North Korea. Marina Ogneva traveled to the Rajin resort on this boat and had a 7-day all-inclusive beach tour for 30,000 rubles ($494). She was extremely delighted with the tour and is now making a video blog, "Let's go to North Korea."
"I was told people are starving there, but we were fed very well. I heard much about political propaganda but we had ordinary holidays," Meduza quoted the girl. "People are very nice there."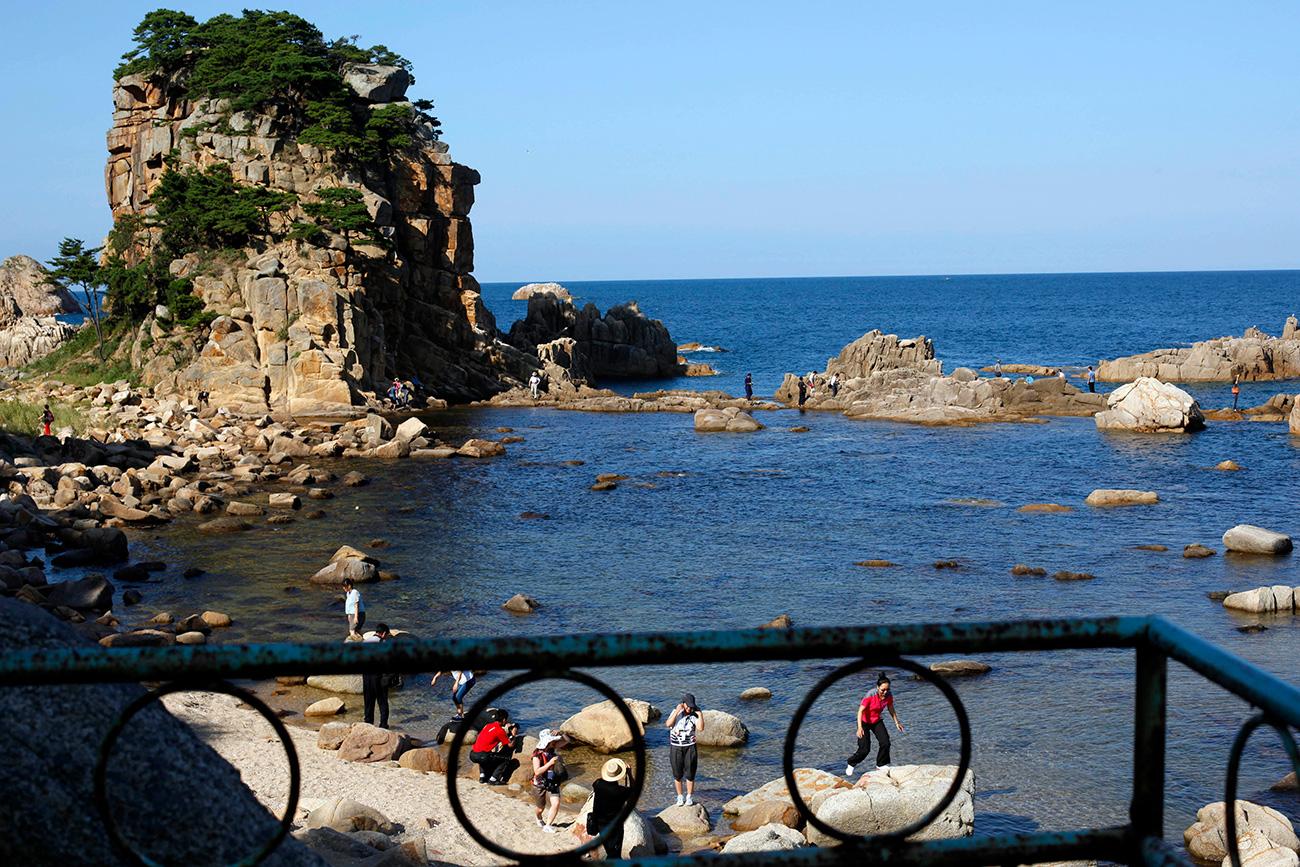 Tourists enjoy the scenic coast line of the Mount Kumgang resort area, also known as Diamond Mountain, in North Korea. / AP
The travel company, Fregat Aero, gives clients brochures on rules of behavior in North Korea. A tourist should bring gifts for their guides – perfume and cosmetics for women, and alcohol and cigarettes (but not American) for men. Taking photos of military personnel is forbidden, as well as speaking about religion and saying that life is better in Russia.
"We knew where we are going. We listened to the guided tours carefully, bowed at the leaders' monuments and gave 10 euro bills to them, though by the end of the tour it was really irritating."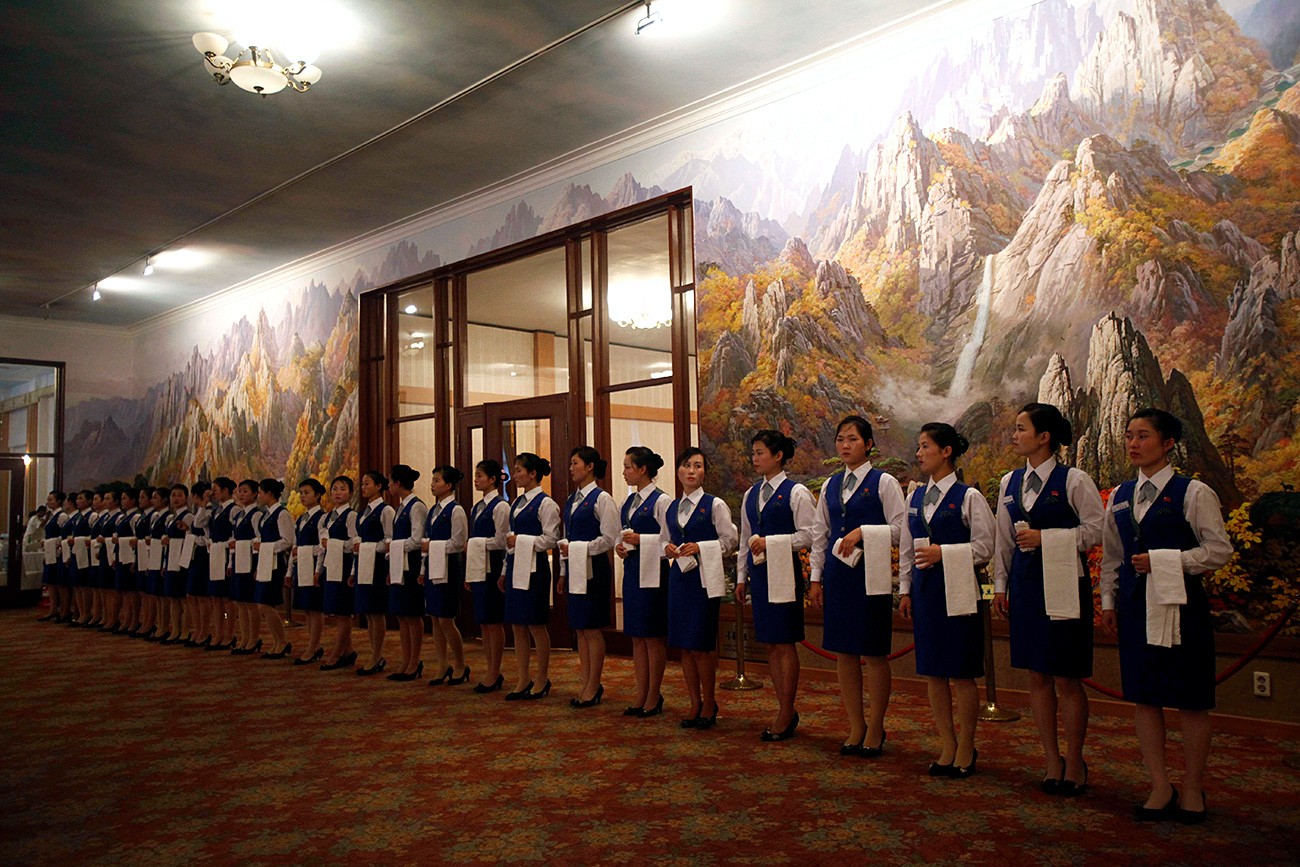 North Korean waitresses stand by for waiting tables for dinner at a hotel in Mount Kumgang. / AP
Maria also had a beach vacation in North Korea, and said they were sun bathing alone at the beach, swam in the sea and ate inexpensive seafood. Without cell phone service and no factories nearby, it seemed to be the ideal place for a holiday. The guides, however, were always watching tourists, even chatting with them on the beach - in suits and certainly not bothering to swim.
North Korean girls at the Songdowon International Children's Camp / AP
"We understood to where we were traveling and that there will be no freedom, but we have always looked for something forbidden," Maria said. Once, she saw a North Korean boy on the beach, and she wanted to give him candies but understood it was dangerous for him. So she walked close to him and left a bag with candies on the ground. She saw he took it quickly and ran away.
Suspicious of Sylvester Stallone
When Maria was leaving the country, her cell phone was checked carefully by border guards and one of the officers found a meme with Sylvester Stallone sporting a funny haircut and the caption, "What if Stallone lived in Russia?" The officer asked about the man and if she knew him and if she had American movies with her. He searched for American movies in her gadget and spent 40 minutes trying to find out about her relations with Stallone.
A little later, however, after he allowed everyone to get on the train, he entered their compartment and asked in Russian: "Guys, do you by any chance have American movies? I want to watch them so badly."
The full text of the article in Russian was first published by Meduza>>>
If using any of Russia Beyond's content, partly or in full, always provide an active hyperlink to the original material.