Cadences from Islam in Russian literature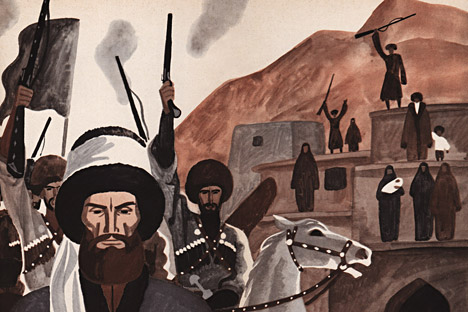 An illustration to Tolstoy's "Hadji Murat." Source: Baki Urmanche
Since when the "Golden Horde" ruled Russia, back in the medieval ages, the country has had historical links with Islam. Today, Islam is Russia's second largest religion and, not surprisingly, Islamic motifs permeate Russian literature.
Tatiana Mazepina, who won Russia's coveted Debut Prize for young authors in 2010, began her award-winning book, 'Travelling to Paradise,' with the words, "I lift my head and it seems to me that I see …the sharp minarets of mosques rising proudly and invitingly heavenward. I can already hear the muezzin's call to prayer." Her memoir recounts an overland journey from Russia to Egypt,
Fountains and folktales
Islamic images permeate through Russian literature, from the earliest narrative poetry to the latest contemporary fiction. (Alexandr) Pushkin's epic poem, 'The Fountain of Bakchisarai', written in the 1820s after a visit to the Bakchisarai palace in Crimea, has a series of oriental motifs: dark-eyed warrior khans, carpeted harems guarded by eunuchs and surrounded by towers, and veiled maidens serving sherbet in gardens full of vines and roses. But the poem's emotional power comes from Pushkin's ability to inhabit a different space in the 'Tartar's Song', its romantic lyricism framed by Islamic ideas: "Blessed is the Fakir who, with joy, sees Mecca in his fading years"…
(Mikhail) Lermontov wrote the short story 'Ashik-Kerib', subtitled "a Turkish Tale" in 1837, the year he was exiled to the Caucasus. It is set in Georgia and starts, in true folk tale fashion, with a wealthy merchant ("to whom Allah had given much gold"), his beautiful daughter and a poor minstrel, Ashik-Kerib, who falls in love with her. The story, like Lermontov's better-known works, shows the huge influence on his writing of the time he spent in the Caucasus.
Mohammad's pitcher and Tolstoy's faith
Russian novelists in the latter half of the nineteenth century also gleaned inspiration from Islam. When (Fyodor) Dostoevsky came out of prison in Omsk in 1854, he repeatedly asked his brother for a copy of the Quran. There are references to Muslim mysticism in his philosophical novels, especially in relation to epilepsy. Mercurial (Ivan) Shatov, in Demons compares (Alexei) Kirillov's ideas of "eternal harmony" with the onset of a seizure: "Remember Mohammad's pitcher from which not one drop spilled while he circled paradise on his horse?" Dostoevsky mentions this legend again in 'The Idiot':
"…Mahomet's overturned water-jug failed to spill a drop, while he contrived to behold all the mansions of Allah."
(Leo) Tolstoy was fascinated by faith of all kinds, writing in a letter from Yasnaya Polyana in 1884 that his religion was so individual that it would be easier to "regard me as a kind Mohammedan," as he explains: "…the officials consider me to be a malicious revolutionary; the Orthodox consider me to be a devil." In other letters, he praises Muslim integrity.
'Hadji Murat', Tolstoy's powerful, late novella about a Chechen commander, is full of evocative Islamic imagery. When readers first meet Hadji Murat, "the strained chanting of the muezzin had just died down" and his first words are "salaam aleikum." When he escapes from the Russians, he rides his white horse towards the forest between fields and minarets. When Shamil, a rebel imam, returns after fighting the Russians, his horsemen ceaselessly sing the 'shahada' and fire their guns in the air.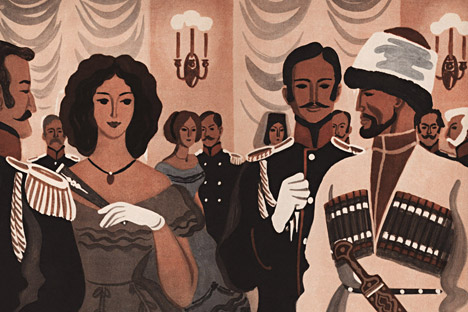 An illustration to Tolstoy's "Hadji Murat." Source: Baki Urmanche
Translator Richard Pevear writes in the introduction to his version of the novel that Hadji Murat is "a new kind of hero for Tolstoy": brave, pragmatic and yet uncompromising: "he carefully performs his ritual duties as a Muslim, he shares unquestioningly in the traditional culture of his people."
Soviet and post-Soviet souls
Novels in the Soviet era became less overtly religious, but central Asian heroes are still seen honouring their rituals. The Kyrgyz author Chinghiz Aitmatov set his novel The Day lasts more than a Century partly in space, but it opens in the Kazakh desert, where railwayman Burranyi Yedigei is trying to bury his old friend according to Muslim traditions. Uzbek writer Hamid Ismailov similarly evokes intersecting places and cultures in his novel The Railway.
Ismailov has argued that Andrei Platonov's story Soul can be read as a "Sufi treatise" and there are references to Sufi myths throughout the story. Platonov's descriptions of the desert were also influenced by the journal of a tenth century Muslim traveller in Central Asia. These more recent writers often see the interconnectedness of different faiths and human experiences. Elsewhere in his novels, Ismailov quotes a couplet by Sufi poet Boborahim Mashrab: "Today I'm a Russian, tomorrow Circassian … The day after tomorrow I'm a Muslim, and the day after that an unbeliever".
This ecumenical aspect is common in contemporary prose.
Tatiana Mazepina sees religious rituals as ways to channel universal emotions. In an old church in Syria, she recognises "the word for God, which in this language is still 'Allah'". Welcomed by a Turkish family, her hosts reverently unwrap a flask containing "hair of the prophet". Mazepina sees the sacred object as "a wave of the conductor's wand for hearts already filled with love and ready to overflow."
All rights reserved by Rossiyskaya Gazeta.