Yuri Mamleev: Soviet writer who created metaphysical realism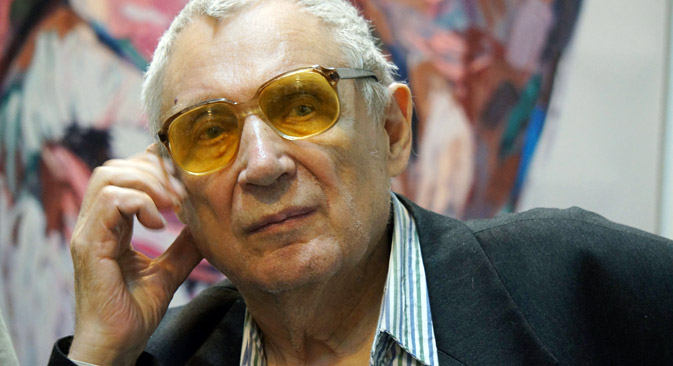 Yuri Mamleev, whose best-known novel 'The Sublimes' has been translated into more than 10 languages, drew comparisons to Dostoevsky and Gogol for his philosophical style.
Yuri Mamleev (1931-2015) is considered to have created a new literary style, metaphysical realism, which finds its expression in his philosophical study, The Fate of the Existence. In his book Eternal Russia, Mamleev follows the example of the Silver Age philosophers in creating his own conception of Russian nationalism.
"A huge number of writers with different views – from the postmodernist Vladimir Sorokin to Mikhail Yelizarov or the right-wing Alexander Dugin – learned their art from Mamleev," the writer Sergei Shargunov once said in an interview..
"Mamleev is, of course, a philosopher, but above all, he is an excellent writer. He continues Dostoevsky's tradition as he seeks to understand the depths of the human spirit and the mysteries of human nature. This search permeates all his famous short stories and his legendary novel The Sublimes – all of them have become modern classics of Russian literature."
From Samizdat to emigration
Mamleev belonged to a group of semi-underground writers not recognized by the Soviet regime and ignored by Soviet publishers. His early works were distributed through the samizdat system, where banned books were clandestinely reproduced by hand.
Finding it impossible to publish at home, in 1974 Mamleev emigrated to the United States, where he lectured at prestigious universities, including Cornell.
In 1983, he moved to France, where he taught Russian language and literature. During his period living abroad, Mamleev was almost forgotten in Russia – even among dissident intellectuals – but the opposite was true in the West. He quickly established a reputation among writers and Slavist, gaining recognition as one of the foremost Russian writers and thinkers.
The most 'Russian' writer
In the early 1990s, Mamleev was one of the first literary émigrés to return to Russia, where he garnered instant success, publishing numerous books, articles and essays well into the new millennium. His plays also became a staple of Russian theater.
"Mamleev was the most influential Moscow esoteric thinker," popular Russian author Dmitry Bykov thinks.
"No matter how we regard his creative approach and texts, Mamleev has become the window through which many people have been able to glimpse a totally different culture. This culture was, in part, that of the Silver Age, the world of invisible essences."
Written in 1966, the mystical novel The Sublimes is one of Mamleev's most famous works. Its protagonist, Fyodor Sonnov, commits a series of murders with the aim of penetrating the mystery of the victim's soul, and hence the hereafter, to learn the eternal secret of death by "empirical" means.
According to Marian Schwartz, who translated The Sublimes, "Usually a text's intensity is invested in emotions, but in The Sublimes, that intensity was consumed with and by ideas, and conveyed only partly in characters' actions, and rather more crucially in their speech."
"Yellow glasses, a jacket and a wife who remembered everything that the writer himself forgot," the author Yury Serebryansky recalls about Mamleev.
"He spoke about Buddhism, and kept it in mind – he talked a lot about it. He confused dates and people's names. That said, in my view he was a radiant figure. After we met, I found The Sublimes, and it turned out to be one of the most Russian books for me. I had been seeking such a book for many years."
READ MORE: Yevgeny Yevtushenko: 'You shouldn't rush to call people lost'
All rights reserved by Rossiyskaya Gazeta.