Reading 2.0: An app that makes books Interactive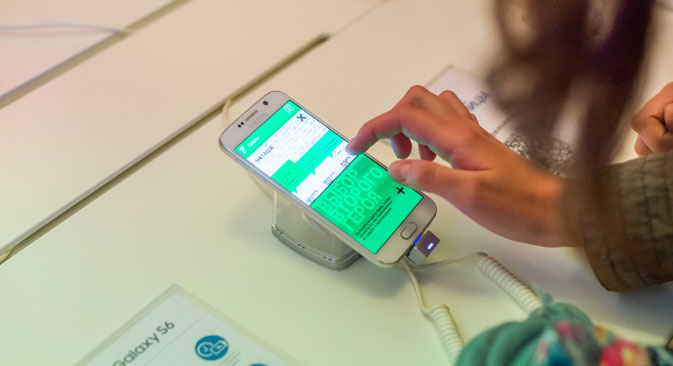 A new Android app brings an interactive touch to Tolstoy's "War and Peace", revealing new, unexpected facets of Russia's most famous novel.
A free app dubbed Zhivye Stranitsy (Living pages), has recently been released on the Google Play Store. Its aim is to make reading interesting and exciting – even for reluctant readers.
The app, developed by Samsung Electronics with contributions from experts at Tolstoy Digital and Russia's Higher School of Economics, is currently only available in Russian.
For English speakers, here is a taste of one of the app's features – in this case an interactive map designed by RBTH that allows you to track the adventures of Prince Andrey Bolkonsky.
The first "enhanced" book released on the app is Leo Tolstoy's epic War and Peace. But what exactly can a mobile app add to a book beyond providing the full text?
1) Timeline
Set during Imperial Russia's war with the Napoleonic Empire in 1812, the novel meticulously chronicles the warfare, and its impact on the country's society. Living Pages matches the events of the novel with actual historical facts.
A built-in calendar complete with quotations from the novel juxtaposes the chronology of the historical events and the novel's storyline. The app also provides push notifications telling the user what happened – both in fiction and in real life – on a given day.
2) Untangling the plot
War and Peace comprises of four books with a seemingly endless array of characters, and following their lives can get confusing. The app helps users to keep track on characters of their choice by outlining each individual's storyline and relationship with the others.
3) Key profiles
The app includes a profile page for each of the main characters, including a picture, their favorite words and expressions, and most famous quotes. These are clickable, leading through to the text of the novel. It is as if every protagonist has their own personal Facebook page.
4) An events map
The developers sought advice from experts to place all the novel's fictional and real locations on a map. Each location comes with quotes describing it, as well as a list of characters that go there. The map spans the whole of Russia and several European cities.
In addition, the map allows users to track the movements of some of the characters.
5) Test your knowledge
The app's users are able to test their knowledge of Russian – including old-timey words – the novel's plot and Russian history by taking various quizzes. Points are awarded for correct responses.
"Through this app we were trying to present War and Peace in a completely new light, to reveal elements that are usually only understood by literary critics, rather than ordinary readers," says Maya Stravinskaya, a producer at Tolstoy Digital. The developers note that their aim is to offer a fresh look at the classic novel, rather than present a specific interpretation of it.
An online vote is being held to decide which work will be available on Living pages next.
The options include Crime and Punishment by Fyodor Dostoyevsky, Dead Souls by Nikolai Gogol, A Hero of Our Time by Mikhail Lermontov, Doctor Zhivago by Boris Pasternak, and The Captain's Daughter by Alexander Pushkin. Users are also welcome to make their own suggestions.
All rights reserved by Rossiyskaya Gazeta.