Dostoevsky's odd eating habits
Perhaps unsurprisingly for such a unique writer, Dostoevsky's eating habits were often rather idiosyncratic.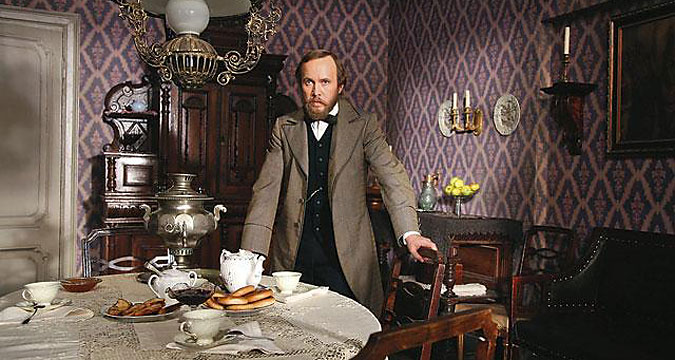 Readers often notice that Dostoevsky's main characters debate and reflect a great deal, but eat very little. However, his friends and family recalled that food had a special place in his life, often tinged with slightly bizarre rituals that show his truly original character.
A menu for every mood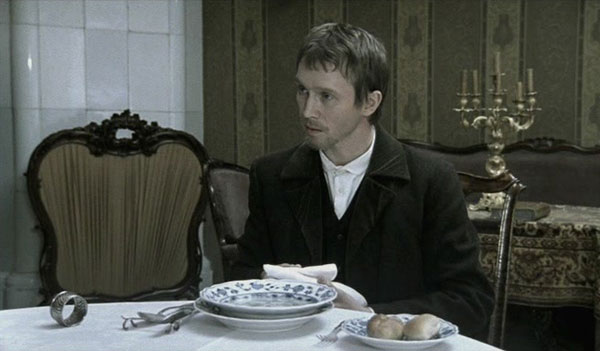 A screenshot from 'The Idiot' series. Source: kinopoisk.ru
According to the memoirs of Anna Grigoryevna Dostoevskaya, the author's second wife, her husband "was fond of Russian cuisine."
Dostoevsky often requested dishes that were popular in St. Petersburg at the time, including Moscow solyanka (a hearty soup made from broth, finely sliced sausage, sauerkraut and pickles), veal escalope (veal fillet in breadcrumbs), rasstegai (baked pies with an opening at the top and different fillings), and meatless pies filled with peas, turnips, pickled mushrooms, and so on.
Dostoevsky also had a lot of idiosyncratic eating habits. For example, according to his wife's memoirs, he enjoyed washing down boiled chicken with warm milk, and liked drinking half a shot of cognac before dessert.
When he was feeling melancholy, Dostoevsky would ask for a cup of broth, veal escalope, tea and wine. When he was feeling upbeat, his favorite foods were cheese, nuts, oranges, lemons, milkcap mushrooms, caviar and French mustard.
Sweet-toothed vodka lover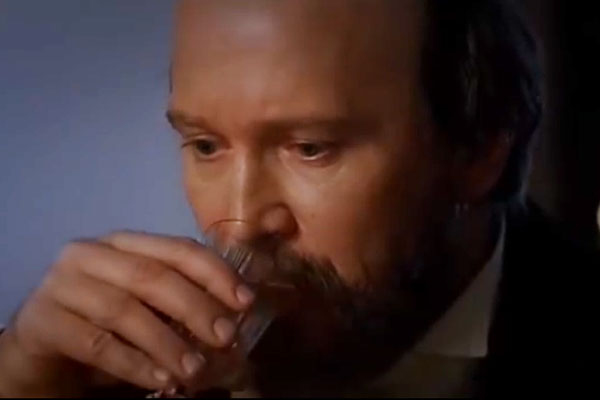 A screenshot from 'Dostoevsky' series. Source: kinopoisk.ru
The list of Dostoevsky's bizarre eating habits included accompanying his breakfast with grain vodka – a kind of home-made, wheat-based vodka popular in the 19th century.
Mikhail Alexandrov, the writer's contemporary, described this morning ritual in his diary: "Once when I visited Fyodor Mikhailovich during breakfast, I saw how he consumed simple grain vodka; he bit off some brown bread, took a sip from a glass of vodka, and then chewed it all together." Dostoevsky used to say that this was the healthiest way of drinking vodka.
Dostoevsky loved sweets and kept them in special boxes in a bookcase in his study. According to the memoirs of his daughter, Lyubov Fyodorovna Dostoevskaya, "father ate them happily during the day and sometimes at night."
Dostoevsky loved fruit as well as sweets, and his bookcase drawers also contained boxes filled with wine berries, dates, nuts, raisins and fruit pastila – in the 19th century, Russian pastila was made from whipped apple puree, sugar and other fruit – blue raisins, marmalade, royal plums and even fresh grapes.
Serious about tea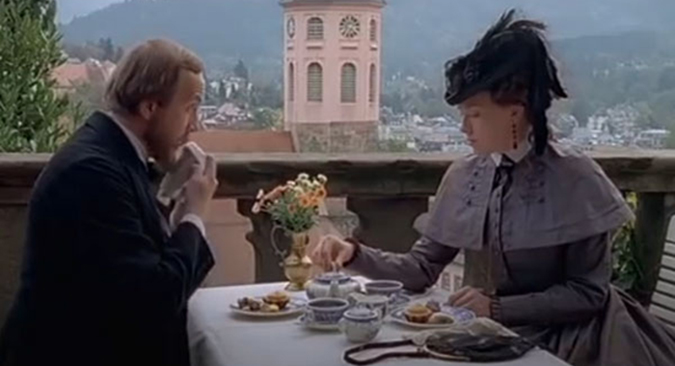 A screenshot from 'Dostoevsky' series (2010). Source: kinopoisk.ru
Like any talented neurotic, Dostoevsky took some of his habits to the extreme. One of these habits was tea drinking. Dostoevsky liked strong black tea and drank it in large quantities while sitting at his desk. He was very fussy about his tea, so he always made it for himself.
This is how his wife described the process: "First he rinsed the teapot with hot water. Then he put in three spoons of tea, filled only a third of the teapot and covered it with a napkin; then, three minutes later, he added more water in his tea and covered it again. When pouring tea, father always looked at its color. He would very often add some tea, pour it into a cup and add extra boiling water. He would regularly take the glass to his study and come back again to add some tea or dilute it. He would say, 'You pour tea, it seems good in color, but when you take it to the study, the color is just not right.'"
The writer had his own teaspoon and drank his tea with two sugars.
More on Dostoevsky:
All rights reserved by Rossiyskaya Gazeta.