Free love, jealousy and teen heartache: Celebrating Russian literary lovers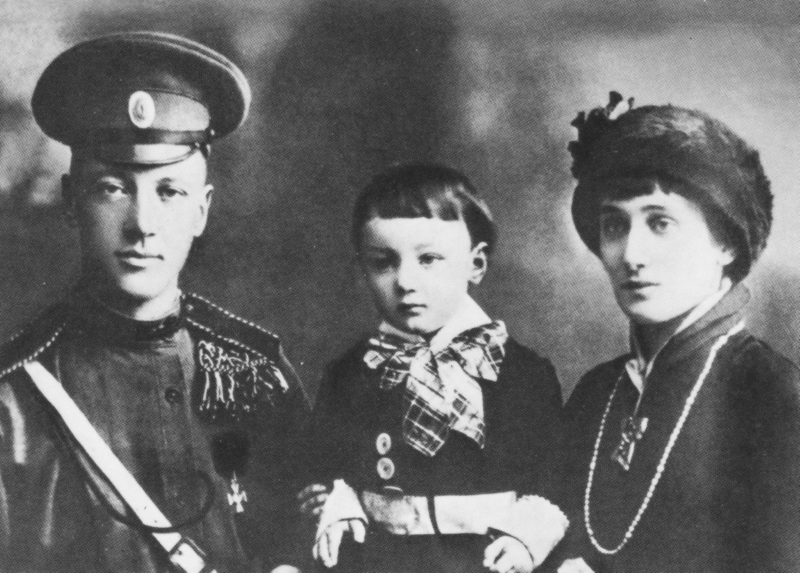 Nikolai Gumilev, Lev Gumilev and Anna Akhmatova 1915
L.Gorodetsky
In honor of Valentines Day, RBTH has selected four of the most interesting Russian literary couples. Who do you identify with most?
Zinaida Gippius and Dmitry Merezhkovsky
L-R: Dmitry Filosofov, Dmitry Merezhkovsky, Zinnaida Gippius, Vladimir Zlobin (1919-1920). Source: wikipedia.org
Radical poet Zinaida Gippius and religious philosopher and writer Dmitry Merezhkovsky were among the leading theorists of the Russian symbolist movement. As daring in their relationship as their art, they drew inspiration from Merezhovsky's philosophy that the impending Kingdom of the Third Testament would draw art and religion together and abolish Christian asceticism. In practice, this manifested itself in their dream of creating a mini-commune where free love formed a key part of the members' worldviews. They lived 52 years together "without parting even for a day", as Gippius wrote in her memoirs, but, in keeping with their polyamorous outlook, they both had romances on the side.
Marina Tsvetaeva and Osip Mandelstam
Osip Mandelstam, Marina Tsvetaeva. Source: RIA Novosti, TASS
These poets came from different worlds: he was the son of a Jewish merchant, while she was the daughter of an honorary professor at Moscow State University and the founder of Moscow's Pushkin Museum. Their love affair lasted for a mere six months, February to June, 1916, and was sparked by a mutual admiration for each other's work. The relationship cooled when Tsvetaeva's interest in Mandelstam waned and she came to the conclusion that he was "too weak and self-loving". She hoped that one day he would learn to love "in the name of the one he loves, not in his own name." Their whirlwind affair produced some outstanding poetry on both sides.
Anna Akhmatova and Nikolay Gumilyov
Nikolai Gumilev, Lev Gumilev and Anna Akhmatova, 1915. Source: L.Gorodetsky
The pair first met as teenagers; Gumilyov was a quiet and sickly young man with a great interest in Oscar Wilde and a dream about pure, all-consuming love. The adolescent romantic would imitate his idol by wearing a top hat and sometimes curling his hair. Akmatova was his complete antithesis: a lively and spontaneous girl with a passion for Baudelaire's poetry. It was love at first sight for Gumilyov, but Akhmatova did not feel the same way; she thought he was rather odd and made fun of him.
Gumilyov proposed to Akhmatova three times and was rejected on each occasion. He left for France to forget her, and even attempted suicide, first by trying to drown himself and then by taking poison, but he was rescued both times. Akhmatova finally accepted Gumilyov's proposal in 1909, and the couple were married for eight years – although Gumilyov spent the majority of this time traveling through Africa and Europe. They had a son, Leo, who Gumilyov's mother raised for the most part. In 1921, three years after the couple had divorced, Gumilyov was arrested and executed on an unfounded conspiracy charge. Akhmatova kept all his poems and dedicated a great deal of time and energy to publishing them.
Yevgeny Yevtushenko and Bella Akhmadulina
Bella Akhamdulina, Yevgeny Yevtushenko. Source: V. Malyshev/RIA Novosti; Valentin Mastykov, Vladimir Savostyanov/TASS
Yevtushenko and Akhmadulina are most associated with the Khrushchev Thaw in the 1960s, although they had already been married and divorced by then. They argued often in their five year marriage from 1954-1959, but, according to Yevtushenko, they would always make up quickly. Akhmadulina was a beautiful woman who, according to people who knew the pair, had a steady stream of admirers. Apparently her jealous husband would feed all the bouquets of flowers she received to their neighbor's she-goat.
The marriage finally fell apart when Akhmadulina unexpectedly became pregnant. Yevtushenko did not want children and insisted that she terminated the pregnancy. Following the ensuing divorce, Yevtushenko said that their love "had not died; it had stopped being," and he later attempted to win her back. Despite their difficulties, the pair did ultimately manage to remain friends, and when Yevtushenko married his last wife, Maria, Akhmadulina even came to help set the table for the wedding meal.
All rights reserved by Rossiyskaya Gazeta.