Tolstoy brings crowds for London opening of UK-Russia literary year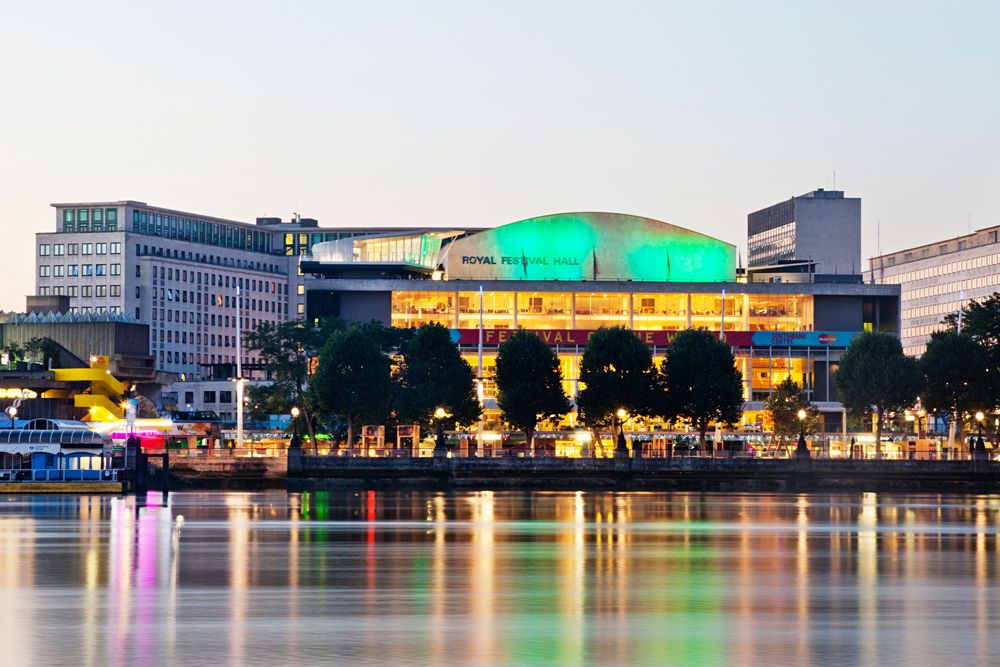 Royal Festival Hall attracted a glittering crowd of fans of Russian language and literature.
Alamy/Legion Media
A screening of a 1927 film adaptation of Tolstoy's "Anna Karenina" at London's Royal Festival Hall on Feb. 25 marked the official opening of a year-long cultural extravaganza dedicated to one of the art forms that brings Brits and Russians together: literature. RBTH spoke to some of those who attended the event.
Soon after the sun set over the Thames, the first visitors began to arrive at London's Royal Festival Hall for a celebratory evening marking the opening of the UK-Russia Year of Language and Literature.
A silent movie adaptation of Tolstoy with a new orchestral score kicked off a year dedicated to joint literary events in both countries. Parties gathered around the South Bank before a royal gala screening of Love, a silent 1927 adaptation of Anna Karenina, which attracted a (literally) glittering crowd, where furs, sequins and even tiaras were in evidence.
The screening marked a suitable start for a year of literary collaboration. While British audiences are still drying their eyes after the heart-wrenching finale of the BBC's adaptation of War and Peace earlier this month, what better place to start than Tolstoy's other famous novel?
"With War and Peace at an end," said producer Carmen Zgouras, who created the whole concept and event, "we hope tonight we can Tolstoy up your life with Greta Garbo and John Gilbert."
The Russian ambassador to London, Alexander Yakovenko, said the evening was a vivid expression of the fact that culture is a universal language: "Music accompanying a Greta Garbo film based on Tolstoy's Anna Karenina, a great work of literature…"
Soloist Vadim Repin, described by some as the "world's greatest living violinist," called it "a unique event that merges nearly all of the major visual and aural arts…"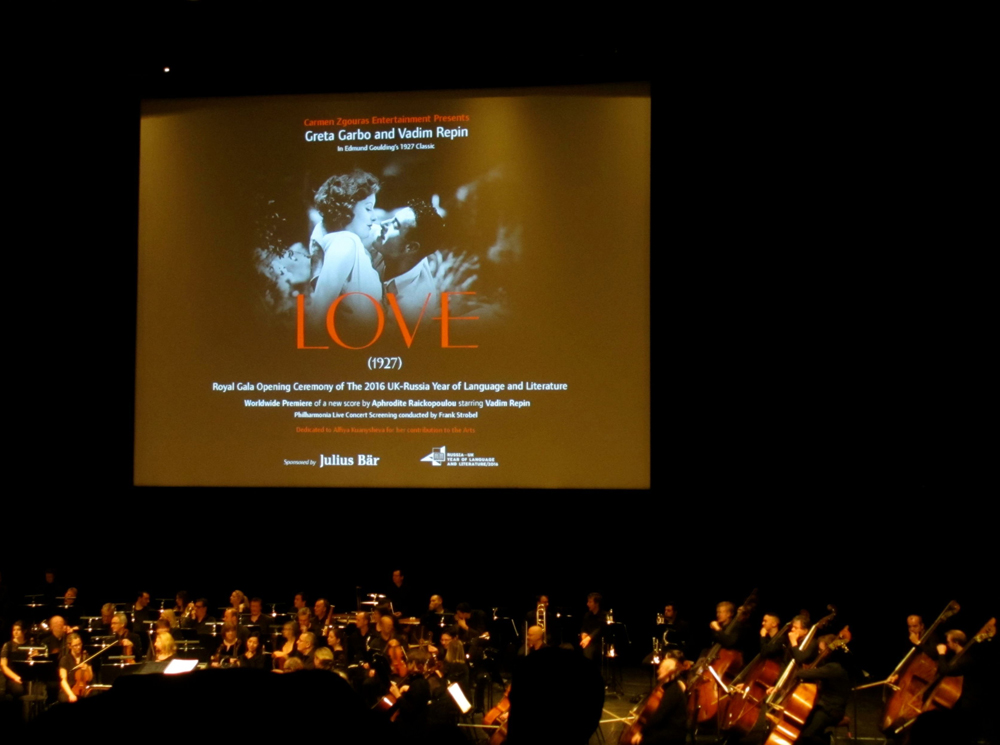 Greta Garbo, Vadim Repin and the Philarmonia Orchestra at the opening of the UK-Russia Year of Language and Literature. Source: Phoebe Taplin
Aphrodite Raickopoulou's new musical score for Love certainly swelled with passionate conviction as the opening images conjured up iconic Russia: a troika in a blizzard, snowy mountains, and a pine tree blowing in the wind. In the parlour of a rustic inn where she's been forced to shelter from the storm, next to a traditional tiled stove, Greta Garbo lifts a veil from her famous face. John Gilbert, playing a dapper, uniformed Count Vronsky, smoulders as he falls in love.
Tolstoy fans may have been more ambivalent about the black and white film romance, which took liberties with the original novel and had two alternative endings. The version screened at the Festival Hall had a happy, Hollywood conclusion in place of Anna's famously tragic end.
"Tolstoy must be spinning in his grave," joked one audience member, "but the music is rousing."
Professor Valentina Polukhina, an expert in 20th-century Russian literature who taught for 30 years at Keele University and has published numerous books about the poet Joseph Brodsky, expressed the hope that the UK-Russia Year of Language and Literature would be a catalyst for closer cultural cooperation between the two countries.
"I hope that there will be more connections established between Russia and England," said Polukhina, who founded the Russian Poets Fund, a London-based charity that helps Russian writers make contact with other countries.
"Culture will unite us, literature especially," she told RBTH.
The British Council is also supporting the UK-Russia Year of Language and Literature and the cultural body's chief executive, Sir Ciarán Devane, described it as exactly the kind of project his organization is designed for: "to support a friendly knowledge and understanding between the people of the UK and the wider world."
All rights reserved by Rossiyskaya Gazeta.