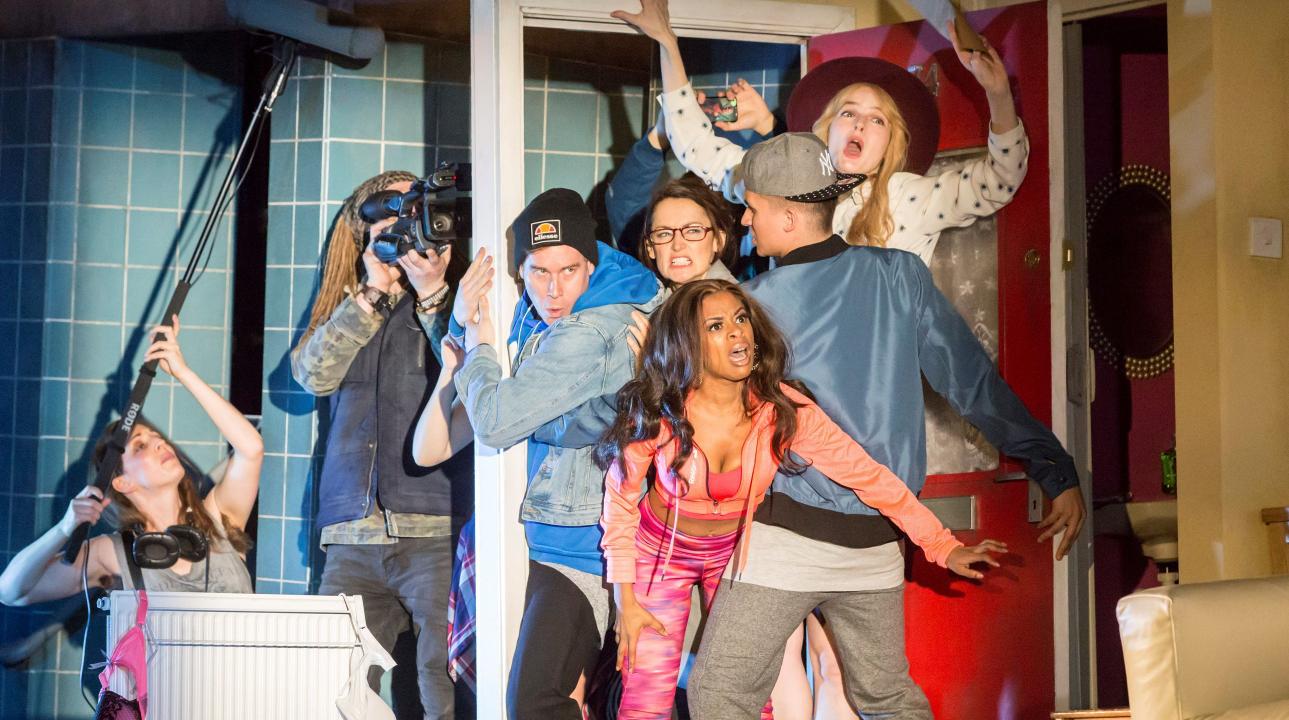 The Suicide. Source: Johan Persson / Courtesy of the National Theatre
Erdman and Mayakovsky
Suhayla El-Bushra's energetic new play The Suicide, currently showing at London's National Theatre, is based on a 1928 comedy by Soviet playwright Nikolai Erdman. Sam (Semyon in the original) has no money and lives in a poky flat with his wife and mother-in-law.
In the new version, his suicidal leanings on the tower block roof one night get videoed and go viral on YouTube, prompting a stream of visitors who want him to use his death to further their disparate causes: a trendy café owner offers to cook him a well-publicized last supper, an exhausted social worker wants to draw attention to funding cuts, a rapper would harness Sam's new fame to write bigger hits.
To coincide with this updated staging, the National Theatre held an afternoon of talks and performances celebrating Russian comedies in Britain, chaired by Oxford Professor Julie Curtis, who has been a regular consultant on historical contexts for Russian theater.
El-Bushra explained that her contemporary version aimed to "keep the farce and the enjoyment" of Erdman's play, as well as its more philosophical moments; "It's true to the original to switch between tragedy and humor," she said. Suicide has been a longstanding Russian literary theme (just think of Anna Karenina), but its use in comedy disturbed the Soviet authorities, especially after high profile, iconoclastic poet Vladimir Mayakovsky shot himself in 1930. Erdman's plays were banned in Soviet Russia.
The Suicide has had several previous UK outings, including an iconic 1970s production in Stratford-on-Avon, with Roger Rees as Semyon. In 2007 Moira Buffini wrote a version for the Almeida theatre called Dying For It, which updated the language, but kept the Russian setting. El-Bushra has moved the play into an urban, multicultural zone, where its anarchic spirit and austerity satire thrives. Such transpositions are increasingly popular.
Emily Juniper's upcoming production of Maxim Gorky's Vassa Zheleznova at Southwark Playhouse moves the play to 1990s Liverpool; Anya Reiss set her modernized Seagull on the Isle of Man and her Uncle Vanya on a farm in Northern England.

Poster of Vassa Zheleznova. Source: Courtesy of Southwark Playhouse
Mayakovsky wrote in a preface to his surreal drama, Mystery-Bouffe, that future performers and publishers "should change the content, making it contemporary, immediate, up-to-the-minute." Very few people (so far) have taken him up on the offer and his works are seldom staged (even in Russia), but he did appear as a character in a play called The Futurists at the National Theatre in 1986, played by a young Daniel Day Lewis.
Gogol and Bulgakov
Nikolai Gogol's 19th century satire about corruption, The Government Inspector, is a perennial favorite, often modernized and still relevant. Curtis points out that one of the play's most powerful moments is when the mayor breaks the play's illusion, asking the audience: "What are you laughing at? You are laughing at yourselves."
UK drama company Ramps on the Moon, currently touring their innovative production until the end of June, have introduced video design into The Government Inspector. Another production, which appeared in an Oxford college garden last week, used scatological jokes to convey the sometimes-shocking humor of the original; the director, Russian student Daisy Hayes, created her own translation and tried to use "elastic language and humor to find equivalents for the Russian absurdity". The garden setting helped "highlight the surreal, grotesque aspects of the play", she said.
staging
a version of his
Diaboliad
. This early satirical story fuses Shakespearean elements – twins, lost loves, mistaken identities – with Soviet concerns about endless bureaucracy.
It was Bulgakov's own plays that famously brought him to Stalin's attention. In 1926 he had to revise his stage version of The White Guard (which mixes uneasy nationalism with jokes about underwear) to make it more ideologically acceptable. The National Theatre's 2010 production captured the chaos of early 20th-century Kiev and the element of farce that underlies civil war. Curtis calls The White Guard another play "that wonderfully moves back and forth between tragedy and comedy."
Contemporary Russian Theatre
This great tradition of serious comedy is alive today. Translator and playwright Noah Birksted-Breen, who frequently stages Russian plays as director of Sputnik Theatre Company, celebrates the work of a new generation of Russian writers. The Lyubimovka Festival, an annual competition for young playwrights, has been running since 1990 and several important playwriting courses are flourishing across Russia, like Nikolai Koliada's influential school in Ekaterinburg.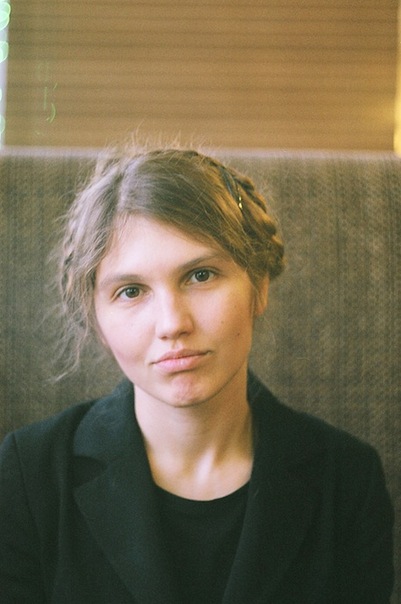 Yaroslava Pulinovich. Source: yaroslavapulino.ucoz.ru
Birksted-Breen translated Joan by Yaroslava Pulinovich, a young writer from Siberia who studied with Koliada. The play, about a ruthless businesswoman's revenge on a former lover, was performed in London's Frontline Club earlier this year as a rehearsed reading. Joan's sadistic brand of gangster capitalism comes with a side order of small-minded nationalism: to work for me, she says, requires "presentation of a passport unsullied by a stamp". She manipulates her terrified employees commercially, socially, sexually. Accepting the "Debut" award for young writers, Pulinovich said: "Within each play, people can create their own stories."
The Theatre Royal in Plymouth is currently staging Birksted-Breen's translation of Mikhail Durnenkov's darkly surreal comic vignettes, the war has not yet started. Durnenkov explores the violent undercurrents in family life and modern media.
Soviet critics once objected to contemporary directors, says Curtis, and demanded a new comedy, "as fresh as lemonade." It certainly wasn't what these Stalin-era censors had in mind, but today's young Russian playwrights, and those adapting Russian classics for new contexts, are producing just that. They take the sourest elements of the world around them and mix them with a disturbing sparkle and potentially explosive fizz.
All rights reserved by Rossiyskaya Gazeta.