Literary characters come to life at St. Petersburg street carnival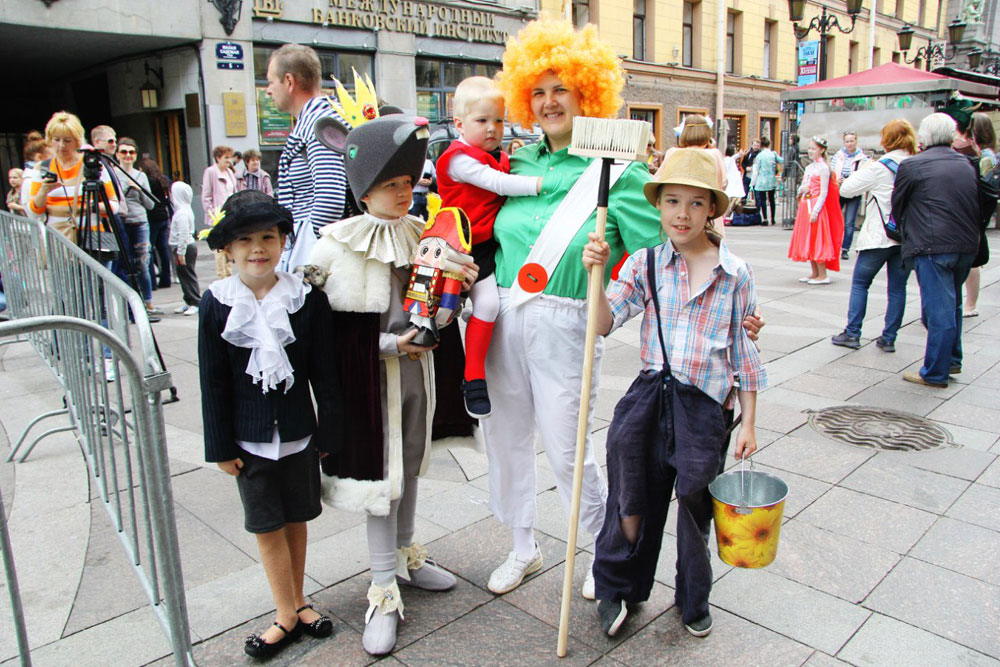 L-R: Shapoklyak (from 'Cheburashka'), Mouse King (Nutcracker), Lillebror and Karlsson (Karlsson-on-the-Roof), Tom Sawyer (The Adventures of Tom Sawyer)
Maria Bolshakova
At the end of May critics and bookworms gathered in Russia's Northern Capital for a celebration of all things literary at the International Book Salon, which culminated in street carnival where citizens dressed up as their favorite characters from books, including old folk favorites such as Baba Yaga and Vasilisa the Beautiful.
L-R: Shapoklyak (from 'Cheburashka'), Mouse King (Nutcracker), Lillebror and Karlsson (Karlsson-on-the-Roof), Tom Sawyer (The Adventures of Tom Sawyer). Source: Maria Bolshakova
Book and literature lovers who come to St. Petersburg have a long to-do list. Besides the huge book supermarkets like Bukvoyed or small independent bookstores such as Vse Svobodniye, Poryadok Slov or Lavka Pisatelei, there are literary evenings at the Brodyachaya Sobaka art-cabaret, as well as readings and meetings with Russian and foreign authors.
This spring was full of literary events. April saw the city host "Biblionight," in which bookworms could drop into any library in the city all night long, while May began with a special book weekend. At the end of May experts and readers gathered in the city for the International Book Salon, devoted to St. Petersburg's birthday.
The International Book Salon lasted for four days and ended with a carnival of literary characters.
Source: Maria Bolshakova
On May 29, people went out dressed as their favorite character. Pictured: Lillebror (Little Brother) and Karlsson from Astrid Lindgren's children's book Karlsson-on-the-Roof, adored by Soviet and Russian kids.
Source: Maria Bolshakova
More than 70 participants took part in a fashion show in the center of the city and then marched through the streets. The carnival was taking place for just the third time but has already become a family holiday.
Source: Andrei Ublan
Participants sang songs, danced and read poems. One of the main attractions was the song by the small nasty old woman Shapoklyak with a rat on her shoulder from the fairy tale Cheburashka by Eduard Uspensky.
Source: Maria Bolshakova
Two frog princesses from Russian folk tales met at the carnival.
Source: Maria Bolshakova
Farmer Pettson and Findus the kitten, characters from the books of contemporary Swedish children's writer Sven Nordqvist, who is popular in Russia, also took part in the parade.
Source: Daria Aminova
Every young girl's dream is to become a Disney princess. These two are pretending they are Snow White and Bell.
Source: Daria Aminova
Handsome rebel Robin Hood was among the 15 participants awarded with a prize by the carnival organizers and judges.
Source: Daria Aminova
The smallest participant, who celebrated his first birthday recently, turned with a character from a Russian folk tale – the ugly old witch Baba Yaga. This couple also received a prize as one of the best.
Source: Maria Bolshakova
Would you be afraid of this Darth Vader?
Source: Maria Bolshakova
Vasilisa the Beautiful (L) is almost a Russian Disney princess. Here she is pictured talking with Olga Larina from Pushkin's novel in verse Eugene Onegin.
All rights reserved by Rossiyskaya Gazeta.