Bernard Shaw: I can't die without having seen the USSR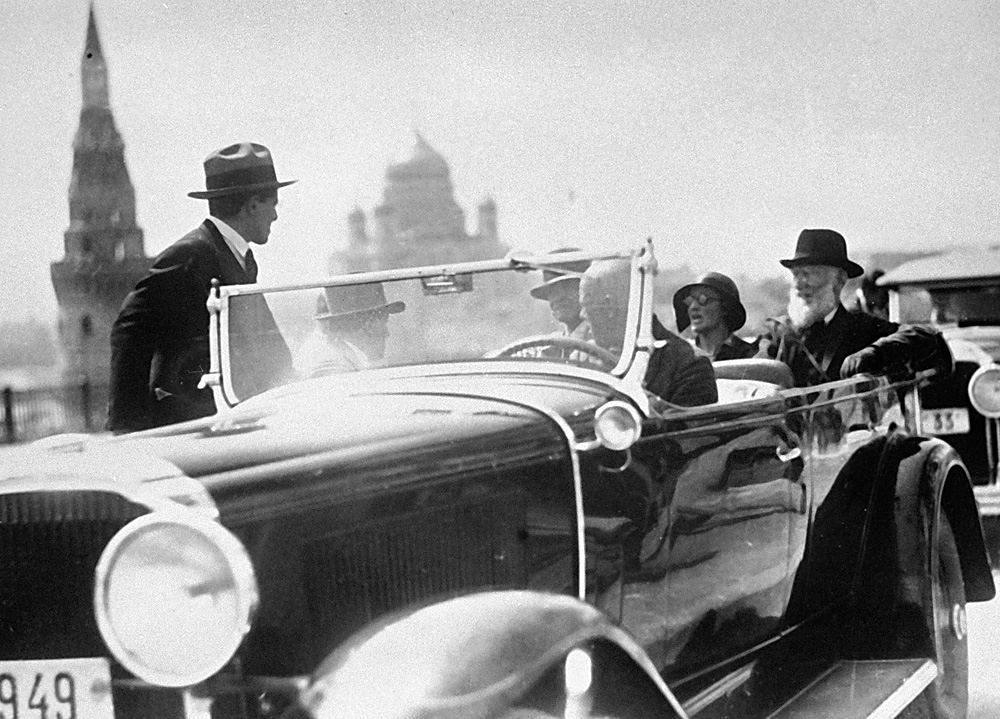 British playwright Bernard Shaw (R) being driven around Moscow in a chauffeured car.
RIA Novosti
This year marks the 160th anniversary of the birth of the great Irish author. RBTH explores why Russia and the Soviet Union held a special place in his heart.
Bernard Shaw's (author's full name was George Bernard Shaw) fans celebrate a big anniversary on July 26: 160 years since the great author's birth in 1856. Shaw died in 1950.
The author of 63 plays, several novels and thousands of essays and critical works, a Nobel Prize laureate in 1925 and perhaps the second most popular English-language dramatist after Shakespeare, Shaw is even more interesting for Russian readers as he was a friend of Russia and the Soviet Union until the end of his life.
Shaw supported 'red' side from USSR's humble beginning
The author's visit to Moscow in 1931 was especially notable. But Shaw had already repeatedly expressed his sympathy for communism in Russia. In 1914 he sent a letter to the editorial office of the communist newspaper Pravda where he offered his congratulations on a Russian labor party anniversary.
Shaw was a member of the Fabian Society, a British socialist organization, and after the October Revolution in 1917 in Russia Shaw took part in the Hands Off Russia campaign. As part of this movement the writer opposed the British intervention on the side of the White Army during the Russian Civil War. At the same time he followed Lenin's politics and even called him the "only really interesting statesman in Europe."
Author greatly admired Chekhov
But Shaw's interest in Russia was not limited to politics. He was fascinated by some of Russia's great authors. He said that one of his most popular plays, Heartbreak House (1919), was influenced by Anton Chekhov, the great Russian dramatist. Shaw wrote a subtitle to the play stating that it is "a fantasia in the Russian manner on English themes."
Maxim Gorky
, called Shaw "one of the bravest thinkers of Europe."
But not all Russian writers expressed admiration for the Irish writer. For example, Leo Tolstoy reproached Shaw for excessive flippancy and sarcasm in his plays. "The questions of God, evil and good are too important to talk about them in jest," wrote Tolstoy in a letter to Shaw in 1910.
Had nice things to say about Stalin
In 1931 Shaw came to the Soviet Union for a nine-day trip and even celebrated his birthday in Moscow. Different sources state that the writer said he didn't want to die before seeing the Soviet Union.
As Shaw was respected by the Soviet state, he was accorded a warm welcome. On his first day in Moscow, Shaw visited Lenin's mausoleum. He was impressed and said: "A pure intellectual type, that is the true aristocracy… Henceforth Napoleon's tomb ranks second instead of first."
He visited numerous historical places in the capital, as well as in the provinces. But the key event of Shaw's nine-day-stay in the Soviet Union was a meeting with Soviet leader Joseph Stalin. Accompanied by Lord and Lady Astor, Shaw conversed with Stalin for about three hours. Later Shaw remembers that Stalin played his role perfectly and hosted the guests as if they were old friends.
"I expected to see a Russian worker and I found a Georgian gentleman," said Shaw following their meeting. The writer was so impressed by his trip that before leaving the USSR he said: "Tomorrow I leave this land of hope and return to our Western countries – the countries of despair."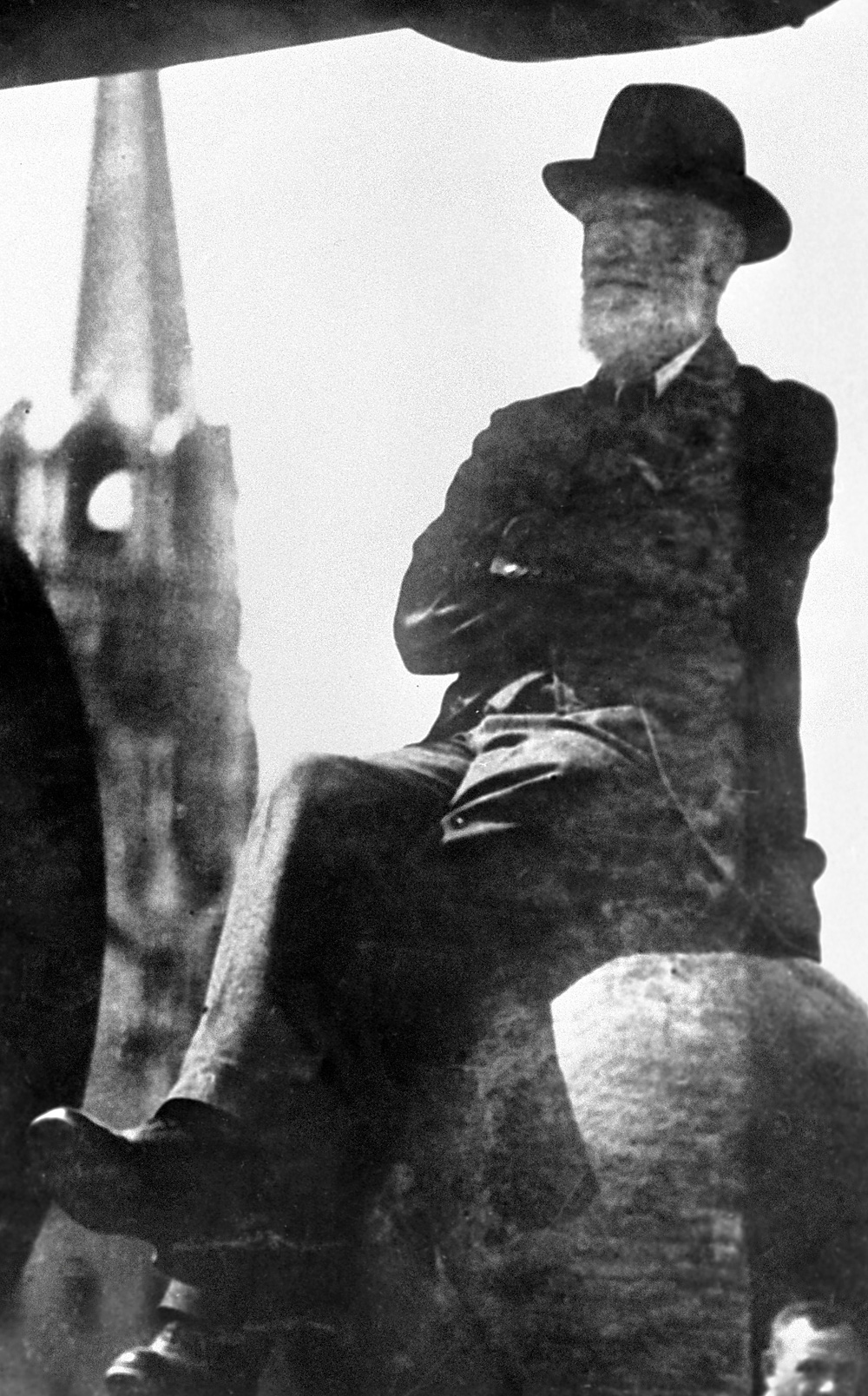 Bernard Shaw sitting on a cannonball of the Kremlin's Tsar Cannon. Source: RIA Novosti
Shaw's visit to the Soviet Union had a strong impact on the author. Returning to Europe he was first interviewed in Berlin where he claimed that Stalin was a "giant," while other politicians were "pigmies." A few days later in London the writer made a long speech about his trip. To dispel the myth about severe hunger in the Soviet Union he said that in Russia he "ate the most slashing dinner in his life."
To this day Shaw is frequently criticized in Great Britain for his kind words for Stalin and Nazi leader Adolf Hitler before World War II.
A friend of Russia until the day he died
What about Russia's reaction to Shaw's visit? For the most part Shaw made a good impression. As a supporter of the Soviet government, Shaw was received positively. For many years Soviet newspapers wrote articles about Shaw long after his trip was completed and even after his death in 1950.
In 1956 Ogoniok, one of the oldest and respected Russian magazines, printed an article called "Bernard Shaw, the Soviet Nation's Friend." They wrote:
"Leaving Moscow Bernard Shaw said, 'I was a will be a friend of the Soviet Union until the end of my days.' And he really stayed our friend until the end of his long life."
All rights reserved by Rossiyskaya Gazeta.