Literary dialogue between tradition and modernity in the heart of Siberia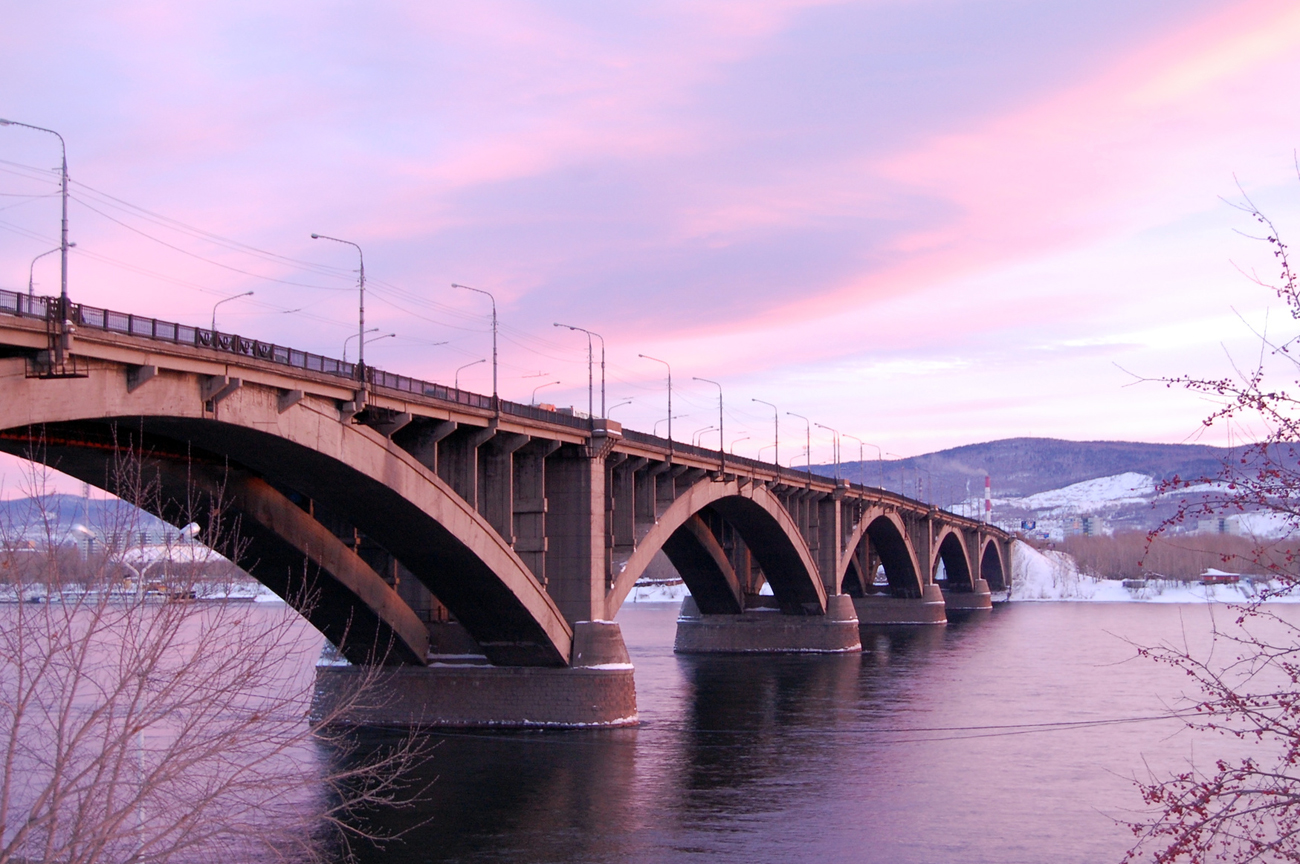 Communal Bridge over Yenisei in Krasnoyarsk.
Lori/Legion-Media
At the Krasnoyarsk Book Culture Fair (KRYAKK), which finished on Nov. 6, writers, publishers and visitors from all over the country debated the popular topic, "Modernity: A Dialogue with Tradition".
The venue, the Siberia Exhibition Center in Krasnoyarsk, some 2500 miles (4150 km) east of Moscow, was packed on Nov. 2, the opening day. The visitors were eager, mentioning publishing houses they remembered from last year and snapping up their stock of reading material for the year ahead.
"I like KRYAKK very much," says literary critic Galina Yuzefovich. "It is compact but very well planned. Publishing houses that you cannot see anywhere else attend, and you can meet people who do not always come to Moscow. I personally rank this as Russia's second book fair in terms of its significance and quality – after the Moscow Non/Fiction Fair."
Galina Yuzefovich holding a lecture at KRYAKK. Source: Press photo
Past meets the future
KRYAKK is organized by the Mikhail Prokhorov Fund, a private charity set up in 2004. Its goal is to support cultural projects in the Russian regions. 
This was the Krasnoyarsk Book Fair's 10th anniversary, and it keeps expanding. "We had 63 publishers at the first fair," Irina Prokhorova, the head of the Mikhail Prokhorov Fund, which organizes the event, said at the opening ceremony. "That number surprised and delighted us, but now we have about 300 participants,"
KRYAKK-2016 was devoted to the question of how modernity and tradition interact. It offered an opportunity to consider how the past influences modern literature, and how the language of modernity derives its origins from the classics. The music and the theater sections of the book fair also investigated this topic.
Every year, the Krasnoyarsk Book Fair welcomes Mikhail Pletnev's Russian National Orchestra. According to Irina Prokhorova, the orchestra expands listeners' ideas of both the classics and modernity: "What Mikhail Pletnev does is close to the theme of the fair. He introduces the audience to underappreciated world and Russian music, often performing works that have never previously been performed in Russia."
Mikhail Pletnev's Russian National Orchestra. Source: Press photo
The theater program was curated by director Konstantin Bogomolov, who staged "Gargantua and Pantagruel" – based on Rabelais' pentalogy of the same name – in conjunction with the Theater of Nations. "It is very scary and exciting because this production is highly complex and did not have a straightforward initial reception in Moscow," the director admitted. His fears proved to be unfounded: the audience in Krasnoyarsk greeted the production with a standing ovation.
Pictured L-R: Director Konstantin Bogomolov, publisher Irina Prokhorova, literary critic Anna Narinskaya at KRYAKK. Source: Press photo
Authors and readers
The main program of the book fair offered numerous seminars with authors. The session with Guzel Yakhina, the author of the novel Zuleikha Opens Her Eyes, the main book of 2015, attracted so many visitors that the organizers had to urgently find extra chairs. "Krasnoyarsk features briefly in the novel and, judging by the audience's reaction, many of them read it with their grandparents in mind," the author said afterwards. "This was echoed by people who came to book signing. That means a great deal to me." Yakhina's novel is currently being translated into English and many European languages.
Everyone RBTH spoke to agreed that KRYAKK is a significant cultural event for the entire country, not just Siberia. Literary critic Anna Narinskaya points out that KRYAKK is particularly good at bringing authors and publishers into contact with readers. "For me the main thing here is interaction, rather than interactivity. Here, there is a drive for meeting people, talking to them."
Children's program at KRYAKK. Source: Press photo
KRYAKK international
UK
, Denmark, Sweden, Finland, and Switzerland. The guests included Russian literary translator Agnieszka Lubomira Piotrowska, Dr. Jo Turney, a fashion and design historian from the Winchester School of Art, Dr. Ben Hellman from Helsinki University, Movana Chen, an artist from Hong Kong, and Swiss author Franz Hohler.
Interestingly, Prokhorova notes that the initiative to participate in the fair often comes from abroad, rather than Russia. "Many artistic and literary figures and cultural centers are eager to attend. Despite all the negativity on a political level, our country still retains its image as a cultured nation, and it is good to support and promote this – because this is what gives a country its place in the global community, not military might."
Subscribe to get the hand picked best stories every week
All rights reserved by Rossiyskaya Gazeta.