Libraries at shopping malls: Bringing books direct to readers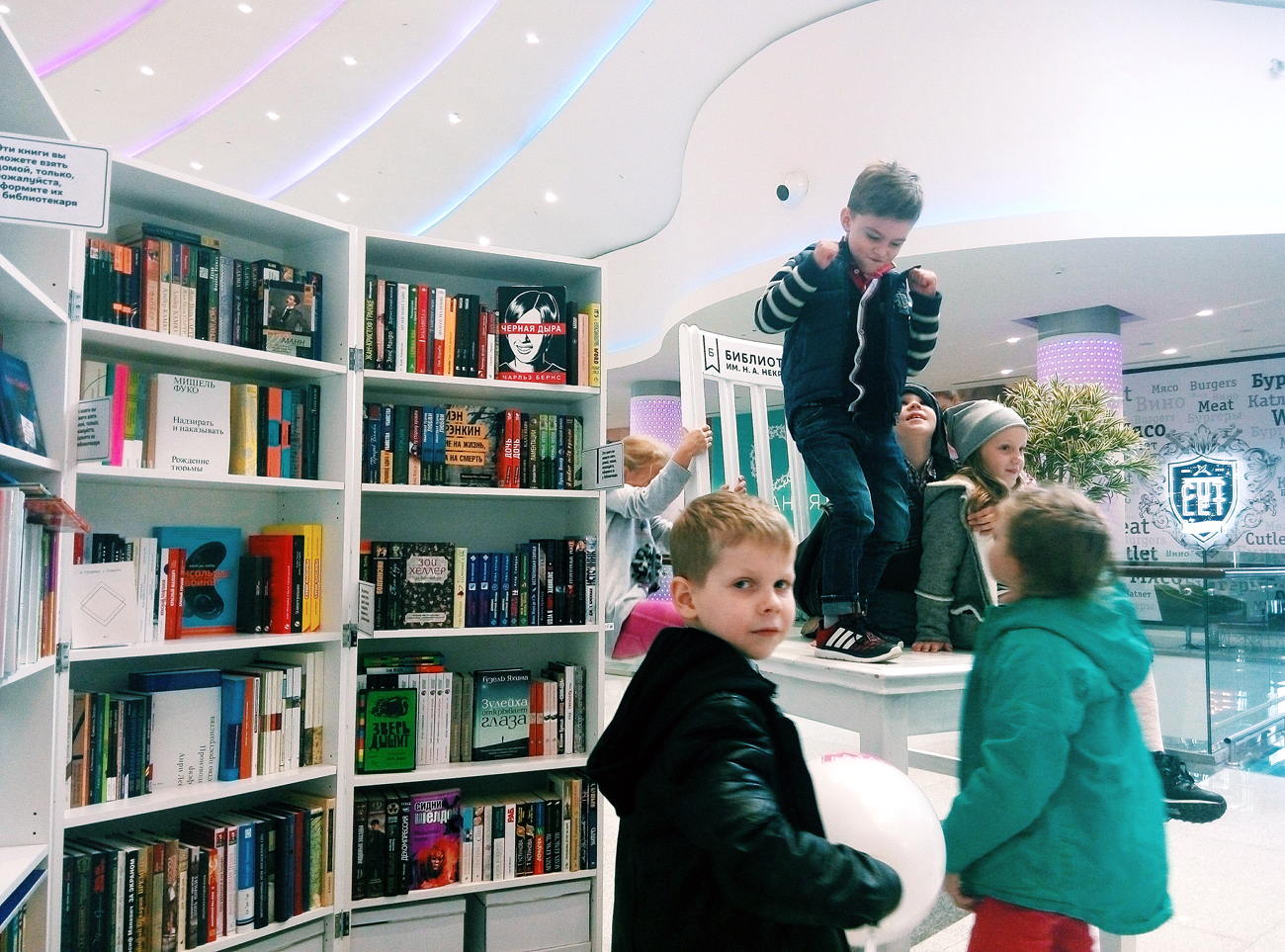 A mobile point of the Nekrasov library in the Oceania shopping and entertainment center in Moscow.
Press photo
The Nekrasovka pilots an innovative approach to modernizing the public library, bringing its books and activities to the Oceania shopping and entertainment center in Moscow.
Many libraries have remained in large Russian cities since Soviet times. In Moscow alone there are 441 public libraries. Most of them are in dire straits because in the age of the Internet almost no one goes to libraries to borrow books.
Libraries are seeking new approaches to remain relevant in their communities. They are transforming from a storage place for books into cultural spaces for lectures, conversations and master classes.
The N. A. Nekrasov Central Universal Scientific Library, or simply the Nekrasovka, has decided to go to the modern reader, literally speaking. The Nekrasovka has created a mobile point in the Oceania shopping and entertainment center. Just imagine: besides boutiques, entertainment, a movie theater and cafes, the crowded shopping mall will now have an island for tranquility and reading books, and moreover, its services are free.
At #БиблиотекавТРЦ (#LibrarySEC) you borrow and return books from the library's main collection, as well as access the Biblio LitRes online reading service. The mobile point also has rare books from independent publishers that can be found only in a limited number of bookshops. The library has something for everyone, including children books and board games.
"We have the opportunity to show the public that libraries have historical and modern books, and not just printed books but also electronic ones, plus board games and other things," she adds.
Visitors to the mall are happy about the initiative. "The books are almost all new and recent editions. There are obviously the classics, as well as textbooks and much more. First I thought it was some sort of store. Then I asked and it turned out to be a library! Yes-yes, it's a mobile branch of a library in a shopping center! If you've come to watch a movie or something, you can borrow a book from the library, read it for a month and then when you go back to buy groceries, you can return it," wrote triplex35 in his blog.
Privalova believes it is a great advantage that the interests of the shopping center and the library coincide. "This shopping and entertainment center is trying to attract people not only to make purchases but also to relax, visit a master class, etc."
Next year, the Nekrasovka plans to expand this pilot project and find other innovative ways to go beyond its walls. Currently, the library is working to improve its mobile location, especially logistics and event organization.
For more information visit official website of The N. A. Nekrasov Central Universal Scientific Library (in Russian) nekrasovka.ru/oceania.
Subscribe to get the hand picked best stories every week
All rights reserved by Rossiyskaya Gazeta.