How much did great Russian writers drink?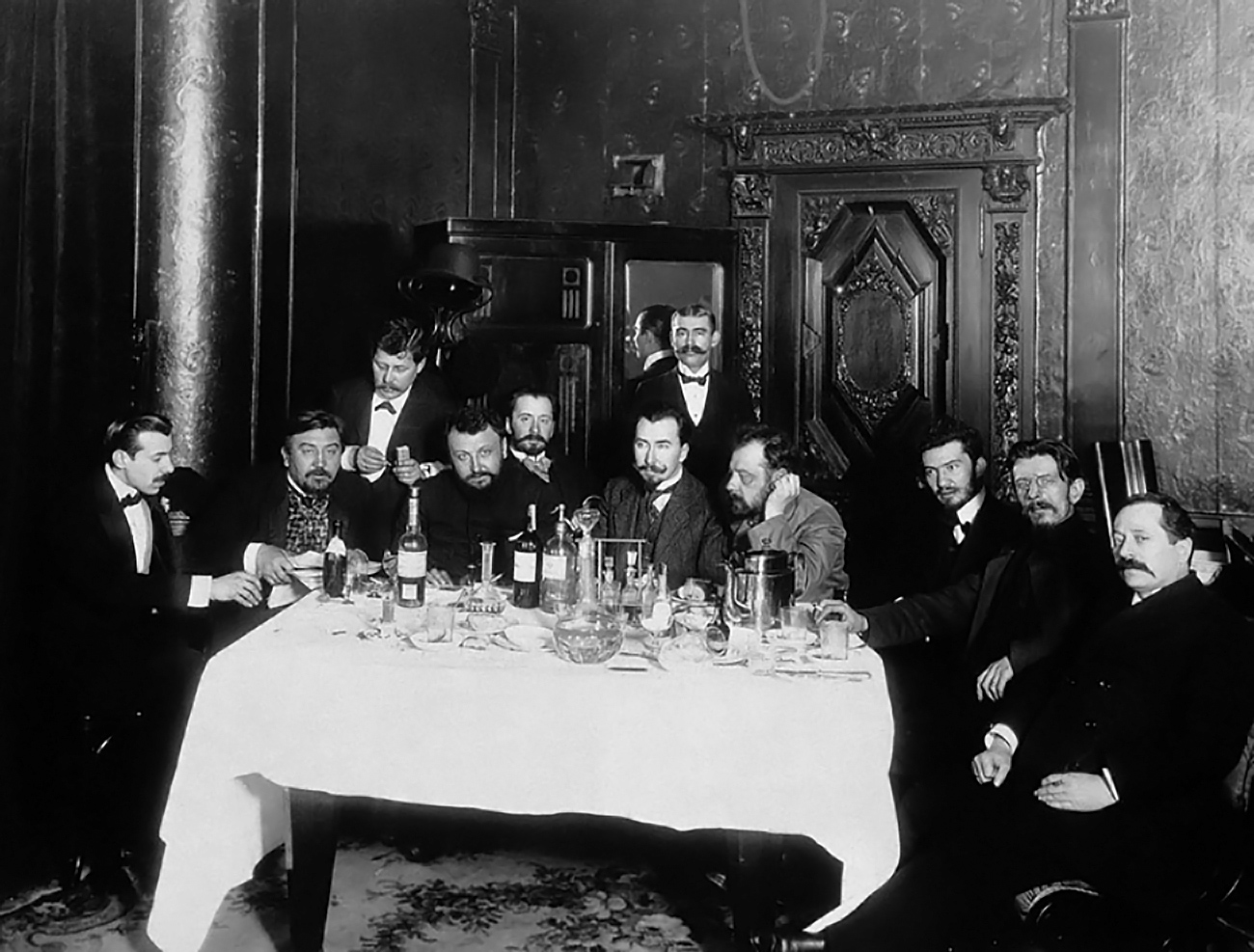 Russian writer Alexander Kuprin and friends in a restaurant.
Pushkin House
Who drank the most out of columnists, fiction writers, poets, and only playwrights? As January 31 marks vodka's traditional birthday, let's take a fresh look at classical Russian writers' drinking habits.
In January 1908, the Russkoye Slovo daily ran a satirical piece on Russian writers' relationship with alcohol.
***
The French magazine La Revue has come up with an interesting questionnaire to establish what French writers drink. Inspired by this example, a St. Petersburg newspaper offered a similar questionnaire to Russian writers. The results of both projects suggested that neither the French writers nor their Russian counterparts ever touch alcohol – preferring natural spring water. Far be it for us to cast aspersions on our French colleagues, but we decided to check the veracity of the Russian writers' replies using the audiatur et altera pars method [listen to the other side]. Seeing as the "other side" in our case is the bartenders of watering holes frequented by Russian writers, we began our inquiry with the literary Vienna restaurant, which has long been a popular haunt of many Moscow and St. Petersburg-based writers, including Alexander Kuprin, Nikolay Gumilev, Arkady Averchenko, and Alexey Tolstoy.
Vienna restaurant
"Russian writers mostly drink vodka; but they also order beer, always in glasses. When they have the money, Russian writers eagerly order brandy, normally the less expensive brands. On the other hand, Russian writers seldom drink poor-quality wine – only when someone else is treating them. They would rather stick with brandy than drinking a liqueur.
When it comes to snacks, Russian writers ones that are served in the largest quantities for the lowest price. Many drink without any food at all, or they go for the yorsh rite, which involves chasing down every shot of vodka with a sip of beer. Russian writers do not like mineral water, but they do demand kvass – with ice, no less.
Kapernaum Tavern
"Could you tell us what Russian writers drink – and their manner of consumption?"
"They drink vodka. They do not usually order any food; some go for beer straight away [instead of food]."
"What about wine?"
"They do not drink wine much. The writers of the past would ask for wine, they knew their wine, but the ones of today do not ask for anything but vodka."
"How much do they drink then?"
"A lot. The only patrons that drink more are factory hands."
Fedorov's
"Russian writers prefer to drink at the counter, and choose cheap sandwiches as their snacks. Some fiction writers lace their vodka with [brandy-based] Sirop de Picon. Reporters always demand very hot pasties, because they have been running around out in the cold. When writers meet actors we put them at a round table because they start swinging their arms all too eagerly."
Cubat
[An expensive restaurant frequented by art critic Sergey Dyagilev, writer Sergey Nezhinsky, singer Fyodor Shalyapin, and philanthropist Savva Mamontov]
"Russian writers never ask for champagne, although there is a group of writers who do not order anything – even for early morning breakfast. As for liqueurs, Russian writers mostly ask for ones which do not exist. Russian writers never sip their drinks; they down them. They tip more generously than oil industrialists; perhaps only shipbuilding engineers tip more generously than Russian writers."
A theater club
"Oh, those Russian writers. There is nothing that they will not drink. Perhaps with the exception of gin and pale ale. But they will get to those too, eventually! Russian writers drink everything, and in handsome quantities. They need large tabs because they are so insatiable."
"Do Russian playwrights drink at all?"
"Even a chicken drinks, so how can it be that Russian playwrights don't? But playwrights rank fourth by the amount they can drink. First come columnists, then fiction writers, then poets, and only then playwrights."
These are the results of our objective questionnaire. We leave it to our readers to draw any conclusions.
Vlad. Azov, Russkoye Slovo, St. Petersburg, 1908
First published in Russian by Arzamas Academy.

If using any of Russia Beyond's content, partly or in full, always provide an active hyperlink to the original material.