Evgeny Grishkovets: Evolving from sailor to writer, actor and musician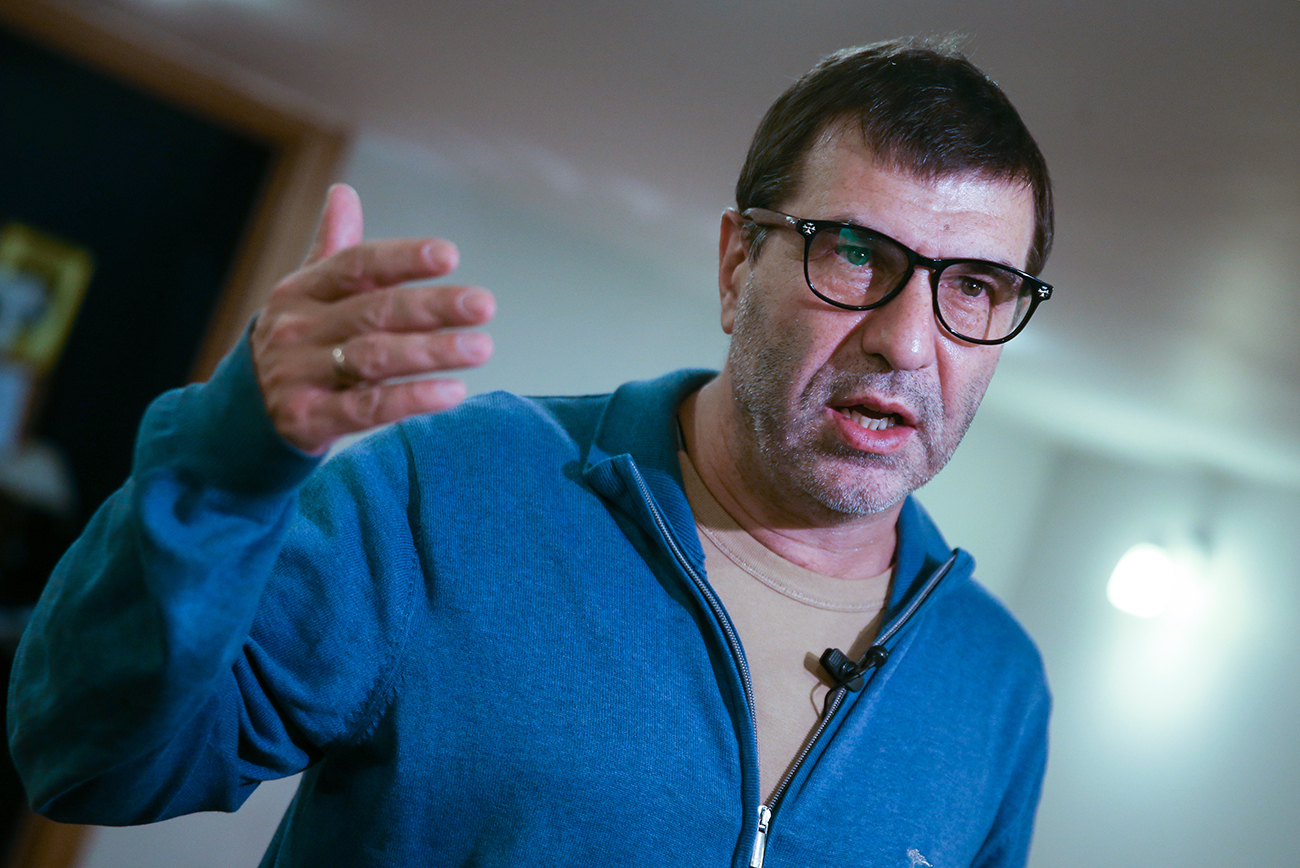 Evgeny Grishkovets, who turned 50 on Feb. 17, has arguably captured the feel of everyday life better than any other contemporary writer. RBTH celebrates a milestone in the life of a man who taught audiences that plays should be an intimate dialog about what is most important to each of us.
His one-man shows on YouTube gather hundreds of thousands of views, his books are read voraciously, his performances are sold out well in advance, and his talks are always well over-subscribed. Evgeny Grishkovets defies easy categorization: he is his own sub-genre in contemporary Russian art.
Daily life in detail
Following high school, Grishkovets enrolled in the Philological Department of the Kemerovo State University, where he studied drama and staged pantomimes in theaters. In his second year he was drafted into the navy and was sent to Russky Island with the Pacific Ocean Fleet.
Grishkovets put his memories and impressions from this time in his life into his first one-man show, "How I Ate a Dog" [a Russian idiom meaning to "cut one's teeth", which Grishkovets is also using here in a literal sense, as he describes actually eating dog meat], which he performed in Moscow in 1998. It details his feelings such as waking up in the morning and not wanting to study, and the meaningless of the military routine he experienced during his naval service in Vladivostok. He even pinpoints the exact moment he parted with his childhood.
"I had one goal: simply to offer the audience the chance to rejoice in the fact that we live a universal life – at least during childhood and our youth. No matter where we live, we have an identical take on life. The audience was amazed, to say the least. Because before me no one had said this in the theater – or the world."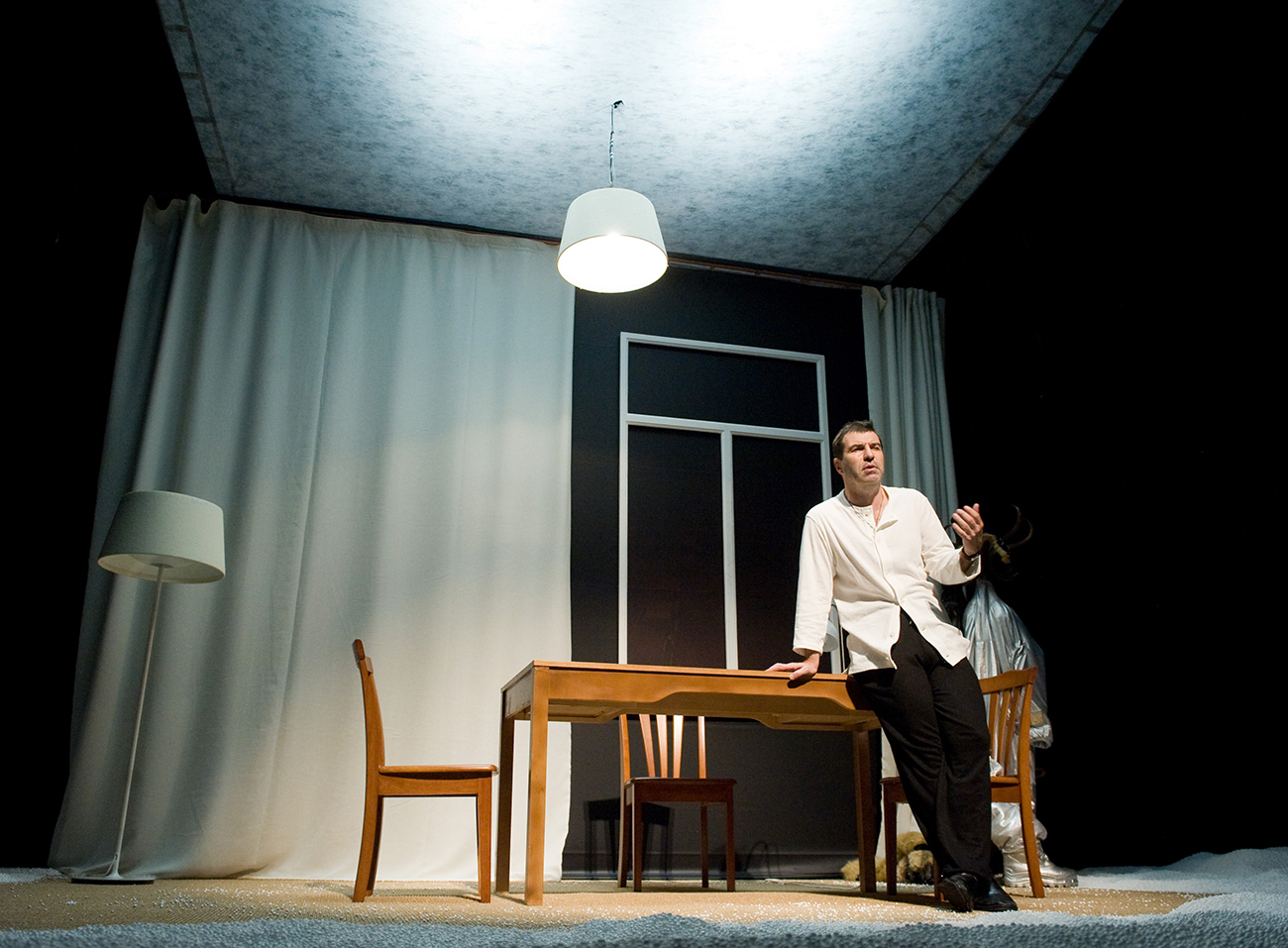 Evgeny Grishkovets performs in his one-man show 'Plus One' at the Na Strastnom Theatre Centre. Source: Maxim Shemetov/TASS
In just four years Grishkovets turned from newcomer to audience favorite. His next work, "SimultaenousLy" was just as successful as his debut, and critics have found echoes of Chekhov, Vasily Shushkin and Dovlatov's subtle irony in his monologues.
In essence a writer
Despite his theatrical success, Grishkovets has always claimed that he is not really an actor; rather he is "a writer who acts a lot in the theater." In 2004 he bore this out, publishing his first novel, The Shirt. It is full of monologues on the nature of things, conversations, humorous situations and optimism that help the main character find a way out of any tricky situation. The book was called the debut of the year in Russia and was also nominated for the Russian Booker Prize.
"Evgeny Grishkovets' prose is the best medicine for someone who is tired of the rat race, which is preventing him from stopping and looking at himself in the mirror," explains literary critic Yan Shenkman. "But when a reader sees himself in the lives of Grishkovets' protagonists, he realizes that even insignificant episodes – if viewed with humor and insight – acquire a new, profound meaning."
Grishkovets' monologue on vodka is particularly popular on YouTube. The author relishes the topic of consuming this drink, glorifies it, compares it to other beverages and concludes that there is nothing better than drinking a shot of vodka with close friends.

Video in Russian. Source: YouTube / Organika Life
"Definitely not a musician"
In 2002 Grishkovets recorded an album with the group Bigudi, which performs electronic music. He admits that he personally cannot sing, but loves listening to others do so. He has developed a method of blending a spoken essay in couplet form into music.
"I'm not a bad actor, but I'm definitely not a musician," Grishkovets says. "I am a performer but not in the sense that I sing. However, a decade of playing at hundreds of concerts gives you plenty of experience. I have a very good sense of rhythm and I know all the songs by heart – but this doesn't mean I can write music and think musically."
Grishkovets recorded the album "Wait, Live, Wait" with the Georgian group Mgzavrebi, which became one of the 10 best-selling albums on iTunes.

Grishkovets and Mgzavrebi. Source: YouTube / Evgeny Grishkovets
Grishkovets has also recorded a cover of the band Alliance's song "At Dawn" with Renārs Kaupers from Brainstorm.

Grishkovets and Brainstorm. At Dawn. Source: YouTube / ludzhenya
Grishkovets has acted in several movies, such as "The Stroll" by Alexei Uchitel, Stanislav Govorukhin's "Not by Bread Alone" and video adaptations of his own plays. He also had his own TV program, "The Mood", for a year, where he performed monologues on various subjects. He also wrote the screenplay for the movie "Satisfaction", where he plays the leading role.
As Grishkovets himself puts it: "Russia needs original cinema. And it is vital that this cinema has some kind of meaning."
Read Grishkovets's blog he has written for his 50th anniversary.
If using any of Russia Beyond's content, partly or in full, always provide an active hyperlink to the original material.