Last words uttered by 10 Russian writers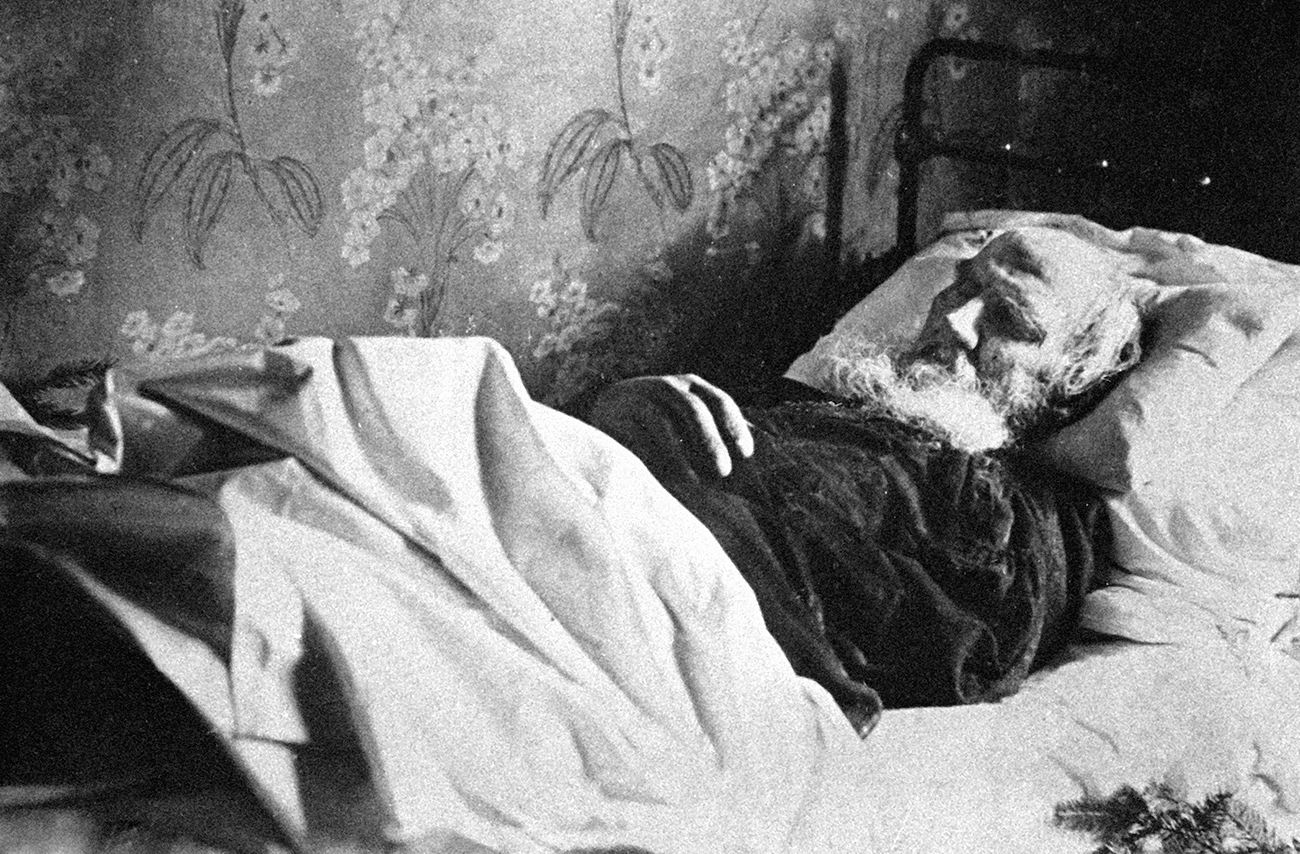 Leo Tolstoy on his deathbed in the house of stationmaster Ozolin, Astapovo railroad station.
Morzov/RIA Novosti
What would you say when faced with eternity? RBTH recalls the words of Russian writers uttered moments before their last breath.
Leo Tolstoy attached great importance to the dying words of people of genius. He wrote in his diary: "The word of a dying person is particularly significant!" That said, some people manage to display a sense of humor before they face the pearly gates.
Oscar Wilde, dying in a room with hideous wallpaper, said: "This wallpaper is terrible - one of us will have to go."
The German poet Henry Heine said on his deathbed: "The Lord will forgive me. It's his job".
RBTH recalls the words of Russian writers uttered moments before their last breath.
1. "A certain butterfly is already on the wing."
Nobel Prize winner Vladimir Nabokov was interested in entomology and collected butterflies. Dmitry, the writer's son, recalled that when he was saying goodbye to his father, the dying man's eyes suddenly filled with tears: "I asked why? He said that a certain butterfly was already on the wing..."
2. "I am dying! It's been a long time since I drank champagne!"
The writer and physician Anton Chekhov perished of tuberculosis in the German resort town of Badenweiler. According to an old German tradition, a doctor who diagnoses a patient with a fatal illness treats them to champagne. Chekhov's last words were addressed to his doctor.
3. "Russia ate me, like a stupid pig eats its piglet."
The symbolist poet Alexander Blok fell seriously ill in the spring of 1921. The disease was caused by starvation during the civil war, nervous exhaustion, and the failure of the Russian intelligentsia to accept his revolutionary poem "The Twelve". Writer Maxim Gorky, People's Commissar Anatoly Lunacharsky, and the poet's friends were trying to secure permission for Blok to seek treatment abroad, but the Politburo of the Bolshevik party forbade it. Tragically, Blok died on the day when a passport with travel permission for him was finally issued for him.
4. "I keep thinking that the timing of one's death needs to be right. God, how right was Mayakovsky! I am too late to die. Death should be timely."
Soviet writer Mikhail Zoshchenko, a master of the short story who was incredibly popular in the 1920s-30s, was persecuted by the authorities and betrayed by his fellow writers. Expelled from the Writers' Union, Zoshchenko retreated to his dacha, where he spent the last years of his life. Today he is often called the Russian Kafka for his understanding of the metaphysics of everyday Soviet life.
5. "Is that you, fool?"
Mikhail Saltykov-Shchedrin was known for his ruthless humor and satire. According to legend, he greeted his own death with the question "Is that you, fool?"
6. "I loved you and did not cheat on you once, even in my thoughts."
These were the final words writer Fyodor Dostoyevsky said to his wife Anna.
Throughout their marriage, the couple spent just a couple of days away from each other. Anna was not only the writer's wife, but also his assistant. She copied his manuscripts, dealt with publishers and printers, and even helped her husband to conquer his gambling habit.
7. "What a torture it is not to be able to find the right word to express one's thoughts."
These words belong to the poet Fyodor Tyutchev, whose works are justly considered to be Russian masterpieces found in all school textbooks on Russian literature. Many of Tyutchev's quotes and even whole stanzas have become aphorisms:
You will not grasp her with your mind.
Or cover with a common label,
For Russia is one of a kind —
Believe in her, if you are able...
8. "I will not shoot at this fool!"
During the duel between the poet Mikhail Lermontov and Nikolay Martynov, neither fired his pistol after the count, so Martynov shouted: "Shoot, or I am ending this duel!" To which Lermontov calmly replied: "I will not shoot at this fool!" These words irked Martynov and he pulled the trigger, before rushing to the unfortunate poet, saying: "Misha, forgive me!" But Lermontov was already dead.
9. "I love the truth"
At 83, Count Leo Tolstoy escaped to his estate in Yasnaya Polyana, Tula Region, 200km from Moscow. Accompanied by his daughter and a physician, he traveled in a third-class train carriage. During the journey he caught a cold, which developed into pneumonia. Already delirious, the writer said: "I love the truth."
10. "Bring me the ladder!"
The image of a ladder is one of the main mysteries of the writer Nikolai Gogol. As a child, little Kolya heard a story his grandmother used to tell about a ladder, which took people's souls to heaven. In different variations, this image is present in many of Gogol's works. According to eyewitnesses, the writer's last words were: "The ladder, quickly, bring me the ladder!"
If using any of Russia Beyond's content, partly or in full, always provide an active hyperlink to the original material.