1. The Invisible Man slab in Yekaterinburg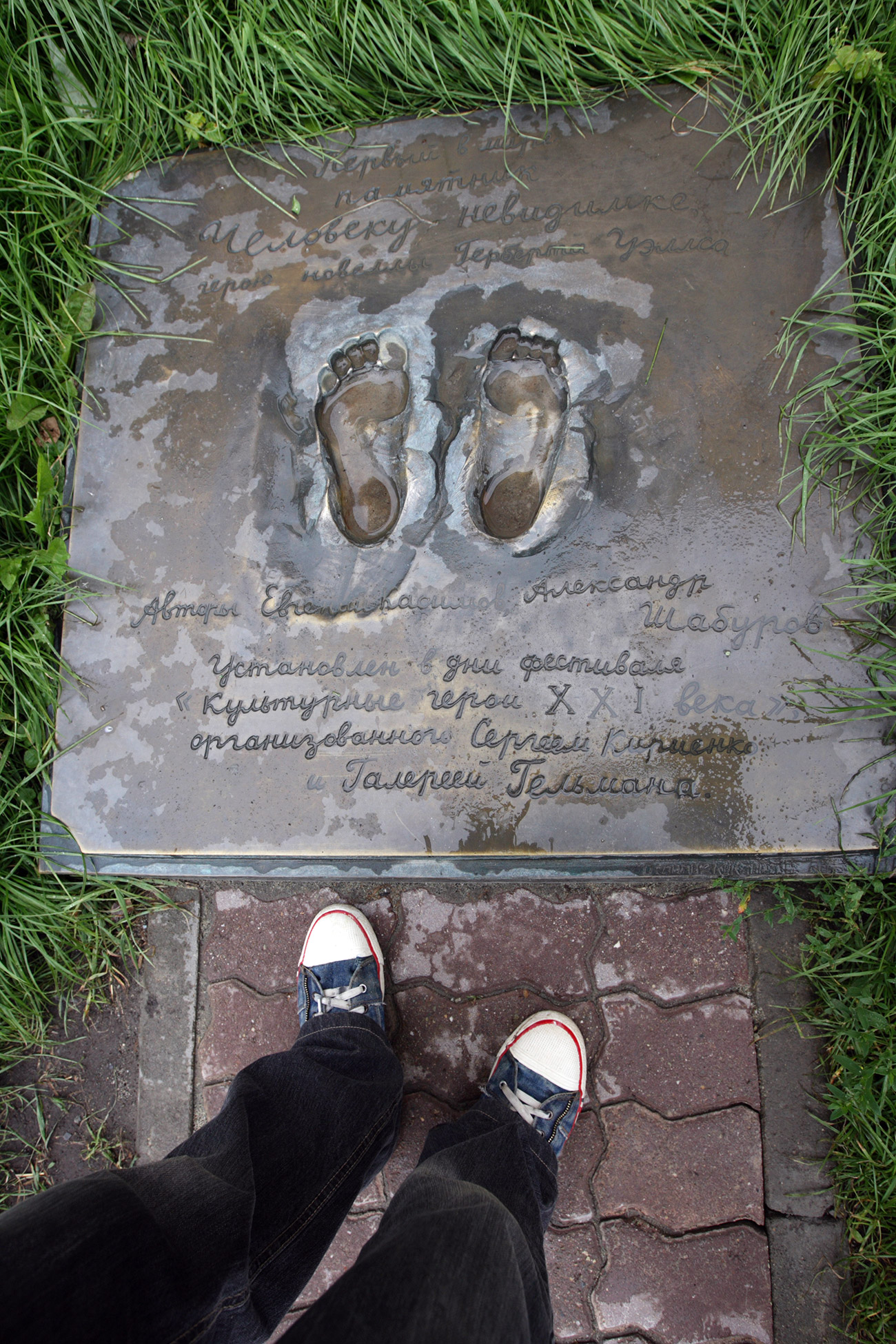 Source: Pavel Lisitsyn/RIA Novosti
This slab is a tribute to H.G. Wells' most popular character. It was installed deliberately, but there is another ad-hoc monument to the Invisible Man in St. Petersburg with quite a different history. It used to house a bust of Alexander II, but this was removed in 1931, leaving a bare marble pedestal. Locals started calling it the "Invisible Man slab", and the name stuck.
15 Belinskogo St., Yekaterinburg
2. Major Kovalyov's nose in St. Petersburg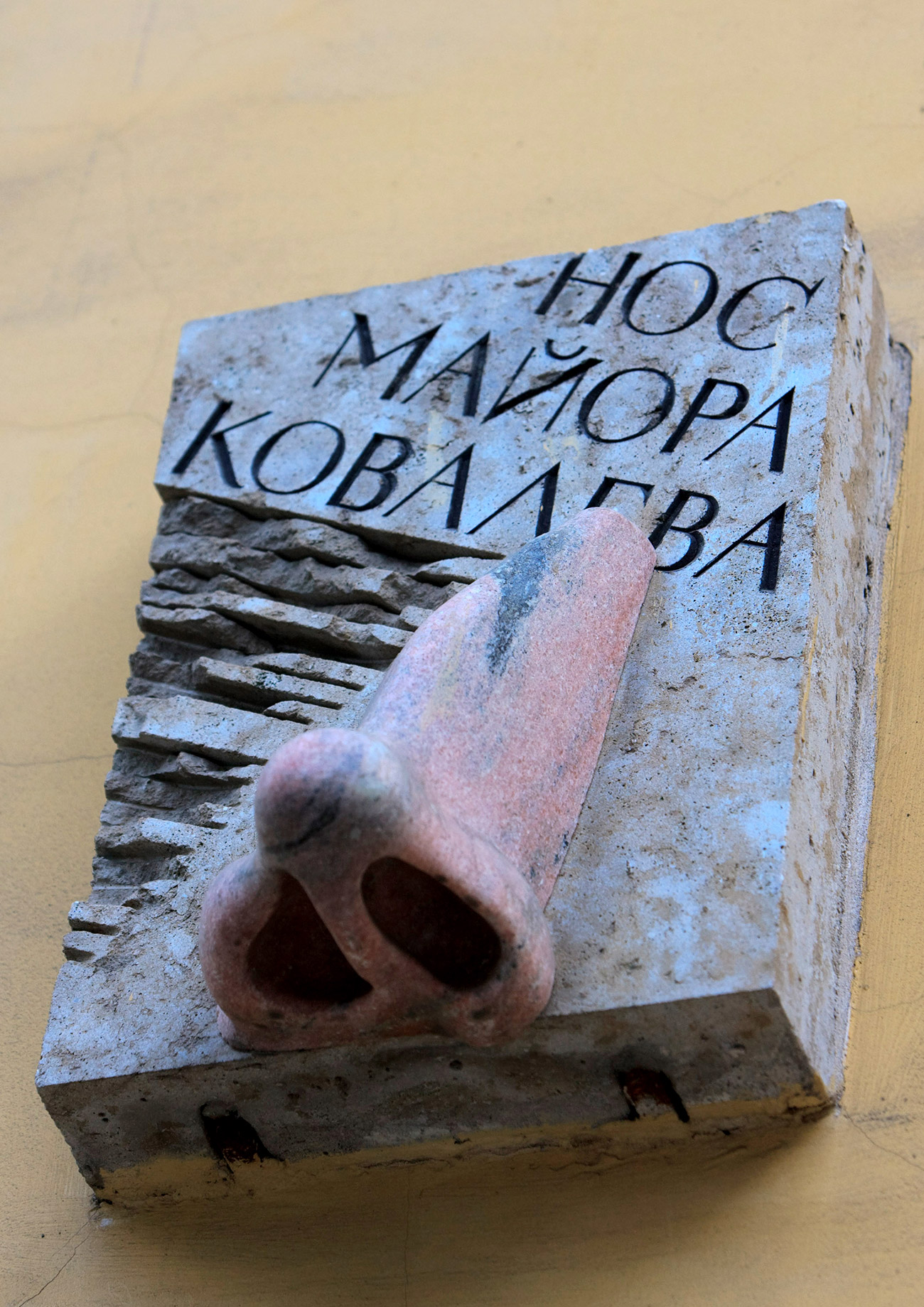 Source: Alexei Danichev/RIA Novosti
This monument to the famous character from Nikolai Gogol's story of the same name was installed in St. Petersburg in 1995. Although it weighs some 222 lb (100 kg), it was stolen seven years later. The sculptors made a replacement, but the original was found and returned to its rightful position.
36 Vosnesensky prospekt, St. Petersburg
3. Characters from The Wonderful Wizard of Oz in St. Petersburg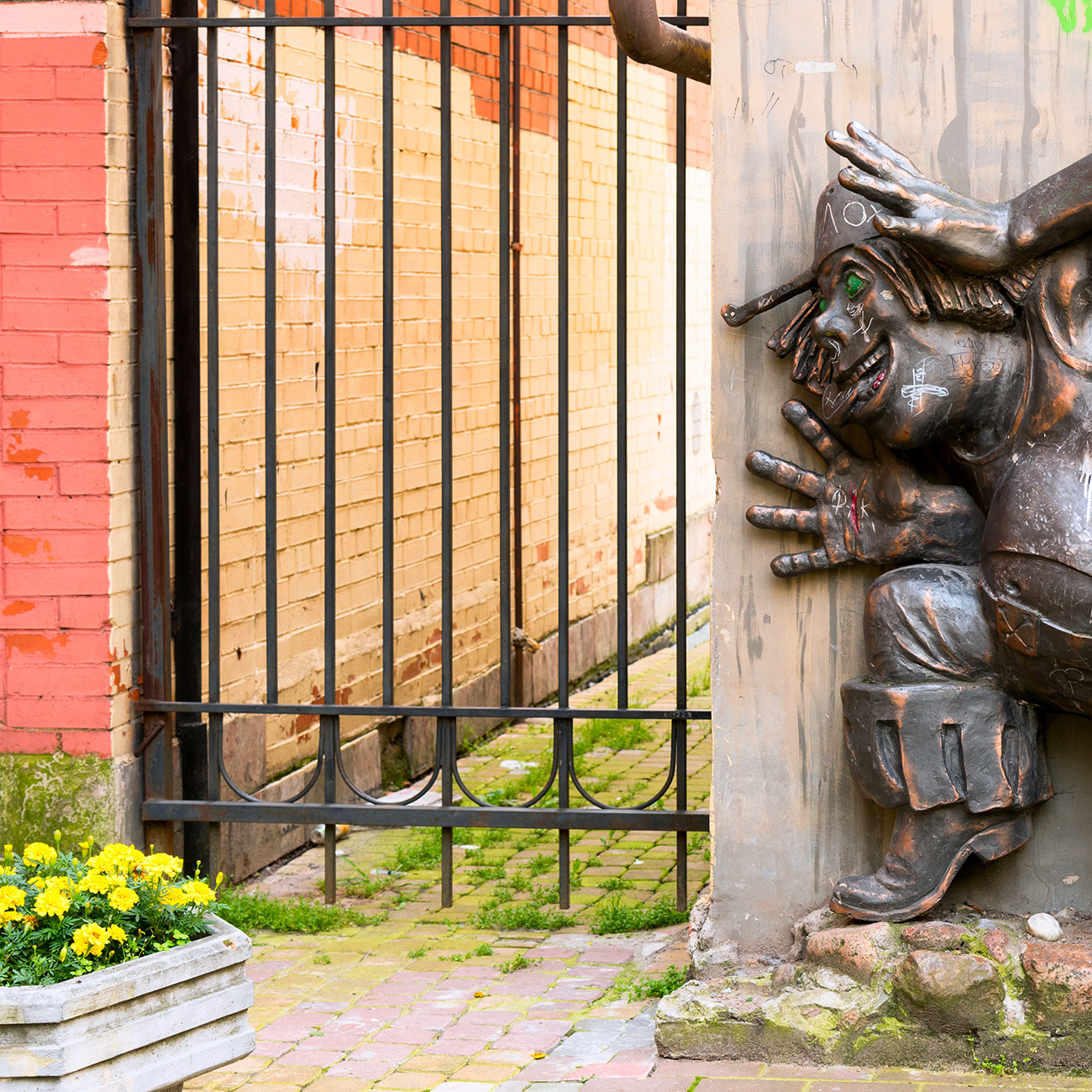 Source: Legion Media
There is a whole series of monuments dedicated to L. Frank Baum's series of tales and its Russian version by Alexander Volkov. The figures are tucked away in a courtyard in the city center.
2 Pravdy St., St. Petersburg
4. A sculpture of Baron Munchausen in Moscow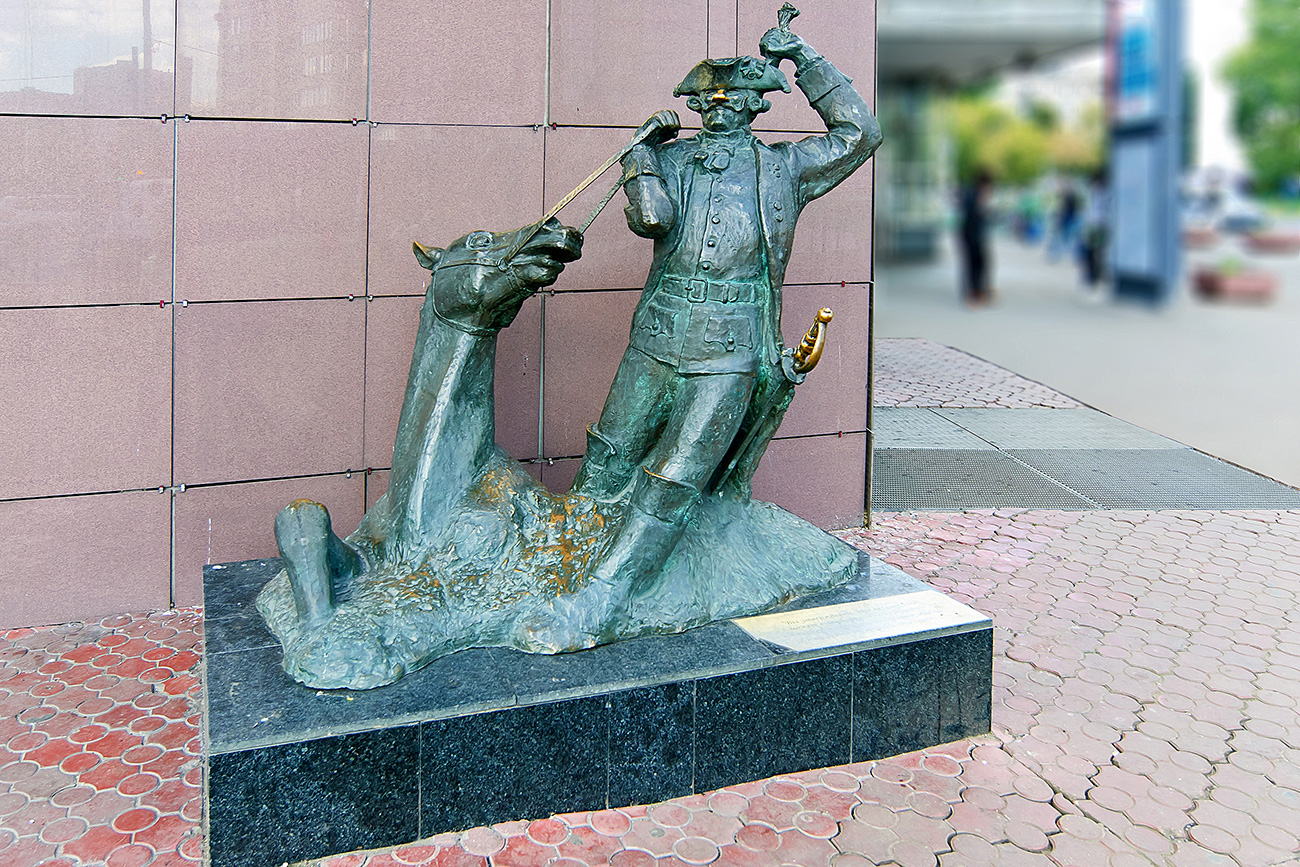 Source: Legion Media
Russians hold Rudolf Erich Raspe's character in high regard, so the ceremonial opening of the sculpture in 2004 gained a lot of attention. Many people dressed up in 19th-century clothing to greet the baron, and Oleg Yankovsky, who played the role of Munchausen in the Soviet movie, gave the opening speech.
27 Yartsevskaya St., Moscow
5. Sherlock Holmes and Dr. Watson in Moscow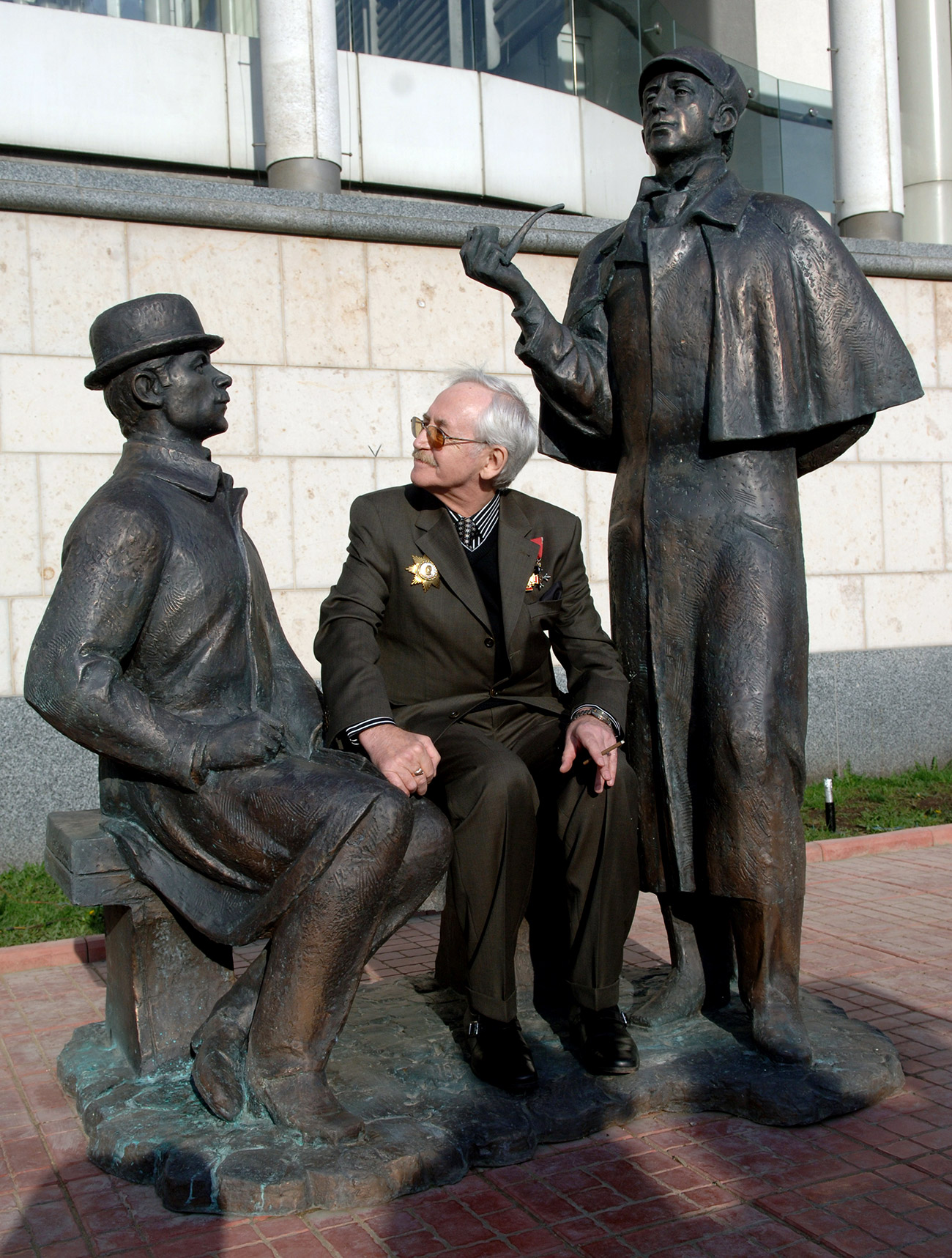 Vasily Livanov sitting at the monument. Source: Sergey Pyatakov/RIA Novosti
If you go for a stroll down the Smolenskaya Embankment you might come across Sir Arthur Conan Doyle's legendary characters standing right next to the British Embassy. The figures are based on Vasily Livanov and Vitaly Solomin, who played Holmes and Watson in the Russian TV series. Livanov even received an accolade for his acting from Queen Elizabeth II.
12A Bolshaya Dorogomilovskaya St., Moscow
6. A statue of Ostap Bender in Pyatigorsk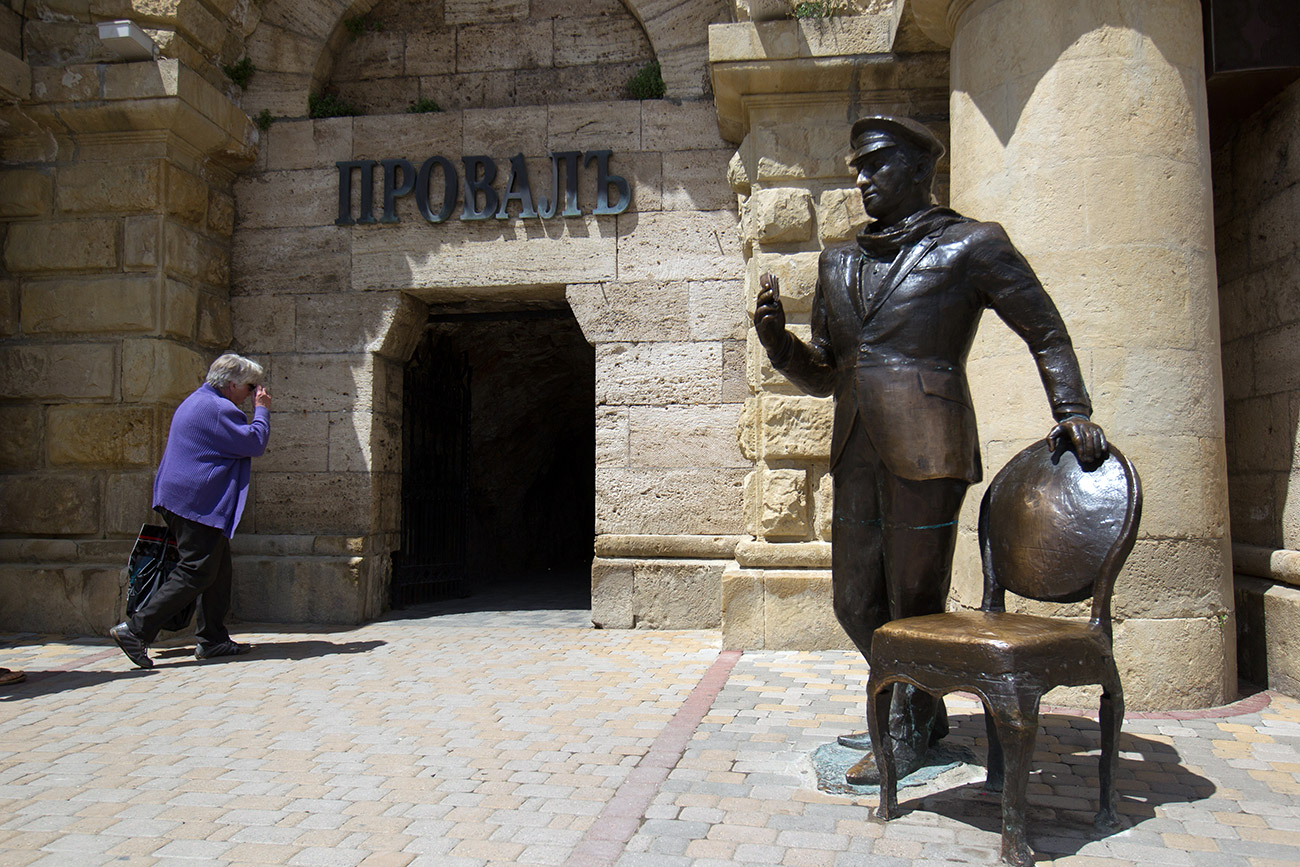 Source: Mikhail Mokrushin/RIA Novosti
The satirical books The Twelve Chairs and The Little Golden Calf by Soviet authors Ilf and Petrov hold a special place in the Russian literary consciousness. In total, dotted around the country there are 10 monuments to Ostap Bender, the most charming conman in Russian literature.
2A Gagarina Boulevard, Pyatigorsk
7. An alley of monuments to Chekhov's characters in Yuzhno-Sakhalinsk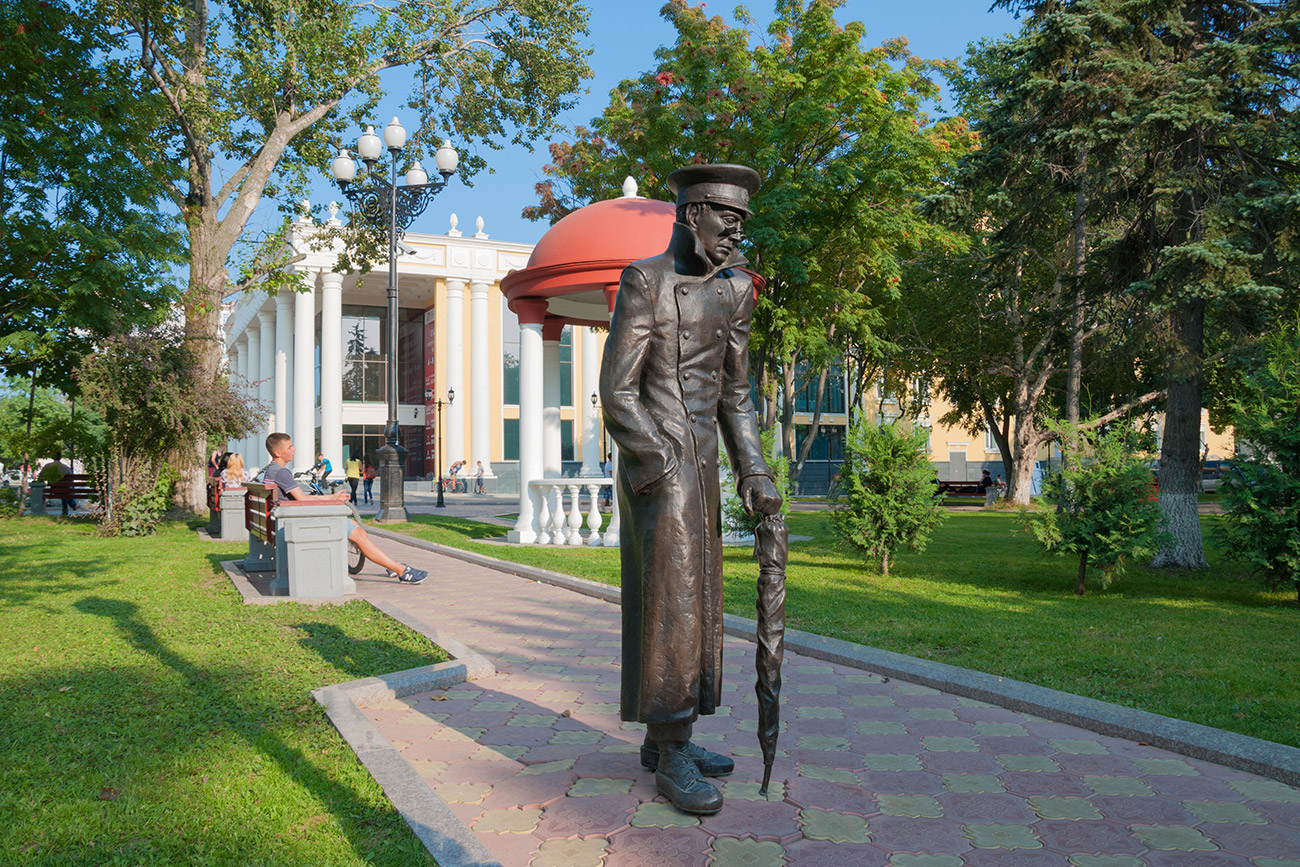 Source: Legion Media
A couple of years ago Yuzhno-Sakhalinsk's Ministry of Culture asked residents which literary characters should be turned into statues. The city chose the timeless characters of Anton Chekhov, who visited Sakhalin and wrote a non-fiction report of it. Now characters from The Man in a Case, Fat and Thin and The Lady with the Little Dog stand in the square of a local cultural center named after the writer.
104 Mira Prospekt, Yuzhno-Sakhalinsk
8. A monument to Don Quixote in Moscow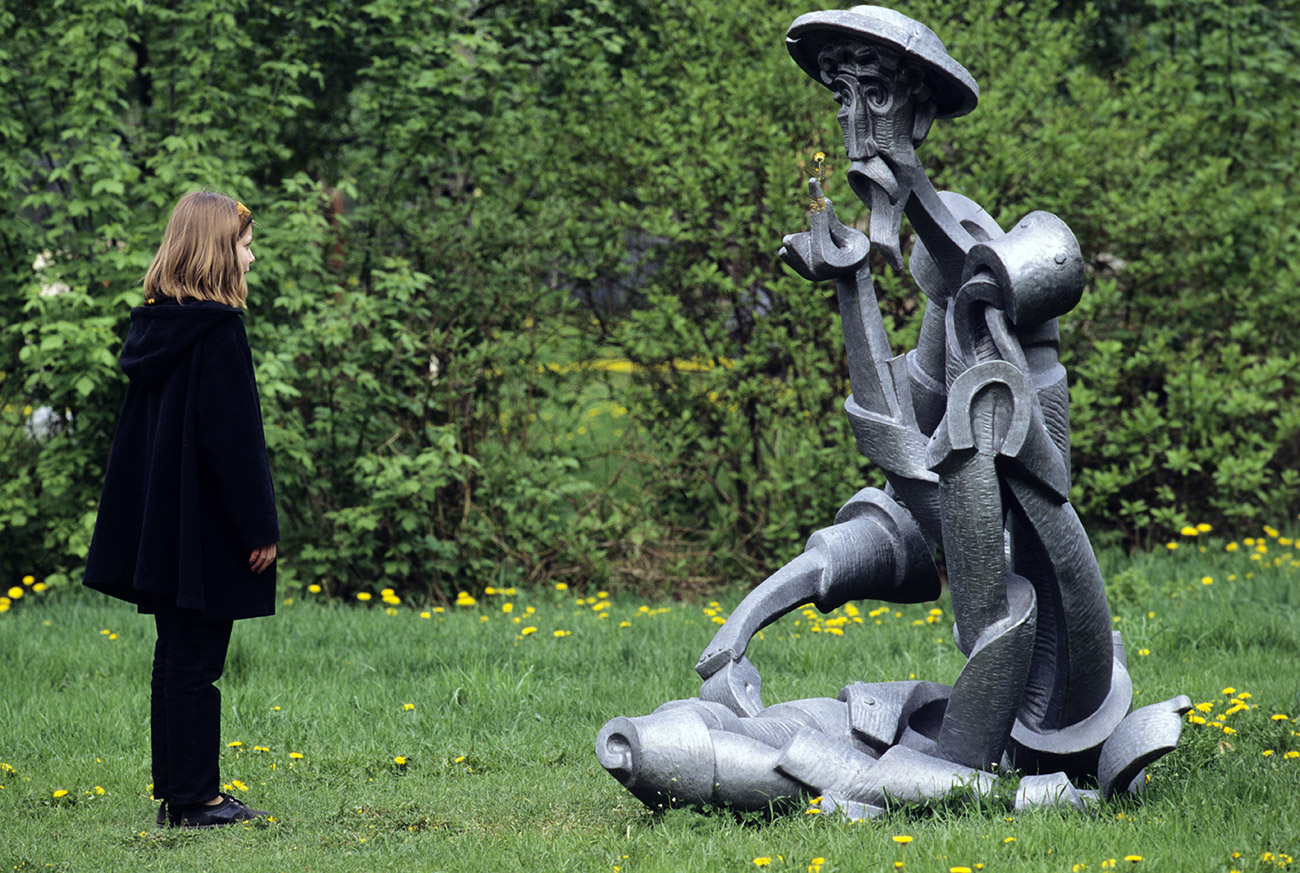 Source: Vladimir Vyatkin/RIA Novosti
This modern monument to the famous knight-errant is situated in Muzeon Art Park, the largest open-air park of its kind in Russia. Omsk and Yaroslavl also have sculptures of Miguel de Cervantes' world-renowned character.
2 Krimsky Val, Moscow
9. Sculptures of characters from The Master and Magrarita in Moscow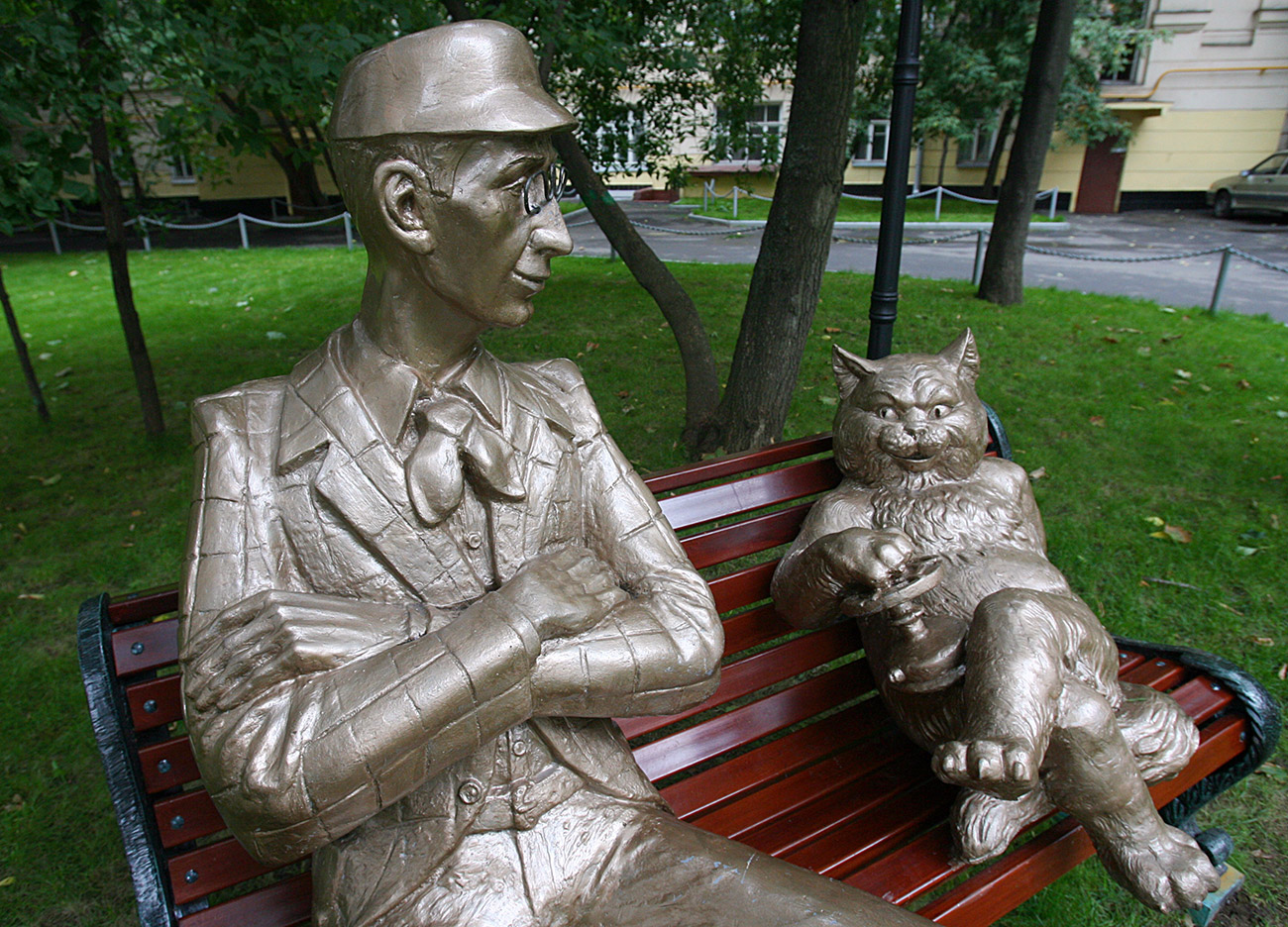 Source: Ruslan Krivobok/RIA Novosti
The trio of Behemoth the cat, Koroviev and Woland who come to wreak havoc on Moscow in Bulgakov's famous book can be found lurking in a courtyard.
Quiz: Test your knowledge of 'Master and Margarita' and other Bulgakov works
13 Sovetskoi Armii St., Moscow
10. A monument to Natasha Rostova's first ball in Moscow Region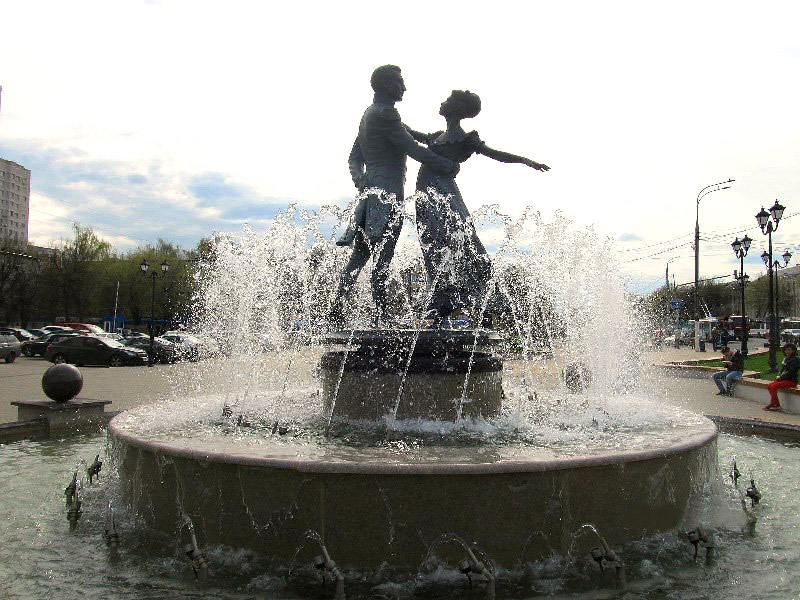 Source: vodokanalpodolsk.ru
This huge fountain depicts the dancing heroine of Leo Tolstoy's War and Peace. The location was chosen deliberately: Podolsk is on the way to Yasnaya Polyana, the estate where Tolstoy lived – now a museum dedicated to the writer.
31 Kirova St., Podolsk
11. Sculptures of E.T.A. Hoffmann's characters in Kaliningrad Region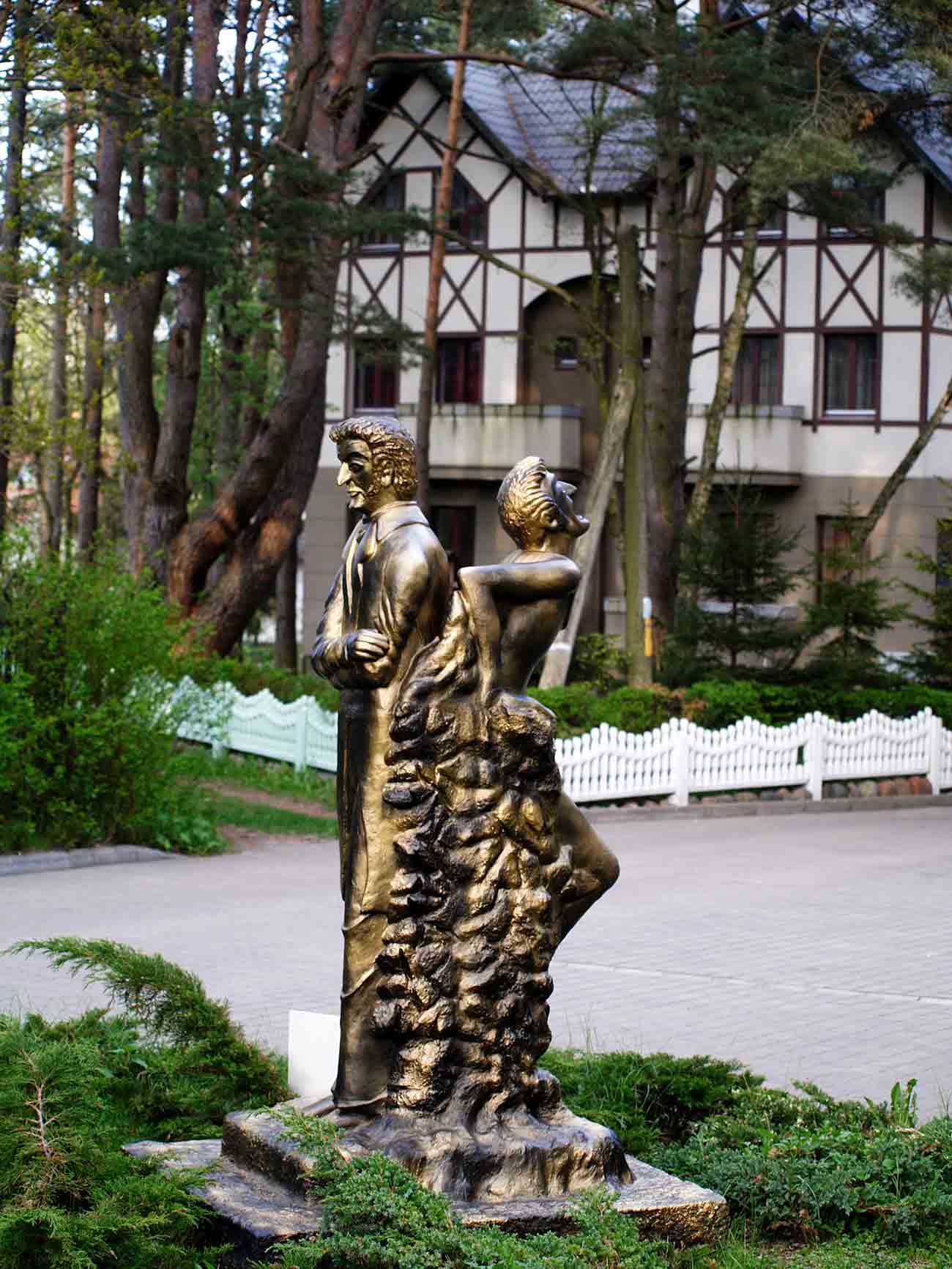 Source: Legion Media
Before World War II, Kaliningrad Region was part of the Prussian Empire. One of its most famous residents was the author E.T.A. Hoffmann, and his literary legacy remains in the form of statues of the Nutcracker, Mouse King, Tomcat Murr and other fairytale heroes, as well as a monument to the author himself.
2 Gofmana Lane, Svetlogorsk
12. A monument to Gulliver in St. Petersburg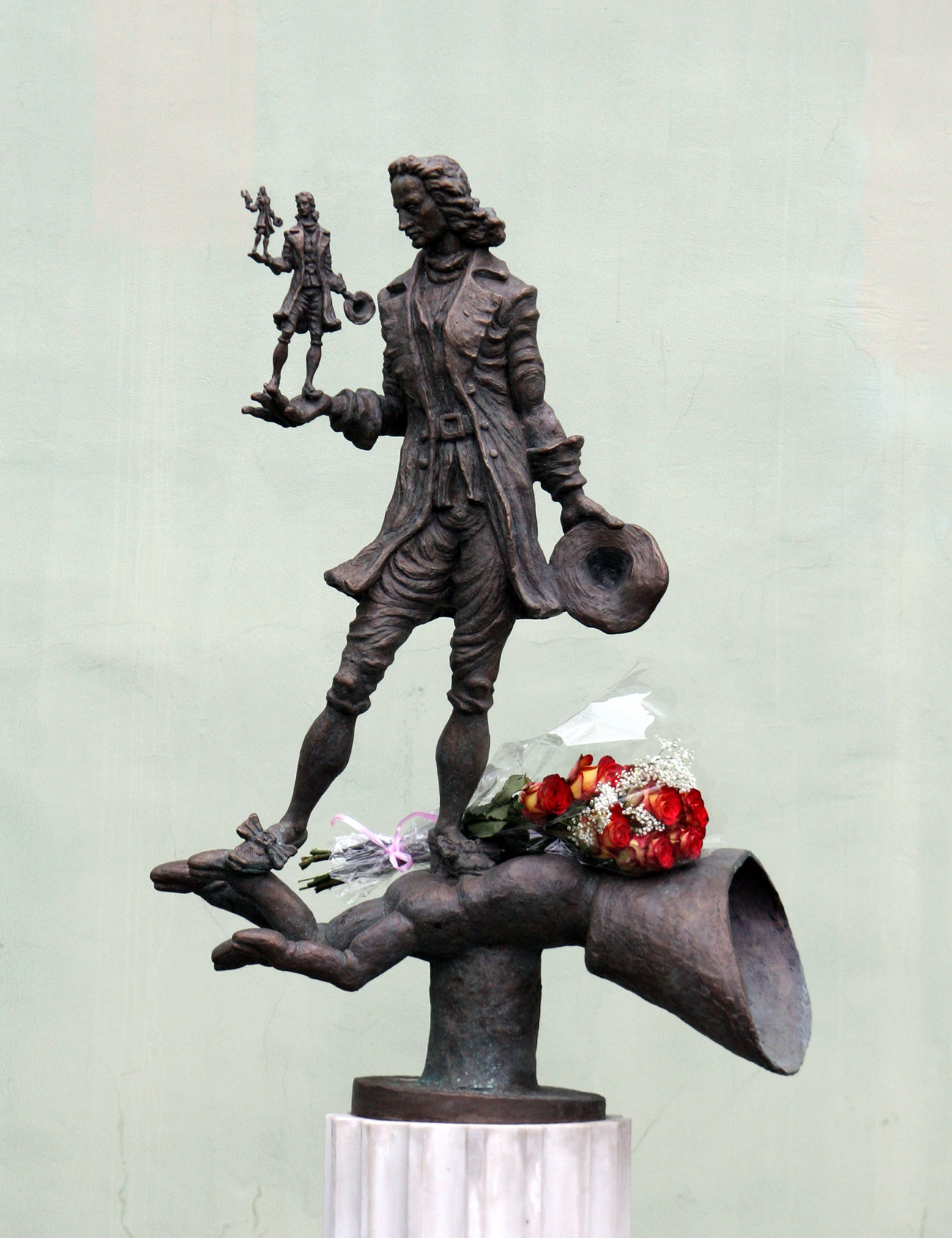 Source: TASS
The fictional narrator of Jonathan Swift's Gulliver's Travels adorns the city's Universitetskaya Embankment. He is depicted in the spirit of the novel: the monument consists of numerous figures of Gulliver, each one smaller than the last.
114 Universitetskaya Embankment, St. Petersburg
If using any of Russia Beyond's content, partly or in full, always provide an active hyperlink to the original material.