Star Wars: The Force Awakens – the view from Russia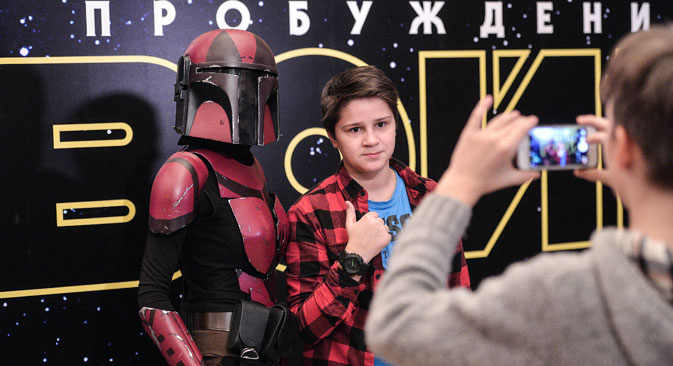 Visitors taking pictures at the premiere of the movie Star Wars: The Force Awakens, at the Karo 11 Oktyabr movie theater in Moscow.
Eugene Odinokov / RIA Novosti
RBTH selects excerpts from Russian media reviews of the eagerly-awaited new Star Wars episode, which has already been called "the biggest film of the year."
The successor to Darth Vader, even though he wears the same black armor and mask-helmet, acts like an adolescent. After receiving unsettling news he becomes hysterical and destroys the innocent accessory with his light saber– and again nothing happens. And when this hapless villain removes his helmet, exposing the beaky physiognomy and black curls of actor Adam Driver, you want to ask: But is anyone laughing? Is this lanky clown the new threat to galactic democracy?
Today's Star Wars has come out together with other successful space operas of recent years: Star Trek and Guardians of the Galaxy. Sure, this is still a great brand. And thanks to Abrams it looks very dignified next to its competitors. It will do an excellent job of brightening up your weekend. But don't expect anything incredible.
The fight between the forces of dark and light reminds me of a symphonic fresco – it is so epic and multi-layered. Also, have your handkerchiefs at the ready: You'll be crying more than once during the film. It has become more difficult with the simpleminded pathos inherent to the franchise's films. The protagonists are not that one-dimensional; some of them even have doubts and reflections.
In its glorious pedigree The Force Awakens finds an inspiration for an emotion that its predecessors lacked. It is the touching awareness and acceptance of its no longer youthful age, which inevitably creates the gray hairs in Han Solo (Harrison Ford), the rust covering the Millennium Falcon and Princess Leia's teary eyes. Try not to get sentimental and you probably won't be able to.
The monstrous burden of responsibility before millions of fans has done its thing and shackled the imagination – there won't be anything unexpected. This is simply a copy of the saga's first episode A New Hope. The incredibly beautiful, large-scale but very conservative The Force Awakens follows the original trilogy step by step. At first this is enchanting, but it eventually becomes boring.
Abrams is obviously a postmodern director. It's not clear if he's able to create his own world, but he can resurrect and reinterpret someone else's world like no other Hollywood author.
He's already done this with Star Trek and successfully interbred E.T. with Alien in his Super 8 (by the way, The Force Awakens also contains a powerful episode with Lovecraftian toothed monsters).
He works easily and elegantly with the aged actors, not attempting to have Harrison Ford and Carrie Fisher act. And with Mark Hamill and Max von Sydow he's even cleverer (we won't say how, in order to avoid spoilers). Abrams uses them as wonderful ready-mades, similar to Chewbacca's hairy costume or S-3PO's shinny outfit.
But through their teary eyes sentimental fans will not notice the acting failures anyway. Oh, yes, fans will definitely cry. And this is not just some nostalgic effect – it is the merit of the director.
All rights reserved by Rossiyskaya Gazeta.