Through Siberia in the wake of Anna Karenina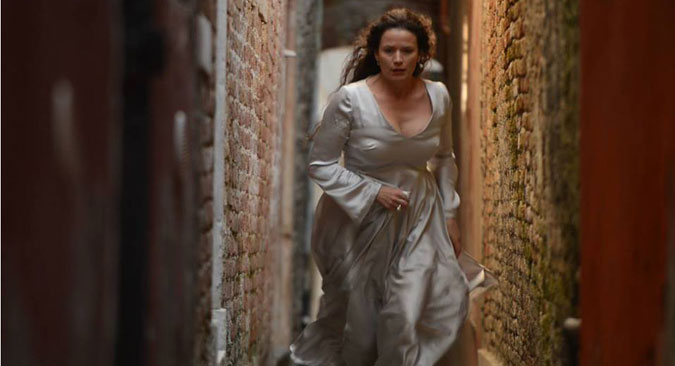 A low-budget road movie "Karenina and I" travels 6,800 miles from Norway to Vladivostok, revealing the secrets of the greatest icon of Russian literature, Anna Karenina.
Autumn 2013, at a remote railroad station between North Cape and Russia, a crew working with award-winning Italian film director Tommaso Mottola prepared to set out on a 6,835 mile expedition through Russia on the Trans-Siberian Railway. Their journey had begun at the nearest station, Kjøllefjord, the hometown of the movie's lead actress. Norwegian dramatic actress Gørild Mauseth, challenged herself to live totally within character of the heroine, in an unforgettable journey framing the image of Anna Karenina and how Tolstoy's 'woman question' appears in a modern Russia.
Norwegian Anna
Mauseth played Anna Karenina in Norwegian theater for several years and eventually merged with the character on the incredibly deep level. This project was the logical ending of her thrilling journey into Leo Tolstoy's world.
"Figuratively, Anna has no roots, no homeland; she is a restless and boundless soul. I feel deeply connected with the character, she is strangely like me," Mauseth says.
"The difference is, I took my five year old son with me on this journey. I wanted to feel the atmosphere pictured in the book, live the story of Anna Karenina, feel deeply her mysterious northern soul."
Norwegian dramatic actress Gørild Mauseth. Source: Press photo
During that time, Mottola was also working on the script for the new movie, that he was planning to shoot in Russia. The cruelty of fate, random and unfair distribution of happiness and agony of love – all the complexity of this novel attracted the well-known director, who started his own 'Russian story' many years ago while traveling to the Russian Far East and shooting in number of different locations all over the region.
Mottola's admiration for Russian scenery and culture combined with Mauseth's artistic passion for Tolstoy's 'femme fatale' played a crucial role in his decision to bring the project to life. A founder of Capalbio Cinema International Short Film Festival and member of the European Film Academy, currently he promotes films and cultural projects in Italy and abroad, although Russia, and particularly the Russian Far East have a special place in his heart. Vladivostok was one of the iconic locations where he shot '
'Karenina and I'
Film crew. Source: Press photo
The multinational team of young, creative Europeans from France, Norway, Italy and Russia started shooting with a tiny budget - $70,000 in total. They gathered a group of like-minded people through a crowd-funding initiative to raise money for the successful completion of this risky project.
Karenina and I - Crowdfunding project from internozero on Vimeo
Epic journey
This travelogue film with elements of road movie and documentary with a dash of theater turns out to be as complex and rich as Tolstoy's novel itself. The movie promisesto be full of symbols and encrypted messages; with the train, perhaps, the biggest symbol in the film. Mottola insisted that Mauseth use no other method of transport than the train.
"From my perspective, the train is the core element of the novel - figuratively, Anna's 'place of birth', where she appears for the first time and where we she meets her end in the novel. In fact, Tolstoy himself died at remote train station in the heart of Russia," says Mottola.
Through this experience, Mauseth learned first-hand about Anna's country: the endless vistas of Siberia and charm of lonely train stations at remote little towns. The film team workedtogether to reveal the fundamental role that environment, scenery and land play in the formation of Russia's co-called "mysterious soul".
The final destination of this physically and emotionally exhausted adventure was in Vladivostok, the place of the final shot, where Mauseth played main female role in the Gala Premiere of Anna Karenina at the Gorky Theater.
The final destination of this adventure was in Vladivostok, where Mauseth played Anna Karenina at the Gorky Theater. Source: Press photo / Gorky Theater
"The film is going to sound and look a certain way - it has to sound good. In some ways directing a feature, unlike a short film, is more challenging, you have to keep the audience engaged for a longer duration. We are keeping our fingers crossed, hoping that movie will be released within a few months," Mottola says.
The premier is scheduled for January 2016 and will take place in Norway.
All rights reserved by Rossiyskaya Gazeta.