Viktor Tsoi (front) with his rock band Kino [Cinema] perform at the MELZ electo-lamp plant's Palace of Culture during a rock parade dedicated to Sergei Solovyov's Assa film premiere, Moscow, March 25, 1988.
Alexander Chumichev; Alexander Shogin/TASS
With its groundbreaking promotional campaign, rock soundtrack and cameo appearance by one of the USSR's greatest rock heroes, "Assa" was an era-defining picture. Director Sergei Solovyov made the film in 1987, but it was to become a landmark film for several successive generations.
Almost three decades after it was made, the cult 1980s movie Assa still stands out among the works of Russian director Sergei Solovyov. It has been called a "film manifesto," "Russian rock's main film" and even "the film that brought down the Soviet Union." The film was released exactly 28 years ago.
Indian inspiration
The idea of Assa was far from a protest or a manifesto. At a screening of his film Wild Pigeon in Moscow, Solovyov saw a company of soldiers being hurried into the hall to fill empty seats.
At this point, he promised himself to make a successful box office film which would not need anybody being forced to attend. Solovyov decided to use the recipe of Indian cinema, which was popular in the USSR – a love story, lots of music and dancing.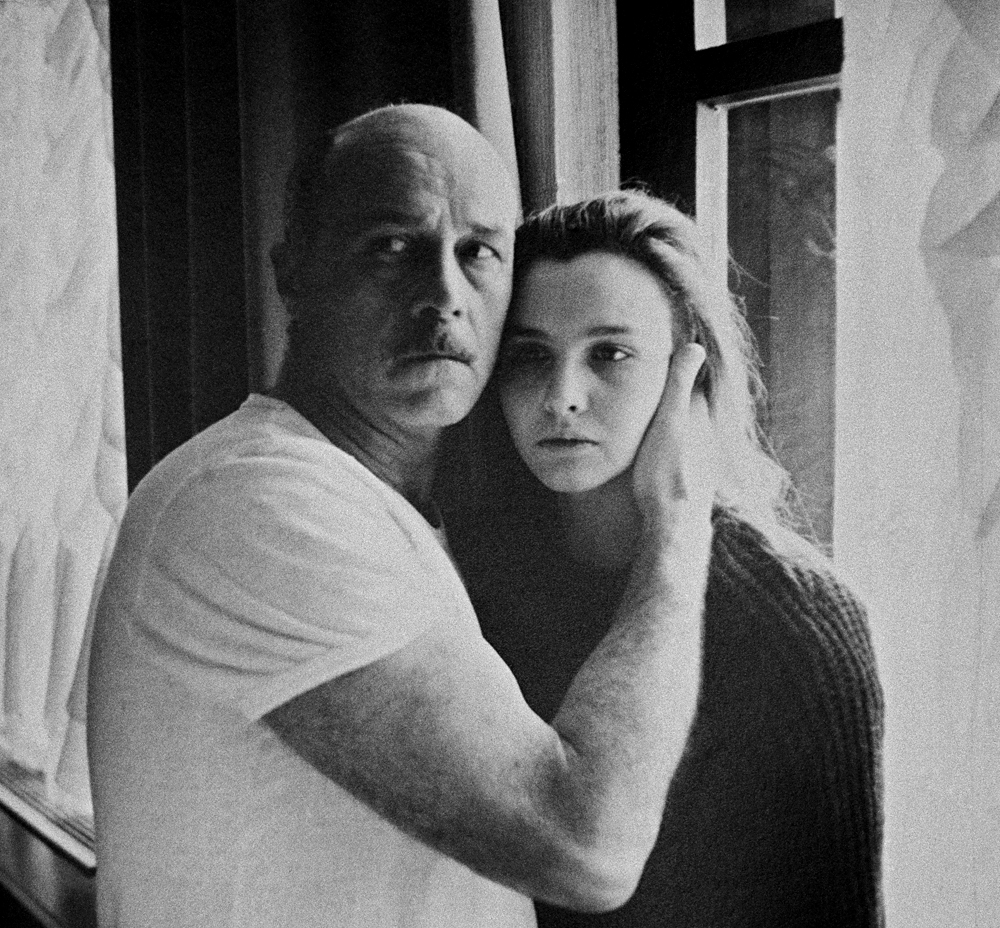 Actors Stanislav Govorukhin as Krymov and Tatyana Drubich as Alika in Assa at the Mosfilm studio, April 25, 1987. Source: TASS
In a brief retelling, Assa does sound quite Bollywood: beautiful nurse Alika, whose clothes (men's shirts, ties, caps) make her look like a Soviet version of Annie Hall, comes to wintertime Yalta – which is in Crimea, on the Black Sea coast – with her mobster lover Krymov, but falls in love with poor musician Bananan, who works as a watchman during the day and sings in the restaurant in the evenings.
Jealous Krymov orders Bananan to be stabbed and Alika, after learning about it, shoots Krymov dead with a pistol that she has found. Everything is as it should be: poverty and wealth, love and blood, songs and dances. The film also contains Lilliputians, KGB agents, fake astronauts and even regicides, but the main thing is, of course, the music.
Rock wave
To hear music by Russia's leading rock groups such as Akvarium, Kino or Bravo – which people copied from each other using reel-to-reel tape recorders – on the big screen at the end of the 1980s was a shock.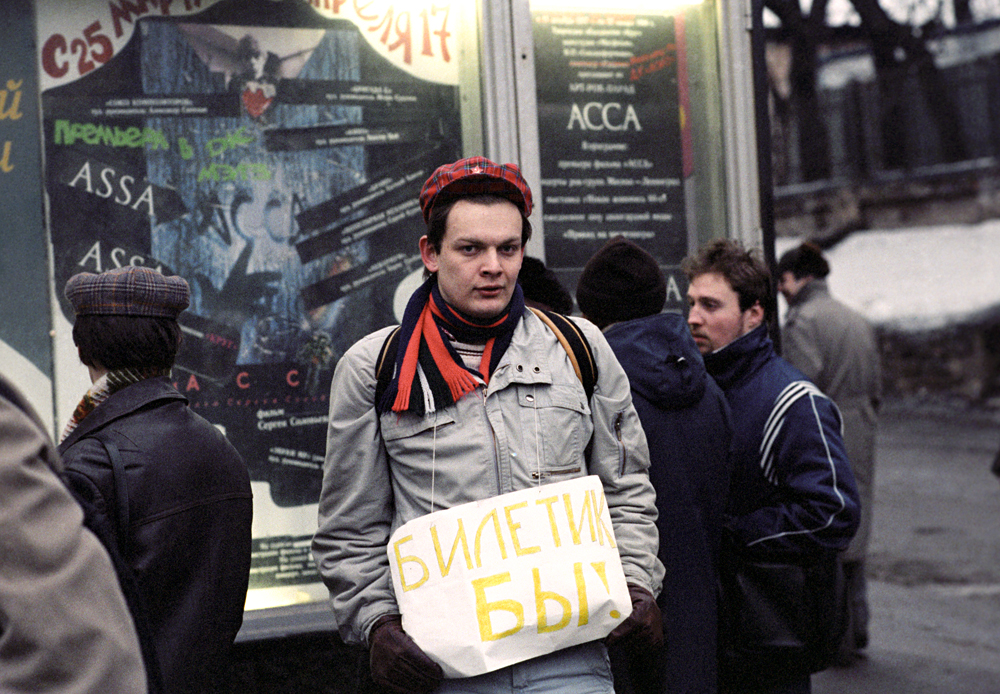 A man standing with a poster "Need a ticket" near the Palace of Culture of the Moscow Electro-lamp Plant before Assa film premiere, March 24, 1988. Source: Alexander Shogin, Alexander Chumichev/TASS
The most that underground rock musicians could hope for at that time was a tiny room for several hundred people at a "house of culture" – and Solovyov gave them an audience of millions.
Boris Grebenshchikov's "City of Gold" and Viktor Tsoi's "We Are Waiting for Change" were heard by the whole country, and it could not remain the same. It was a huge release of fresh energy, it was a rock wave that could not be stopped.
A vinyl record with the songs from Assa was one of Russian rock's first official releases, while the presentation of the movie turned into a grand show the like of which had never been seen in the USSR.
Video by allarich . / YouTube
Parading across the country
In the spring of 1988, the Moscow Lamp Factory's House of Culture witnessed a real cultural revolution: For three weeks, from March 25 to April 17, it hosted the presentation of Assa, which organizers called Art Rock Parade. All this time, the building was circled by the police, and people waited in lines for days to buy tickets.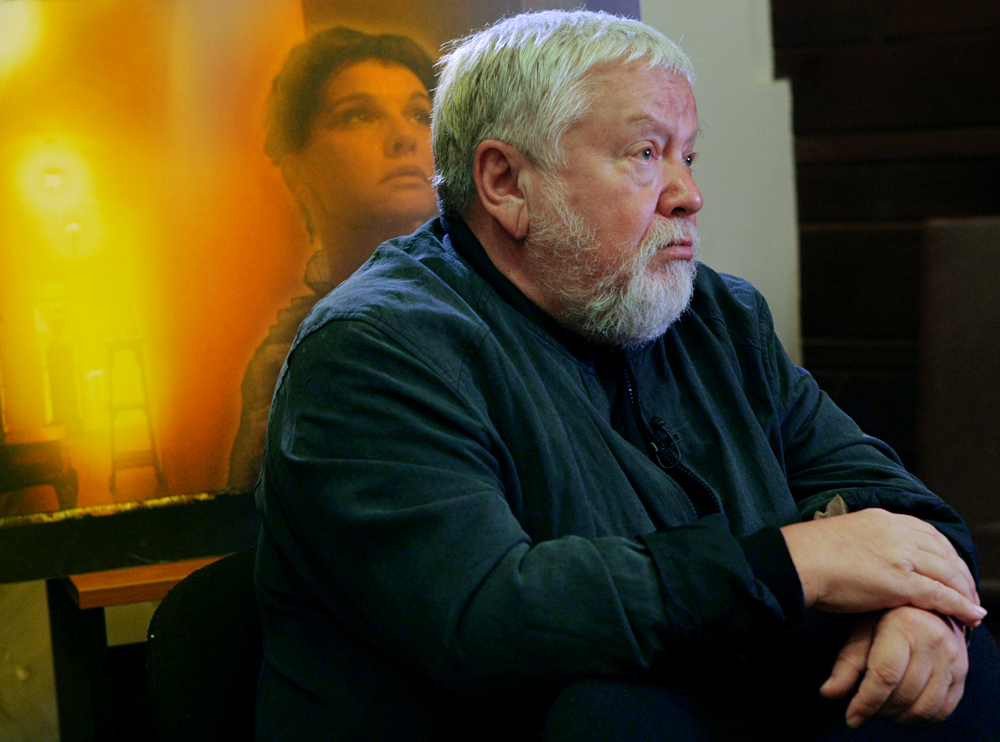 Director Sergei Solovyev, 2009. Source: Mikhail Fomichev/RIA Novosti
The foyer held an alternative fashion show, several floors were occupied by avant-garde artists who staged the '80s New Art exhibition, and Assa T-shirts and bags were sold everywhere, so the film also witnessed a PR revolution in the USSR – no film had been promoted on such a scale until then.
This was followed by a concert featuring the country's best rock bands – Kino, Akvarium and Alisa – and only after that was the film screened. From Moscow, the Parade marched on to other Russian cities – and by the time of the official premiere in September, the rock wave had covered the entire country.
The times they are a changin'
Assa's epilogue sees a cameo role by 1980s Russian rock's chief idol, Viktor Tsoi – his character comes to apply for a job as a singer in a restaurant to replace the deceased Bananan.
In the final frames during the song "We are Waiting for Change," the restaurant suddenly turns into a huge hall: 10,000 people came to act as extras in the film so they could listen to Tsoi. Most of them held lighters, and romanticist Bananan's phrase comes to mind at this point: "If each of us lights up a match – the light will cover half the sky."
Changes were not long in coming: Two years after the premiere of Assa, Tsoi and his band Kino drew not 10,000, but 70,000 people to a concert at the Luzhniki Stadium in Moscow, and just one year after that the USSR collapsed.
Subscribe to get the hand picked best stories every week
All rights reserved by Rossiyskaya Gazeta.