Putin may join DiCaprio in narrating new Baikal 3D documentary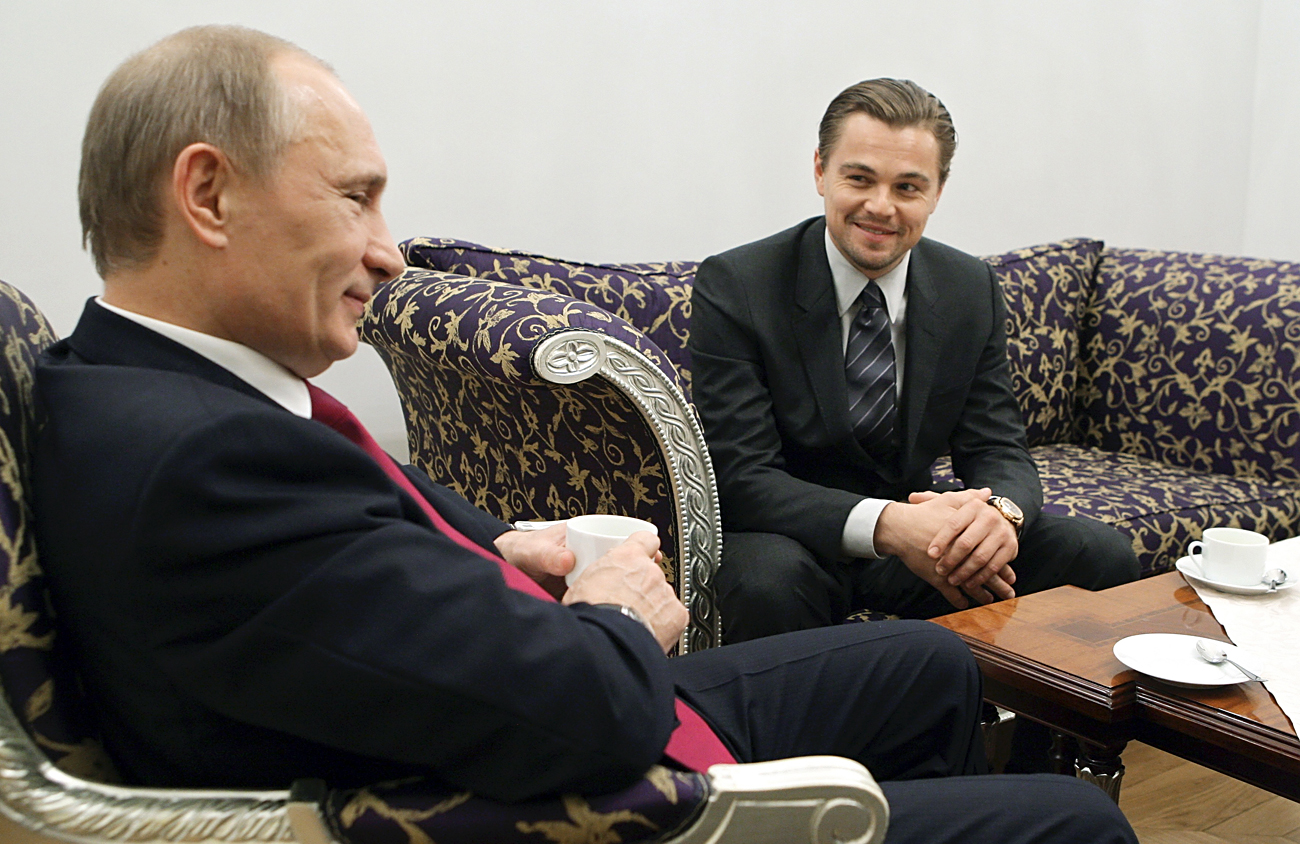 Russia's Vladimir Putin (L) in his capacity as prime minister listens to actor Leonardo DiCaprio during their meeting in St. Petersburg on Nov. 23, 2010.
Reuters
Russia's president may lend his voice to a new 3D film about Russia's largest water body, Siberia's Lake Baikal. U.S. actor Leonardo DiCaprio has already agreed to participate in the English version of the project.
Oscar-winning actor Leonardo DiCaprio is to supply an English-language voiceover for the 3D documentary film Lake Baikal – The Heart of the World, reports Rossiyskaya Gazeta (in Russian).
The U.S. star may have a rival for the film's most famous voiceover, however: Russian President Vladimir Putin has been asked to lend his voice to the Russian version of the documentary, says (in Russian) Igor Dobrovolsky, the project's head of production.
Dobrovolsky made the announcement at a pitching session for state funding of documentary films held by the Russian Ministry of Culture, according to website proficinema.ru. The producer added that although the president has not yet replied to the invitation, he has high hopes of a positive response.
The documentary film is an international project involving the participation of Chinese, U.S., French and Russian filmmakers, according to RG (in Russian), and the project will be overseen by Russian director Svetlana Rodina-Zayarskaya.
The preliminary budget has been set at around 70 million rubles ($1 million), of which 33 million has already been provided by an unnamed donor. The film's creators have applied for another 7 million rubles from the Ministry of Culture, reports proficinema.ru (in Russian).
Lake Baikal
Located near the Mongolian border in Eastern Siberia, Lake Baikal is the world's largest freshwater lake in terms of volume – it contains around 20 percent of the world's freshwater, more than all of North America's Great Lakes combined. Estimated to be around 25 million years old, it is also the world's oldest lake, as well as its deepest, with a maximum depth of 1,642 meters (5,387 feet). Incredibly, more than 80 percent of the lake's fauna is endemic, including the world's only freshwater seal, the Baikal seal or nerpa.
This is not the first time that a film about Lake Baikal has been shot in 3D format, according to RG (in Russian). A U.S.-Russian team of filmmakers shot a series of panoramic video sequences for use in virtual reality head mounted display systems, such as Google Glass, in the Baikal Biosphere National Park in spring 2015.
The videos will be shown in scientific institutions around the world as part of a virtual travel project for schoolchildren named Google Expeditions, aimed at raising awareness of the importance of protecting environmentally valuable sites such as Lake Baikal.
DiCaprio can add the film to the list of environmentally oriented projects that he has been involved with in recent years. He announced in July that his personal fund, the Leonardo DiCaprio foundation, would be allocating $15.6 million to the development of an environmental protection program and to the fight against climate change.
The project is not the first time DiCaprio has been linked with Putin. In February 2016 RBTH reported that the U.S. star had provisionally agreed to play the Russian president in a new movie about him titled simply Putin. DiCaprio had admitted in an interview with the German newspaper Welt am Sonntag in January that he would like to play the Russian leader on film.
Subscribe to get the hand picked best stories every week
All rights reserved by Rossiyskaya Gazeta.