Russian cinema tops the bill at this year's Chichester Film Festival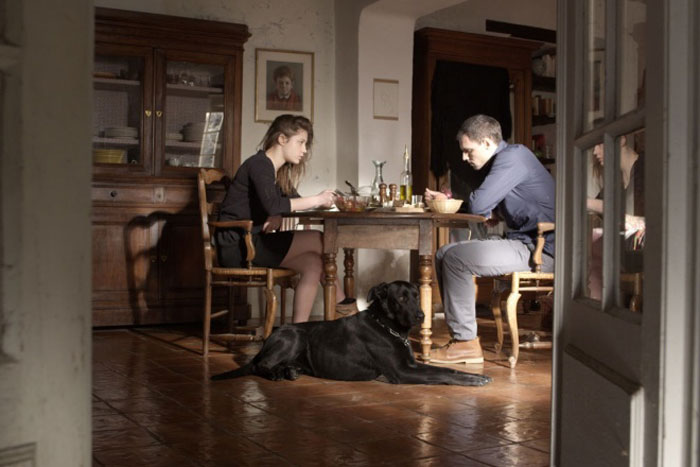 A screenshot from 'Journey to the mother,' a road movie from a Russian director but set in France.
kinopoisk.ru
Tarkovsky's classics vie with indie productions on UK festival's program.
British lovers of Russian cinema can get more than their fill at this year's Chichester International Film Festival from August 11–28 in the town of Chichester in the UK. Sixteen films from Russian directors will be screened over the course of the 19-day long program, including eight of legendary Soviet director Andrei Tarkovsky's most celebrated works and seven films making their UK or European debuts.
With an eclectic mix of time-honored Soviet classics and offbeat releases from independent Russian studios, the festival represents one of the largest and most diverse offerings of Russian film available anywhere this summer in the UK for Russophiles and cinephiles. However, Russia is not the only country represented at the festival this year: there will also be a particular emphasis on films by Iranian and Chinese directors.
"The fact is that there is an audience that wants to know about what's happening out east, but all too often isn't being served by other festivals," says film scholar Ian Christie.
Christie will deliver a talk on Aug. 27 about the life of Soviet cineaste Andrei Tarkovsky.
"It's true that the days of great names like Tarkovsky seem to lie in the past, but there have been very considerable figures in the post-Soviet era, such as Sokurov and Zvyagintsev, and strong emerging talents such as Popogrebsky," Christie told RBTH. "What we lack is much of a chance to see the very latest works by the newest names in Russian cinema and Chichester has done an excellent job with minimal resources in filling this gap."
Only chance in the UK
Behind this shift to the east lies the passion of the festival's artistic director, Roger Gibson, for Russian cinema, which was sparked by a visit to the St. Petersburg KinoExpo cinema industry convention in 2014. The trip brought Gibson into contact with many of the directors and production studios at the forefront of Russian cinematic developments. This inspired him to introduce more small-scale and offbeat Russian productions to the festival's program.
The connections forged in 2014 have meant that, even if the Chichester Festival is not able to pay Russian studios the monetary sums that a festival like Edinburgh or Cannes would be able to, directors and producers gain unique access to UK audiences. As Gibson told the local newspaper The Argus, "you have to say: 'Look, if we don't show it here then it won't be shown anywhere in the UK.'" The result in 2016 is that Chichester boasts seven UK or European premieres of Russian films, an unparalleled number for a British film festival.
From Chichester to Cannes
One of the most productive collaborations to come out of Gibson's Petersburg expedition was with director and former actress Vera Glagoleva. The director's film Two Women, featuring English actor Ralph Fiennes speaking entirely in Russian, premiered in the UK at Chichester last year. Glagoleva made an appearance along with Fiennes at the screening, and she will be represented again this year with her film One War, to be screened on Aug. 12 and Aug. 16.
A screenshot from 'One War' by Vera Glagoleva. Source: chichestercinema.org
Some of the recent films are already well known to Russian audiences. The Russian-French production Journey to the Mother, which features Golden Palm winner Adèle Exarchopoulos, has already received awards at Russia's Shukshin Film Festival and the Netherlands Film Festival. The film, whose production was sponsored by the Russian Ministry of Culture as part of the official Year of Russian Cinema, makes its UK debut at Chichester on Aug. 18.
On the other hand, many of the films being shown are straight out of the studio and therefore still unknown to British and Russian audiences. These films include Through the Mist, Maksim Schastnev's recently completed directorial debut about a German and a Soviet soldier brought together during World War II (UK premiere on Aug. 21) and Big Village Lights, a comedy from director Aleksei Uchitel's RockFilm studio about a group of cinema-lovers who desperately try to save their local movie house (European premiere on Aug. 12). They are both brand new independent productions.
A screenshot from 'Big Village Lights' by Alexei Uchitel. Source: chichestercinema.org
However, it seems that even Big Village Lights wasn't quite new enough for the festival's artistic director. Gibson told RBTH that he had tried to get hold of RockFilm's most recent offering, Matilda, about the relationship between Tsar Nicholas II and a Petersburg ballerina, but was thwarted as the film is still in post-production.
Tarkovsky fever
Tarkovsky's works, of course, are known and loved by audiences around the world. The films have been restored and rereleased by British film distributor Curzon Artificial Eye in a retrospective of the auteur's masterpieces. They are currently being screened nationwide.
Christie, who interviewed the iconic director on his first visit to the UK in 1980, told RBTH about the enigmatic appeal that Tarkovsky continues to hold for today's audiences.
With its mix of old and new, of classic masterpieces and quirky indie pictures, the Chichester Festival promises to offer a true showcase of Russian film in all its diversity and heritage.
Full information about the festival's program can be found at chichestercinema.org/festival.
All rights reserved by Rossiyskaya Gazeta.