Russian baritone Khvorostovsky sings in U.S., Canada after cancer treatment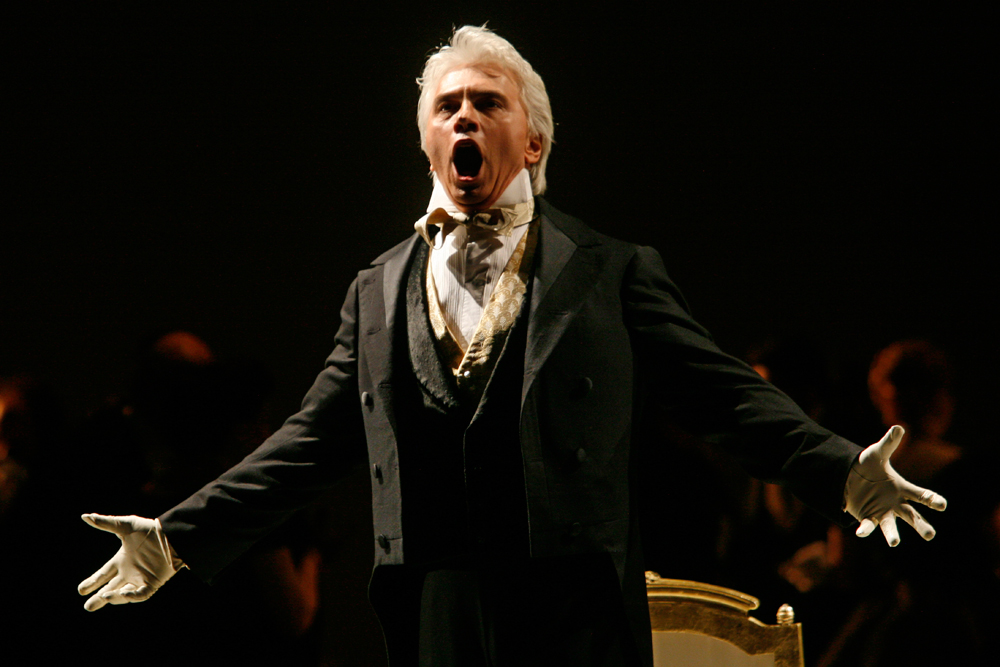 Russian opera singer Dmitri Khvorostovsky.
AP
Opera singer Dmitri Khvorostovsky is performing dates in New York and Chicago, as well as a concert in Toronto, as a second course of chemotherapy for a brain tumor comes to an end.
Russian opera singer Dmitri Khvorostovsky, who is undergoing treatment for brain cancer, is giving three solo performances in the U.S. and Canada with Estonian pianist Ilya Ivari. The first concert took place on Feb. 17 in the Main Hall (Stern Auditorium) in New York's Carnegie Hall.
On Feb. 21 Khvorostovsky will perform in Corner Hall Toronto (Canada), and on Feb 26 the duo will appear on the Lyric Opera stage in Chicago. The tour program includes works and songs by Mikhail Glinka, Rimsky-Korsakov, Tchaikovsky, and five songs by Richard Strauss.
Bolshoi Theater to screen best performances on video in U.S.
"I look forward to our meeting in the United States, said Khodorkovsky to his American fans in a special video recorded at the end of January. "I feel much better and I'm really looking forward to our meeting," he added.
New York, where Khvorostovsky's current tour kicked off, marked the scene of his triumphant return to his professional career last September, when he performed at the Metropolitan Opera after the first course of treatment for a brain tumor.
"On the one hand the work at the Metropolitan Opera was deliverance, on the other, it was very difficult, because sometimes I felt bad in the rehearsals," Khvorostovsky said at the time in an interview with Russian daily Rossiyskaya Gazeta.
What does not kill us makes us stronger
IN early January Khvorostovsky began the second stage of his treatment, undergoing a course of chemotherapy in the UK. Fortunately, the treatment yielded positive results.
"I'm in a good mood. February, I hope, will be the final month of my medical treatment and suffering because of the chemotherapy," said Khvorostovsky. "And then I'll start another new life."
According to critics and scholars who managed to attend the singer's last concert, Khvorostovsky's velvet voice has not been affected by the treatment, while the musician himself "looks as brilliant" as ever.
Khvorostovsky's concert schedule can be seen here>>>
First published in Russian in TASS.
All rights reserved by Rossiyskaya Gazeta.