To Russia with love: 6 American songs about world's biggest country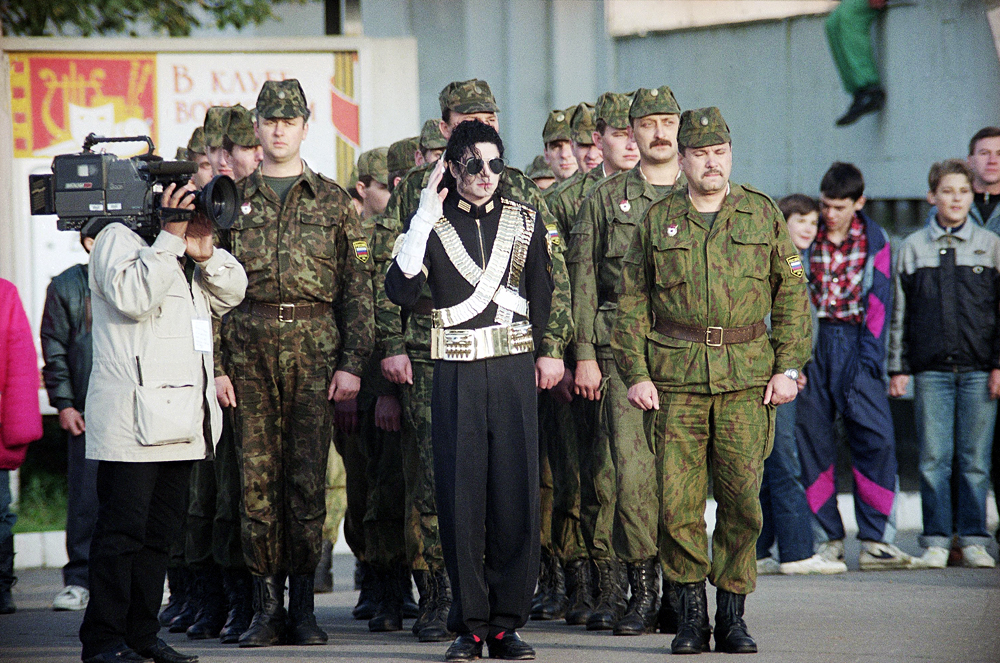 Pop star Michael Jackson marches with Russian Army soldiers at an army base in a suburb of Moscow, Sept. 14, 1993 during filming for an upcoming music video.
AP
Have you ever wondered what Americans think about Russia in musical terms? From the classic tunes of Henry Mancini to indie rock bands and from the King of Pop to the Piano Man, RBTH presents a list of the most interesting songs about Russia as written and performed by American musicians.
Michael Jackson - Stranger in Moscow
"Like a stranger in Moscow…
I'm living lonely," sings Michael Jackson. The lyrics tell a great deal about Jackson's life and state of mind at the time, as his career was slipping and soon became overshadowed by his legal problems. It was originally written as a poem while on the Dangerous World Tour, which stopped in Moscow in 1993. It was later adapted into a song.
Michael Jackson - Stranger In Moscow. Source: michaeljacksonVEVO / YouTube
He looked outside his hotel room and saw the crowds of fans who were enthralled with him, yet didn't know him in any meaningful sense of the word. That feeling and the cold, bleak urban Moscow setting mixed together and inspired this song. Its music video depicts the lives of six individuals, including Jackson, who are isolated and disconnected from the world around them.
Billy Joel - Leningrad
This song is about circus clown Viktor from Leningrad whom Joel met while touring the Soviet Union in 1987. Throughout the song, major items from Viktor's and Joel's lives are compared to show the cultural differences and similarities of the Soviet Union and United States. In the song, Joel describes Viktor's life as one of many Soviet children who lost fathers during World War II, specifically during the Siege of Leningrad. The song was written after Billy Joel's landmark six-concert tour of the Soviet Union in 1987.
Billy Joel - Leningrad. Source: billyjoelVEVO / YouTube
Viktor is a real circus clown in Leningrad who made his way across Russia to see all six shows of Billy Joel's tour. This song is not only a tribute to Viktor's story, but is a different take on the Cold War. Instead of being a political drama, it's the story of how two characters – living in completely different environments – can meet and become friends despite their countries' differences.
Prince - Ronnie, Talk to Russia
Ronnie, Talk To Russia is a song from Prince's fourth album, "Controversy." It's a politically-charged plea to the 40th President of the United States of America, Ronald Reagan. The lyrics say it all: "Ronnie talk to Russia, before its too late, before they blow up the world." In the years following World War II American pop culture mirrored the anxieties that developed between two countries. The Cold War was the subject of discussion not only in politics, but in music as well.

Prince. Ronnie Talk To Russia. Source: Surfing USSR - Ray Stevens Comedy Classics. Source: billmyers / YouTube
Blondie – Contact in Red Square
This song is from legendary New York punk group Blondie's 1977 album "Plastic Letters." "Our last contact in Red Square," they sing. "Unless I have to run. And the long arms of the CIA detect me." The band visited Russia on their 2008 world tour.
Blondie - Contact In Red Square. Source: formaface / YouTube
Brazzaville - Night train to Moscow
"Night Train to Moscow, say good bye to the Petersburg sun," sings David Arthur Brown from American indie pop band Brazzaville. The band really loves Russia. In 2006 they recorded a cover version of the legendary Russian rock band Kino's song "Zvezda po imeni solntse" (A Star Called the Sun). This record reached the top of the charts in Russia and a year later they also collaborated with Russian rock band Bi-2 on the song "Kao Sun Road."
Brazzaville - Night Train To Moscow. Source: Dmitry Green / YouTube
During a Russian tour the band recorded another song called, "Girl from Vladivostok." Brown says, "I've been fascinated with Vladivostok for many years. The idea of a Russian city on the Pacific near Korea, China and Japan always seemed very poetic to me."
All rights reserved by Rossiyskaya Gazeta.