Rostropovich playing the violoncello on the crumbling Berlin Wall; Rostropovich sitting next to Boris Yeltsin in the White House in Moscow; Rostropovich with Solzhenitsyn at the dacha - these photographs are iconic 20th century images.
He has so many titles and awards that they can be used to study the award system of almost any country in the world. Rostropovich's genius and originality was obvious to both professionals and to audiences in small towns.
A child prodigy
By birth Mstislav Rostropovich did not belong to either of Russia's two capitals. Rather, he was born on March 27, 1927 in Baku. His mother, pianist Sophia Fedotova, was one of two daughters to Nikolai Fedotov, founder of a music school in Orenburg in the south Urals.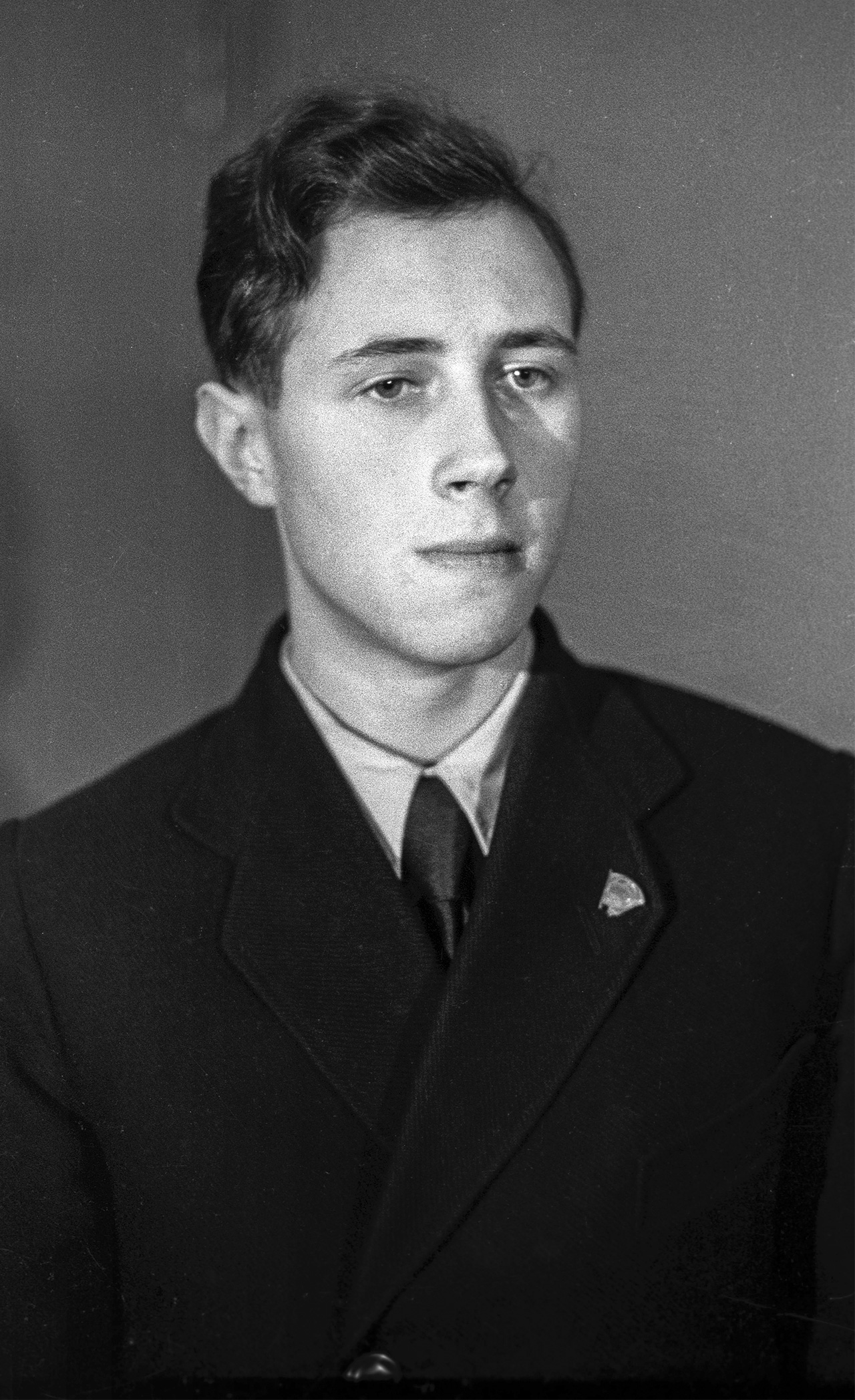 Mstislav Rostropovich, winner of the 3rd National Contest of Musicians, in 1945. Source: Anatoliy Garanin
Leopold Rostropovich, Mstislav's father, was a talented cellist. Leopold and Sophia met and married in Orenburg on the shores of the Ural River, where Asia meets Europe. Their union was a mixture of Polish, Russian, Lithuanian and German roots. In the 1920s, they moved to Baku, the capital of Soviet Azerbaijan, when Leopold obtained a professorship at the local conservatory.
It's not surprising that their son began playing the piano and violoncello at the age of four, and nine years later he was already performing in concert with an orchestra. At the age of 16, Rostropovich entered the Moscow Conservatory. In 1945, several months before completing his studies, he won the All-Soviet Musician and Performer Competition. This victory was the start of a brilliant career, which lasted uninterruptedly for half a century.
The Iron Curtain was not a barrier - the young musician's talent was so great that globally he became a Soviet national symbol, along with the Bolshoi Theatre and Soviet ice hockey. He was already receiving awards in Prague and Amsterdam, playing with Richter and Oistrakh and performing under the direction of Karajan and Ormandy.
No longer a young man, Rostropovich lived in several countries, and the airplane was his real home. Source: Berliner Philharmoniker/YouTube
The talent of love
Rostropovich's talent consisted not only of an original musical technique, style and temperament. Everyone fell in love with his burring, witty jokes and graceful manners.
In the beginning of the 1950s, however, while performing at the music festival in Prague, he met Bolshoi prima donna Galina Vishnevskaya. It was love at first sight, and he immediately understood that only this stately beauty could be his wife. She was married at the time, but this did not stop Rostropovich. Before they met, their personal lives were quite stormy, but their marriage determined their fate - personal and professional.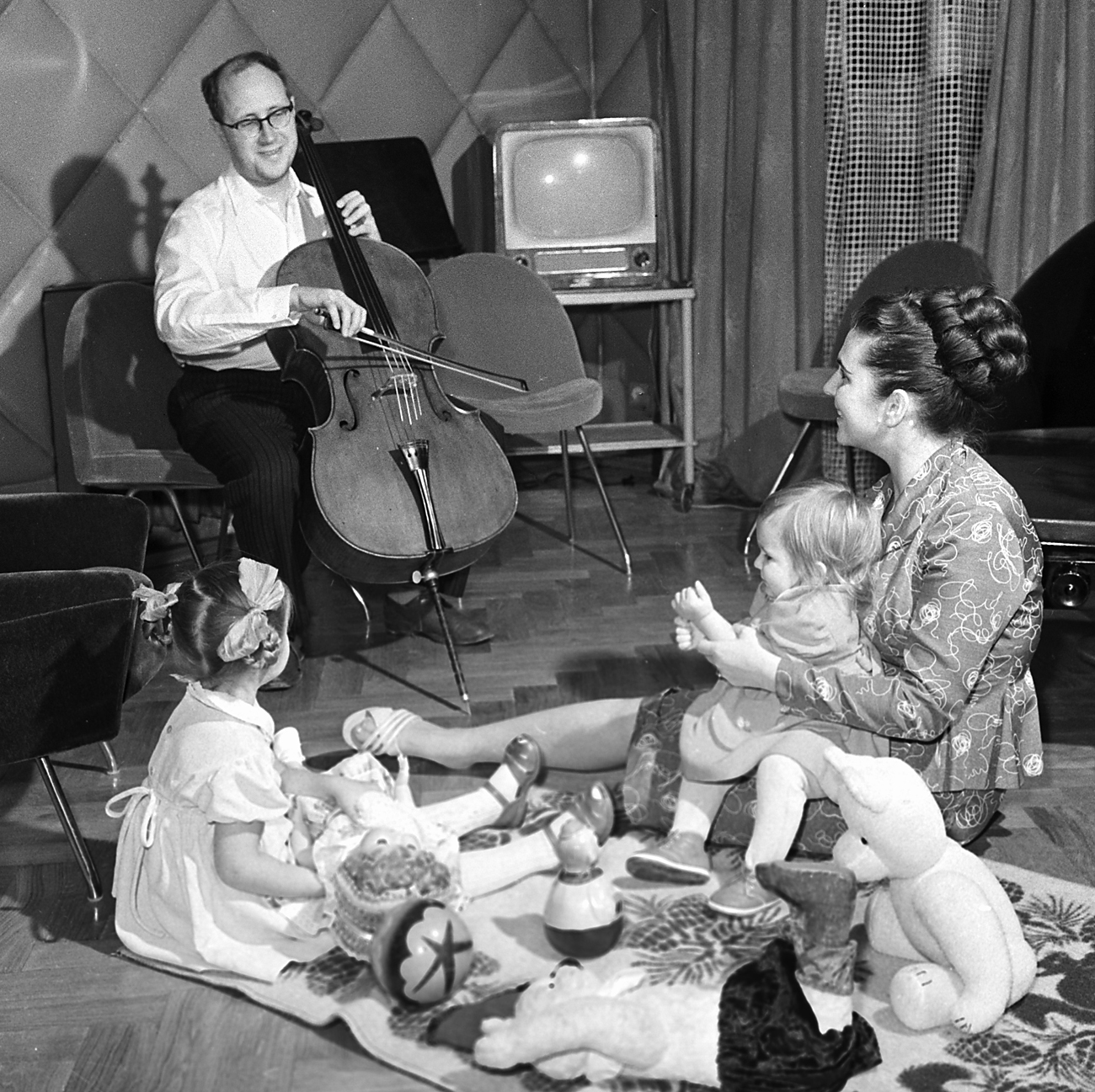 Opera singer Galina Vishnevskaya and her husband Mstislav Rostropovich with their daughters at home. Source: Sholomovich/RIA Novosti
Rostropovich performed as an accompanying pianist to his wife on many occasions. Years later he mastered conducting. The opera Eugene Onegin, which he conducted and in which Vishnevskaya sang the role of Tatyana, became a Bolshoi legend. Film director Alexander Sokurov made a documentary film about their union, Life Elegy. Rostropovich. Vishnevskaya.
An inspiration to composers
Rostropovich was just slightly over 20 years old when the great Sergei Prokofiev wrote a symphony concert for him. Several years later Shostakovich dedicated his Cello Concerto No. 1 to him. The composers were inspired by Rostropovich's unique performing potential, and also by his passion for popularizing modern music. Britten, Khachaturian, and Schnittke also composed for him. As a cellist, Rostropovich was the first to perform 117 works. As a conductor, he led the premieres of more than 70 symphonic works and nine operas.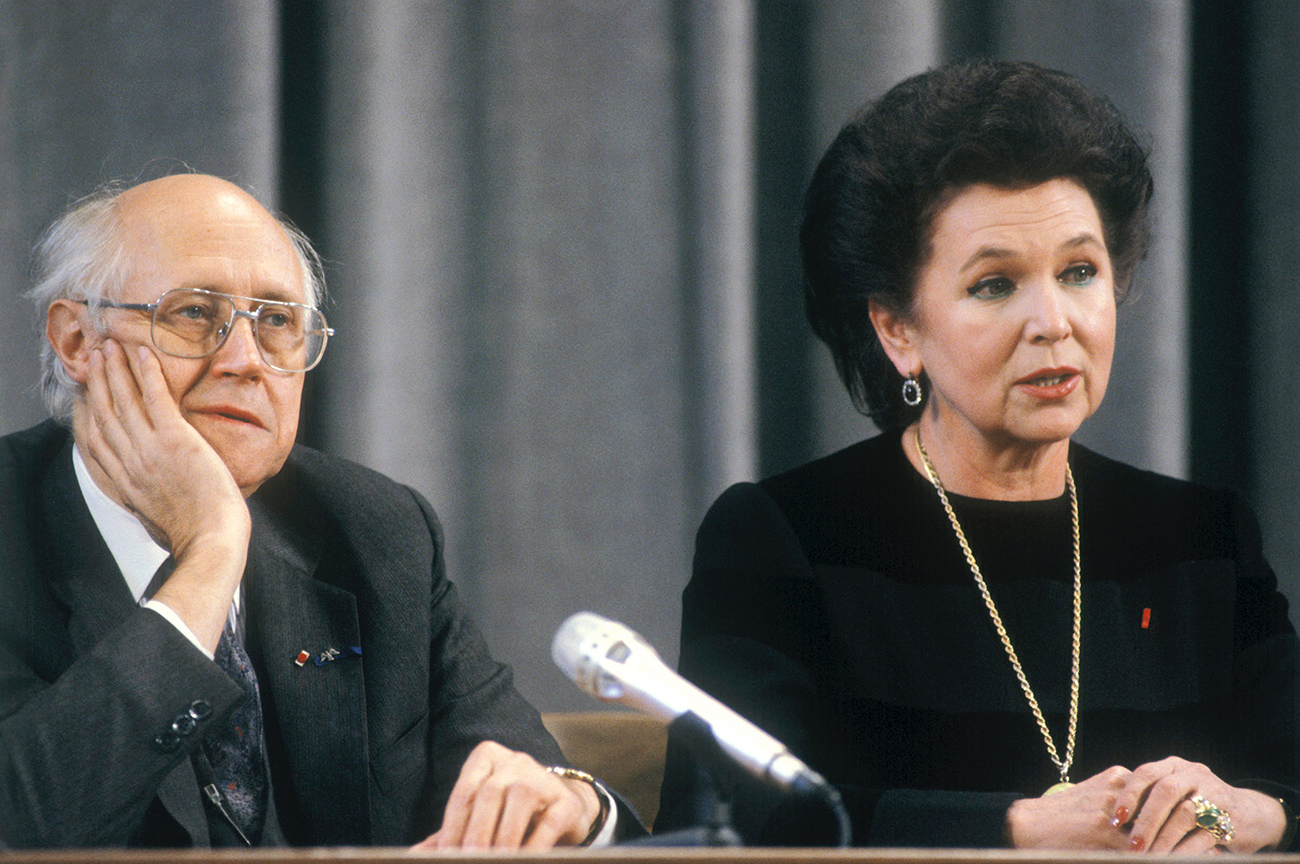 Mstislav Rostropovich and his wife Galina Vishnevskaya at a news conference at the USSR Foreign Ministry press center in 1990. Source: Vladimir Vyatkin/RIA Novosti
A dangerous friendship
Rostropovich always enjoyed large companies of people, and he loved them as much as music. He had an enormous circle of friends, not limited to colleagues. Once, going to a concert in Ryazan, he met Alexander Solzhenitsyn, who was at the height of his fame at the time with the publication of his novel, One Day in the Life of Ivan Denisovich.
Several years later, when Solzhenitsyn was gravely ill, Rostropovich invited him to live at his dacha. Shortly afterwards, Solzhenitsyn fell into disfavor with the Soviet government, but Rostropovich did not ask him to leave and did not end their friendship, as many others had done. From Rostropovich's dacha, Solzhenitsyn was exiled. Their loyalty and friendship with Solzhenitsyn, however, carried a price. Rostropovich and Vishnevskaya were deprived of their Soviet citizenship, but this forced departure only boosted their careers.
Once abroad, Rostropovich played and conducted, taught and organized festivals. It seemed his calendar consisted not of 365 days, but of twice as many.
A man of the world
During Perestroika in the late 1980s, Rostropovich was offered to return to the Soviet Union, but his career was firmly tied to Europe, Japan and America. No longer a young man, he managed to live in several countries, and the airplane was his real home.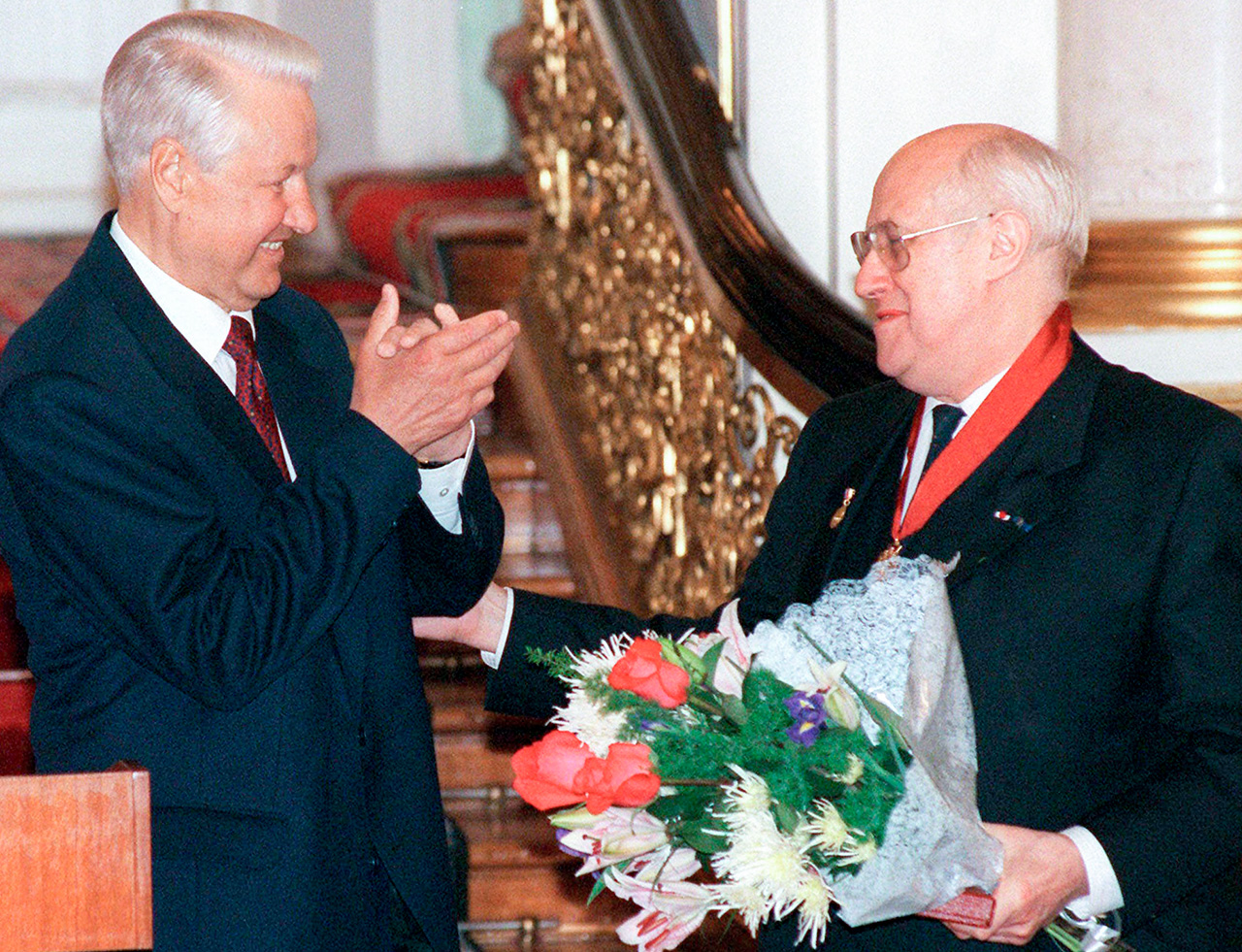 Mstislav Rostropovich holds flowers while President Boris Yeltsin applauds after he honored Rostropovich with Russia's award for "Services Rendered to the Fatherland," at a ceremony in Moscow's Kremlin in 1997.
He was particularly passionate about the new Russia, however, and during the August putsch in 1991 he played for the defenders of the White House, coming to Moscow on a transit visa. Later, he staged Mussorgsky's Khovanschina at the Bolshoi. It's an opera about how Old Russia was swept away by transformations at the end of the 17th century.
Rostropovich organized festivals and charity foundations that helped sick children, and enlisted the help of presidents and businessmen. He was a sensitive and vulnerable person, however, refusing to perform in Russia for several years because of a review he thought was offensive. Only a musician who is still called by his first name, Slava, could afford to behave like this.
If using any of Russia Beyond's content, partly or in full, always provide an active hyperlink to the original material.