Fans 'become so numb' – Russians remember Linkin Park frontman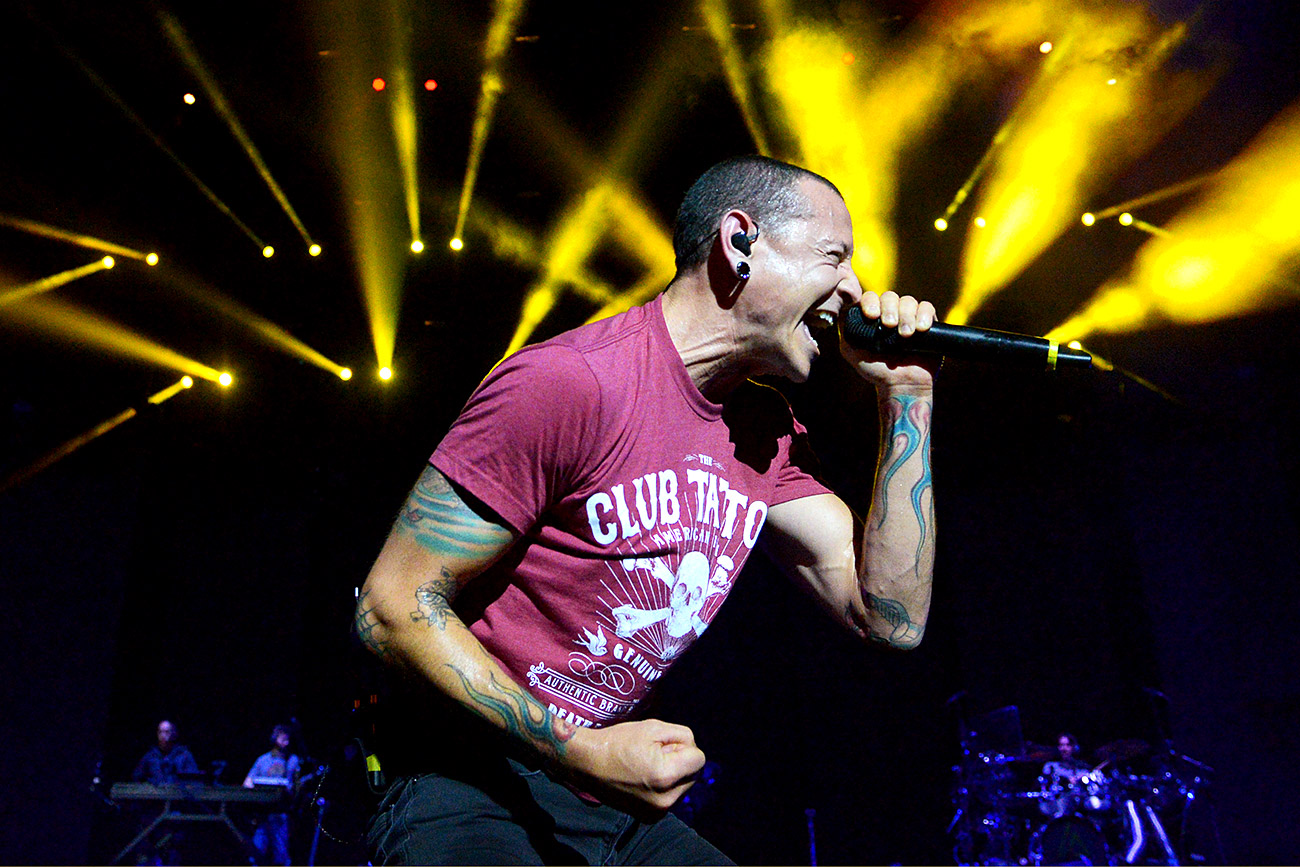 Linkin Park vocalist Chester Bennington performs at the Olimpiysky Sports Complex in Moscow.
Valeriy Melnikov/RIA Novosti
Russia remembers Chester Bennington, the lead vocalist of Linkin Park, who gained a loyal following of fans after playing in the country several times.
"I tried so hard and got so far. But in the end it doesn't matter" – Chester Bennington used to sing these lyrics in one of Linkin Park's most recognizable songs, "In The End." And he was right – in the end many things that seemed incredibly important no longer matter.
The seventh studio album of Linkin Park – "One More Light" – released this May was not received well by critics. People were surprised by the cult nu-metal band's newly adopted pop music sound, miles away from their usual grungy guitar style.
Tragically, the album will be the last featuring Bennington, who was found hanged in his Los Angeles house on July 20. His passing comes only three months after his great friend, Soundgarden's Chris Cornell, committed suicide. July 20 was Cornell's birthday.
Linkin Park visited Russia six times, playing a total of nine concerts in Moscow and St. Petersburg. The band was immensely popular with Russian teenagers.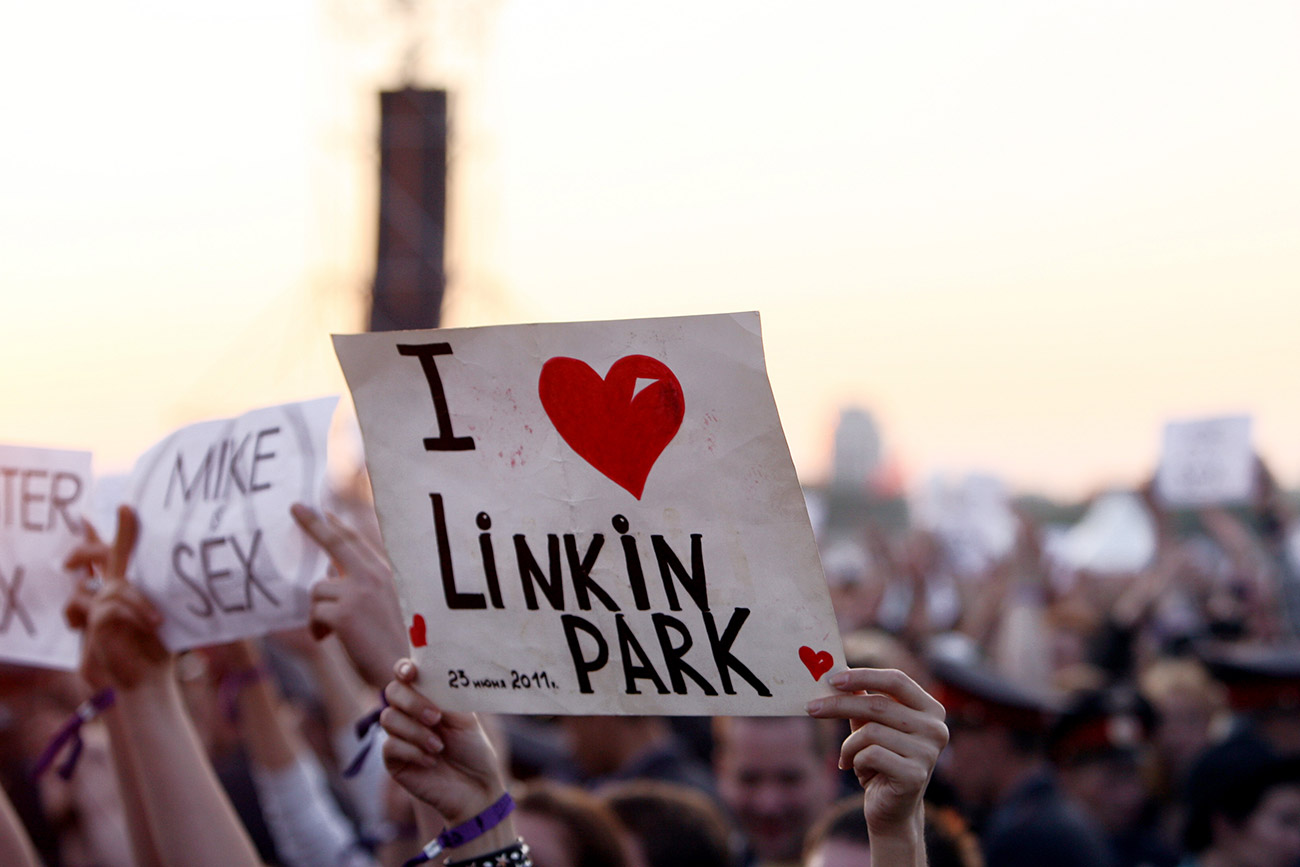 A girl holding a placard "I love Linkin Park" at Maxidrom 2012 international rock music festival in Moscow. / Nina Burmistrova/TASS
Almost everyone from the age of 20 to 40 knows the band's songs and many relate to the deep, melancholy lyrics of Bennington's songs.
"Chester Bennington has passed away. We can talk for a long time about how sad it is, and openly grieve, but for me a comment by my wife Karina was enough: 'Our youth is now gone.' "
"In 2013 I was 14 and I immediately fell in love with [Linkin Park's album] Meteora...When I was 17 not a single party could avoid their song 'Somewhere I belong.' It's still my ringtone."
The band is still listened to and beloved in Russia. "It's so surprising how tightly nu-metal and rap-rock retains its fans. Both Linkin Park and the likes of Limp Bizkit draw in the crowds...What's more, the army of old fans in their thirties is constantly being replenished with young ones," Kommersant newspaper wrote in 2009 when Linkin Park came to Russia's Tuborg Green Fest.
In 2011 Linkin Park played a concert on Red Square in Moscow.
Russian fans surprised the band, after a flashmob sprung up with people holding sheets of paper emblazoned with Martin Luther King's famous words "Wisdom," "Justice," and "Love" during the band's performance of the song "The Catalyst."
Only 41-years-old, seven studio albums, two Grammy awards, 70 million albums and 30 million singles sold - Bennington will be sorely missed. People in Russia are dumbfounded at his death: "Success, popularity, family, friends. Why?"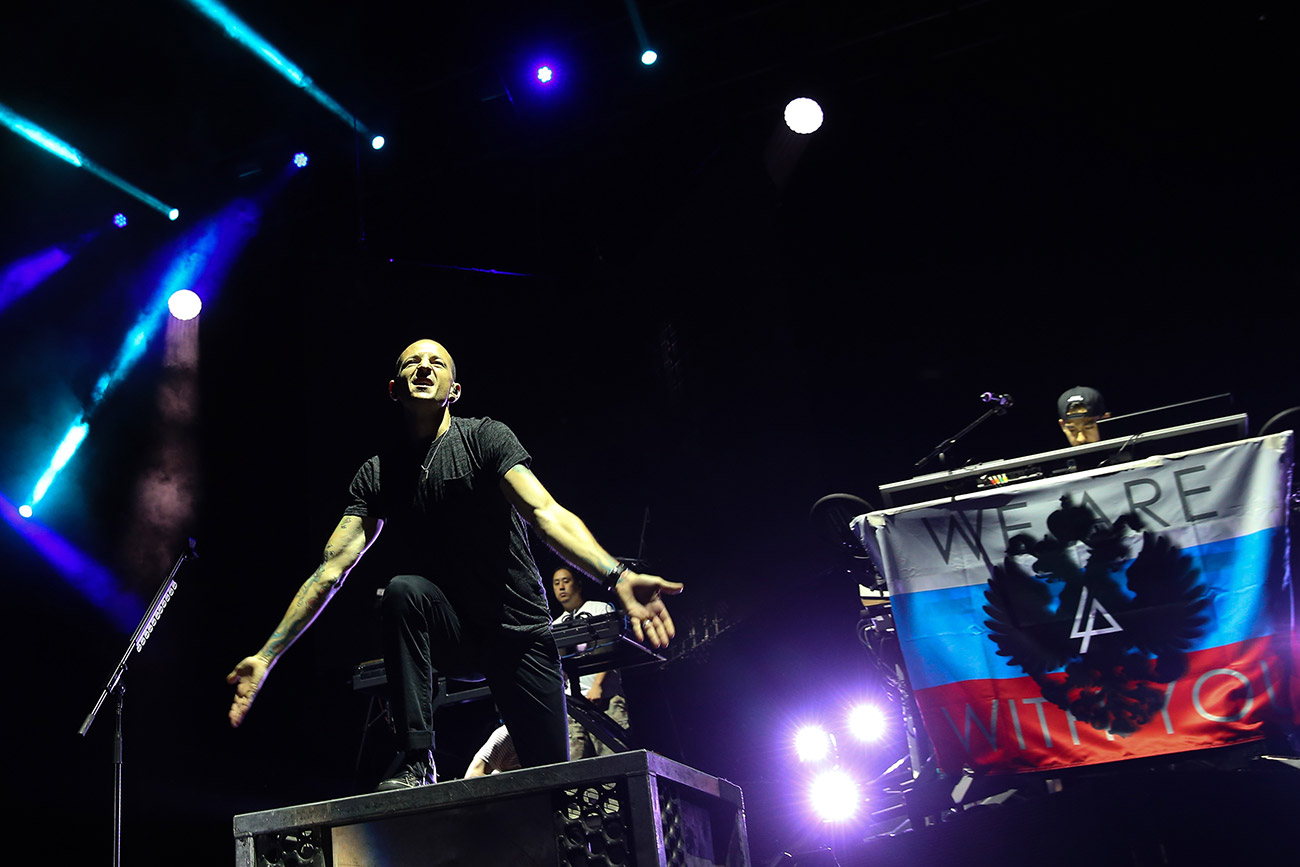 Linkin Park's lead singer Chester Bennington performs at Moscow's Olympiysky Sports Complex. / Anton Novoderezhkin/TASS
If using any of Russia Beyond's content, partly or in full, always provide an active hyperlink to the original material.