Glimmer of light in Bose mystery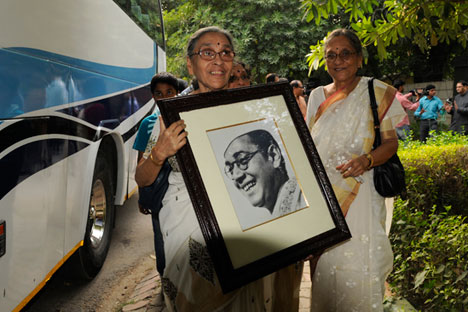 Family members carry a portrait of Netaji Subhash Chandra Bose on their way to meet Prime Minister Narendra Modi on October 14, 2015 in New Delhi.
Getty Images
When he visits Russia in December for his summit meeting with Russia's President Vladimir Putin, Indian Prime Minister Narendra Modi will ask the Russian Federation to declassify files related to Subhash Chandra Bose. It will be the first time Modi will directly request President Putin to declassify decades-old secret files related to Bose, who is presumed to have died in an airplane crash in 1945.
A mystery that pre-dates India's independence may soon be resolved. Did he or did he not die in the plane crash on August 18, 1945? Russian archives may hold the key to the mystery of what happened to leading Indian patriot and freedom fighter Subhash Chandra Bose.
Having decided to unveil the files related to Bose in the Indian government's possession, the Indian government plans to urge foreign leaders to do the same with files in their custody. The Indian Prime Minister said he would personally take up the issue with foreign leaders, beginning in December with President Putin.
In a series of tweets after he met with a group of relatives of Bose, popularly known as 'Netaji' (or 'Leader') on Wednesday, October 14, Modi said his government would open to the public all the files in the government's possession. The process of declassifying the files would begin from January 23, 2016, the birth anniversary of Bose.
Modi said his government would ask all concerned foreign governments, including Russia, Britain, Germany and Japan, among others, to declassify files related to Bose in their possession.
"Will also request foreign governments to declassify files on Netaji available with them," Modi tweeted. "Shall begin this with Russia in December," said the tech-savvy Indian PM, who chooses to communicate primarily through his twitter handle @narendramodi or @PMOIndia. "Process of declassification of files relating to Netaji will begin on 23rd January 2016, Subhas Babu's birth anniversary," Modi tweeted, saying "there is no need to strangle history."
The Prime Minister's decision goes against what his government said barely six weeks ago when, during a hearing before the Central Information Commission on August 28, 2015, the Prime Minister's office admitted that it had files related to Bose but said that they could not be declassified keeping in mind relations with foreign countries. The Indian government has 87 'classified' files on Bose in its possession.
While the move to declassify the secret files in the Indian government archives and open them to the public has been widely welcomed, it is likely that the popular acclaim received by the West Bengal state government for releasing 64 files on Bose in September played a role in forcing the federal government's hand.
In those 64 files released by West Bengal Chief Minister Mamata Banerjee last month, there is no official proof about his alleged death in Taipei plane crash in 1945. It has been speculated that Bose faked his own death to move into Manchuria, then under the Soviet Union's occupation, and take refuge in the USSR. It is unclear what actually happened, though there have been suggestions that he was incarcerated in Yakutsk prison in Siberia. Two Indian government-appointed Commissions of Inquiry accepted that Bose had died in 1945, while one, appointed in 1998, said Bose did not die in the crash and had escaped to the Soviet Union, where several researchers had found evidence of his presence.
In a letter to Bose's family in 1949, the Information and Broadcasting Ministry had said that he could still be alive and the Indian intelligence agencies also knew about this. Files declassified last month also suggest that British and American intelligence agencies did not believe that Bose died in a plane crash in 1945. The news was originally transmitted to the British Foreign Office from the British Embassy in Turkey and is reported to have been confirmed since from Anglo-American secret agents in the East.
Ukraine has said it will declassify over 800, 000 'top secret' files of Russian spy agencies of the Soviet era, including the KGB, SMERSH and GRU, and make them available to the public, Indian media had reported earlier this year.
Among the files dated between 1917 and 1991 are said to be intelligence despatches of Siberian gulags (Russian camp for political prisoners), where Bose was suspected to have been imprisoned along with prisoners of war and political dissidents.
Modi announced his decision to unveil the files during a meeting with 35 members of the Bose family at his official residence in New Delhi. Bose's daughter, Dr Anita Bose-Pfaff, who lives in Germany, could not make it to the meeting.
While all the Bose extended family members hailed the Prime Minister's announcement to declassify secret files related to 'Netaji' and hoped that the "historic" decision would finally lift the veil over his mysterious disappearance, there are some family members who believe that he did indeed die in 1945.
Abheejet Ray, a nephew of Bose, said, "The Prime Minister agreed to the need for declassification of files and papers on Netaji and INA (INA is the Indian National Army which Bose formed in Singapore in 1942, to overthrow the British from India). He said like you I also feel from the heart that these papers should be out and declassified."
While it is not clear how foreign governments will respond to the Prime Minister's request, the decision to open up all secret Indian government files on the matter will help finally bring closure to the 70-year old mystery.
All rights reserved by Rossiyskaya Gazeta.