Mikhalkov influenced and honoured by Indian cinema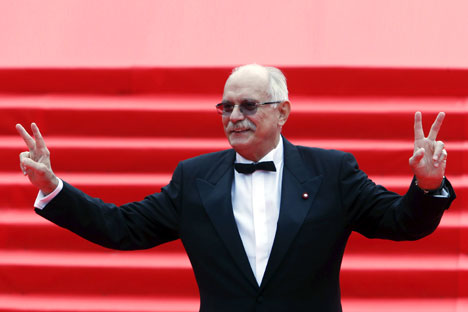 Russian Director Nikita Mikhalkov.
Reuters
Eminent Russian director Nikita Mikhalkov acknowledged that Indian cinema had greatly influenced his work. Speaking to reporters at Goa during the 46th International Film Festival of India, in which he is participating, the Russian film director readily admitted the influence.
Nikita Mikhalkov readily admitted that Indian cinema has greatly influenced his work. At a press conference in the Indian state of Goa, where he is visiting to take part in the 46th International Film Festival of India (IFFI), the Russian film director said, "Indian cinema has had a significant influence on my work."
Mikhalkov will receive a Lifetime Achievement Award for his contribution to world cinema at the IFFI this year.
Organizers of this annual film festival told TASS that Mikhalkov would be honoured and recognized for his contribution to world cinema with the presentation of the Lifetime Achievement Award during the IFFI closing ceremonies on November 30. The Award is accompanied by a cash prize of one million rupees (about $15,000). Among previous recipients of this award are the eminent Polish director Krzysztof Zanussi and Czech film director Jiri Menzel. No Russian director has ever been a recipient of this award.
The International Film Festival of India is the largest such event in South Asia. This year, Russian films are also being presented outside of the competition venue, in the World Cinema programme, which is not part of the competition. These are 'The Territory' by Alexander Melnik and the 'Battle for Sevastopol' by Sergey Mokritsky. Included in the program are 187 films from 89 countries.
Mikhalkov had special words for Raj Kapoor (an eminent Indian actor and director who was hugely popular in the Soviet Union era: Editor's note). "I remember the love, and the tenderness with which the films of Raj Kapoor were filled." At the press conference, he also sang a song from the movie "Tramp" ('Awaara'), in which Kapoor played the lead role, and said, "This was the best way" for him to prove his love for Bollywood.
"Indian films for me represent a completely different world," said Mikhalkov, adding that films "become international when they fully reflect the culture and traditions of the country in which they are made."
The film 'Burnt by the Sun' will open the retrospective of films by Mikhalkov, being shown at the film festival. In addition to this movie, audiences also get the opportunity to see three more films shot by this director: 'Sunstroke' (November 27), 'The Barber of Siberia' (November 26) and 'A Few Days from the Life of I.I. Oblomov' (November 28).
First published in Russian by TASS.
All rights reserved by Rossiyskaya Gazeta.