Maria Sharapova beaten in Australian Open semifinal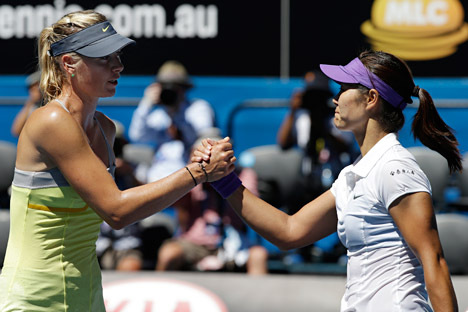 Maria Sharapova (left) has failed to make it into the first Grand Slam final of the year, losing out to China's Li Na. Source: AP
Number two world-ranked tennis player Maria Sharapova has failed to make it into the first Grand Slam final of the year, losing out to China's Li Na.
Russia's Maria Sharapova admitted that her opponent played the better game of tennis after losing to China's Li Na in the first Australian Open women's semifinal 2-6, 2-6. She assured her fans, however, that she is already thinking ahead to her next match.
"I think she played a really great match. She was certainly much more aggressive than I was, dictating play. I always try to play my best, but if they put up a fight, I can't always keep up with them. Her first serve was better than mine, and she put together some good combinations. But it's always like that in tennis: you lose a match and start thinking about the next one. I'll get over it, believe me, it's happened before," Sharapova said after the game.
Li Na has proven to be a tough opponent for Sharapova. She beat the Russian in the semifinals at Rolland Garros and then again at the World Tour Finals in 2011. However, before this year's first Grand Slam semifinal, Sharapova held an 8-4 record over Li.
Li Na was the aggressor from the outset, dictating the pace of the match. She was ruthless, much faster, and moved around the court much better. From the very first serve, she played deeper and wider, building on Sharapova's limited court coverage.
Sharapova was one of the hot favorites for the title, losing only five games in the tournament on her way to the semis, but she was a mere shadow of herself in the semifinal.
Renowned tennis coach Alexei Zhuk believes the easy way to the semis was the reason Sharapova was beaten, as well as the psychological status of her opponent.
"It was crucial for Maria not to get drawn into long rallies with her opponent, because that is Li Na's strength" Zhuk told Izvestia. "When Maria played her trademark game, Na obviously had problems. Another important thing is that Maria had no serious opponents before the semifinal, so she never got that feeling of competition. Li Na, on the other hand, had tough games on her way to the semis, which contributed to her psychological state."The loss drops Maria to number three in the world rankings. If Victoria Azarenka wins the Australian Open final this year, she will become world-ranked number one; if Li Na wins, Serena Williams will take that spot.
All rights reserved by Rossiyskaya Gazeta.