Russian forward Pavel Pogrebnyak remains focused on Premier League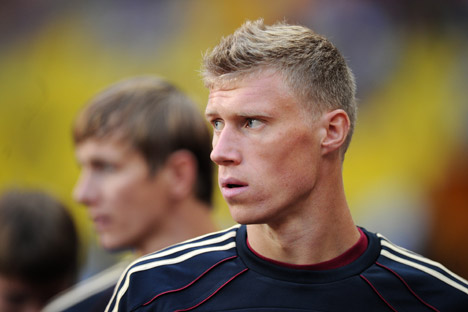 Pavel Pogrebnyak: "The main goal is to stay in the Premier League and not get relegated." Source: ITAR-TASS
Reading forward Pavel Pogrebnyak, 29, talks about his soccer career in the England's Premier League and prospects for getting back onto the Russian national team.
Izvestia: So, how's everything going career-wise in Reading?
Pavel Pogrebnyak (P.P.): Not bad at all. The team started quite poorly, but we've started the second half of the season strongly and the results have been coming. We've climbed a few spots in the Premier League table, and it looks like things are starting to come together. Everyone knows that a player's spirits depend a lot on how well the team is performing, and I started feeling much better once we started to improve our game.
Izvestia: What are this season's objectives?
P.P.: Right now, the main goal is to stay in the Premier League and not get relegated.
Izvestia: Is this struggle for a spot in the Premier League putting additional pressure on you?
P.P.: It's a new experience for me; I've never been in a situation where the team is fighting to stay in the division, where every point is extremely valuable and a lot depends on your game. As a forward, I have to score goals and get results. It is a great responsibility. I'm sure that if Reading stays in the Premier League, the team will do better next season and will aim much higher.
Izvestia: Many European clubs have been paying attention to you now that you play in England. Are you ready to leave Reading for a stronger team?
P.P.: It will be hard to move during the winter transfer window; there's just too little time. So I'll stay in Reading until this summer and then we'll see. A lot will depend on where we finish in the league and on my game. As for the interest of other teams, I don't really know anything about that, because I'm just focusing on football.
Izvestia: Would you consider moving back to Russia?
P.P.: It's hard for me to say anything about going back to the Russian championship. I'm not thinking about it now, and I'm focusing entirely on Reading. Football is unpredictable, and anything can happen, but I'd like to stay in England as long as possible. I'd happily play here until I retire.
Izvestia: Fabio Capello promised that he would be keeping an eye on all Russian players, including you. Do you think he'll call you up to the national team?
P.P.: It's good that Capello is watching the players that have lost their spot in the national team, including me. I don't know whether I'll ever play for the national team again, but I can say for sure that I will continue to make progress and improve my game. I hope that someday I'll catch the interest of the national team's coaches, because I'd love to wear the national team shirt again.
First published in Russian in Izvestia.
All rights reserved by Rossiyskaya Gazeta.