Countdown to Sochi: Tickets go on sale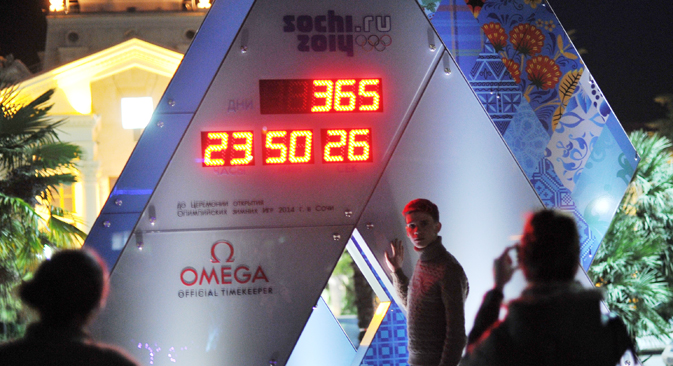 Clock counting down the time to the start of the 22nd Olympic Winter Games in Sochi. Source: RIA Novosti
Tickets for the Sochi 2014 Winter Olympics go on sale Feb. 7. Prices will be less than in London, but more than in Vancouver. Ticketholders will also have to obtain a special Olympic passport, called a Spectator Pass, to access the Olympic territory.
Tickets for the 2014 Sochi Winter Olympic Games go on sale Feb. 7 – exactly one year before the games open. As for the London 2012 games, tickets will first go on sale via the Internet.
Budget
In 2007, just after Sochi won the right to host the 2014 Games, 320 billion rubles was budgeted for Olympic construction. In the past six years, costs increased five times compared to the original plan. Current estimates have spending topping out at about 1.5 trillion rubles. Most of the investment was into local infrastructure. Only 200 billion rubles ($6.7 billion) went into the construction of Olympic venues themselves.
Russians citizens and foreigners temporarily living in Russia will be able to buy tickets on the official website, Tickets.sochi2014.com; foreigners not living in Russia will have to buy tickets through their national Olympic committees or through authorized resellers. About 70 percent of tickets are expected to be sold to Russians and 30 percent to citizens of other countries.
The prices for Sochi tickets will be slightly lower than for the London Games, where prices ranged, according to official sources, from £20 to £2,012 ($31-3,167). However, tickets will be more expensive than for the last Winter Games, which were held in 2010 in Vancouver. The most expensive tickets in Vancouver, to the Opening Cermonies, cost $1,100. For Sochi, the maximum ticket price will be $1,700.
The cheapest tickets to the Opening and Closing ceremonies will be 4,500 rubles ($150), while tickets to some of the sporting events will cost as little as 500 rubles ($17). The average ticket price in Sochi will be 6,400 rubles ($213), and the most expensive will be for Russia's favorite winter sports — ice hockey and figure skating.
The only way to pay for tickets is via a Visa card. This restriction will be in place for the entire Olympic territory: only Visa cards will be accepted by ATMs and in shops there. "Visa will install about 1,500 terminals that will accept Visa cards on the grounds of the Olympic facilities and up to 16 ATMs, including the coastal and mountain clusters," said a Visa representative.
Infrastructure
In order to improve the regional infrastructure for the Sochi Games, 201 kilometers of railways, 22 tunnels, four thermal power plants and one thermal power station, three sewage treatment facilities and 428 miles of pipelines were constructed.
To prevent ticket touting and forgery, a fan passport will be introduced and required for entrance to any sport facility. The passport can be obtained via the Internet after buying a ticket. Applicants for the Olympic passport will be vetted by the federal bodies responsible for security during the Games. If a fan is refused a passport, their ticket can be refunded.
The organizers of the Sochi Olympics are determined to be tough on scalpers. A law came into force on Jan. 15 that imposes fines for violating ticket sale rules. Both the sale and distribution of tickets will be deemed illegal. "A ticket bought from an illegal site can be annulled; the Organizing Committee bears no responsibility if spectators miss an event for that reason," read an official statement by the Organizing Committee.
The article is abridged and first published in Russian in the Kommersant-Dengi magazine.
All rights reserved by Rossiyskaya Gazeta.